Why rethink the metronome you might ask? After all, the traditional mechanical metronome has been around for centuries and its electronic and digital equivalents do a pretty good job.
The thing is, building a solid sense of time takes time…and practice. And that's where a lot of budding musicians lose their focus—a serious obstacle to learning to play in time. Students struggle with the boredom of rhythm-building exercises designed to be performed using a conventional or digital metronome. By giving less attention to playing in time, they're seriously undermining the quest to master their instrument.
Is there a better way to master time?
Enter Soundbrenner Pulse. The concept is straightforward: help musicians master the groove by making every second of both practice and performance count as you build an unwavering rhythm feel. How? By embedding that time sense in your flesh and bones with wearable, purpose-designed technology.
The watch-like Soundbrenner Pulse builds rhythm chops using vibrational pulses, giving you the equivalent guidance of a metronome without the audible disruption of its clicks. (Drummers and others who want an audible click track played through their headphones or speakers can select that option.) The clicks themselves are clear and defined with distinct start and stop points unlike the pulses emitted by phones.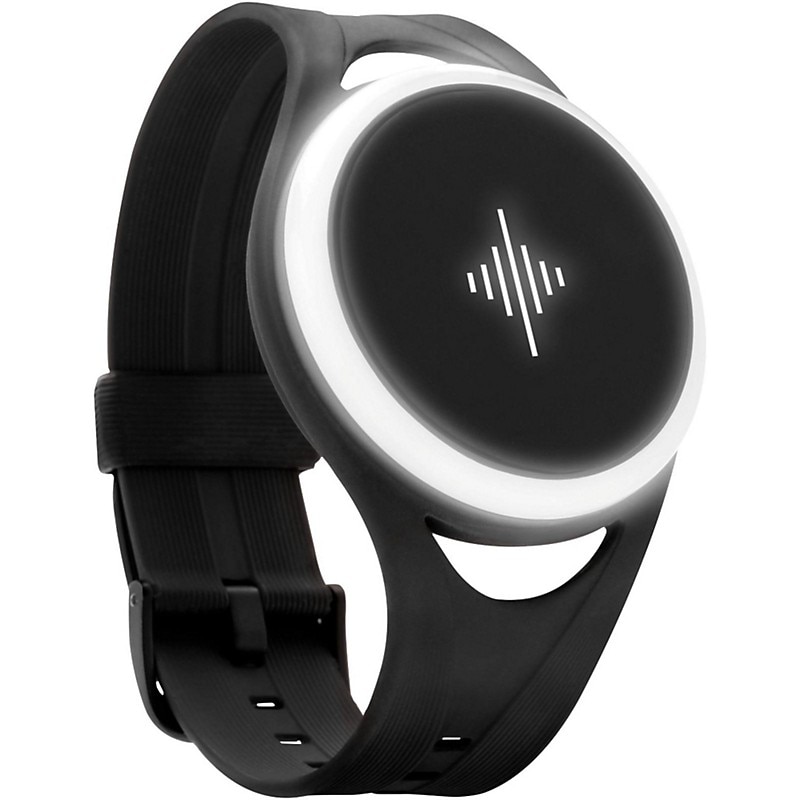 Because you can wear Soundbrenner Pulse on just about any part of your limbs and under or over clothing, you can be as discrete with it as you like. It comes with two interchangeable. adjustable bands, a shorter one designed for wrist wear that also fits kids, and a longer band intended for upper arms and lower legs. Swapping the bands is easy to find what works best for you and your instrument.
More vibration, more control
Unlike smartphone apps with their dependence on the typical phone's wimpy vibrator alarm, the purpose-built Soundbrenner Pulse emits strong, unmistakable pulsations. According to the manufacturer, they're seven times stronger than the average cell phone's. In its guts is a hefty motor with patented vibration technology. It's far larger than anything stuffed into a phone or other mobile device.
The combination of a sleek hardware control surface on the Pulse itself together with apps for iOS and Android devices give you two ways to go in configuring and triggering the Soundbrenner Pulse. While you can use the apps to configure more sophisticated functions, tempos can be set by simply tapping them in on the Pulse's face. Turning the wheel that surrounds the face left or right decreases/increases the BPM. Double taps pause and start the metronome. You can also turn on or off the metronome LED that flashes on the beat, according to your preferences. All of this can be done without touching your smartphone or tablet.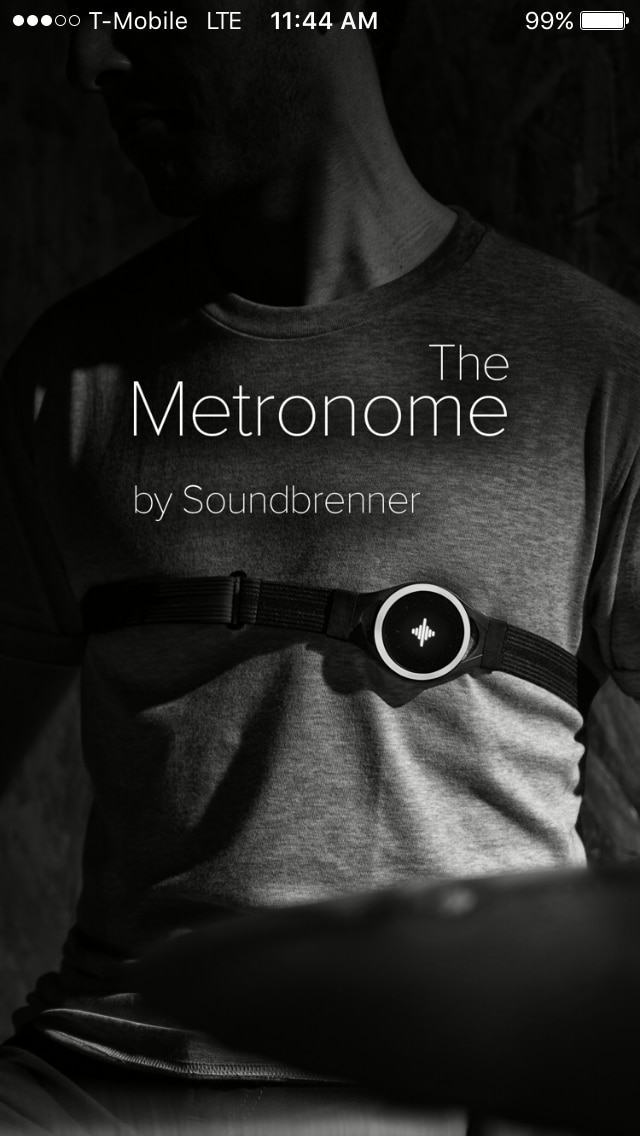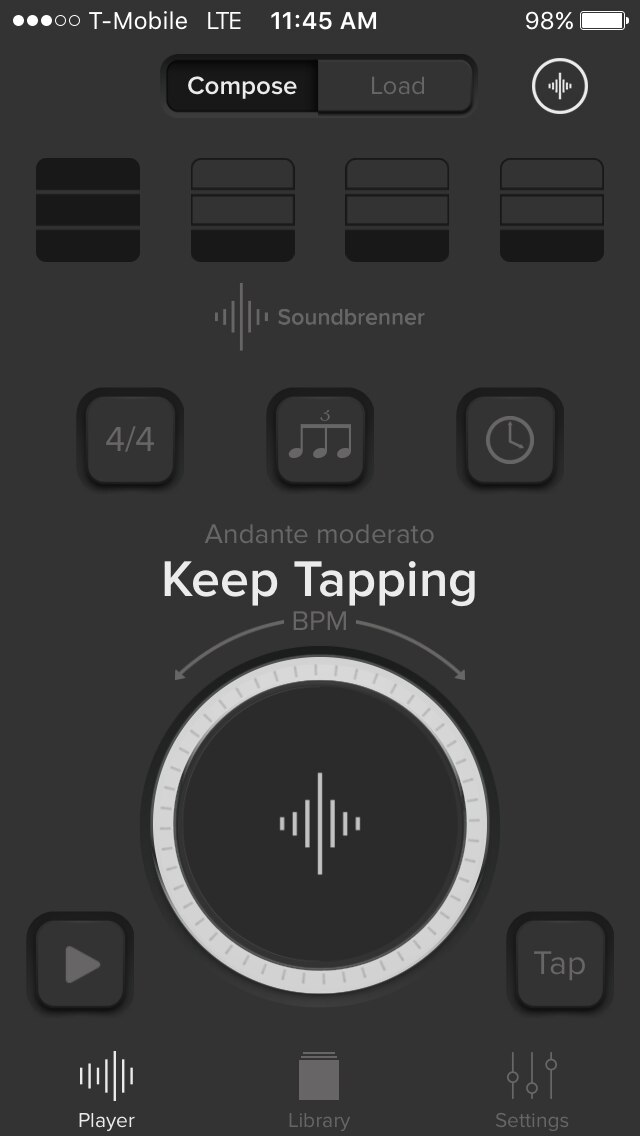 A peek inside the Metronome iOS app by Soundbrenner
Using the companion iOS or Android apps offers further advanced options. You can create and save customized time signatures and subdivisions as well as set accents. Click sounds can be modified, and you can choose between light and dark app skins to suit your setting. The color of the flashing LED can also be changed. Your can also toggle your phone's camera flash on and off. Even cooler, you can even save rhythm settings as setlists—a big advantage when it comes to Soundbrenner Pulse's multi-player syncing capability—something we'll deal with next.
Get everybody in the band on the good foot
Thanks to onboard Bluetooth, you can designate one mobile device as the master controller that runs the app, then sync up to five Soundbrenner Pulse units. A band that feels the beat in sync is one that's going to perform and rehearse better together.
Mac users will want to take note of the included Soundbrenner DAW Tools for Mac application. It works with just about any MIDI-based Mac-compatible DAW and will slave your Pulse's output to your DAW's time settings.
An unerring time feel is the mark of an advanced musician. The Soundbrenner Pulse and its 21st century technology will help you build that rhythmic precision while eliminating some of the drudgery and intrusion of traditional metronomes. If you're not content with your ability to stay in the pocket, we recommend you give the Soundbrenner Pulse a try.
Features & Specifications
Body: 1.75" or 4.5 cm, black casing
Bands: Water-resistant silicone straps in two lengths
Motor: Advanced high-quality Eccentric Rotating Mass (ERM) vibration motor; rated 7G
Battery Life: 6 hours of continuous active metronome use
Charging station: Universal Micro USB socket to recharge the lithium polymer battery; 2.5 – 3 hours to charge; magnetic clip
RGB LED lights: Illuminate the logo and wheel in user-definable colors and flash to the beat
User Input: Capacitive touch sensor for tapping interaction; outer wheel to precisely adjust the BPM; companion apps for mobile and desktop
Compatibility: Soundbrenner Pulse is compatible with devices that support Bluetooth 4.0 and above. Our apps are compatible with devices that run iOS 8.1 and newer; Android 4.3 and newer; Mac OS X 10.10 and later