Offset-waist guitars from Fender are known for their role as disruptors. Fender Duo-Sonics and Mustangs with their short-scale necks and asymmetrical looks have long appealed to upstarts and aesthetic rebels—players who see things differently. Nirvana frontman Kurt Cobain's association with the Mustang has forever marked it as a weapon of choice for alternative and punk guitarists.
But short-scale guitars offer more than just a different look. That shorter fretboard is ideal for younger guitarists and anyone whose digits lack length. They also perform beautifully with lighter-gauge strings—another big plus for students still building callouses along with their playing skills. Not to mention those who love the way slinky strings react to serious, multi-step bends. And the overall reduction in body size is welcomed by players with smaller frames.
When Fender debuted its new Offset Series at Summer NAMM 2016, we were psyched—it's been awhile since any new Mustang or Duo-Sonic variants have been introduced. With their 24" scale (30" on the bass), modern neck shape, updated pickups, and palette of appealing finishes, we think these new guitars are going to be pretty popular. Their very accessible price tags won't hurt, either.
The new Offset Series includes five models: the Duo-Sonic, Duo-Sonic HS, Mustang, Mustang 90 and the Mustang PJ Bass. Each is offered in 3 different colors, has a comfortable, modern C-shape neck with 9.5" fretboard radius and medium-jumbo frets. They all come with gig bags, too.
What sets models apart are their fretboard woods—maple or rosewood—and their pickup arrays. Fender's pickups cater to the realities of modern music, offering more sonic punch and flexibility than earlier pickups used in these guitars. They're equipped to serve up the high-energy crunch and jangle that's a big part of indie music today.
A quick look at all the new Offset Series guitars from Fender.
Let's take a closer look.
Offset Series Duo-Sonic: Attitude & playability on a budget
Introduced in 1956, the original Duo-Sonic was marketed as a student model with its very short 22.5" scale. But later 24"-scale incarnations of the guitar were adopted by artists as diverse as David Byrne, John McLaughlin and Liz Phair.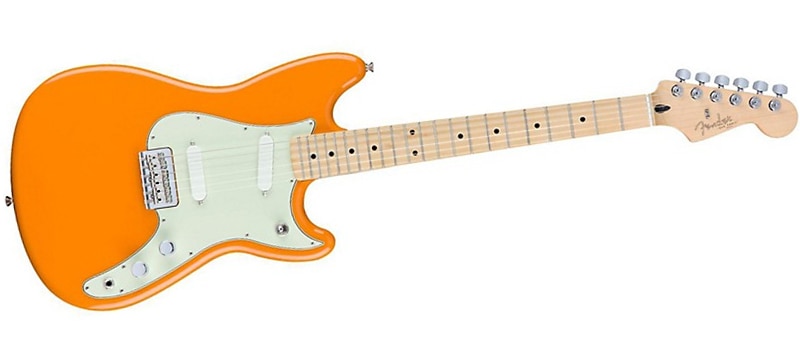 Like all Offset models (other than the PJ Bass), the Duo-Sonic features a 24" scale that's easier for new players with shorter fingers to handle.
The new Offset Series Duo-Sonic is armed with dual Duo-Sonic single-coils in the neck and bridge and has a maple neck and fretboard. The hardtail Strat-style bridge helps generate sustain. With a 3-way selector switch combined with master tone and volume knobs, you get access to a surprisingly broad tone palette from stinging, single-coil grit to chunky rhythmic chording to hard-edged modern grind sounds.
Offset Duo-Sonic HS: Fatter, more flexible sound
The bridge humbucker adds a whole new element to the Duo-Sonic HS's tonal possibilities.
Players looking for more tonal range should give the Duo-Sonic HS a look. Fender drops a vintage-spec humbucker into the bridge on the HS version, and with its push/pull tone knob, you can switch instantly to single-coil or humbucker operation alone. A rosewood fretboard distinguishes it from its stablemate's maple neck. Both Duo-Sonic versions have a cool 3-ply Mint Green pickguard that looks fantastic against Fender's Offset Series color palette.
Offset Mustang: Off-kilter classic gets a makeover
When Fender brought the original Mustang to market in 1964 it was part of a significant redesign and expansion of the company's student-model lineup. The Mustang joined the Duo-Sonic II and MusicMaster II and all three were offered in 21-fret, ¾-scale and 24-fret versions.
Flash forward to 1990: Watching vintage 24-fret Mustangs blowing up big among alt rockers and punk bands, Fender reintroduced the Mustang and has since produced several variations including a Pawn Shop Series version as well as a Kurt Cobain tribute model.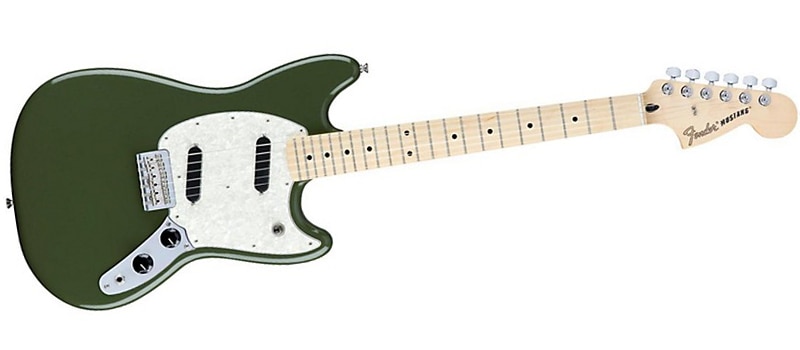 A hardtail through-body bridge serves up the sustain that makes this pony go.
The Offset Series Mustang is loaded with single-coils that'll take you from classic Fender clean spank to punchier and crunchier territory by dialing in your master volume and tone knobs. Modern players will appreciate the carve of the C-shape neck and substantial feel of medium-jumbo frets on the rosewood fretboard.
Offset Mustang 90: more punch for the pony
As you've probably already guessed, the feature here is the special MP-90 pickups that give the Mustang 90 more midrange growl and chest-thumping punch in the bass end while retaining those crisp, bell-like tones Fender's rep was built on.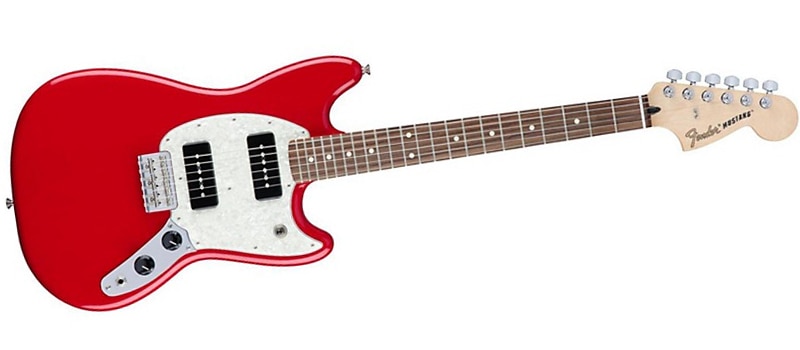 Kurt Cobain helped revive the Mustang. The new Offset Series Mustang 90 will keep that revival going.
Offset Mustang PJ Bass: classic sound, shorter scale
Back in 1964, when Fender debuted the Mustang guitar, they also introduced the Mustang Bass. Recognizing that full-scale Precision and Jazz basses literally presented a big stretch for smaller hands and bodies, the shorter, 30" scale of the Mustang Bass made sense.
The Offset Mustang PJ Bass serves up serious sonic punch with a rosewood-topped neck that's student-friendly. 
In arming the new Offset Series PJ Bass, Fender went back to the proven well of great bass tone: a vintage-style J-Bass pickup in the middle and a vintage-style Jazz Bass pup in the bridge position. The shorter scale length gives the PJ a sweet and defined top end and a blooming quality in the bass frequencies. Its slinkier playing feel helps you pull off fast fretboard moves while also being kinder to newbies' fingers.
Explore all the details and order your Fender Offset Series guitar or bass here.