We take a closer look at the key Korg Monologue features and specifications.
---
Korg is at it again, releasing a brand-new, affordable analog synth named Monologue. For anyone familiar with Minilogue, Korg's bestselling 4-voice analog synthesizer, Monologue will already look, and feel, like an old friend. Monologue is a monophonic analog synthesizer with a straightforward knob-per-function interface and impressive build quality.
Monologue's Signal Path - Oscillators, Filters and More
Given the cosmetic similarities, it's natural to compare Monologue to Minilogue. How are they different? To start, Monologue is monophonic, rather than polyphonic. While Minilogue can play up to four notes at once, Monologue can only play one. This means Monologue is ideally suited for bass and lead sounds. If you're looking to play complex chords, stick with Minilogue.
At its roots, Monologue shares the same synth design as Minologue. It has two Voltage Controlled Oscillators (VCO) offering Square, Triangle, Sawtooth and Noise waves to choose from. This is a great platform that offers lots of programming potential. Like Minilogue, Monologue also has a host of wave shaping features on VCO2. You can choose from Sync, Ring Modulation and Shape. 
Monologue quickly diverges from Minilogue, however, thanks to a powerful new filter section. It features a brand new, 2-pole Voltage Controlled Filter (VCF). It also has a new Drive circuit. This section will really help Monologue distinguish itself from other mono synths, vintage and new. The LFO has also been tweaked, giving sound designers new modulation territory to explore. Dial up an aggressive filter setting, bring in a little grit via the Drive circuit, and you'll be cutting through a mix in no time.
Monologue sound and video demos, courtesy of Korg.
Step-Sequencing and Micro Tuning
If you're into building step sequences, Monologue is sure to please. It offers 16 steps, each with a dedicated button on the front panel. These can be used for creating complex melodic patterns and motion sequences. This will free up your hands for additional real-time tweaking via the front-panel knobs.
Monologue also offers some new micro tuning options not typically seen on synths at this price point. In practice it means that you have separate tuning for each note. This will allow you to play music that doesn't quite fit into the twelve-tone, equal temperament of most Western or classical music.
Monologue's Layout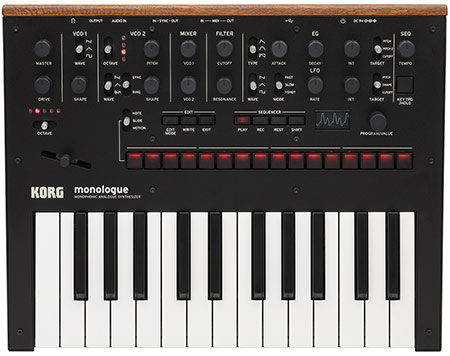 As mentioned, Monologue offers a dedicated knob for each function. This makes getting around the synth very easy, saving time that would otherwise be devoted to menu diving. 
If you're used to digital synths that require you to dive deeper and deeper in a menu and only offer four or five real time control knobs on the panel, you understand how limiting that can be. With Monologue you can tweak envelope settings, filter resonance and oscillator waveforms, all at once. 
Another "key" difference (pardon the pun), is the 25-key keyboard, which opts for an E to E layout, rather than the more common C to C layout. This provides some additional range for bass notes if you're using Monologue to provide low-end punch.
Who Should Buy Monologue
With its great bang-for-buck feature set, Monologue will appeal to a diverse group of musicians. Whether you're a guitarist, bassist or otherwise, Monologue features a clear, straightforward signal path and impressive sonic flexibility. There's a lot you can learn from a synth like this, with knowledge that you can apply to other instruments as well, making it a great beginner synthesizer.
Maybe you've already got some other synthesizers, and you're looking to have something specifically for bass or lead sounds? Monologue will take care of that for you, offering some signature Korg analog sounds at a great price.
If you're used to working ITB (in-the-box), Monologue is a strong choice for your first foray into the analog world. It offers a familiar front panel that you've likely seen in your soft synths, but with dedicated knobs that won't require any mouse clicks. Worried about integrating it with your computer? Monologue offers MIDI capability over standard 5-DIN MIDI cable or USB. This means you can also trigger Monologue from another MIDI controller or your favorite DAW.
If you're just thinking about Monologue in a studio environment, think again. Monologue is ultra-portable, weighing in at just 3.78 lbs. It can also run on 6 AA batteries (approx. 6-8 hours of battery life, depending on battery type). It also offers a total of 100 program locations, 80 of which are already filled with inspiring sounds from the factory. This leaves lots of room for you to program your setlist into. 
Ready to take the plunge? Check out Monologue today!