A tabletop Roland Boutique series module based on the über-influential Roland D-50, it vastly expands what you and your controller can create.
---
The latest release in the Roland Boutique synth series, the tabletop Roland D-05 Linear Synthesizer module recreates the sounds of Roland's classic D-50 synthesizer.  But the new D-05 brings a lot more to the table in the form of impressive new functions and sounds.
First, a little Roland D-50 history
Originally released in 1987, Roland's D-50 helped usher in a new era of creative possibilities for keyboardists and composers. Using a combination of sample playback (specifically for transient attack) as well as more traditional digital synthesis methods, the D-50 produced a broad array of rich sounds blessed with unprecedented levels of sonic realism. And everybody loved the joystick controller—a feature built into the new D-05.
Combined, the two synthesis technologies gave the D-50 a very distinct sound. Coupled with a low-pass resonant filter and onboard effects, the sound-design possibilities were endless. Just as importantly, musicians and composers embraced the D-50 for its surprising warmth and amazingly lush patches.  It's no wonder then that the D-50 turns up on so many of the pop records, soundtracks, and scores of the late '80s and 1990s.
Eric Persing, Roland's former Chief Sound Designer (1983-2001) talks about and demos the genesis of some the D-50's most celebrated patches.
Roland D-05 – A classic reborn
Now, with the release of the D-05, Roland has accurately recreated the legendary D-50, while adding updated functionality—all in an ultra-compact unit. Loaded with the original D-50 presets plus many new sounds—many destined to be classics themselves—it easily outdistances the original D-50. With 64 x 6 presets plus 64 x 8 user patch locations, you can explore sounds and save your configs to your heart's content. And it's all wrapped up in the quickly graspable type of interface that's been winning fans to the entire Roland Boutique lineup.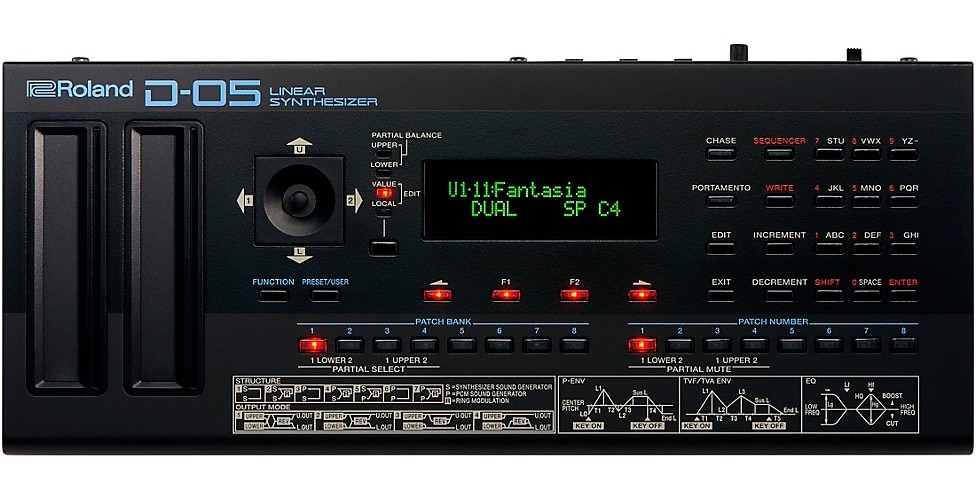 Totally portable, the D-05 runs on 4 rechargeable AA batteries or USB bus power and has an onboard speaker for mobile monitoring. It's also compatible with Boutique series gear such as the Roland K-25m Keyboard. Combined, the D-05 and K-25m form a potent composition/performance combo you can tuck under your arm or slip into a knapsack. Factor in the new functions we'll touch on next, plus a very attractive price point, and we think linear-synthesis fans are going to snap up these boxes..
Check out the D-05's lush sounds plus the new composing/arranging/performing tools.
D-05 Offers Sweet Composition and Performance Tools
As circuits continue to shrink, Roland has packed a lot of capability into the D-05. The onboard 64-step polyphonic sequencer is smartly integrated into the control surface, allowing you to intuitively build complex performances both in the studio and onstage without much of a learning curve.
Aiding and abetting the sequencer is a full-featured arpeggiator. Together with a retro joystick and a pair of ribbon controllers, you can pull off some amazing performance moves with the D-05 perched next to your controller or atop your keyboard.
Why You Should Purchase The Roland D-05
Roland's Digital Circuit Behavior (DCB) faithfully recreates the legendary D-50 so if you're looking for the classic sounds that helped define the late 1980s and early 1990s, the D-05 is a great choice at a very attractive price. While it's small footprint may be offputting to gigging keyboardists, with full MIDI integration via 5-pin DIN or USB it's a cinch to integrate into any existing performance workflow, much like rack synths of yesteryear. Even better, that USB connection can be used for USB Audio, meaning you can get everything you need over one cable which any studio owner will appreciate.