A direct descendent of Roland's flagship FANTOM line, the FANTOM-0 series of synthesizer keyboards packs a bevy of producer- and player-centric features that are purpose-designed to streamline your workflow. From user-friendly bells and whistles like a color touchscreen and knob and fader hardware to its ZEN-Core and SuperNATURAL sound generation, it's a creative workhorse for musicians of all types.
We sat down with Scott Tibbs, product research and development specialist at Roland, to get the rundown on the new FANTOM-0 series, and how it came to be. Also, be sure to check out this video demo featuring artist/producer Ali Stone with a FANTOM-07.

The HUB: Back in fall of 2019, Roland launched a continuation the FANTOM line. Since that time, it has had quite a bit of development and support. Can you speak a little bit about how that evolution carried over to the new FANTOM-0 models being released now?
Scott Tibbs: We're always expanding our capabilities and keeping in touch with what our customers are using. We want to continue adding on to the FANTOM legacy and get it in front of as many musicians as possible. We start from the top down, fine-tune the sounds and technology and refine key features until we have something for every type of player. Always evolving. 
All the power, half the weight. Portability really helps us in our goal to get FANTOM in the hands of as many people as possible.
The HUB: Did you have to rethink the interface (controllers, screen, etc.) for the FANTOM-0 form factor?
ST: Not too much. Even in the smaller form factor, there's still plenty of real estate to keep the controls pretty much the same. Some of the buttons are a little smaller than the flagship model.
The HUB: Looking at FANTOM-0 as a performance-oriented instrument, what were the most important features and/or workflows that it had to have?
ST: We carried over some great features from the flagship model—being able to access layering, mixing sounds, organization of patches, connectivity to any DAW allowing you to control levels and outputs, being able to organize setlists and patch layers, and being incredibly user friendly and graphic. We focused on the player mentality.
The HUB: At the heart of FANTOM-0's sound generation is ZEN-Core and SuperNATURAL. For someone that might be new to the Roland family, what are the key differences between the two? What is each used for?
ST: The ZEN-Core engine has expanded extreme ranges of quality and clarity—an unbelievable duplication of analog sounds. ZENOLOGY opens up for newer things, as there's always room now. It's ever morphing—we can put in a new sound engine if we want.
SuperNATURAL is more for capturing the acoustics—the living, breathing response of the instruments. There are intervals between the notes, like a real instrument behaves. It's a unique quality that interacts with you.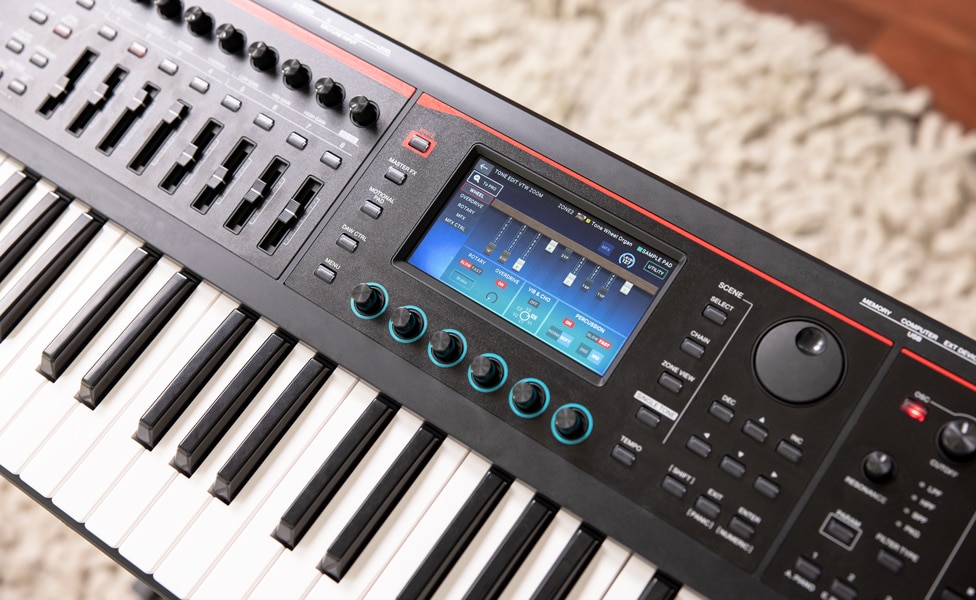 The HUB: The Virtual ToneWheel Organ was introduced to the FANTOM family in summer of 2021 with FANTOM 2.5. What does that offer players as compared to a sample-based organ? 
ST: Samples are static; you can apply effects, but the sample is still a sample. The ToneWheel engine livens up the organs to a more natural state, not dealing with the rigid use of a sample. Drawbar prevents popping and stair stepping when you're opening up the harmonics, and provides more natural growl that you get with nonperfect samples—fluidity, life, expressiveness. Being able to morph sounds without changing presets, dynamic continuous motion in the sound really evokes a reaction.
The HUB: How does FANTOM-0 integrate Roland Cloud into its architecture? 
ST: Roland Cloud integrates with everything from sounds to libraries. It's always going to be there. ZENOLOGY is everywhere—the accessibility of thousands of sounds to further personalize and evolve your hardware.
The HUB: One of the most appealing things about FANTOM-0 is the different ways you can lay down your ideas. Can you break down the different sequencing and sampling methods? Are different methods better for different types of production?
ST: The best thing is that there are many ways to record. Every player will find a workflow that blows them away—everything you can touch and see. Everything is possible. It's comprehensively amazing how you can assign any sound or any part to match your workflow. You can sequence clips, put them together and rearrange the music you've created, in any order. There's not much you can't do in the FANTOM.
The HUB: What advantage does this style of creation offer that you may not get from a typical DAW setup?
ST: There's not a competition; it's all about making music, but it's the interaction with hardware that's the real difference. There's a more authentic way in how you create music—you touch the keys and pads, you turn the knobs … you're there. You have everything in the instrument at your fingertips. There's an organic connection between the player and the keyboard. There's instant gratification. You can be anywhere they keyboard is. Your environment can change without needing a computer or DAW, having the comfort of knowing your FANTOM is as efficient as your DAW setup. More engagement with your music—not looking at a monitor.
The HUB: For those that want to use FANTOM-0 with a DAW, you tout native integration with Ableton Live, Logic Pro X and more. What does that mean exactly? Is that purely controller mapping or something more?
ST: MainStage, Ableton and Logic—it's not just mapping. It's a visual representation of tracks and patches. You can see everything you need to see from the onboard screen. Being able to sequence, arm tracks, add or delete tracks, record and more without being near your computer. Completely the same organization as if you were using a mouse or track pad. To be able to control live playback and see patches and not even have your computer on the stage is pretty cool. Setting markers in your DAW that you can control in FANTOM allows you to jump to anywhere you want in a track or a song without loading new projects.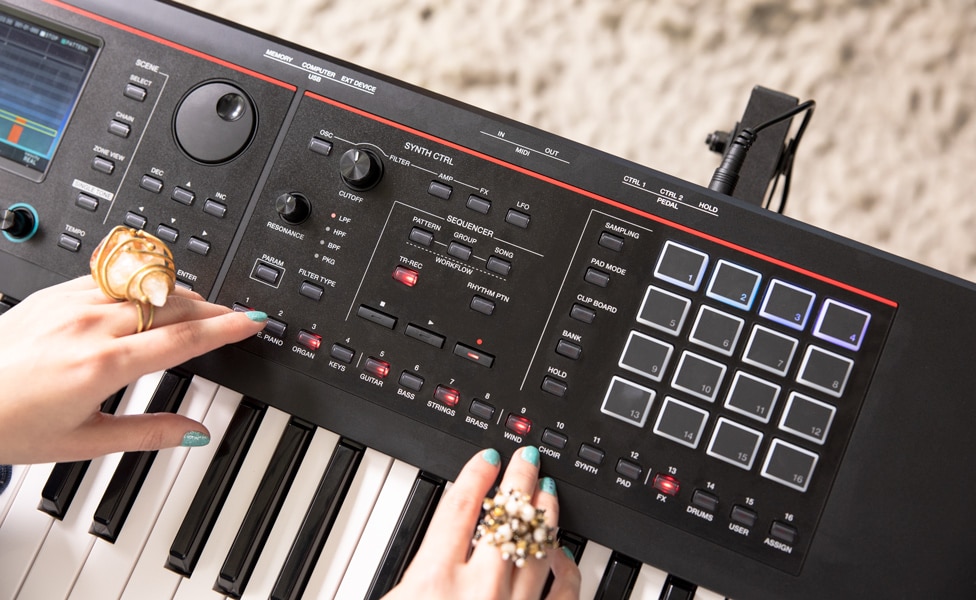 The HUB: Which presets would you recommend to someone checking out FANTOM-0 for the first time?
ST: The clarity of the pianos, the realism of the string sounds. For acoustic realism, take some time and really listen to the variances in brass, drums and basses. The synth sounds are incredible and no matter what sounds you find, you're going to love it on every sound. If you're going to start somewhere, start with the pianos and vintage keyboards, listen to the drums and go from there.
The HUB: Roland is celebrating its 50th anniversary this year. Can we expect anything special via Roland Cloud to celebrate that incredible milestone?
ST: We are always coming out with new stuff. You can always expect something amazing coming around the corner.
Learn more about the Roland FANTOM-06, FANTOM-07 and FANTOM-08. 
Keep up with Ali Stone.