Roland's TR-8S Rhythm Performer is a new performance-oriented instrument that will appeal to performers, producers and more. TR-8S combines the best of Roland's TR-series drum machine heritage with modern production techniques and their proprietary ACB technology.
Classic Sounds with Modern Design Tools
Right out of the box, the TR-8S has every sound from Roland's most popular TR-series drum machines. All of the iconic sounds from the 808, 606, 909, 707 and 727 are there. Even better? You can mix and match preset and custom samples (loaded from an SD card) to design your own user kits. As with the TR sounds, you can take complete control of your samples, adjusting tuning and decay in real-time. You can also alter sample start points, speed, and direction. Need more sound design options? Built-in effects include overdrive, delay, filter, reverb and more.
TR-8S can store up to 128 User Drum Kits. Each Kit stores Instrument and Master Effects, along with their precise settings. If you're prepping an upcoming set, you can head to the gig confident that your sounds will load up exactly how you need.
Sequencing on TR-8S
At the heart of the TR-8S is Roland's classic "TR-REC" step sequencer. As expected, you can use the 16 TR-REC buttons for recording or programming. You can also add life to your sequences with velocity, accents, flams and adjustable sub-steps. You can even adjust the "last step" for each part, allowing you to create polyrhythms and complex meters. There's also a separate velocity-sensitive performance pad for sequencing and performing.
TR-8S offers fast, intuitive motion sequencing so you can automate effect parameters, tuning, pitch, panning and more. Whether you're going for intense or nuanced, motion sequencing can add a significant amount of dynamic range to your patterns. Live performers will be pleased to know that motion playback can be enabled or disabled instantly.         
Performance-Oriented Patterns
The TR-8S can store 128 patterns, each with eight variations and three kinds of fills. These can be played or chained in any order, making the TR-8S a truly performance-oriented instrument. What's more, the TR-8S also allows you to copy patterns in the midst of performing.  You can even work on patterns while other patterns are playing.  
Input and Output Options
Finally, the TR-8S has eight separate analog outputs, so you can mix, record or process each sound externally. The TR-8S also features a 96 kHz/24-bit DAC, ensuring you'll get big, punchy sound. Additional I/O includes MIDI and audio over USB, stereo audio inputs, headphone, stereo mix outs and a dedicated trigger out.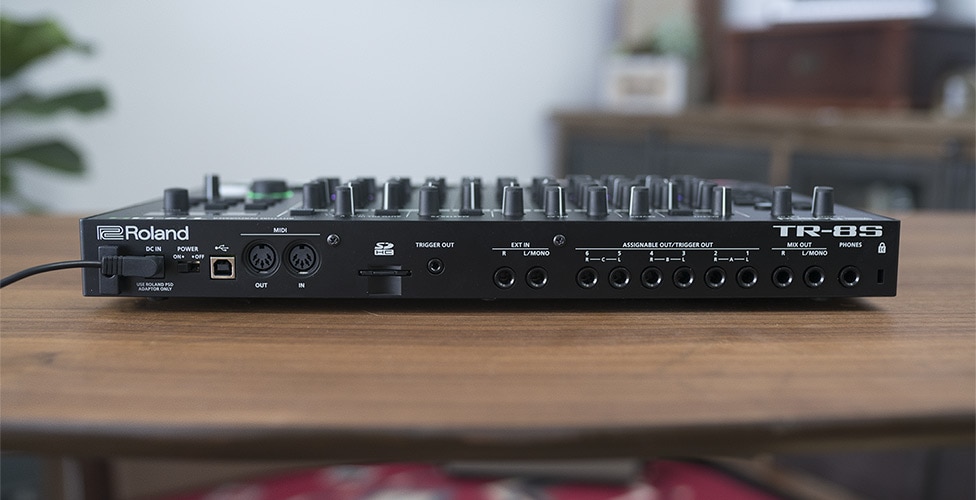 Browse Musician's Friend's full selection of drum machines.