You're at a buddy's house with a poorly tuned guitar, an eager audience, and no tuner in sight. Or you're about to start a gig, you stomp on your tuner, and nothing happens—dead battery.
Don't fret (See what I did there?)—there's a tuner on your smartphone or tablet. Right?
All tuner apps are not created equal, so make sure you're ready with the right one.
5 Free Tuner Apps
Okay, so maybe your first recording contract hasn't happened yet and you're working with a tight budget. Or, maybe you didn't get your allowance this week. Luckily there are some great free tuners out there.
1 - Pano Tuner: Consistently High Ratings
The Pano Tuner is one of the highest-rated apps for both iOS and Android. Users praise the app's consistency and ease of use. The Pano app lets you dial in precision settings for different contexts—like when you need to tune quickly for a jam session with buddies and close enough will cut it, or when you need extreme precision for your latest recording project. It also features settings besides A440 for non-standard tunings.
Despite overwhelmingly positive user ratings, some have reported trouble with accuracy, as well as typical app woes (freezing, intrusive advertisements, etc). As is common with many apps, there is a $1.99 premium version that offers additional tones and temperaments for custom harmonies. iOS- and Android-compatible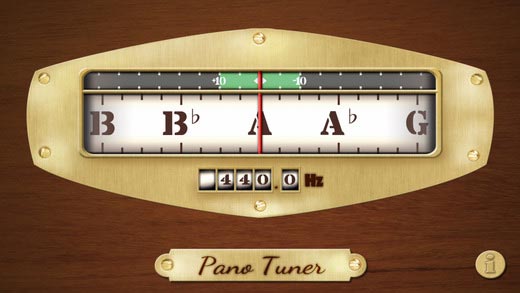 2 - gStrings: No, Not That Kind
The gStrings app is one of the highest-rated Android tuner apps, clocking an impressive four-and-a-half star rating from over 175,000 reviews. Features include settings for different temperaments, control over microphone sensitivity, and a pitch pipe/tone generator. Con: Some reviewers have reported limited range of frequency sensitivity. Android-compatible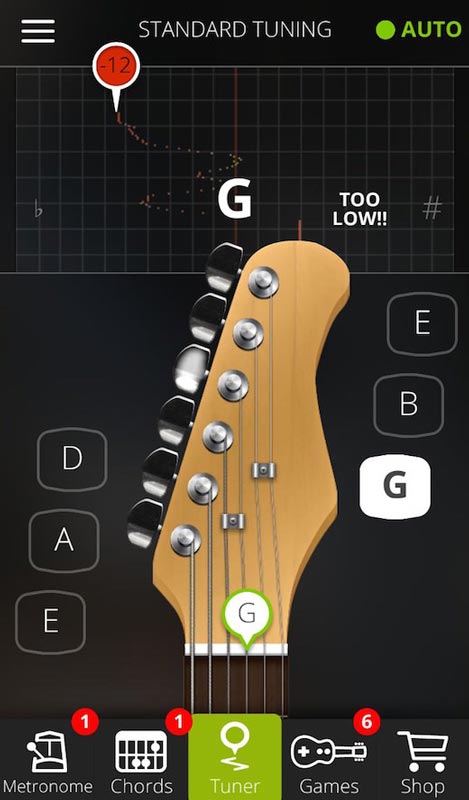 3 - Guitar Tuna: Tuner, Metronome, and Game
The Guitar Tuna ("It's not a tuna …" You were thinking it.) app is the self-proclaimed "#1 Tuner in the World." Guitar Tuna is a beautiful app that looks great and functions well. The interface is visually engaging and the accuracy is excellent. This app also features great training modes to help develop your ear. Some content is accessible via in-app purchase, like additional tuners for bass, 12-strings, banjo, mandolin, and more. iOS-compatible
4 - Pitchlab: 100% Free
Pitchlab - This Android app is very accurate, with sensitivity in a wide frequency range. It also features several different display modes for analyzing pitch, harmonies and waveforms. iOS- and Android-compatible
5 - Martin Tuner: More Proof These Guys Love Guitar Players
The Martin Tuner  app from C.F. Martin & Co. is visually attractive, and packed with extra features including instructional material on how to change strings, videos on guitar maintenance, and an ear-training tool. iOS- and Android-compatible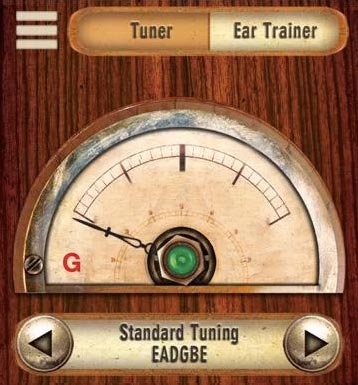 These free tuner apps will get the job done and make it easy on your eyes–and your wallet.
5 Designer Tuner Apps
For the discerning players and high-rollers of the world: consider dropping a few bucks on these premium tuning apps.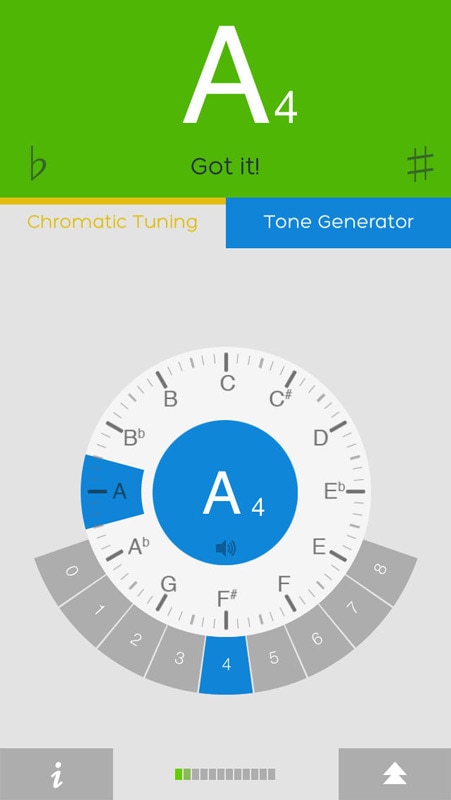 6 - insTuner: Simple is Awesome
The insTuner app (Pro $2.99) is another fan favorite.This app, featuring a bright, colorful display, is especially sensitive at lower frequencies. The insTuner app is reliable and versatile, and also features presets for a host of other instruments besides guitar. iOS-compatible
7 - Guitar Companion: For the Lonely Nights
The Guitar Companion app's main feature is the tuner, but it does a whole lot more. Single tone and chord generators help develop ear training. A metronome and drum tracks are also available for on-the-go practice. iOS-compatible
8 - Guitar Tools: The Future is Here
The Guitar Tools app was developed by the fine folks at Ultimate Guitar. The features can be accessed from the Ultimate Guitar app or separately through the Guitar Tools app. In addition to an accurate and easy-to-read tuner, this app also offers users a metronome and a chord library. iOS- and Android-compatible
9 - iStroboSoft: Blissful Precision
From the folks at Peterson Tuners, the iStroboSoft app is one of the pricier options on the market for iOS or Android. However, if you've had experience with Peterson's other tuners, you know the extreme level of accuracy they deliver. This app is no different. iStroboSoft is reliable, easy to use, and extremely accurate. iOS-compatible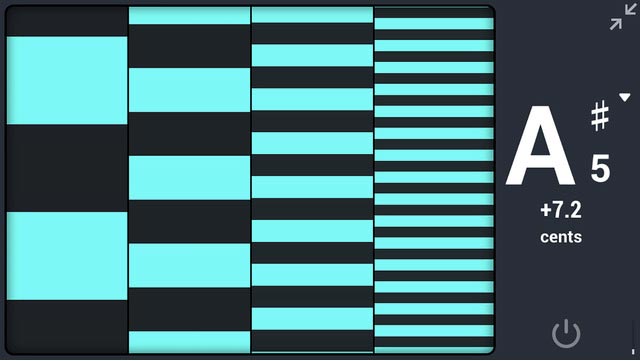 10 - Cleartune
Cleartune is a simple, accurate tuner app featuring a large display that is extremely easy to use. Fans have found this app to be reliable enough to use onstage.
If you're in the mood to treat yourself, check out these paid tuner apps. The reliability and premium features are well worth their price. iOS- and Android-compatible
Want Another Option?
While these are some of the best guitar tuner apps available, there are plenty more available with some great features. Got one that we missed? Share your favorites in the comments below.
For details on pitch-matching vs. line-in tuning, check out the list of our top seven online tuners. None, of course, are a substitute for a real, physical tuner, check out the Guitar and Chromatic Tuners Buying Guide and learn how to choose the right one for you.