Universal Audio has announced the Arrow Thunderbolt 3 audio interface today. The bus-powered Arrow features two Unison microphone preamps, class-leading AD/DA converters and their realtime UAD Plug-In Processing platform. Even better, it comes with the "Realtime Analog Classics" UAD plug-in bundle.
On-Board UAD-2 Processing
Inheriting tech from UA's Apollo interfaces, the Thunderbolt 3 Arrow has a UAD-2 Solo Core processor on-board, meaning you can monitor, record and mix through any UAD Powered Plug-in at near-zero latency. With Arrow's on-board UAD processor handling the plug-in processing, your computer can worry about the other important DAW tasks, potentially resulting in better performance in other key areas.
What Is Unison Mic Preamp Technology?
Of particular note is the aforementioned Unison mic preamp technology, as found in other UA products. Originally announced in January of 2014, the Unison mics pres enables your on-board pres to sound and behave like some of the most famous tube and solid-state preamps available, including those from Neve®, API® and Manley®. Even better? The tech can also emulate the impedance of some of the world's most famous guitar amps, including those from Marshall®, and Fender®.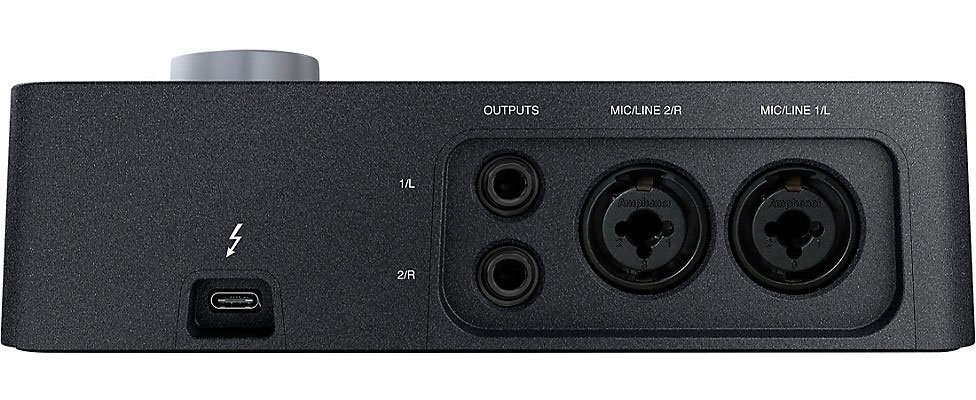 What Plug-ins does Arrow Ship With?
The bundled "Realtime Analog Classics" UAD plug-ins cover all the important areas; compressors, EQs, reverbs and guitar amp emulations. Of particular note are the included UA 610-B Tube Preamp and Marshall® Plexi Classic plug-ins. Additional plug-ins can be purchased online from UA's online store, enabling you to build the virtual gear collection of your dreams, minus all the pesky cable runs, patch bays and rack screws.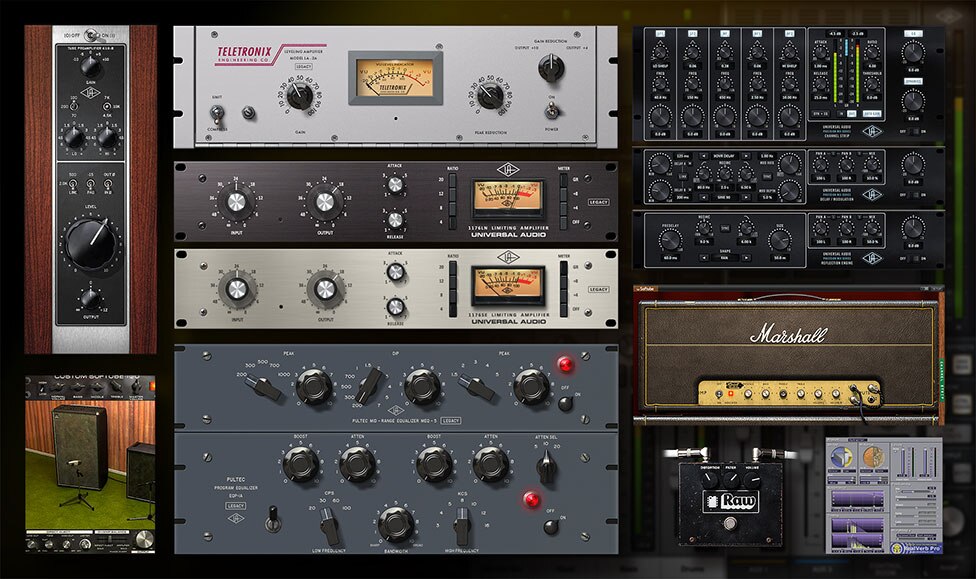 Additional Features and Specifications
Arrow is a 2x4 audio interface, offering up to 192 kHz / 24-bit performance. The front of the unit features a dedicated instrument input (for your guitar or bass) and headphone jack, while the rear offers a Thunderbolt 3 jack, combo XLR/1/4" jacks for input and dual ¼" jacks for output to your studio monitors.
The top of Arrow offers additional input and output metering, switchable pad, phantom power on/off and more, all in a desktop-friendly format.
Who Should Buy Arrow Thunderbolt 3 Audio Interface
Given the attractive price-point and portability, Arrow should appeal to a broad base. For the musician just getting into recording, Arrow is relatively affordable, offers great sound and has plenty of room to grow. Right out of the box it will offer plenty to work with courtesy of the "Realtime Analog Classics" bundle, and should you want to expand your sonic palette in the future, you can purchase additional plug-ins from their website.
If you're a musician, producer or mix engineer with a permanent Apollo setup who needs a more portable UA setup, Arrow should appeal to you, allowing you to take your mixes wherever you go.
Shop our full selection of audio interfaces and other recording gear.