What is a humbucker pickup?  A humbucker is a guitar pickup that has two wound coils next to each other, wired in reverse polarity. This pickup design eliminates, or greatly reduces, most of the hum that single-coil pickups are prone to. Sometimes abbreviated as "'buckers," they generally produce warmer, "rounder" tones than single-coils and tend to emphasize midrange harmonics for a sound often described as "throaty."
Want to learn more about the differences between single-coil pickups and humbucker pickups? Check out Humbuckers vs. Single-Coil Pickups Explained.
One of the simplest and most cost-effective modifications you can make to an electric guitar is swapping the original pickups for an aftermarket humbucker that offers sound and performance closer to what you're looking for. Often, the sound of a budget guitar can be given a huge upgrade by simply switching to better pickups.
To learn more about humbuckers (and pickups in general) take a look at the relevant section of our Electric Guitar Buying Guide.
1. Seymour Duncan SH-PG1 Pearly Gates Pickup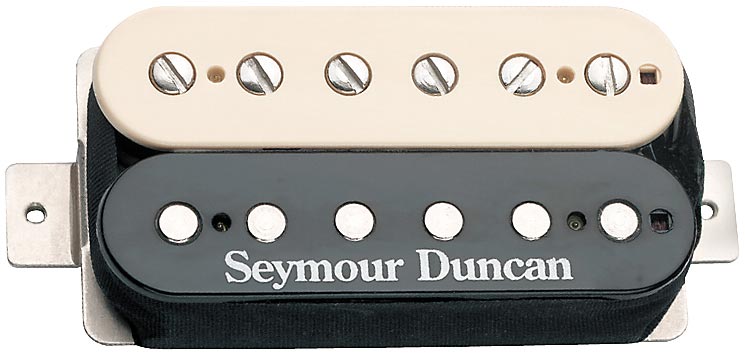 Seymour's take on the original PAF, the SH-PG1, churns out an edgier tone with brighter top end for commanding solo tones.
Initially intended to mimic the Patent Applied For pups that went into the '59 Les Paul Standard, the Seymour Duncan SH-PG1 Pearly Gates Pickup is a top-rated humbucker among hard rock and blues-rock players. It has excellent sustain and cranks out soaring, crystal-clear treble notes, giving harmonics plenty of projection. Output is slightly hotter than vintage pickups, and when you dig into the lower strings with your guitar volume pot at 10, the sound opens up into creamy blues-rock territory.
The SH-PG1 Pearly Gates pours out sweet and burnin' tones that cover everything from classic rock to meaty jazz and blues licks.
2. DiMarzio DP100 Super Distortion Pickup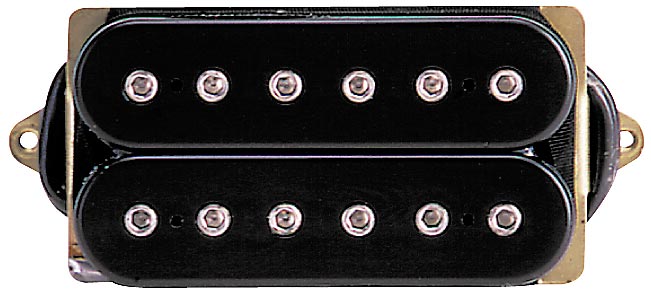 The Dimarzio DP100 humbucker is famous for its contributions to classic rock sounds of the '70s and '80s.
Musicians who grew up loving the rock sounds of the 1970s and '80s will love this humbucker. Introduced in 1972 and designed to produce the hottest output possible, it packs a punch, especially in the all-important guitar midrange. Thanks to its coil-splitting capability and versatile 4-conductor wiring, this pickup has been a favorite among guitarists as diverse as Al Dimeola and Ace Frehley. With regular or F-spacing options, the DiMarzio DP100 Super Distortion Pickup fits most Fenders, Gibsons and Floyd Rose bridges.
3. EMG-81 Humbucking Active Guitar Pickup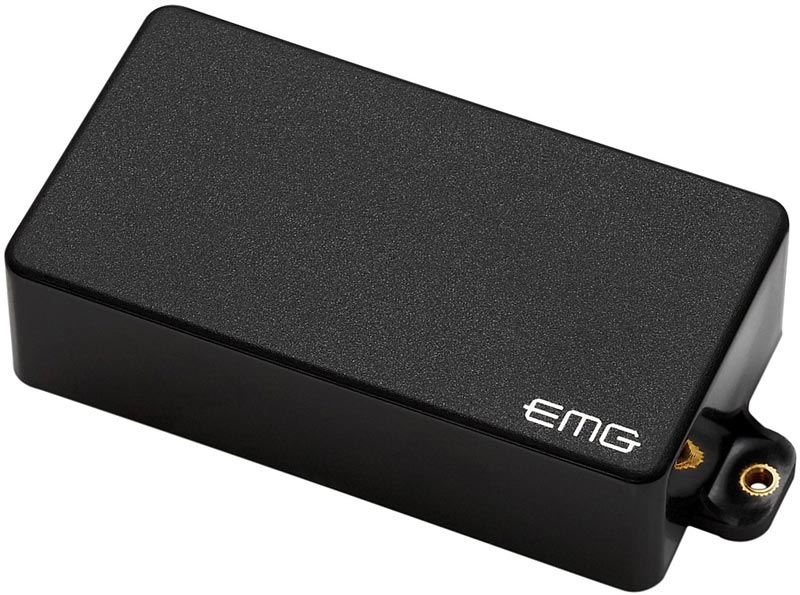 A top choice for metal and hard rock lead guitarists, the EMG-81, when paired with a high-gain amp, generates awe-inspiring breakup and head-rattling clean tones.
For many metal players, the EMG-81 Humbucking Active Guitar Pickup has become the default weapon of choice. It's capable of churning out huge overdriven sounds when goosed with your master volume knob to cut through extremely dense band mixes. A great choice for the trio guitarist who needs to keep the rhythm crunch flowing as well as delivering searing lead tones, the EMG-81 is not just about rawk. It can produce smooth, clean tones ideal for ballads too. Often installed alongside the fatter-sounding EMG-60, the pair deliver a full range of high output tones.
4. Railhammer Hyper Vintage Humbucker Pickup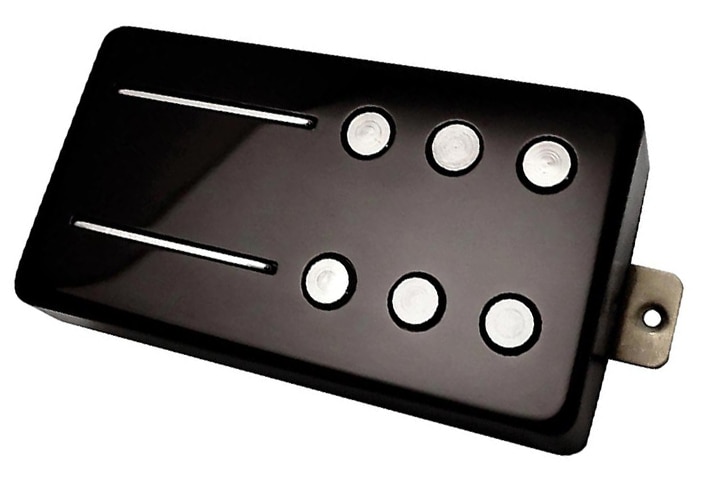 The Hyper Vintage Humbucker from Railhammer rethinks electromagnetic technology to carve out a sonic space of its own.
A relative newcomer on the aftermarket pickup scene, Railhammer has quickly earned a reputation for carving out new sonic territory. The Railhammer Hyper Vintage Humbucker Pickup uses Gibson's PAF as point of departure. But its chimey trebles coupled with an overall warmth give it a distinct sonic signature. By giving the pickup's rails a slightly upward taper as they approach the D string and keeping them thin, Railhammer pups provide balanced string-to-string volume and resist muddiness. The rails are also slightly longer than standard and the poles are oversized, meaning the Hyper Vintage can be dropped into just about any guitar in any position.
5. Seymour Duncan SH-13 Dimebucker Pickup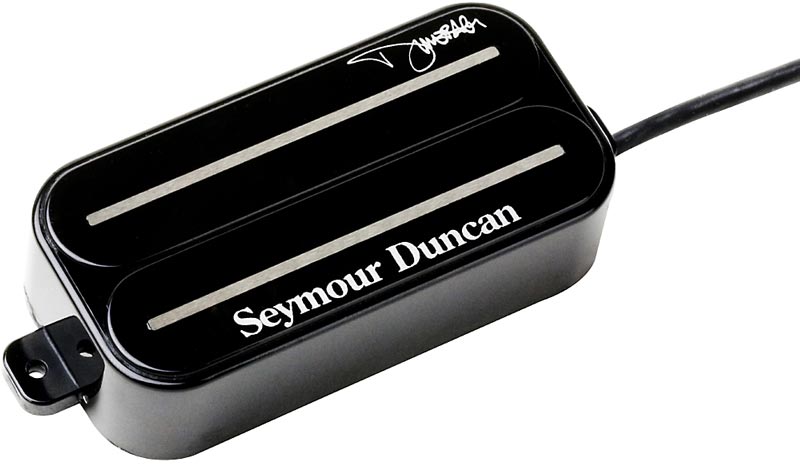 Great for metal and other aggressive genres, the SH-13 Dimebucker is an essential ingredient in countless hardcore rigs.
The Seymour Duncan SH-13 Dimebucker is tough enough to keep up with even the most brutal play, so it's perfect for heavy metal guitarists. An ultra-powerful ceramic magnet with stainless steel blades generates waves of punishing tone. No one-trick pony however, the Dimebucker will also get those early Van Halen sounds and delivers fantastic response when employed with techniques such as pinch harmonics. Excellent clarity in the top end is moderated by chest-punching impact on the lower notes.
6. Gibson '57 Classic Plus Pickup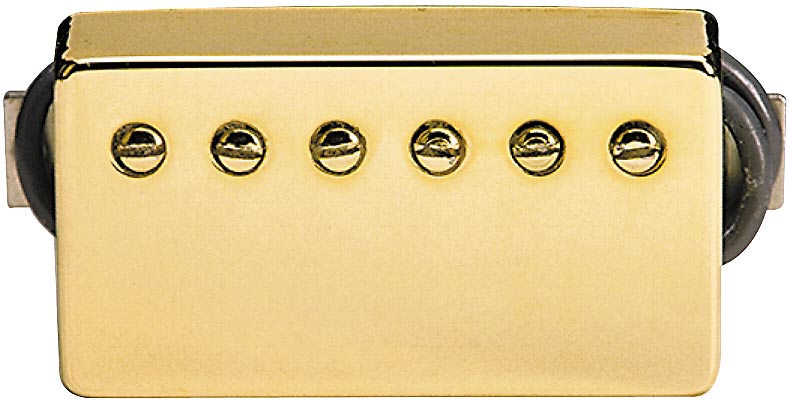 The combination of the '57 Classic Plus with a tube amp is a recipe for old-school tonal richness.
Considered by many Gibson fans to be the ultimate in old-school tone, the Gibson '57 Classic Plus Pickup produces a very smooth sound with a deep, velvety timbre. Meant to mimic the sound of late '50s humbuckers that benefited from some extra turns of wire, the '57 Classic Plus generates authentic tone with a little more output than the originals. Overdrive the front end of your tube amp with your guitar's volume knob and watch these pups begin to shimmer with sustain and creamy saturation that never goes over the top.
Upgrade your Epiphone Les Paul with '57 Classic Plus Pickups! Our step-by-step guide walks you through the process.
Need more help?
Still wondering which humbuckers best fit your needs? Give our friendly Gear Advisors a call. They're ready to help you sift through the possibilities to find the best pickup for your money and music.