The gear and software for today's basic podcasting needs are pretty simple to use and inexpensive to buy. For the would-be podcaster, there's a ton of powerful recording and audio production apps on tap today. By adding the right recording and audio production gear, you'll give your podcasts professional, broadcast-quality sound.
Assuming you have a computer, tablet or smartphone, you need just three things to get started: a microphone, headphones and an audio interface. This guide will help you choose the best audio gear that you need to record a podcast today.
How Do You Choose a Podcasting Microphone?
Your computer or mobile device's built-in mic might be good enough if you're not too concerned with sound quality. However, most built-in mics are very low-fi and will pick up lots of ambient room sound. Keep in mind, once you record it can be difficult to remove that room sound afterwards, so better to get great sound up front. A better solution is an external mic that you can plug into your computer or mobile device. It will provide much better sound quality and can be positioned to pick up just the sounds you want to capture.
Check the polar pattern, also called a pickup pattern, of the mic you're considering. Think about the direction(s) from which your new mic should "hear" sound and the space you'll be recording in.
If you'll be the sole voice on your podcasts, a unidirectional mic with a cardioid, supercardioid or hypercardioid pickup pattern will likely work well. If you'll be recording multiple speakers or performers, you can keep things simple with a single omnidirectional mic if your recording space permits it. For two performers, a single mic with a bi-directional, figure 8 polar pattern can work well.
Learn more about polar patterns with our Microphone Buying Guide.
For podcasters, the good news is there are many affordable microphones with multi-pattern pickup capability. These versatile mics can be configured to your recording situation with the flip of a switch.
USB and iOS Microphones for Podcasting
For easy connection to your digital device, it's hard to beat the plug-and-play simplicity of microphones with USB and/or iOS connectors. Let's take a look at some of the most popular USB microphones among bloggers:
Blue Yeti Studio USB/iOS Microphone
More than just a mic, the Blue Yeti Studio USB/iOS Microphone comes with all the necessary elements to begin podcasting or audio blogging right out of the box. In addition to the four-pattern mic itself with integrated desk stand, you get a valuable suite of recording tools. These include a special edition of PreSonus One Artist — a super-intuitive DAW that will have you recording in minutes. It also includes iZotope Nectar Elements, a vocal sweetening application plus a host of templates that simplifies recording everything from vocals to instruments to podcasts.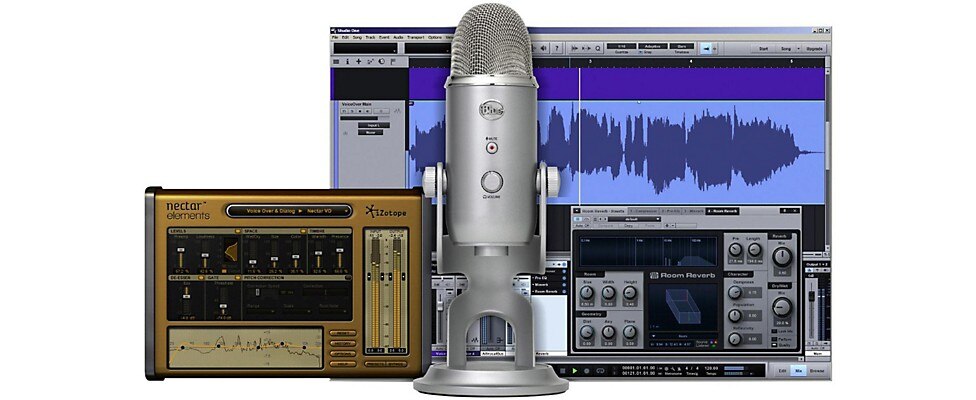 A home studio favorite with both podcasters and musicians, the Blue Yeti Studio USB/iOS Microphone includes a powerful software suite to create sophisticated blog and music productions.
Check out the huge selection of USB and iOS microphones at Musician's Friend.
Blue Compass Boom Arm
While the two Blue mics highlighted above have built-in desk stands, for more versatile mic placement options, consider a Blue Compass Boom Arm. Designed for professional use in broadcasting, game streaming, voiceovers and podcasting, its smooth operation and quality build are amazing given the modest price.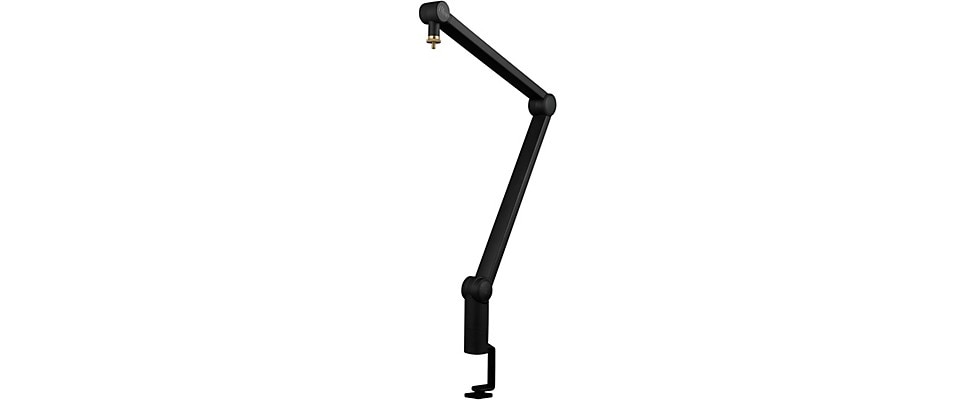 The Blue Compass Boom Arm is the affordable pro solution to exact mic positioning.
The Best Dynamic Microphones for Podcasting
If you plan to use an iOS audio interface or a cable adapter that can handle a standard microphone input, there's no need to limit the dynamic microphone models you consider to those with digital-friendly connectors. Respected dynamic microphone models like the Shure SM58S and the Electro-Voice RE 20 (another radio favorite) have internal shock mounts to deal with handling noise and vibrations. And their excellent sound capture characteristics will serve you well beyond podcasting.
Shure SM7B Cardioid Dynamic Microphone
Designed expressly to reproduce the spoken word, the Shure SM7B is a favorite of professional broadcasters, voice over artists, and podcasters. Engineers also use it beef up weak voices or tamp down harsh-sounding live rock singers. With its integral pop filter it's a great mic for close-talk applications. That "voice of God" vocal presence that many performers and DJs seek is easy to achieve with the SM7B. Bass roll-off and midrange emphasis controls make it easy to dial in a satisfying sound.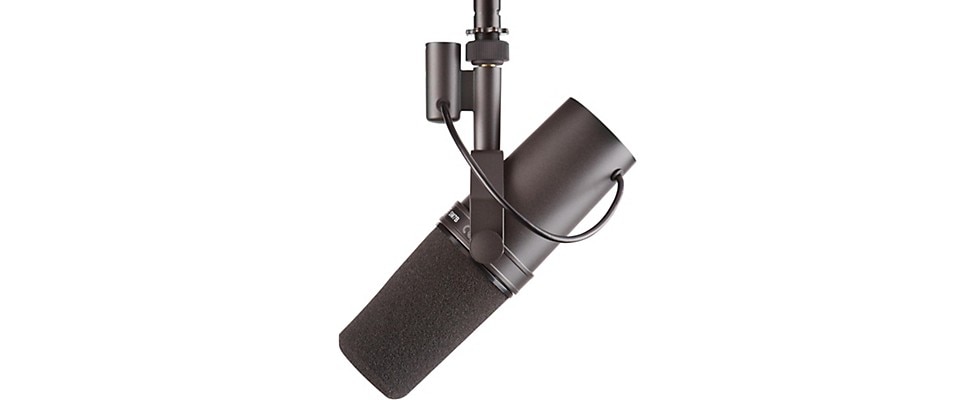 Voice over professionals and podcasters love the richness and detail their voices enjoy with the Shure SM7B.
Learn more with our Microphone Buying Guide.
The Best Headphones to Monitor and Mix Your Podcast
Unless you have accurate studio monitor speakers that you can connect to your computer or mobile device, headphones are a good way to monitor your recording to judge the audio quality of your podcast.
You'll find many affordable headphones to choose from at Musician's Friend that will serve the purpose nicely. We'd recommend closed-back headphones so that the sound you're monitoring doesn't leak into your mics. The Tascam TH-200X Studio Headphones are designed specifically for studio work. Their honest sound will reveal any issues in your podcast's audio and help guide you in fixing them. A fantastic buy, the TH-200X is also available in a 2-Pack for podcasters who need to capture two voices or other sources.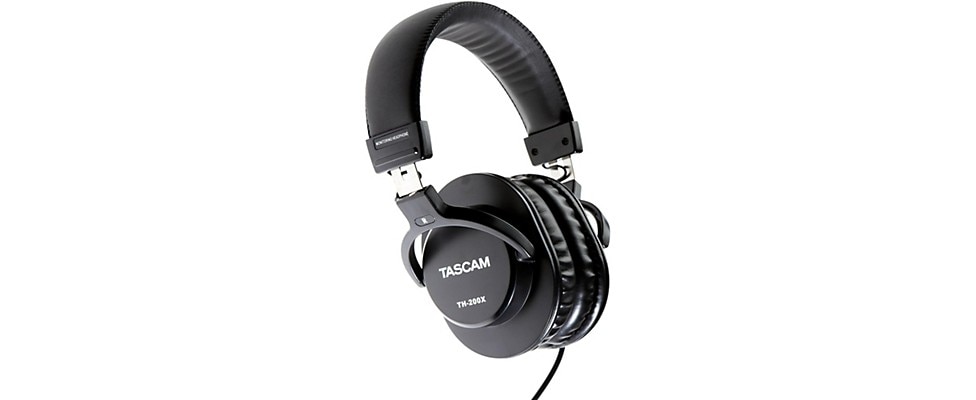 Don't be fooled by the price, the Tascam TH-200X is made for serious studio work and is a reliable guide when polishing your mix.
If you'll be using multiple headphones for other performers or guests, you'll need a headphone amplifier/mixer to provide the right levels and mix for everyone. One of our most popular and affordable units is the Sterling Audio 4-Channel Professional Headphone Amplifier.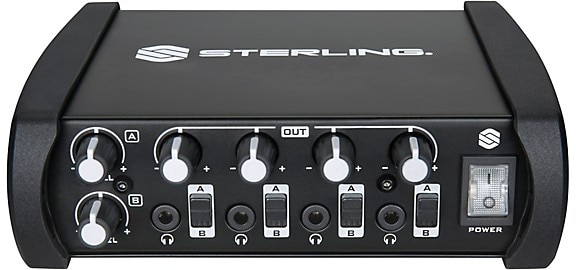 The very compact Sterling Audio 4-Channel Professional Headphone Amplifier can deliver tailored mixes for up to four performers or guests.
Learn more with our expert Headphone Buying Guide.
What Audio Software do you need to Record a Podcast?
If you're a Mac computer user or have an iPhone, iPad, or iPod touch, Apple's GarageBand is your zero-cost solution. The computer version is included with your operating system. The GarageBand app for iOS mobile devices is a free download at the iTunes Store. Both versions are easy to use and provide plenty of control over basic podcast recordings. You can also explore the Apple iTunes Store for many more apps that to varying degrees will help you create podcasts.
If you're a Windows computer user, Audacity, which is also a free download, provides simple tools for recording. If you have an Android tablet or phone, there are many no-cost and low-cost apps that can handle basic podcasting needs.
While any of the software/apps mentioned above will do a decent job of creating simple podcasts, they have some limitations. To record more sophisticated podcasts with multiple tracks that will allow doing things like adding voiceover narration to music, you'll want a recording app or software that offers extended features and control.
There's a huge selection of DAW (Digital Audio Workstation) software to choose from at Musician's Friend. These applications not only allow you to create very sophisticated podcasts, but will also enable you to record, mix and master your music recordings with pro-sounding results.
How To Record a Professional Podcast
We're guessing your podcasts will likely be about the music you make or the artists you really care about. If that's so, and you want the music (as well as your narration) to sound truly professional, some additional gear will help you get there.
Choosing an Audio Interface to Record Your Podcast
Audio interfaces allow you to easily get the music and narration you record in and out of your computer or mobile device. Most offer connections for plugging in both your microphones and instruments such as electric guitars. If you plan to incorporate multiple sources such as two or more mics as well as instruments into your podcast, an interface is pretty much essential.
At Musician's Friend you'll find a huge selection of audio interfaces to choose from that will work flawlessly with your computer or iOS/Android mobile devices. You'll find single channel iOS/MIDI interfaces for connecting a microphone or instrument such as the iRig HD Studio-Quality Interface or iRig PRE Mic Pre for iOS devices, both from IK Multimedia.
When shopping for an audio interface, the number of channels you need is a key spec. So are the types of connections your devices need to communicate with each other.
If you need just a couple of inputs/outputs and both space and cash are tight, the Behringer U-PHORIA UMC202HD 2x2 USB Audio Interface is a good bet. With 24-bit processing, 2 MIDAS-designed mic preamps with 48V phantom power, and zero latency during recording, it works with virtually any DAW software or podcasting app.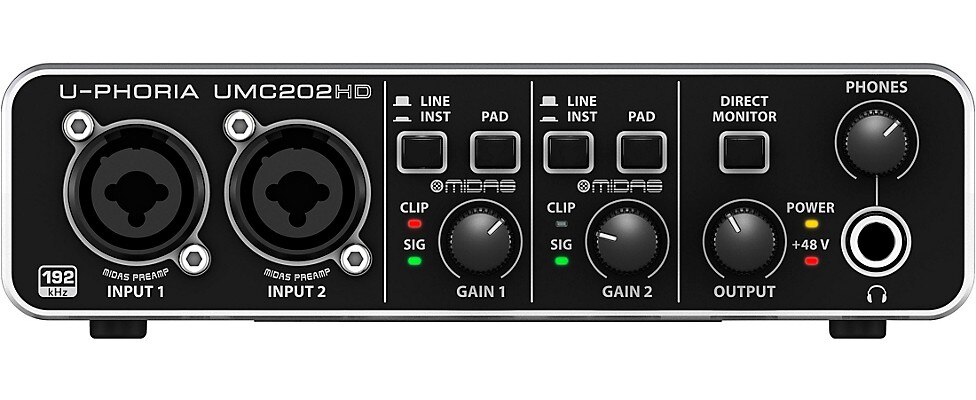 Behringer's U-PHORIA UMC202HD is a compact audio interface with great-sounding mic preamps and 24-bit/192 kHz high-res converters.
Stepping up to an 18-in/8-out USB unit like the Focusrite Scarlett 18i8 (3nd Gen) USB Audio Interface gives you a big boost in functions. Focusrite is known for its excellent mic preamps and the 18i8 includes balanced independent monitor speaker outputs plus two discrete headphone outs with independent volumes — a great feature for podcasting with guests. Scarlett 18i8 comes with Pro Tools | First recording software, as well as Ableton Live Lite and a suite of software and samples.
The Focusrite Scarlett Gen 3 line features a number of different interfaces to choose from depending on how much you'd like to scale the abilities of your podcasting studio..
With 20-channel or larger units, you can record an entire band. Of course, that same interface is also invaluable when it comes to recording and mixing your music. If you've got a lot of voices or instruments to capture in your podcast, take a look at the Tascam US-20x20 USB Audio MIDI interface. It's equipped with eight Ultra-HDD mic preamps with 20dBs of headroom, two TRS inputs, and direct inputs for guitar and bass. The built-in DSP mixer has parametric EQ plus compression on all channels plus a stereo reverb send for your monitor mix, making it a great choice for small club gigs too.

The Tascam US-20x20 USB Audio MIDI interface can handle elaborate podcasting needs and then hit the club for your live performances.
Learn more with our expert Audio Interface Buying Guide.
If utmost audio quality and extensive I/O options are critical in your podcast and voice over productions, the Apogee Element 88 Thunderbolt Audio Interface has what you want. Top-drawer specs include 32-bit A/D conversion so your podcast recordings will reveal every detail and nuance. Ideal for professional-level recording of round tables and other events involving multiple participants and/or performers, its eight Element Series preamps communicate with your recording setup with ultra-low latency thanks to Thunderbolt connectivity. It also offers DAT, SMUX & S/PDIF optical connectivity and works with Apogee Control software.
If you plan to produce your podcasts using your tablet or smartphone, be sure to check the wide selection of iOS-compatible gear at Musician's Friend. You'll find essentials like iPad and iPhone mounts and clamps as well as a full range of plug 'n' play iOS mics, interfaces, cables and adapters.
A DAW Controller Can Streamline Your Podcast Production
As feature-rich as most DAW software is, all that functionality comes at a price. Mixing and editing your podcasts on your computer, tablet, or especially on a smartphone can be challenging. Wading through menus, hitting arcane key combinations on a keyboard or using gestures on a tiny smartphone screen can be challenging. That's why a lot of podcasters prefer to use dedicated hardware for faster, more hands-on-control over the process.
Investing in a control surface to streamline your podcast production process makes sense if you find yourself doing repetitive tasks and continually delving into audio software submenus. With the Behringer X-TOUCH Universal Control Surface, all your moves are at your fingertips. 8 dynamic LCD scribble strips plus 8 rotary encoders, and 8-segment LED meters per channel plus dedicated transport controls means everything is hands-on. That tactile feel is extended with the big assignable jog/shuttle wheel plus 92 dedicated, illuminated buttons.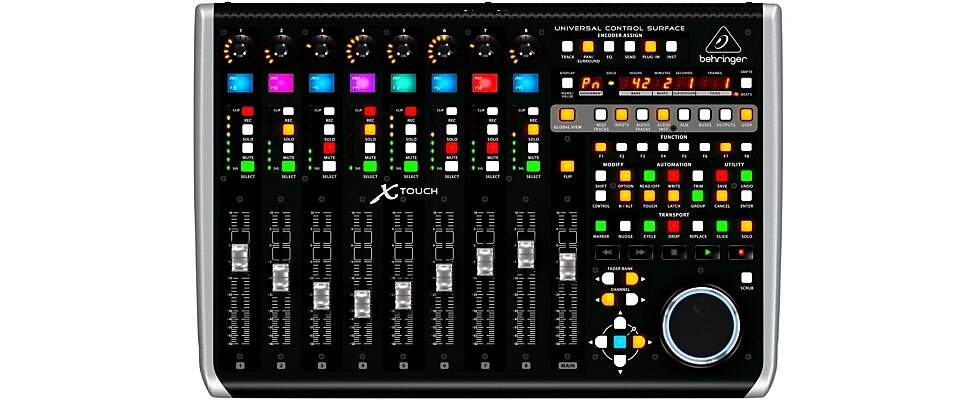 The Behringer X-TOUCH Universal Control Surface will put all your key moves at your fingertips.