Everyone has a favorite pedal or two they like for special occasions. But for general pedalism and the true pedalpheliac (one who is irresistibly drawn to lots of stompboxes), most would agree that BOSS pedals are among the best. They make a lot them (dozens of different models). They are rugged and reliable, and most importantly, they sound great.
Stronger, last longer
First of all, BOSS pedals are built like little tanks, with thick steel casings, recessed knobs, silent FET switches and rubber non-skid bottoms. They have LEDs to keep you informed. They're color-coded so you can tell at a glance which one you're stepping on.They also have battery compartments that open without a screwdriver. Just undo a thumb screw on the back of the pedal, lift up the pedal plate, change the battery, and enjoy the rest of your break. These are true stompboxes, made to be trod upon and survive for years. 
The essential six
Having 30 or 40 pedals all linked up on the floor might be fine for Spinal Tap's Nigel Tuffnel, but for us lesser guitarists it's just too much. Also, with around 40 pedals to choose from, newer players may find the array dizzying. To help, we've selected what we feel are a sensible six of BOSS's best. Line up these six in front of you and you'll likely have all the guitar tones and effects you'll ever need.
DS-1 Distortion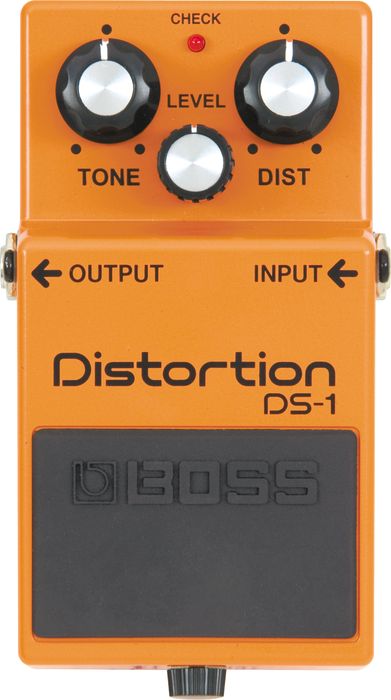 Everyone needs a little distortion at some time, and the DS-1 is a great basic pedal. Very smooth, giving you bluesy color on the low end and radical grunge distortion at the upper end. It sustains quite well, can boost volume when needed and it works well when combined with flangers or phasers. The controls are simple and easy to use: Level, Distortion, and Tone. Overall, it delivers a well-defined distortion, not fuzzy, so the nuances of your dynamics don't get lost, even when you have the distortion knob cranked. Another strong point, it doesn't eat batteries. This is a basic distortion pedal and not overly extreme.
MT-2 Metal Zone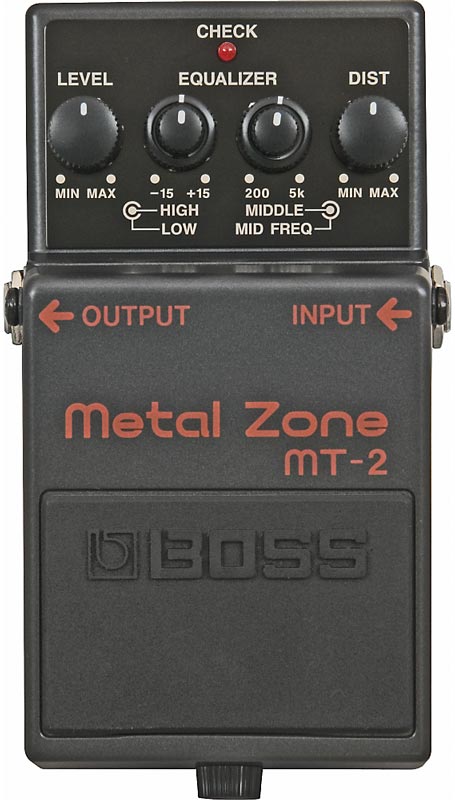 If you go for really rasty and nasty distortion, the MT-2 Metal Zone starts where the DS-1 leaves off. I'm not the only one who thinks this is a great pedal. It's a best seller. If you play metal or extreme grunge, the Metal Zone is an essential pedal to have in your kit.
CH-1 Super Chorus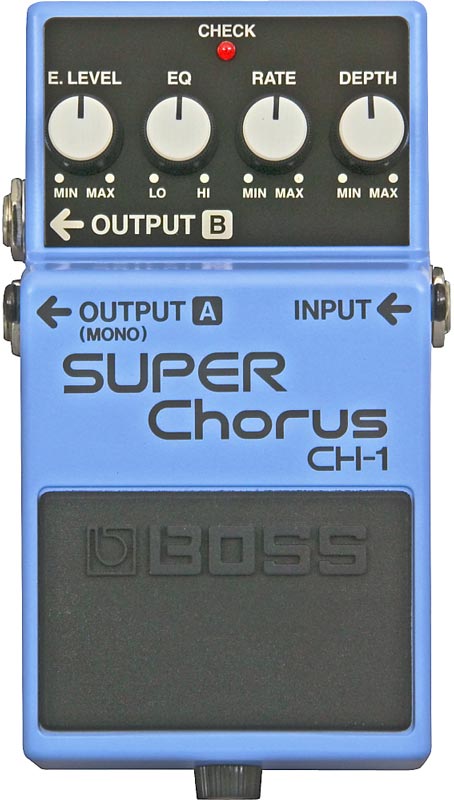 Even the nastiest metal master can get the urge to play something sweet. That's why a chorus is a must-have effect. The BOSS Super Chorus is a really good one. Lots of top pros, who can afford any chorus unit they desire, have used this unpretentious pedal for years. It's relatively quiet, has a practical range to its depth and speed controls, and gets a rich, sweet sound. It also has a tone control, which can be helpful.
DD-7 Delay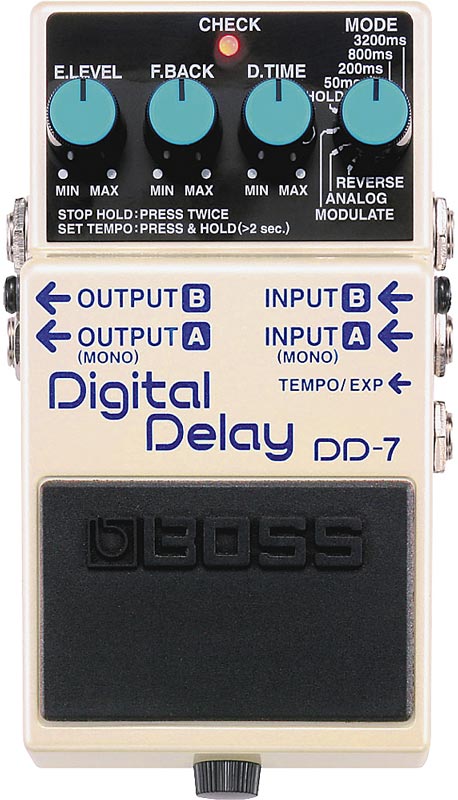 Delay is another must-have: slapback for solos, longer delay effects, and echos-they're things that make the music more dramatic when used right. We could have chosen the DD-3, a more basic unit but still quite effective. We chose the more sophisticated DD-7 because it does all the DD-3 can do, and adds some neat stuff the DD-3 can't do. It's easy to use for the simple stuff like slapback, but it also lets you experiment with more out-there delay effects. It has a delay range from one millisecond to 6.4 seconds and the stereo output gives you the potential for spatial exploration! The Analog Delay mode gives you the vintage DM-2 sound appreciated by old-school BOSS-ophiles.
CS-3 Compression Sustainer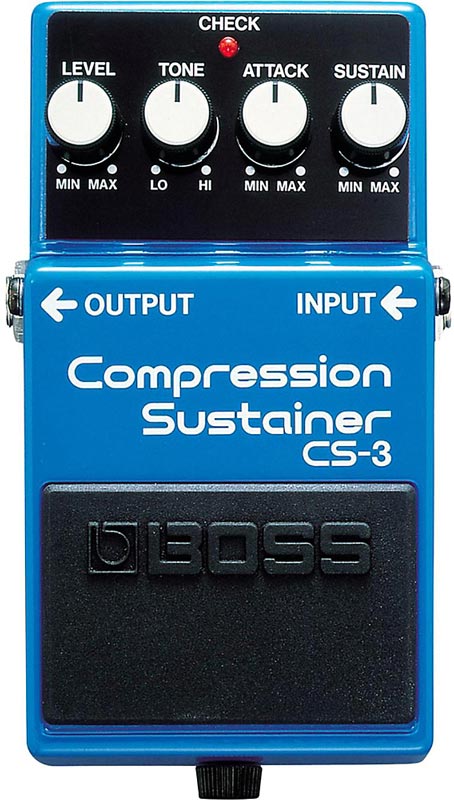 This one was an easy choice. There are so many times when only compression will give you the sustain you need, and let you get a big, thick tone without blowing the lid off the place. The CS-3 is easy to use, either as a simple limiter or to give you incredible sustain without distortion. It has an attack volume control, which you can adjust if you want to get more drive and pick dynamics. Like many of the BOSS pedals, it includes a tone knob for EQ tweaking.
MO-2 Multi Overtone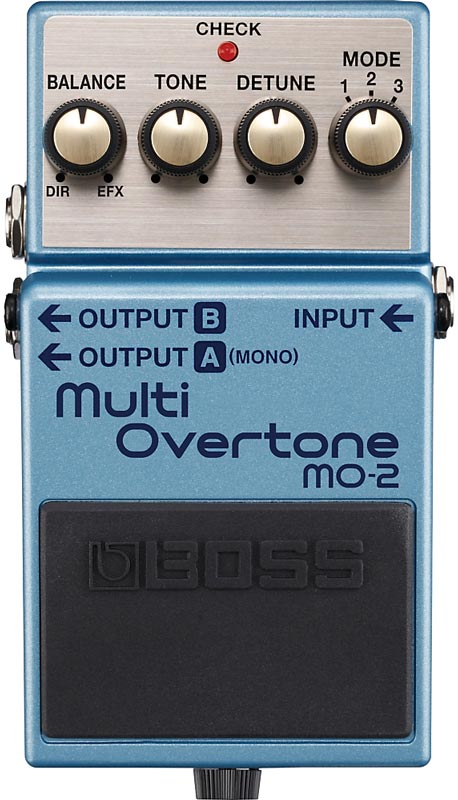 This was a harder choice. We could have gone for a more traditional stomp like the previous five we've covered so far. We wanted, however, to include at least one pedal that was deep and different. The MO-2 fits that description nicely. BOSS uses Roland technology called Multi-Dimensional Processing that monitors and optimizes the sound in real time. While the tech behind MDP is a little deep to get into right now, the MO-2 stompbox offers an impressive quality and variety of of sounds you to wring out of your guitar ahead of your amp. It adds meat to your tone by harmonically enriching your signal. The Detune knob opens up a world of modulation effects giving this stomp a lot of versatility.
Well, these are some of our picks. You might have other ideas, depending on your style of play. But feel free to disagree or modify our choices in any way you like. BOSS gives you a bunch of other pedals to choose from, and Musician's Friend has great prices on them all.
Want to dive deep into all kinds of stomps? Our Guitar and Bass Effects Buying Guide makes a smart starting point.