Line 6 is an undeniable titan in the world of digital music. For the last few decades, the company's design and engineering teams have been pushing the envelope of technical and sonic boundaries. Their latest marvel is POD Go. In a nutshell, it blends Line 6's latest tech with a beloved name that speaks to its true purpose for anyone familiar with the legacy. It's meant to be a standalone, do-all modeling processor for the everyman, just like PODs of yesteryear. 
But this latest iteration isn't some slapdash continuation of the now-10-year-old POD HD lineup. It's built upon the company's flagship HX processing for ultimate sound quality, but it's made for the more casual player who doesn't need the arsenal of bells and whistles that the flagship Helix and slightly slimmed-down Helix LT units offer. 
At roughly 1/3 of the price of its bigger brother, the portable POD Go is still loaded with over 200 amp/cab/effects models, works as a recording and re-amping interface, supports IR loading, features a two-function expression pedal, houses a switchable stereo/mono effects loop and stereo outputs. You just need to pull it out of your backpack, plug in, and run your outputs to your DAW, front of house, powered cab or headphones.
To help explain where POD Go is situated in the company's current lineup, Musician's Friend sat down with Eric Klein, chief product design architect at Line 6, to shed some light on its inspiration, features and who it's for.
[Editor's note: In early 2021, Line 6 introduced the POD Go Wireless, which offers the same great sounds with built-in wireless technology.]
The HUB: What was the process in creating POD Go?
Eric Klein: POD Go is really just about distilling the essence of what we've been doing since 1996, and putting it into something that's really easy and portable and fun, and stripping away a lot of the tweaky-geeky things that a very small percentage of people actually take advantage of.
We try to make the coolest products we can. We try to hit the price point to attract a wide variety of customers. We just try to do right by the customer. And with POD Go, it was a difficult project because the cost of parts and cost of labor have gone up a lot, especially overseas. 
When the POD HD500 was released in 2010, a lot of new features became table stakes over the next few years, such as color screens, robust MIDI, and IR loading. [… A few years later, after the release of the updated POD HD500X,] we knew we had to do something. And at the time, we were working on this no-holds-barred, hardcore engine that became Helix, which has been wildly popular … but we never gave up hope on that $450–$500 price point that we needed for the masses. 
We knew we'd always revisit POD, but we just needed to figure out what it was. We needed to do a lot of listening and figuring out what people were willing to give up to get back down to that price point. But we didn't want to lose what we'd built with Helix, so we weren't willing to skimp on the processing at all. 
We wanted to make sure it was our best modeling we had. We wanted to make sure a lot of the thing people loved about Helix, like the Snapshots and Pedal Edit mode, and the color screens and switches and shortcuts were still there. And that allowed us to shave off a lot of the superfluous things people don't talk about too much to get down to where we needed to be.
The HUB: Why is this a POD, and not another HX model?
EK: What "Helix" or "HX" is, it's much more than just a modeling engine. And, eventually, we'll move beyond HX anyway. So, we don't want to reinvent the entire brand with every engine. And POD is the perfect vessel to supply a meat-and-potatoes, really focused experience to the masses. That was our bread and butter for many, many years.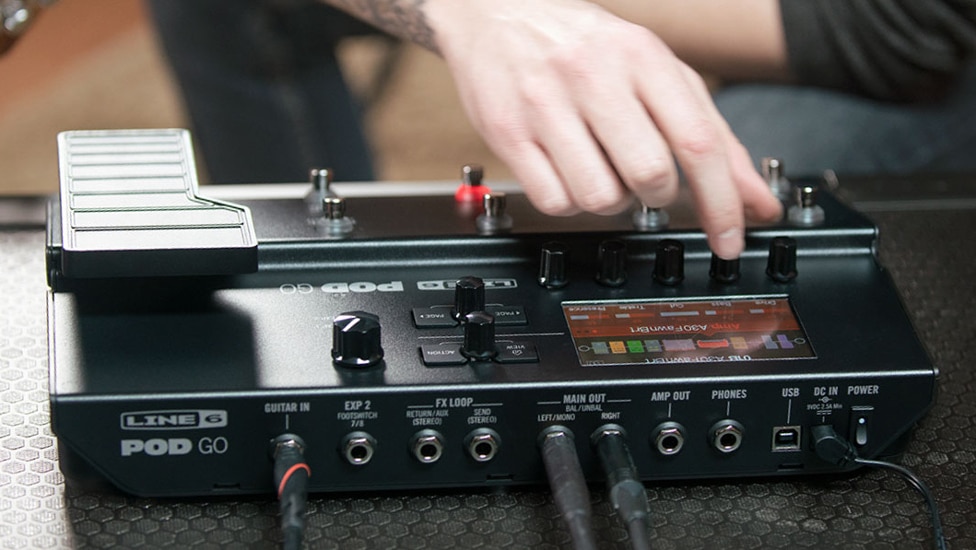 The HUB: How many modeling blocks can the POD Go run simultaneously?
EK: It's a little different from Helix. The POD Go is a semi-fixed signal path. Every preset always has a wah and a volume. It always has an amp or preamp. It always has a cab or IR. It always has a preset EQ. And it always has an effects loop. And you can then add four additional effects. And everything gets auto-assigned to the six switches, so your effects loop, preset EQ and four effects all get their own dedicated switches. You don't have to figure out how to assign the wah block to the expression pedal or anything, so it's really fast and easy to get around.
It's not as flexible as "I can add anything I want to anywhere I want until I run out of DSP," which is really flexible and powerful, but it also causes a lot of anxiety for people because they see this big, empty field and don't know where to start. And you can create your own starter template, so you can build from something you like and you're familiar with instead of starting from nothing every time.
The HUB: Is the POD Go meant for players who already have an HD500?
EK: If somebody needs all of the I/O and all of the functionality that they get as a power user of the HD500X — they're using all the Command Center and MIDI commands and Variax input and L6 Link output — if they want the replacement for that, honestly, they're looking at Helix LT. But if you're not using that stuff, if you don't care about MIDI, VDI, L6 Link — if you'd rather have our latest, greatest modeling — if you'd rather have something that's fast and easy to get around — something with IR loading, then this is your bag.
The HUB: Where does the already-small HX Stomp factor in with the POD Go?
EK: I think it's a different kind of customer. HX Stomp is designed to be a pedal, first and foremost. And it's designed to work with other pedals. Whereas POD Go is an all-in-one, fully inclusive modeling solution, where you don't need to hook it up to anything else. It's not meant to be controlled by something else. It's everything in one box.
We also have a lot of demand, especially from our overseas distributors, where a lot of customers need to throw something in a backpack. HX Stomp is cool. But HX Stomp is typically reserved for a pedalboard. And so they need the full modeler experience with enough footswitches to get around all their presets and pedals — and they need the expression pedal because they don't want to have to bring that along. They want to throw something in a backpack and go to a gig.
In America, everybody has these huge SUVs, so they can throw these massive, ridiculous pedalboards in there, and take them to a gig. And that's awesome. But when you're getting to a gig via subway or a bus, you need something portable but robust and comprehensive. 
The HUB: If the premium Helix and LT processors are already so successful, why bring back the lower-priced POD line at all?
EK: The long and short is that it's the right thing to do. With my job, first and foremost, I have a responsibility to the customer. I'm sort of their advocate. 
So, if somebody [at Line 6] says, "No, we can't afford do that," I say, "Yes, we can. And we're going to do it because that's a better product for the customer — because they're going to give me crap online. And I don't want them to give me crap online. So, let's do the right thing and make people happy."
The one thing that's made Helix so successful is that we're really active when we're communicating with our end users. They'll straight up tell us if they don't like something. They're like, "That sucks!" And we say, "Yeah, that does kind of suck." So we fix it.
You could try to squeeze and do a race to the bottom, and try to make something as cheap as possible that happens to check all the boxes. But we didn't want to do that. And costs go up. So POD Go is something different.
The HUB: With the reinvention of the POD, are there any plans for a kidney bean in the future?
EK: I really hope so. We get that question a lot. The truth is, the environment for the original kidney bean POD, and where you'd see it in photos most often, was on a recording console, in a studio. And now it's all plug-ins. So, really, the spiritual successor to the kidney bean is Helix Native. 
The HUB: What's the benefit of modeling vs. traditional/analog gear?
EK: It's actually really cool with something like HX Effects or POD Go — even if you're just starting out, and you aspire to be a tone snob, modeling is the best way to learn what effects you like and how to build your pedalboard. 
Say, I want to get into fuzzes. Well, what's the best way to figure what fuzzes sound like? I could go onto YouTube and watch a bunch of videos, but that's not going to do the same thing. Or I could sit down with 50 distortions at my disposal and figure out exactly what I like, and know exactly what amp it sounds best with. 
And what's great with the four-cable method, even if you have your favorite amp and cab, you're probably not going to want that as your only tone ever. You can use your existing rig and still use different preamps and effects without buying and lugging around extra gear.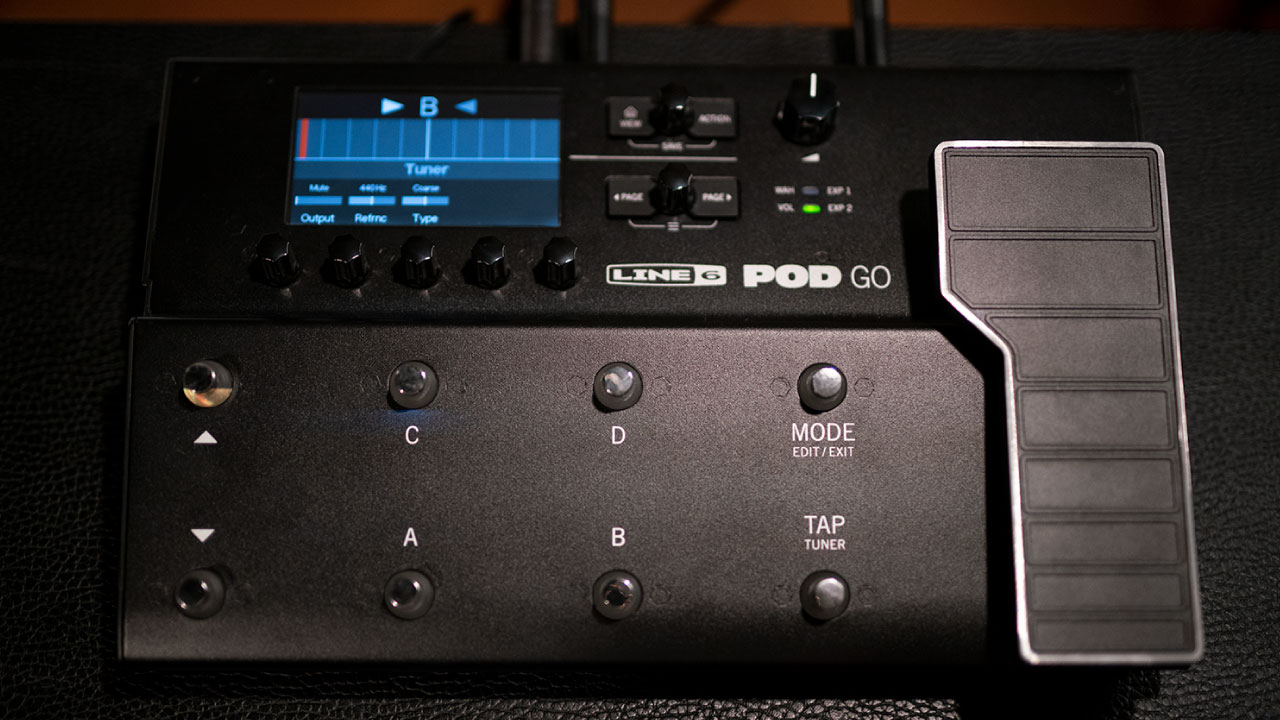 Line 6 has been redefining what amps and effects really are, and doing it for every level of player — from the stone-cold beginner with the Spider family of amps, to the seasoned professional with the Helix and Helix Rack.
In essence, the Line 6 POD Go is the hybrid of the former POD line and the current Helix family. It's meant to be all things to most players. It's relatively cheap. It fits in a backpack. It's perfect for solo practice, rehearsal, recording and gigs. And it'll only be made better over time with Line 6's frequent, user-influenced updates.
Do yourself a favor, and check out the new POD Go, available from Musician's Friend. It's a good time to become a POD person.