Introduced at Winter NAMM 2020, LUNA is Universal Audio's latest offering: a fully-featured "Recording System". To learn more about this revolutionary software we reached out to UA's own Tom Waterman.
The HUB: Why now? What did UA feel LUNA would uniquely offer that a standard DAW doesn't?
Tom Waterman: Ever since the inception of the first Apollo audio interface in 2012, we've looked for ways to deeply integrate our realtime workflow into computer-based music production. To achieve this, we needed to craft the entire experience around Apollo, which naturally led to LUNA. For example, LUNA's Accelerated Realtime Monitoring (ARM) is just not possible in a standard third-party DAW workflow.
With Apollo now on its third generation and the industry standard for desktop and rackmount interfaces, we saw an opportunity to take the next step by creating a platform that people will use to make the music of the future, whilst offering the deepest level of Apollo integration possible.
The HUB: Why is LUNA "not a DAW"?
TW: Simply put: LUNA is a fully-integrated recording system. It requires a Thunderbolt-equipped Apollo interface and relies upon the benefits of low-latency hardware DSP and native host processing to give you the best-of-both worlds in one seamless recording environment.
LUNA has the best sounding audio engine available, complete with analog sonics and sensibility, coupled with a very intuitive single-window workflow for quick, inspiring music creation.
In addition, LUNA effectively absorbs Apollo's Console application into a multi-track recorder/editor, integrating full session control over Apollo's Unison-enabled preamps and Realtime UAD Processing for record/playback FX. The on-board Apollo DSP mixer provides near-zero latency monitoring for artist cue mixes directly within the app using our new Accelerated Realtime Monitoring (ARM) functionality.
LUNA ensures you have the best recording experience with Apollo. When combined with the additional power of native processing for huge track count mixes using LUNA Instruments & Extensions like Integrated Multitrack Tape & Neve Summing, it truly is a system.
The HUB: Can you speak to the choice of Neve summing and Studer tape?
TW: We wanted to start with some of the most legendary extensions we could imagine.  The Neve 1272 mix amps gave vintage 80-Series consoles that larger-than-life, 3D saturated sound, and within LUNA they really bring in-the-box mixes to life.
We've had a long-standing relationship with AMS Neve, so it made perfect sense to bring the benefits (without the maintenance) of these wonderful vintage desks into the modern, yet analog workflow of LUNA. So, many of your favourite records were cut to Tape via vintage consoles — Neve Summing really takes the sonics of LUNA to the next level.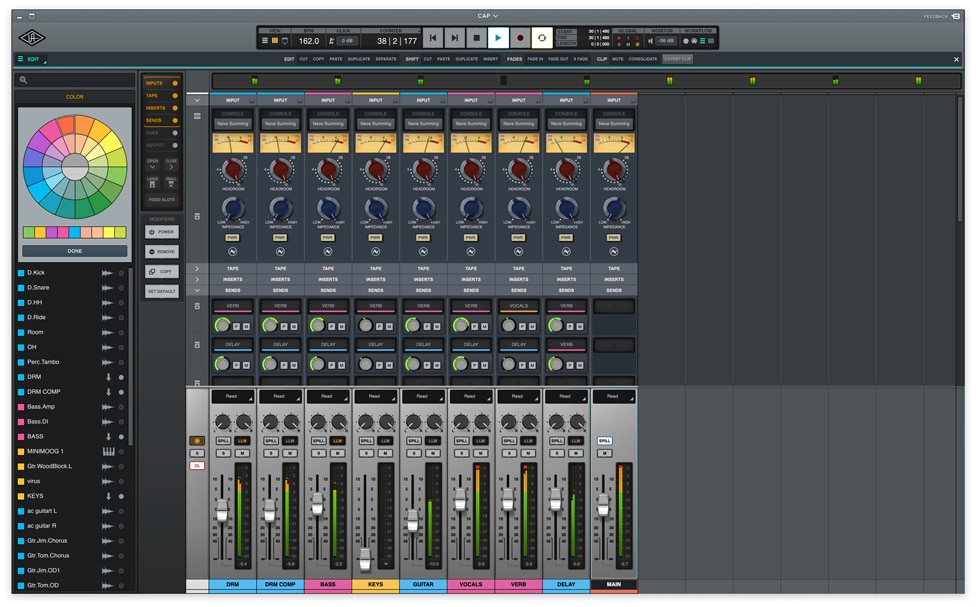 By integrating a multi-deck tape machine workflow into the fabric of LUNA as an Extension, we've eliminated the "papercut" workflow of using individual tape plug-ins across large sessions. You now have global control and an ability to run 4 individually configured machines across groups of tracks.
The tape integration also provides the familiar workflow of using a real 2" machine. When recording, tape is disabled and you're monitoring off the input head… but when you stop recording and hit playback, tape is engaged and you're listening to the repro head — making things sound that little bit nicer right away. It's the same as it used to be, but you can choose when and how you want to use it!
The Studer A800 is one of the most popular and famous 2" 24-track machines ever made, with immaculate Swiss engineering and Rolls-Royce-style performance, it is the classic sound you know and love. It offers the most popular 2" tape formulae (456, GP9 etc), IPS settings (7.5, 15 or 30) and tape alignments to give you that classic punch, smoothness and cohesion across your LUNA session.
The easy-to-use Oxide Tape Extension is included free with LUNA. Users can add the Studer A800 via in-app purchase, and those who already own the UAD plug-in will receive the Studer A800 LUNA Extension for free!
The HUB: What impact does LUNA have on latency as compared to using Apollo with 3rd party DAWs?
TW: How many times have you had to juggle buffer sizes back & forth between 128 and 1024 samples using a native-only DAW? You need low buffer sizes for reduced latency when tracking versus higher buffer sizes for greater CPU efficiency and thus increased latency when mixing. We've been working this way for 20 years with native DAW's. Using standalone low-latency DSP mixers within interfaces has helped alleviate the tracking latency problem, but that also posed a separate issue with regards to input monitoring and punch-in tape-style workflows.
The benefit of LUNA is that latency is no longer something you have to worry about.
When LUNA tracks are input monitored using ARM, LUNA utilizes the SHARC DSPs in the Apollo interface(s) to create near-zero latency Accelerated Realtime Monitoring — providing the smoothest punch-in recording workflow previously impossible with 3rd party DAWs and a standalone DSP mixer.
This allows you to monitor and record through UAD processing, such as Unison preamps and various compression/EQ effects without noticeable latency. Channels in ARM utilise a hardware DSP path and you can choose to commit that sound to disk, or just monitor via the processing. By combining the benefits of a predictable hardware DSP platform with Accelerated Realtime Monitoring, and the native playback mix engine of LUNA, you never have to worry about typical buffer size issues.
Instrument tracks run native LUNA Instruments and AU Instruments, we engineered a dual latency domain for Instruments when a track is record-armed and we paired that with our mature and stable Thunderbolt driver. This allows us to keep the instrument track output buffer size and performance latency low when playing instruments and it feels great to play in realtime.
There is no user-adjustable buffer size to worry about in LUNA, just focus on the music! Please note that the ARM feature is exclusive to DSP-based channel strips.
A closer look at LUNA and the new Apollo Twin X DUO, Twin X QUAD and X4 audio interfaces at Winter NAMM 2020.
The HUB: Are there any benefits to the UAD processing within LUNA? Can you use more plug-in instances due to code efficiency?
TW: UAD plug-in instances use the same amount of power as they always have. Our plug-ins are optimized to their fullest when released to preserve the analog sound you expect, so LUNA doesn't change the performance there. However, LUNA did provide some unique opportunities.
For example, the playback FX insert slots now feature UAD plug-in chaining — something we've been asked for over the years! This means that when using multiple UAD plug-ins in series, they are chained in the SHARC DSP and we only have to send audio to-and-from the DSP once over Thunderbolt instead of a round-trip per UAD plug-in.
This heavily reduces performance latency when tracks are in ARM (effectively running UAD playback plug-ins in UAD MON mode for users familiar with Apollo Console), but it also reduces the overall system latency for the LUNA delay compensation engine.
When compared to 3rd party DAW platforms using UAD plug-ins via DSP Satellites or PCIe Accelerator cards for mixing, plug-in chaining brings added benefits for the timing of automation passes if written by hand. LUNA just feels more responsive with less overall system latency.
The HUB: Where does this leave development of Console?
TW: Apollo Console is still very much alive and vital for the day-to-day use of Apollo. We expect our users to work in multiple DAW platforms, or use 3rd party applications during production, such as loop creation tools, audio restoration or mastering editors. Users will still need Console to control their Apollo interface when outside of LUNA. So, you can choose to use Apollo Console, or migrate Console into your LUNA sessions.
LUNA has a setting where it can bring Console templates into your sessions via Console Tracking Mode, and you can also isolate Console channels from a LUNA overwrite. This can be useful to provide persistent Console channels if you just need to leave a guitar input open for jamming without having to launch LUNA or have it auto-mute those Console channels for example.
Apollo Console is also required for non-LUNA capable interfaces such as our Windows-only Apollo Twin USB, so will continue to be developed alongside.
The HUB: Speaking to the instruments in LUNA, why did you start with the instruments that you did?
TW: Similar to Neve, we've had a longstanding relationship with Moog, having previously modeled their classic discrete-ladder filter in our Moog Multimode Filter XL plug-in.
In the same way that Neve consoles are synonymous with much of the recorded music we know and love, the Moog Minimoog is the most famous and desired analog monosynth of all time. It was a no-brainer to start with a definitive and accurate model of this classic piece!
The bite, fatness and creamy tone sits easily in the mix and never sounds dated. It's timeless and as relevant today as it ever was!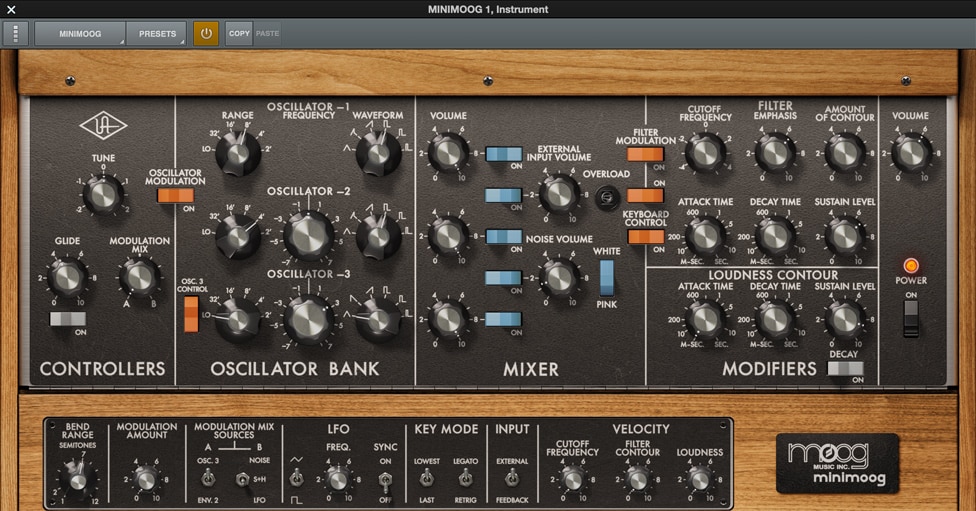 Moving on from the Minimoog, we know that a great piano helps songwriters get inspired and often provides the backbone of any musical genre.
Starting with a rare and wonderful Steinway Model B grand piano located at Ocean Way Studios — we worked with Allen Sides to capture this instrument with his exceptional mic technique, creating the ultimate studio piano instrument. Ravel lets you effortlessly blend between close and room mic placements to vary the tone in bold, creative ways, and includes a wonderfully dreamy reverse effect blend option too. It also features Ultra Resonance technology, which uses proprietary UA physical modelling to realistically generate the sympathetic string and acoustic cavity resonances that naturally occur within the body of this fabulous piano. You have to play it and bask in its sonic glory. It takes software instruments to another level of realism!
Finally, we have Shape — a multi-instrument toolkit using a combination synthesis & sample engines developed by UA and filled with content from us (including a light version of Ravel), as well as partners such as Spitfire Audio, Orange Tree Samples and Loops de la Crème.
It's packed full of awesome sounding drums, synths, keys and orchestral sounds to inspire you when writing and has an ingenious 4-part engine with built-in UA FX and rapid-fire performance key splits.
Combine the above three instruments with our flexible MIDI arpeggiator effect plug-in, ARP, and you have a creative instrument toolkit that really puts LUNA into orbit.
The HUB: Were there any unique challenges with the Minimoog as compared to how you might typically model a piece of hardware?
TW: Vintage analog synthesizers such as the Minimoog feature all sorts of wacky noise sources, temperature instability, tuning / oscillator artifacts and random distortion mechanisms.
We love this kind of non-linear modelling at UA, and accepted the challenge to faithfully recreate every little drop of the Minimoog's idiosyncrasy and character!
The HUB: Can you speak a little bit about the Ravel development process?
TW: Ravel was recorded using a world-class mic collection in Ocean Way Studios, with placements refined over many years by engineer Allen Sides himself.
We had to acquire and program a custom robot to ensure we could sample every key with pin-point accuracy and repeatability for each velocity level. We then had to develop a physical model of the piano soundboard and internal cavities to recreate the harmonic depth and realism you hear when sat at the Steinway Model B playing complex chords using Ultra-Resonance technology.
It was a painstaking process to reach the final destination where Ravel's effortless playability and beautiful, easy to use UX/UI shine.
The HUB: Why do these instruments run natively, rather than on UAD processing?
TW: We run LUNA Instruments natively to take advantage of things like disk streaming — for instruments such as Ravel and Shape, it is impossible to load Gigabytes of sample data directly into an Apollo — there just isn't enough memory storage on-board!
The only way to faithfully capture a grand piano or string orchestra is with lots of storage space. We then combine the capabilities of native host CPU power to run unique processing such as our Ultra Resonance technology to provide the most realistic software instruments ever made.
The HUB: What is the compatibility with 3rd party plug-ins?
TW: LUNA runs Audio Unit plug-ins and instruments natively. You can integrate our own UAD Powered Plug-Ins alongside 3rd party native AU plug-ins for mix processing and of course, combine your favorite Audio Unit virtual instruments alongside our new LUNA Instruments for music production!
The HUB: Can you speak to your UX approach? Did you take the same skeuomorphic approach as you do with your UAD plug-ins?
TW: LUNA uses a skeuomorphic UI that keeps with the current Apollo Console aesthetic. It contains visual elements and the vibe of analog studios that UA is known for.
However, the LUNA UI is slightly flatter than our previous designs and has a very fresh, clear and stylized color palette.
It has a sleek modern look that combines the best of vintage skeuomorphic styling with cutting edge UI/UX design. It's easy on the eye and we believe it is one of, if not the best-looking pieces of production software available.
The user experience is highly refined with contextual workflows, easy-access workflow toolbar functionality and very familiar keyboard shortcuts. LUNA is designed to be as efficient and as modern as possible from a UX point of view.
The HUB: Will you be offering different versions of the UAD plugins that are coded specifically for LUNA?
TW: We can't comment on future releases, but you may notice our Oxide and Studer A800 tape emulations have been redeveloped to run natively within v1.
The HUB: Final question - What does the future hold for LUNA? What's next in development?
TW: One thing that is important for us with LUNA is to ensure that the roadmap is informed and influenced by what our customers actually want to do with it. For those purposes, we built in a "Feedback" button into the application allowing anyone using the application to send us their thoughts, issues, and requests. So, while we can't talk about every feature that is to come in LUNA, much of it will be determined by our user base. We are listening!
The HUB: Thanks for your time, Tom!
Learn more about LUNA from Universal Audio.
Interested in the Apollo Twin X and Apollo X4? Check out our interview with UA's Gannon Kashiwa.