If you've been playing guitar for a while you may have considered building your own instrument. It can be a great project and learning experience that will result in your adding an utterly unique guitar to your collection.
Is a DIY guitar the right project for you? Here are a few pros and cons to consider before embarking on that voyage.
Before we get into the details, it should probably be noted that building a solidbody electric guitar is a much less challenging project than building a semi- or fully hollowbody guitar. Building the latter types from scratch involves sophisticated woodworking skills and tools that will be beyond the reach of all but the most ambitious beginners. And as we note below, designs with bolt-on necks versus set necks are more beginner-friendly.
Acoustic guitars—especially those with archtops—also offer a lot of challenges. An alternative is to go the kit route. For example, the Martin Build Your Own Guitar Kit includes all the components and instructions needed to build a high quality acoustic guitar. It could be a great way to get your feet wet before tackling a DIY guitar from scratch.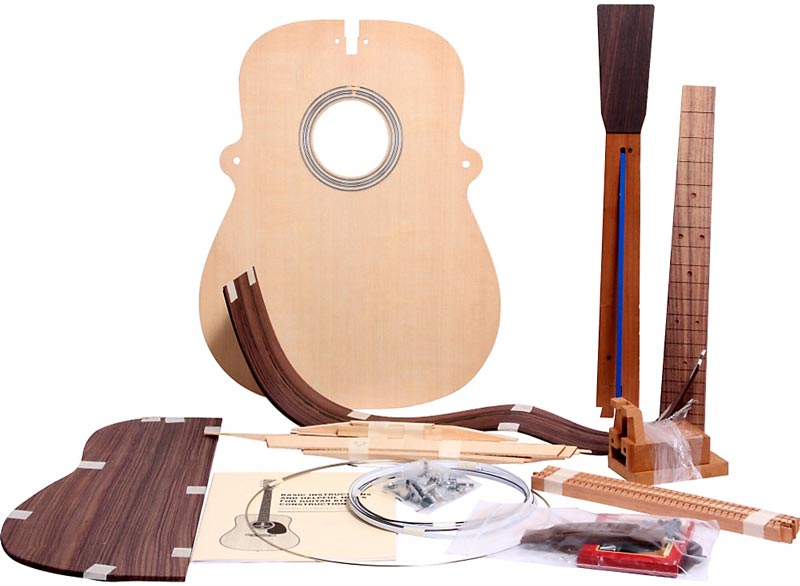 If you're unsure of your skills and don't own a lot of tools, the Martin Build Your Own Guitar Kit makes a smart first DIY project before venturing into building from scratch.
Pros
It's not a simple project, but many musicians and amateur luthiers have found that the benefits outweigh the challenges. Building and playing a guitar you've crafted with own hands offers enormous pride of ownership.
Customization - When you build your own guitar, you specify every element from the tuners to the tailpiece. Every component and design element is up to you. From the woods and body shape down to the pickups and wiring—the final instrument will be one-of-a-kind and completely unique to you.
Learning experience - Starting from scratch and going through the entire process of designing and building a guitar will teach you a lot about guitars. Every element affects the final sound and playability, and this understanding can make you a better player.
Rewarding hobby - Building guitars is a great hobby once you get into it. Your first build may be more challenging than you bargained for. You will make mistakes, get frustrated and perhaps have to start over on some steps. After your first guitar, however, it gets easier.
Cons
Building your own guitar isn't without it's challenges, but they'll be less daunting if you know what to expect.
Learning curve - Don't expect to build a masterpiece right out of the gate. There are countless small details that are easy to overlook on your first build. Errors can be costly and frustrating.
Cost - If you think you'll be saving money by building your own guitars, you will be quickly relieved of that notion (probably before you begin). Wood, electronics and hardware costs all add up. You likely will need to invest in new tools. Buying a production model guitar will often be less expensive than building your own.
Time - Building a guitar is not an afternoon's project. Finding and acquiring parts will take time. Drilling, routing, cutting, gluing and sanding all take time as well. Paint and wood stain take time to apply and dry, and you'll need multiple coats. Building a guitar requires plenty of patience.
There is a lot of work and planning required to build a guitar. A successful project will also include significant research.
Get educated
If you don't have basic woodworking and electronics skills, start there. To size up your skills and determine what you'll need to complete your project, there are are a number of great books on the subject.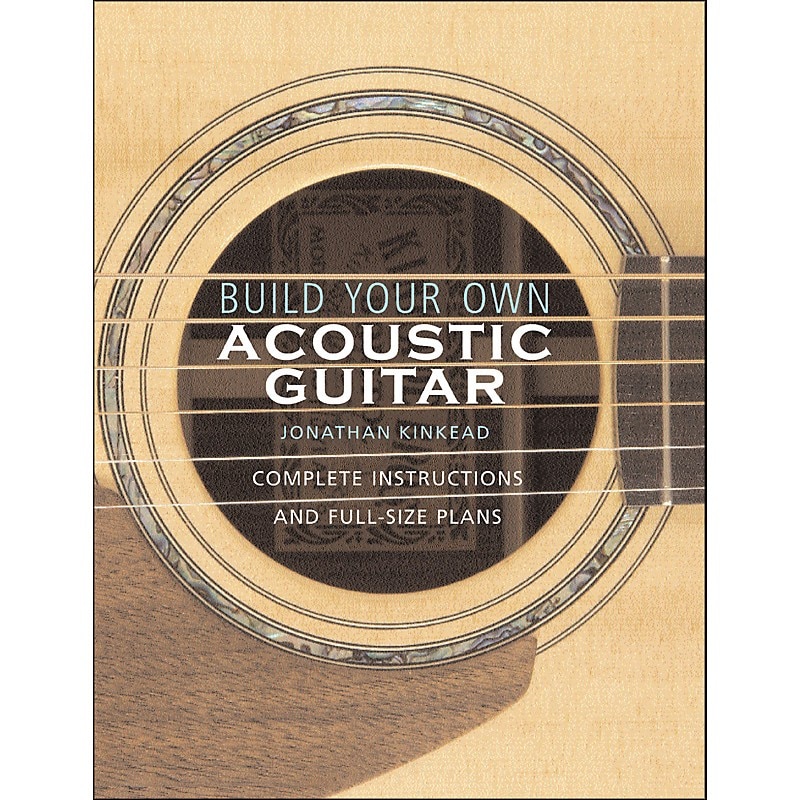 For the novice builder who wants to craft a Stratocaster-style guitar, Build Your Own Electric Guitar approaches the project in a step-by-step manner that'll help you get all your ducks in a row before you get started.
Other resources
The Official Luthier's Forum is a great way to connect with both professional and amateur luthiers across the globe. You'll find specialty forums that focus on everything from kit building to specialties such as resonator guitars.
Assemble your components
The most common DIY guitar projects are based on Stratocaster- and Telecaster-style guitars. The bodies, necks and other components are available from Musician's Friend, and their bolt-on neck designs are beginner-friendly. Consider trying one of these for your first project.
Whether you want to create your own unique body design using exotic woods or start with a ready-made body and neck blank, you'll find a huge selection of components at Musician's Friend. When it's time to zero in on the pickups, bridge, tuners and other components, you'll find what you need right here.
This official Fender Telecaster body comes pre-drilled and finished in a beautiful sunburst. Pickup cavities are routed so you can drop in the single-coil and humbucker pickups to suit your sonic preferences.
Build Your Own Guitar
Whether you start from scratch or you're modifying an existing guitar, remember to plan ahead, go slow, and don't be afraid to ask for help. Before you begin, work out a schedule and make sure you have the time and budget to complete your project.