Fender's amp lineage is one of the most storied in the music industry. From the classic
Bassman
and
Twin Reverb
to the modern
Hot Rod Deluxe
, the company has a rich history with countless legends under its belt. And now, available at Musician's Friend, the new Mustang GTX and Mustang LT combine decades of tonal refinement, player feedback and bleeding-edge technology to create a range of combos that sound amazing and are bursting with awesome features.
The Fender Mustang GTX100 and GTX50 (both 1x12") aim to be all things to all players. They have an arsenal of high-quality amp and effects models built in, Bluetooth audio streaming, remote preset editing and management via the Fender TONE app, built-in looper, built-in WiFi for wireless firmware updates and much more.
They borrow heavily from last generation's GT series, but with a few notable updates, including new models, road-tough cabinet design paired with a specially voiced Celestion speaker and a revamp of the Fender TONE app, which makes editing and adding new sounds a breeze.
The new Mustang LT50 1x12" and LT25 1x8" combos are a slimmed-down take on the GTX range, aimed at newer players and ones who want a more simplified experience.
To get a little more insight about these new models, Musician's Friend picked the brain of Rick Heins, product development manager for Fender Amplifiers.
The HUB: What are the notable differences between the original Mustang GT combos and the new ones?
Rick Heins: The biggest differences are that we've upgraded the amplifier with a ton of new amp models and effects, tonal upgrades, new speakers, new cosmetics and cabinet design, a seven-button footswitch, and a vastly improved TONE app.
The HUB: What inspired those changes?
RH: We continue to listen to our customers and their suggestions for improvements, but we're also constantly striving to give players more flexibility, better sounds and a more intuitive experience at a great value.
The HUB: How have the amp/FX/cab models changed? Any new ones? Any favorite ones?
RH: The GTXs now include more Fender amp classics (Vibro King, Super Reverb, Blues Jr, Dual Showman), as well as some other iconic amps (Jubilee, Uber, JC-120). The new effects include stompboxes (Tube OD, Ram Fuzz, Russian Fuzz), modulation (JC Chorus, 4-Knob Flanger), delay (Tape Plex, Space Delay) and pitch (Pedal Detune, Pedal Harmony, Pedal Shift). I LOVE the new Jubilee and Uber models to get great crunchy rock and metal tones. The Tape Plex is also a lot of fun to use and the Tube OD sounds so fat and singing.
The HUB:  What was the inspiration behind the speaker change?
RH: The Celestion speakers were chosen to sonically enhance the updated cabs to add depth and clarity to the new cabinet design.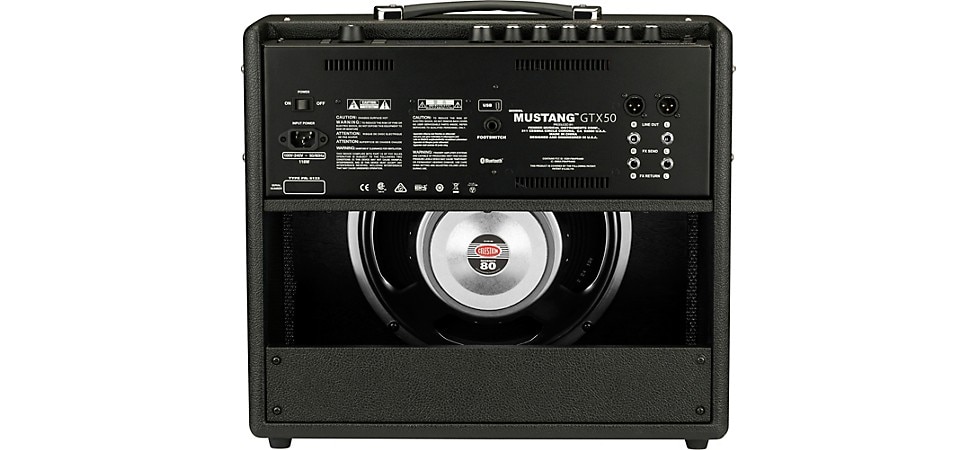 Fender's Mustang GTX amps now feature a Celestion 12" speaker.
The HUB: Besides wattage, what differences, are there between the different amps in the GTX series?
RH: The only real difference is that the 7-button footswitch is included with the 100, and sold as an accessory for the 50.
The HUB: What's new about Fender TONE 3.0?
RH: The TONE 3.0 app is a major upgrade, designed to be more intuitive, fun and visually accurate so that players more easily see and modify every amp and effect on their phone or tablet in real time.
The HUB: What type of players are the GTX range made for?
RH: GTXs are great for players beginning their journey, all the way up to bedroom players, weekend warriors and garage-band jammers that need flexibility and ease-of-use in a lightweight, portable package.
The HUB: How many presets come out of the box? How many user ones can be created/stored?
RH: GTX comes stock with 190 factory presets and a total of 200 preset slots. Keep in mind that any pre-existing preset can be modified to the players preference. We also offer hundreds of free presets in the TONE cloud.
The HUB: Why was the second generation named "GTX" instead of "GT2," or something along those lines?
RH: We felt that the series was such a leap forward visually and sonically that it was more than a 2.0 iteration.
The HUB: How large is the display, and what does it show?
RH: The 2" x 1.5" screen shows the amp models, effects and effect routing options and has secondary screens to modify any parameter or modify things like cabinet models, amp bias and power supply sag.
The HUB: What are the differences between the GTX and LT series?
RH: The LTs are like a stripped-down version of the GTXs. There are less models, effects and parameters, but it's a breeze to get started, and the tones are very inspiring.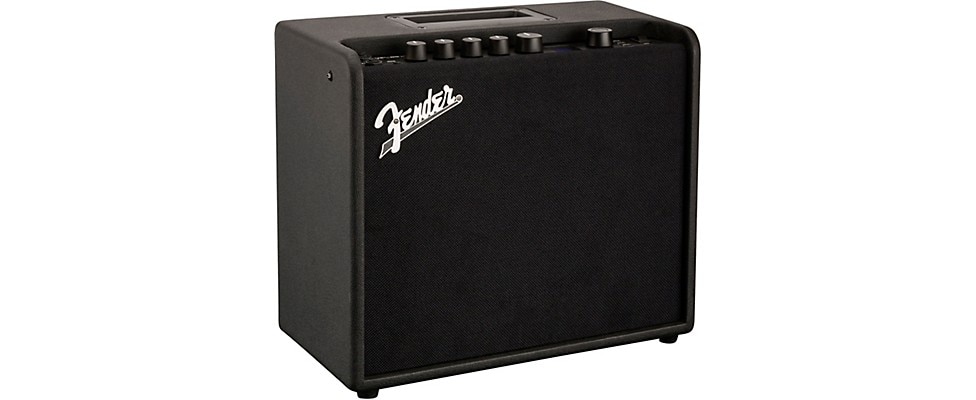 The HUB: What types of players would prefer the LT over the GTX?
RH: Players that may be a little more tech averse and don't need deeper editing. They want simplicity so that you can spin a knob and have fun getting great sounds.
The HUB: How many presets come out of the box? How many user ones can be created/stored?
RH: The LT comes with 30 factory preset slots and 30 empty slots, but all 60 preset slots can be customized. The factory presets are like a "greatest hits" of guitar tones. We will also offer a large selection of additional presets available within the desktop version of the TONE app.
The HUB: How large is the display, and what does it show?
RH: The display is 1.125" x 1.375" and features the preset name, amplifier model block, stomp block, mod block, delay block and reverb block.
Ultimately, the choice between these different models lies mostly in preference. If you're the type of player who loves technology, tweakability and needs gig-level volume, then the Mustang GTX100 or GTX50 is your bag. If you're new to playing, or just want a more plug-and-play experience, then the still-potent Mustang LT50 or LT25 are still fantastic choices. There's not a bad horse in this stable.