Written By Julian Williamson and Chris Elliot, Musician's Friend
The new Paradigm series from Ernie Ball represents decades of refinement from one of the biggest names in guitar strings. When developing a system to extend string life and durability, instead of going the coated-string route—which often drastically affects tone and feel—the engineers at Ernie Ball reinvented the wheel.
With Ernie Ball utilizing a plasma-enhanced process to remove defects in the metal, and applying its patented Everlast nanotechnology after the fact, the strings resist moisture and oils more effectively. But, more importantly, they aren't supposed to sound or feel any different. And Ernie Ball is so confident in the Paradigm range's abilities that it will replace any strings that break or corrode within 90 days.
That all looks great on paper. But just how good are they in the real world?
To find out, we tested two sets separately—Julian with a set of Paradigm Super Slinky 9–42 electric strings, and Chris with Paradigm Phosphor Bronze Medium Light 12–54 acoustic strings—for roughly three weeks.
Julian's Super Slinky Spectacular
As a little background: I've been stringing all of my electric guitars with Ernie Ball Nickel Wound Slinky sets for my entire 17-year playing history. I usually play Regular Slinky (10–46), but I keep a couple of axes loaded with the Super 9–42. In other words: I know a Slinky when I hear it.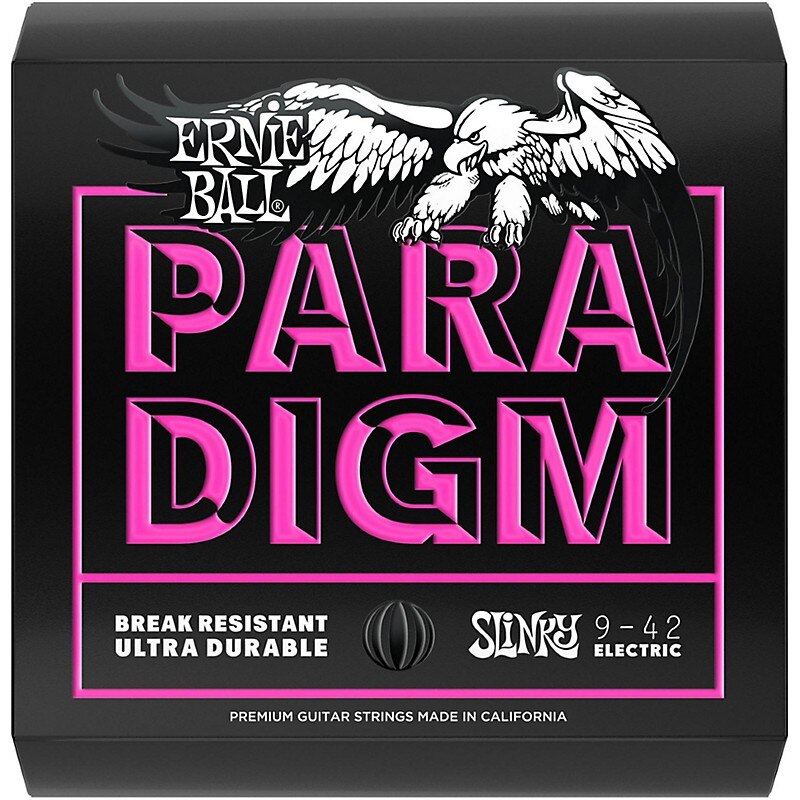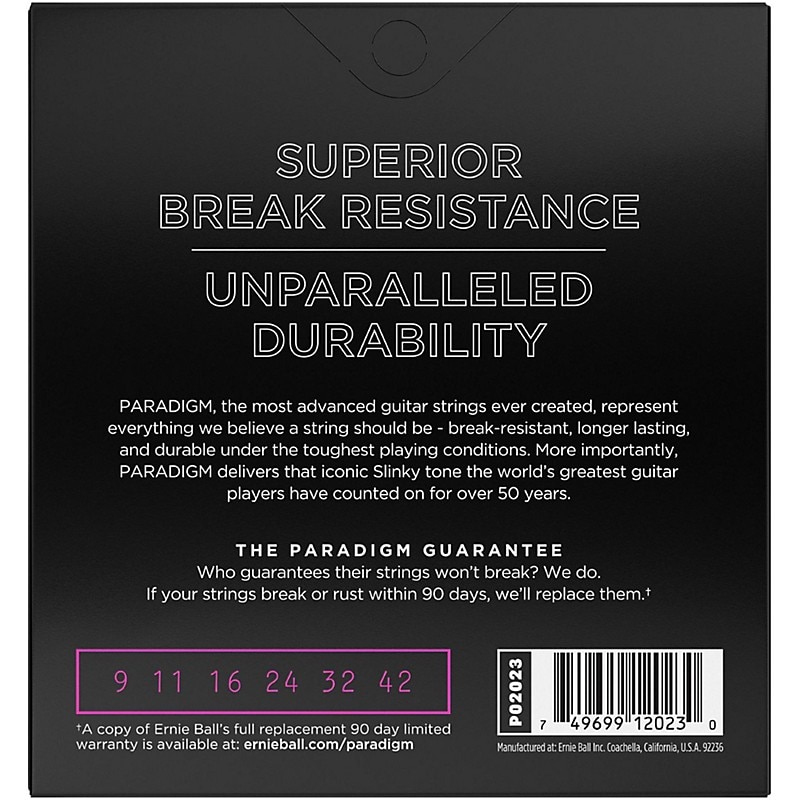 I armed my Gibson SG Standard '60s with the Paradigm Super Slinky set in the office. And, after the usual stretch-tune-repeat, they felt and sounded—well, like Slinky strings.
That was the most remarkable aspect in this experiment—the fact that they weren't much different than a standard set of strings. To my ears, they sounded a hint brassier than usual, but there wasn't an overly metallic or muted tone that usually accompanies durability-focused strings. And there wasn't any plastic or unnaturally smooth feel, as coated strings tend to have. They sounded balanced (with a little more accented shimmer, because they're new), loud and smooth. Essentially, there wasn't any indication that this wasn't a standard Slinky set.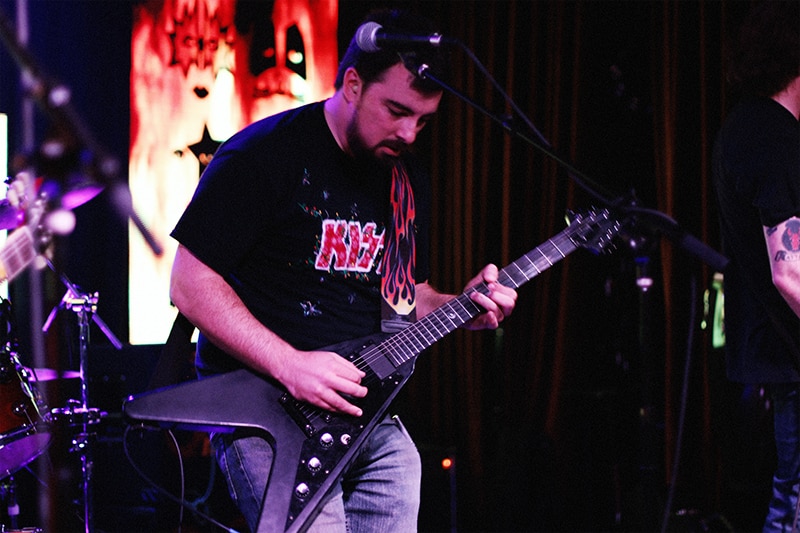 Julian playing at a recent Musician's Friend Jam Night.
I'm usually not particularly tough on my strings, despite being a mostly rock/metal player, but I gave the Paradigm set some extra juice, including some daring 1-1/2-step high-E bends. That's something I wouldn't consider with an ordinary 9-guage string. However, it held tough and kept on rocking.
Also, after three weeks of heavy playing, there isn't much in the way of string wear. There are the faintest whispers of fret markings, but they're just as shiny and smooth to the touch as day one. I also haven't cleaned off my guitar in any way, just letting the strings bask in my sweat and oils. But they aren't rusting, corroding or discoloring. And, though I played them in the office for one to two hours a day for more than three weeks (sorry, coworkers), the initial new-string chime still hasn't faded.
Even under heavy distortion, they've held their clarity far better than any other strings I've abused to this extent. And playing acoustically and through clean channels highlights even more brightness and shimmer, even after all they've been subjected to.
As for the 90-day, no break/no rust guarantee—I have no doubt the Paradigm set will pass the test, and then some.
Sure, you could manage to break one by pulling up on it with full strength. After all, they're guitar strings, not crane cables. (Though, you might do some damage to your guitar before it snaps.) But, under normal or heavy playing conditions, they're plenty strong enough for any music style. And touring players can rock a little harder, safe in the knowledge that their strings will make it through the gig.
The bright, balanced, natural tone works beautifully for rock, metal, blues, etc. The strings will stand up to any realistic abuse you can throw at them while playing. They sound new after nearly 40 hours of playing time.
So, how good are the Paradigm Super Slinky strings?
Very. And they'll soon be on all of my guitars.
Chris' Phosphor Bronze Acoustic Adventure
Acoustic guitar strings display a certain progression. When you first slap a new set of quality strings on a good guitar, there is typically an enhanced brightness, as well as a rich and satisfying low-end presence. The first change in tonal attributes to present itself over the course of a set of strings' lifetime is usually a diminishment in the high-end sparkle, followed by a lessening in both the warmth and definition of the low end. If the guitarist in this hypothetical persists through these changes, the strings eventually narrow their tonal output to somewhere mostly in the midrange and low midrange, achieving the status of "dead."
Ernie Ball Paradigm strings are a new phosphor and bronze formulation that is both corrosion resistant and features a patented Ernie Ball treatment that repels sweat and buildup. While I haven't yet had time to trust Ernie Ball's promise of durability (if Paradigm strings break or rust within 90 days, Ernie Ball will replace them), I did get a distinct impression of a general delay in the progression of the strings' tone and color relative to most string sets.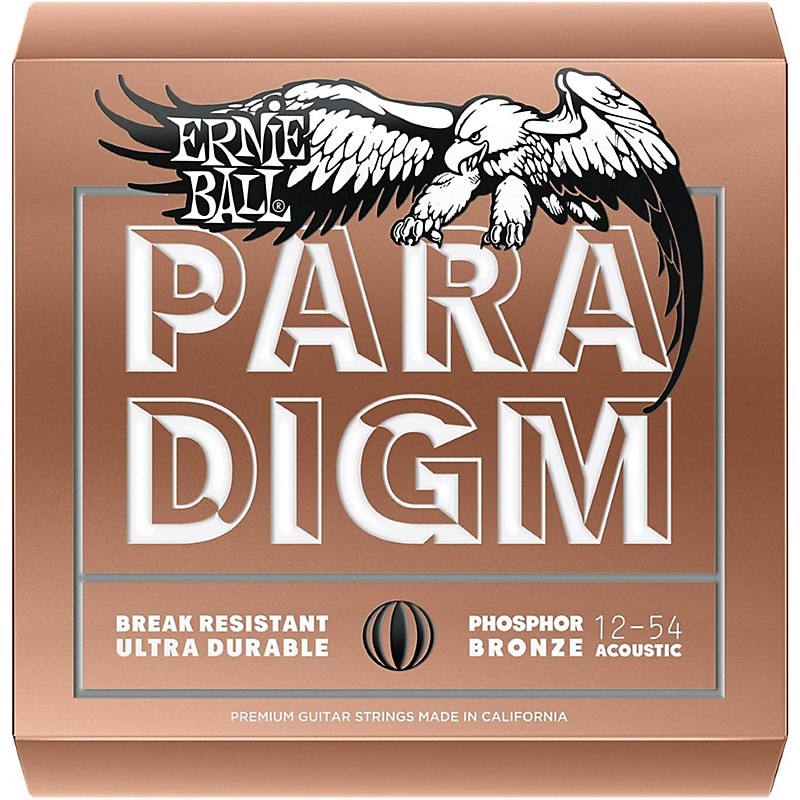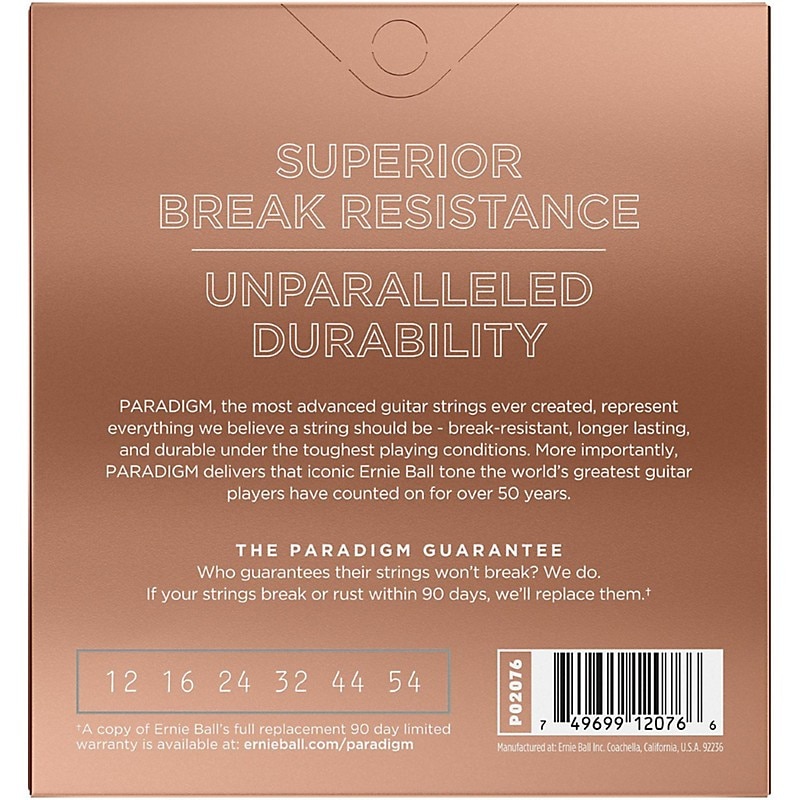 I put these strings on my campfire guitar, a 20-year-old Taylor 300 series dreadnought, and it immediately played and sounded the way I like; loud, broad and shimmering, with delightful complexity in even common consonant chords. Off to the bluegrass festival in Austin I went, intent on vicious after-hours jamming.
Rare was the night I was back in the RV by 2 in the morning, and no day passed without at least a few hours of playing. My guitar and I got a better guitar workout by triple than we do most weeks, as did the Ernie Ball Paradigm strings. My experience is that the orchestral shimmer that radiates from a guitar with fresh strings commonly dissipates within a few days. I have been back from the festival for a week and a half already and almost none of that new-string joy has escaped my nicked-up old Taylor.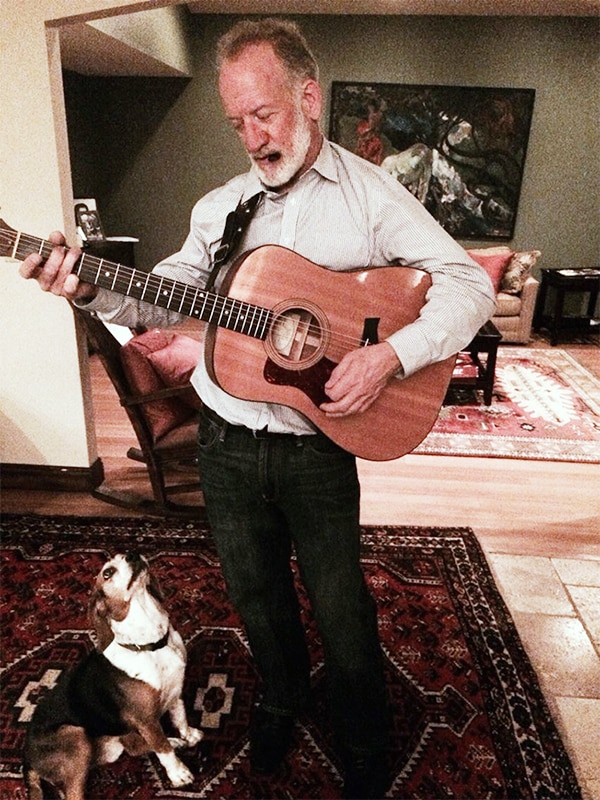 Chris serenades Sam the Beagle back at home
The other trumpeted aspect of the Paradigm strings apart from their longevity is a tendency to reject moisture and buildup, and I would endorse this assertion as true, as the Texas campground was a hot and sometimes dusty environment, and the strings displayed no tendency to take any little pieces of Texas home with them.
They are comfortable, colorful and warm, and seem to be long lasting, in that the expected third-week diminishment in high-end sparkle and color has not even remotely occurred. I was able to hear the guitar post-string-change in a full-range PA system last night, and they behaved as expected with a good, strong signal and evenly balanced tonal spectrum through a simple under-saddle transducer.
In conclusion, I rather adore these strings. According to Ernie Ball's promise, I have two more months to break them, and it's only just the beginning of festival season.
Conclusion
Though the strings were of different types, and tested independently under widely varying conditions, the results were the same. The Ernie Ball Paradigm strings sound bright, balanced, clean and clear. They feel smooth and natural to the touch. And they'll take any abuse you can throw at them, while retaining all their tactile and tonal characteristics.
Load a set onto your favorite guitar, and you're sure to love the natural tone, feel, dynamics and stability of Ernie Ball Paradigm strings. You know we do.
Products Mentioned:
Ernie Ball Paradigm Super Slinky Electric Strings
Ernie Ball Paradigm Phosphor Bronze Acoustic Guitar Strings Medium Light
Ernie Ball 2221 Nickel Regular Slinky Electric Guitar Strings
Ernie Ball 2223 Nickel Super Slinky Pink Electric Guitar Strings