When getting started with guitar, left-handed players often grapple with a question that right-handed players never consider: which way should I hold the guitar?
New guitarists may wonder whether it makes much difference which hand you use for fretting vs. picking, or whether you can ultimately make it easier on yourself to just learn right-handed.
In this guide, we'll dive into these questions and take a look at some guitars and basses made specifically for left-handed playing.
Read on to learn about all the important considerations for lefties getting started with guitar or bass.
8 things left-handed guitarists should know
Considering that legendary lefties like Jimi Hendrix, Paul McCartney, Kurt Cobain, and Tony Iommi have all flipped the guitar to pick with their dominant hand, it would seem there's something to be said for the approach. On the other hand, greats like Mark Knopfler, Billy Corgan and Gary Moore all learned to play right-handed, even though they do mostly everything else lefty.
Let's jump right in by exploring some things every left-handed guitarist needs to know about choosing the right guitar.
1 - It's not a right-handed guitar played backwards
Albert King, one of the most celebrated guitar players in electric blues, had a remarkably straightforward fix for playing left-handed: He just flipped his right-handed Gibson Flying V over and played it backwards. And yet, as influential as King's licks are, this simple flip never exactly caught on with other lefties. Putting the strings in reverse order makes it too hard for many musicians to shape chords and execute other common guitar techniques. And good luck finding instruction on how to play like that!
Fortunately, if you're a lefty looking for a V-style guitar, you've got better options available than King did in his time. Aspiring shredders, for instance, can pick up Jeff Loomis' JLV-7 signature axe from Schecter in a left-handed model.

The Jeff Loomis JLV-7 NT Left-Handed 7-String Electric Guitar has a fast neck and EMG 707 active pickups — a sweet combo for serious southpaw shredding.
Just to thicken the plot, influential Chicago blues guitarist Otis Rush is also left-handed. Unlike Albert King, he played a left-handed guitar. Now retired, Rush would play his Gibson semi-hollowbody guitars strung upside-down with the low E string at the bottom—undoubtedly a significant factor in his unusual sound that influenced younger player like Eric Clapton and Mike Bloomfield.
2 - A right-handed guitar can be "flipped"
So you know you don't want to simply play your guitar backwards, but perhaps you've got your eye on a right-handed guitar model, hoping you can make it work for you. Well, Jimi Hendrix adjusted his right-handed guitars to play lefty, and it would be difficult to argue that it didn't work out for him.
Unlike Albert King, Jimi made some actual modifications to play his guitars lefty. Namely, he reversed the order of the strings so the guitar was essentially strung backwards. To achieve this without compromising the sound and playability of your guitar, get a professional to set up your lefty-flipped instrument. See the discussion of potential intonation issues in Section 4—Flipping has limitations.
If you want to play the way Jimi did, you can pick up a right-handed Fender Stratocaster—Jimi's preferred model—and take it to a guitar shop to get it adjusted for southpaw-style playing. Of course, you can also find a Strat designed for left-handed playing, so everything on the guitar is accessible just the way it's meant to be.

3 - Some guitars are better for flipping
The Gibson Flying V and the Fender Stratocaster with their excellent upper-fret access are easier to work with than some other models when they are flipped.
The Stratocaster uses an angled double cutaway body style that actually does make it harder to access the higher frets when it's converted. Still, this guitar is a better candidate than a single cutaway guitar, such as the Gibson Les Paul.
When a single-cutaway guitar is converted to a left-handed model, its cutaway is on the opposite side of the neck from your fingers, defeating its purpose of providing easy access to the upper frets. Instead, you will find a large mass of guitar body in the way of your fretting hand. So if you are considering a right-handed Les Paul guitar for conversion, you might want to take a look at the limited-edition Classic Double Cutaway model.
If you want to flip a Les Paul, choosing the Double Cutaway 120th Anniversary Special could make sense.
4 - Flipping has limitations
Even if you find a right-handed guitar that you can flip to lefty and play in comfort, other design factors may present a problem. These issues include:
Switches and tone pots - Pickup selector switches and volume and tone knobs will likely be in a less convenient location. On right-handed guitars, these controls are placed for easy access with the right hand while playing. Unless they are moved and rewired, they actually may get in the way of your picking.
Tremolo arms - Having the whammy bar on the top side of the guitar is a pain for lefties. The tremolo bridge could be customized to mount the bar below the strings in the lefty position, but it's probably simpler to forego it if using a lot of vibrato bends isn't a part of your style.
Intonation - Restringing a right-hand guitar as a lefty can cause problems when trying to intonate each string during setup. Setup of a "flipped" electric guitar is easier if it has adjustable bridge saddles that allow fine-tuning each string's height. The compensated bridges found on acoustic guitars will require modification to work as as a lefty.
Input jack — Often the jack is angled so the cable drapes directly toward the floor. When flipped the cable will emerge from the jack pointing toward you—a potentially awkward arrangement. Guitars with the jack built into the top of the guitar can also be problematic depending on the location.
Pickups — Pickups with staggered pole pieces are designed specifically to work with each individual string, meaning that when the string order is reversed, the pickup does not work as intended. Typically, however, these can be replaced with a left-handed pickup.
Pickguard — The pickguard (if your guitar has one) will be facing the wrong direction once the instrument is flipped. While this may not be important to you, it could lead to extra wear on the body of the guitar.
Ultimately, most of the issues you'll run into can be fixed with some modifications, but keep in mind that these will add to the purchase price of the right-handed guitar you want to flip.
5 - You can learn to play right-handed
Should you decide that you would like to avoid any future hassles from playing left-handed, you can simply resolve to learn the guitar right-handed. Knopfler, Corgan, and Moore all took this route, and it worked well for them. It's not easy, but it's possible.
6 - There are left-handed training materials
Guitar instruction has historically been a very right-hand-centric universe. Now, however, publishers of training materials have started recognizing the need for resources made specifically for left-handed players.
7 - Reissues are easier to find than real vintage lefties
In the 1950s, '60s, and '70s, lefty guitars were much rarer than they are today. That's why those models you do find might command a significantly higher price than a comparable right-handed model. Instead of hunting endlessly for a vintage lefty, you might consider reissues, which are much more readily accessible. Fender, for instance, has released a '52 American Vintage Telecaster (as well as many other vintage reissues) in left-handed editions.

The Fender '52 Telecaster reissue delivers lefty-friendly vintage tone without the vintage price.
8 - You'll find more options online
Retailers have limited shelf space, leaving little room for left-handed guitars. Musician's Friend has no such limitation, which means more options when looking for the perfect guitar. Browse our complete collection online, or hone in on the different types of instruments described below.
Lefty electrics
The Squier Stratocaster Left-Handed Electric Guitar has the classic triple single-coil pickup configuration that made the Strat the icon it is and boasts a vintage vibe with a beginner-friendly price tag.

With a '60s-style headstock and sunburst finish, the Squier Stratocaster Left-Handed Electric Guitar will turn heads.
If you're ready for an upgrade, or you just want to buy your last guitar first, you can't go wrong with a Fender American Standard Telecaster Left-Handed Electric Guitar.

As timeless as rock 'n' roll itself, the Fender American Standard Telecaster has been upgraded with step-up hardware, a sleek neck plus Custom Shop Twisted Tele and Broadcaster bridge pickups.
To check out all your options, browse the entire Musician's Friend collection of left-handed electric guitars.
Lefty acoustics
Acoustic players have lots of great options as well. Whether you want a simple acoustic, or an acoustic-electric, there are lefty guitars for you too.
Looking for a gig-ready acoustic that you can plug in when needed? Lefty acoustic-electrics like the budget-friendly Yamaha APX700IIL may be what you're looking for.

The Yamaha APX700IIL is a single cutaway model with A.R.T. electronics that accurately amplify the crisp sound of the spruce top.
If it's a top-quality professional instrument you need, models like the Martin Standard Series D-28L are also available in a southpaw setup.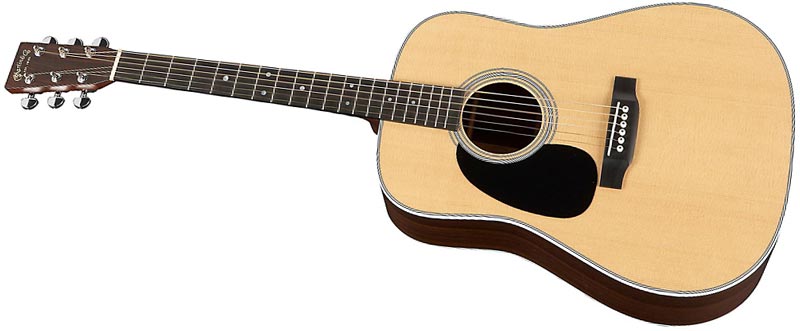 The flagship Martin D-28L Dreadnought is prized for the resonant warmth of its rosewood body balanced by the punchy output of a classically braced solid Sitka spruce top.
Check the complete line of lefty acoustic guitars available from Musician's Friend.
Lefty Basses
From beginners to pros, left-handed bassists can choose from a variety of high-quality instruments as well.
The affordable and road-ready Ibanez SR300 features a Style Sweeper EQ that lets you dial in the perfect sound.

Ibanez's SR300 Left-Handed Bass is a sleek instrument with a big sound, thanks to two EXF humbuckers.
Step-up basses like the Schecter Stiletto Studio-5 Left-Handed Bass offer the rock player an extended tonal range, smooth playability and eye-popping looks thanks to a beautifully figured bubinga top.

Neck through construction gives the Schecter Stiletto big-time resonance and sustain. The EMG Hz pickups deliver powerful growl via a 3-band EQ system for pinpoint tone tweaking.
Browse the complete Musician's Friend collection of left-handed bass guitars for more options.
Lefties Rock
There's never been a better time to be a lefty guitar (or bass) player. If you find "the one," and it's not available in a lefty model you have all kinds of resources for flipping it as effectively as possible. But you also don't have to settle for a repurposed instrument.
As always, Musician's Friend is here to help. To get further advice in finding the perfect left-handed guitar or bass, call a Gear Head at 877-880-5907.