Akai Professional has introduced the latest in music production and live performance.
---
Akai has been at the forefront of modern music production for the better part of three decades. Their claim to fame has been the MPC line of production devices, centered on sampling, sequencing, and finger drumming. Following up last year's success with the MPC Live and the MPC X, the new Akai Force utilizes the best of Akai's production components and merged it with their live performance controllers to create a robust stand-alone device. Without the need of a computer, you can now sequence, arrange, edit, launch samples, play built-in instruments, produce and perform live on a machine that fits into your backpack.
So, what are the key specs you'll be interested in? The Akai Force comes equipped with an 8x8 grid-style pad layout, a 7" color capacitive multi-touch display, analog inputs and 4 outputs, configurable CV/Gate Outputs and mini-jacks for MIDI. It also has 8 touch sensitive knobs, a wealth built in-effects, 16GB of on-board storage, 2 GB of RAM, a full-size SD card slot, 2 USB slots and a SATA connector. These specs scream versatility, compatibility, efficiency and workflow.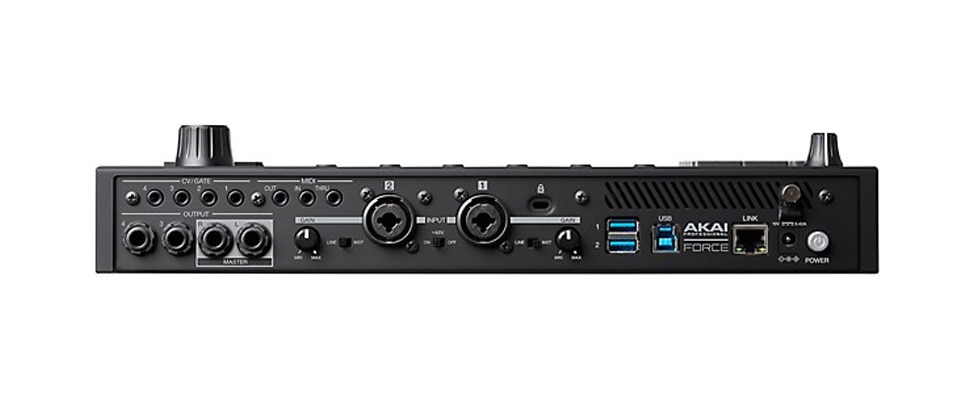 For musicians interested in using the Force as a playable instrument, the device comes built with onboard synths from AIR Electric, Bassline, TubeSynth, and Hype. There are also numerous effects, including plug-ins from AIR that Pro Tools users will be quite familiar with. This is the first instance of these plug-ins being available on a hardware device.
Though the Akai Force is touted as a powerhouse stand-alone device, it can still be used with your DAW of choice. The Force also has the ability to wirelessly connect with sample libraries such as Splice. Stay tuned for more information on these features, as Akai will likely be rolling out numerous firmware updates in the near future.
Overall, the best way to describe the Akai Force is a single device with a workflow inspired by the best features of the MPC Live, APC40, Ableton Push and Pro Tools. The Force is the perfect solution for modern music producers who genre-bend and are consistently looking to progress their production and live shows.