We recently caught up with Laidback Luke at his sold out show at Exchange in Los Angeles, CA. Luke is a DJ and producer, born in Manila, Philippines and raised in Holland. Luke has been a force in the electronic music scene since the early '90s. He's as known for his remixes as he is for his electrifying sets, performing in clubs and festivals throughout the world.
The HUB: How did you get your start in DJing? First pieces of gear? Early influences?
Laidback Luke: This was in 1996, when over here in the Netherlands, girl DJs made a rise. My girlfriend bought a pair of Soundlab, belt drive turntables and a Numark Mixer and tried to start DJing. She quickly thought it wasn't for her so the gear just sat there in my studio. I was already producing and putting out vinyl and I thought I'd give it a go, maybe it would benefit my productions, understanding what DJs would need in my tracks. Apart from a lot of Dutch DJs like Remy, Per, Miss Monica and Ronald Molendijk, my influences were Carl Cox, Dave Clarke, Jeff Mills, Bad Boy Bill and Frankie Bones. My roots are in techno!
The HUB: As someone who has been an internationally known DJ for many years, how has the DJ world evolved over time? Specifically, how has the music, the crowds, and the gear changed over time?
LBL: It has made tremendous leaps! I can't believe it was only 20 years ago that I was still playing on vinyl and could only bring a maximum of 70 tracks to shows. Vinyl was heavy! I couldn't even test my own productions out. This came when we brought CDs into the club DJ world. With the coming of CD we were suddenly able to bring 10 times as many tracks to a show. Nowadays, I carry 3,500 tracks on my USB. Some people say its hard to mix on vinyl, but apart from the ancient art of beat matching by ear, it's pretty straight forward. You only needed to put the needle on the record and that was pretty much it! Nowadays there's so many options on the gear, there's endless possibilities to mix as creative as you can and add any FX you can possibly think of! But, instead of DJing getting more creative, shows have become more and more focused on… well, shows! The actual art seems to be lost nowadays, which is strange with all this amazing gear we have now!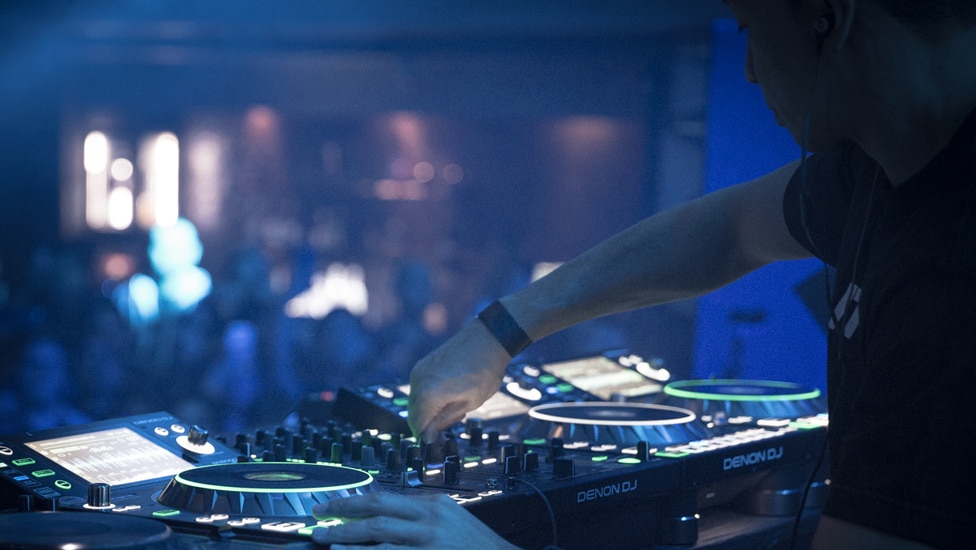 Laidback Luke on-stage at Exchange LA with the Denon Prime family. 
The HUB: How does the venue and size of a show impact your approach?
LBL: It doesn't. I'm old-school. I still read a crowd on the moment. Obviously I'll always adapt my set accordingly and in clubs you can go way deeper than at festivals, but the whole thing and challenge for me still, is to do it on the fly. That's when the real magic happens!
The HUB: We noticed that you prefer to use the Denon Prime Family rig on stage at your shows. What are some of your favorite features/functions of the Prime Family?
LBL: I do! There's many features, but the ones that make most sense for me is the full touch screen for example. Just like any other phone we use on a daily basis, the screen is fully touchable and swipeable. I love it that the emergency function on the players involve the full track and its capabilities, instead of just an emergency loop. And a very important one for outdoor festivals: The screen isn't hindered by the sun! It's very bright and you can see it perfectly in outdoor settings! The built-in Ethernet hub is a game changer as well.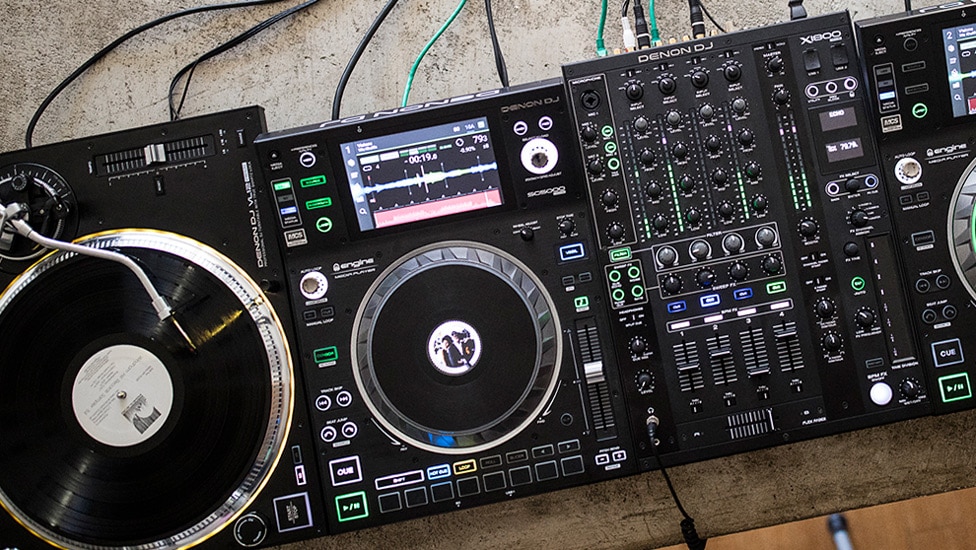 A closer look at the Denon Prime family
The HUB: Though media players have been a standard for a while, the Denon Prime Family also features a traditional turntable. Do you still find yourself spinning vinyl at any of your shows?
LBL: I recently did a mix on vinyl for my VLOG! If you didn't see that, make sure to subscribe on my YouTube Channel "Laidback Luke" to catch my weekly VLOGs. It was an awesome, nostalgic feeling to mix on vinyl again and I was happy to see it still felt very natural. It did feel super old school though. Kind of like writing a letter on a typewriter.
The HUB: After experiencing your live show, it was clear that Stage Lighting and Visual Effects play a huge roll in your set. Do you typically tour with your own lighting engineer, or do you mostly find yourself working out the lighting experience with the venue staff?
LBL: That's very interesting! I personally never really pay attention to that and we absolutely usually rely on the venue staff. In some occasions, I'll bring the guys from Visual Artform but again, I'm very old-school like that. To me it's all about playing the right track at the right time still.
The HUB: Do you typically bring your own decks and gear on tour with you, or do the venues you play provide the decks, backline, etc.?
LBL: Luckily, I'm in the luxurious position that the venues provide those. And if not, then Denon will always come through with a setup!
The HUB: As a producer, what software/hardware do you use to make music in the studio?
LBL: I simply use Ableton and because I tour so much I don't use any hardware gear anymore. I don't even have a studio! My trusty Korg nanoKEY2 and my SHURE in-ears are my producer travel buddies and we finish tracks in planes and hotel rooms!
The HUB: Do you have any tips for aspiring DJs and producers?
LBL: Make sure to watch my VLOGs! I've been a professional for over 25 years now and I'm happily sharing my knowledge online. Also, one of my favorite things I like doing is answering questions on Twitter. Make sure to contact me on there and I will respond! It's @LaidbackLuke.
Laidback Luke demos the Denon DJ Prime Turntables on his YouTube channel.
The HUB: What's next for Laidback Luke, and where do you see the world of DJing going next?
LBL: I'm absolutely waiting for us to start streaming music in the DJ world. I believe what's holding us back are some musical rights issues. But when you think about how streaming has become the norm in every day life, it's strange that it's not integrated in the clubs yet! Next up for me personally, is to come through with a new sound! I've been developing it in the background and although it will sound unique, it will sound very familiar too. I can't wait for the world to hear!