Native Instruments announces new products aimed at producers, DJs, keyboardists and more.
---
Native Instruments has announced a number of exciting new products: MASCHINE MIKRO MK3, KOMPLETE 12, TRAKTOR S2 and S4, streamlined A-Series Controllers and the S88 MK2, their new flagship MIDI controller.
Let's take a closer look at each of Native Instruments' exciting new products.
MASCHINE MIKRO MK3
Whether you're looking for a portable solution or just need a little more space on your desk, MASCHINE MIKRO MK3 is the perfect music production system to enter the MASCHINE ecosystem. 
Like the recently released MASCHINE MK3, the MASCHINE MIKRO MK3 features larger, more sensitive performance pads. It also features a new dual-touch Smart Strip, designed to let you slide your fingers to strum instruments and manipulate sounds. The new OLED display and push encoder make navigation and parameter control faster and easier.
MASCHINE MIKRO MK3 comes with the full MASCHINE software, as well as the 1.6 GB MASCHINE Factory Selection.
TRAKTOR KONTROL S2 MK3 and S4 MK3
Native Instruments has introduced fresh updates to their TRAKTOR KONTROLs, the S2 MK3 and S4 MK3.
TRAKTOR KONTROL S2 MK3
Let's take a look at the TRAKTOR KONTROL S2 MK3 first. If you're looking for an affordable entry into the world of DJ'ing, look no further. The S2 MK3 features a club-standard layout: two jog wheels and a 2-channel mixer. It has quick access to key TRAKTOR features and 16 RGB pads for triggering hot cues, loops and samples.
The mixer FX section has been updated, providing one-knob FX and filter control per channel. You can choose from eight different FX and three different filters, assignable to four hardware FX slots.
It features one microphone input and performs at 44.1/48kHz /24-bit.
The TRAKTOR KONTROL S2 MK3 comes with NI's revamped TRAKTOR PRO 3 software, currently slated for release via download in late October.
TRAKTOR KONTROL S4 MK3
The new TRAKTOR KONTROL S4 MK3 was designed to give you direct feedback as you spin. Featuring NI's all new Haptic Drive technology, the motorized jog wheels provide haptic force-feedback so you'll feel cue points and loops as you scroll through your tracks.
The jog wheels have three operating modes: Turntable Mode, Jog Mode and Beatgrid Adjust Mode. In Turntable Mode, you can nudge and scratch just as you would with vinyl. Switch to Jog Mode and you've got spin-to-nudge response. Finally, switching to Beatgrid Adjust Mode will allow you to adjust the track's beatgrid in real-time, ensuring that you're always in sync.
The new RGB LED Light Ring provides allows you to visualize things like deck selection rotation and speed. It'll even tell you as you get closer to the end of your track.
Like the S2 MK3, the S4 MK3 features a new MIXER FX section, where you can use one knob to control your effect's most important parameters. There are eight different effects and three smooth filters for you to choose from. These effects include delays, reverbs, time gate and more.
Looking at the audio specs, the TRAKTOR KONTROL S4 features a 4-channel, 24-bit/96 kHz audio interface. Each channel has an external input option, perfect for hooking up external gear like turntables, synths, drum machines or samplers.
The TRAKTOR KONTROL S4 MK3 will come with NI's TRAKTOR PRO 3 software, currently slated for downloadable release in late October.
KOMPLETE 12
NI's update to its flagship software line comes in four different versions: KOMPLETE 12, KOMPLETE 12 Select, KOMPLETE 12 Ultimate and KOMPLETE 12 Ultimate Collector's Edition.
So, what are the key callouts in KOMPLETE 12?
KONTAKT 6
First, there's KONTAKT 6. The sixth generation of the industry-leading software sampler brings a number of changes. It features the new KONTAKT Play Series, three new instruments for the KONTAKT library. These instruments are Analog Dreams, which recalls the analog and digital synths of the '70s, '80s and '90s, Ethereal Earth, which combines instruments from throughout the world, and Hybrid Keys which covers acoustic and electric pianos, synths and analog keys.
They've also added a wavetable synthesis module, enhanced effects and a new standalone app named Creator Tools, dedicated to editing and library creation.
MASSIVE X
Although inheriting the name of a prior synth, Massive X is essentially a new synth, redesigned from the ground up. While little info is available (it will be available for download in early 2019), it will have a modular interface with some exciting new effects and subtractive filters. We'll share more information as it becomes available.
Other Additions To KOMPLETE 12
Other additions to KOMPLETE 12 include the new SESSION GUITARIST - ELECTRIC SUNBURST, the kick and bass synth TRK-01 and Expansions sound packs.
KONTROL A Series
New to ever-expanding NI family of products, the KONTROL A Series keyboard controllers are squarely aimed at customers looking for a well-built, powerful MIDI controller at an affordable price. The A Series family includes three models: the KONTROL A25, KONTROL A49 and KONTROL A61.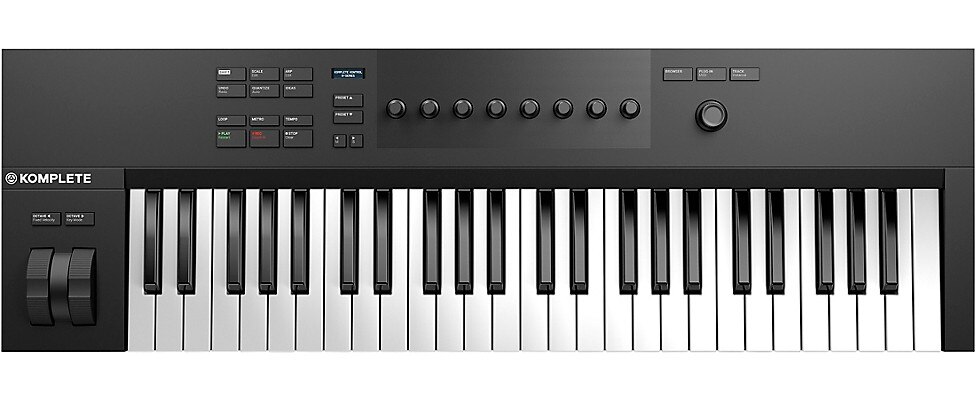 The A SERIES covers all the basics you need in a controller: a comfortable, easy-to-play semi-weighted keybed, OLED display, eight touch-sensitive control knobs, pitch and mod wheels, and a 4-directional push encoder.
KONTROL S88 MK2
Native Instruments has updated their flagship keyboard controller with the new KONTROL S88MK2. Featuring a premium graded, hammer-action 88-note Fatar, this keybed is comfortable on-stage or in the studio.
Replacing the touchstrips found in the previous generation S88, NI has added ergonomic pitch and mod wheels for more fluid real-time control. There's also a dual-touch Smart Strip, providing an additional tool for expression.

The S88MK2 offers players two hi-res color displays, perfect for browsing, tweaking, mixing and more. It still has all of the fantastic features of the prior generation including quick tag-based browsing, directional push encoder and the Light Guide located above each key, particularly helpful for learning scales and modes. Additionally, there are two assignable pedal inputs on the rear of the keyboard.
Using your KONTROL S88MKII with KOMPLETE or other NKS instruments and effects? Great news – they're pre-mapped to your hardware. All of the most important parameters will load immediately and display across your Clear View Display.