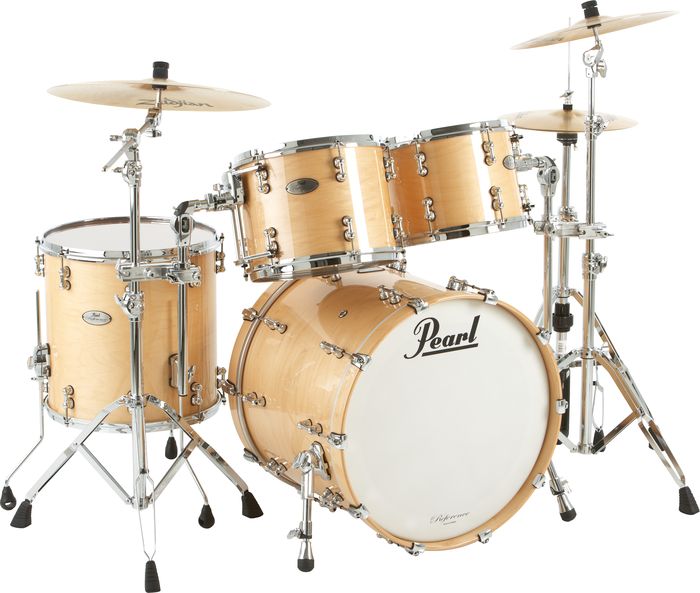 The Pearl Reference Pure Standard Shell Pack incorporates thin plies of select maple with hand-selected birch and rare African mahogany for astonishing resonance and power.
Whether you're just starting your drumming journey or seeing its summit, chances are you have played a Pearl drum set. Family-owned and player-focused since 1946, Pearl's legacy of drum craftsmanship grew from humble beginnings at the dawn of the rock 'n' roll era into the largest full-spectrum percussion manufacturer in the world. Early innovations like hybrid fiberglass/wood drums, the first seamless acrylic shell, and the studio-standard MLX Maple shell established Pearl as a pioneer in percussive tonality. With legendary drumming icons such as Dennis Chambers, Tommy Lee, Jeff Porcaro, and Chad Smith playing Pearl on some of their most historic recordings, new sonic boundaries were charted and pushed.
Explore the huge Musician's Friend selection of Pearl drums, hardware, hand percussion, concert percussion, and marching band instruments.
Today, Pearl's commitment to quality and service to the drummer live on through the industry's most comprehensive offering in drum sets, marching, concert, and hand percussion and accessories. Backed by the "Buy it Once, Play it for Life" promise, Pearl's Lifetime Warranty assures dependable drum set performance from player-selected Masterworks custom drums to the best-selling Export series. Through the Pearl Drummer's Forum, players can voice their opinions and connect with the largest online community of drummers on the web.
No matter where the playing road takes you, Pearl has the right equipment options to make your percussive voice heard at every step along the way. With nearly 70 years of drum building experience, Pearl is dedicated to being the Best Reason to Play Drums.
Masterworks
The dream destination for pro drummers who want to determine every aspect of their drum kits, sound, look, and performance. Since 1999, Pearl's handcrafted Masterworks drums have offered the professional drummer the tools to make a totally custom statement. The philosophy is simple: let the drummer call the shots on the construction, sound, look, and feel of the kit. Custom options include shell composition and thickness, hardware selection, and a virtually endless palette of custom finishes. Masterworks buyers can even specify their bearing-edge preferences.
Each Masterworks drum set is built to heirloom quality standards by the most elite craftsmen in the drum world. For the ultimate personal and performance statement, Pearl even has a dedicated "Masterworks Concierge" on duty to personally walk you through the custom configuration process, taking away any margin for error in the design of your ultimate custom drum set.
As an Authorized Masterworks Shop, Musician's Friend will work closely with you and Pearl to configure your Masterworks drum kit to your exact specifications. Call an experienced and friendly Gear Head at (877) 880-5907 for a one-on-one discussion of your needs.
Reference
All drums are not created equal. Toms, snares, and bass drums each have a specific application and voice, whether great or small. So why make them all with the same wood type and edge? With this concept in mind, Pearl explored the many options in the Masterworks crafting process to find the perfect combination of shell material, thickness, and edge profile for each individual size and type of drum. No weak links, no compromises; just pure performance across the harmonic spectrum. Using an all-maple 12" tom as the "middle C" of the drum set, the voices above and below utilize the right combinations of wood (maple, birch, and African mahogany,) with varying edge types (rounded 45-degree and fully rounded,) and thicknesses (7.5mm to 10mm,) to allow each drum to speak with its optimum note. Reference shells are exceptional in pro performance, high-volume, high-capacity situations, establishing an unparalleled playing presence.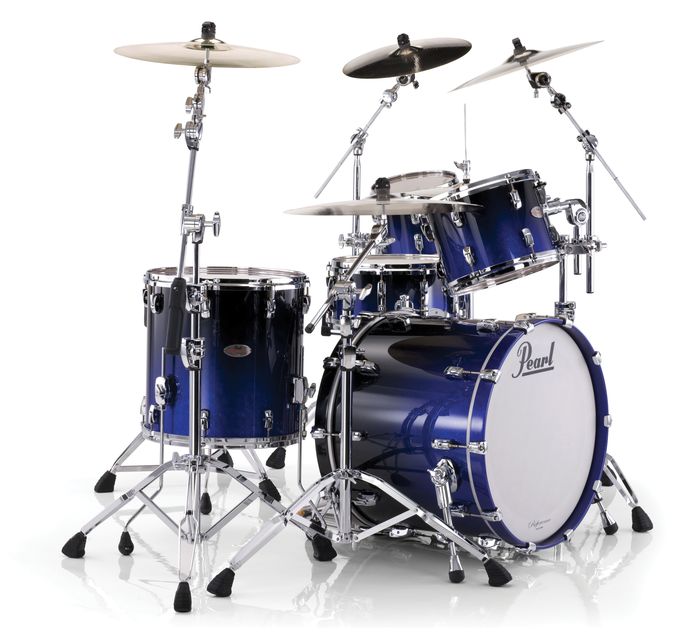 Each shell in the Pearl RF Reference 4 Piece Shell Pack is built with unique variations to fit tonally in the context of the entire kit.
Reference Pure
The sonically select Reference Pure formula employs a thin drum shell in a lighter weight format. Reference Pure builds on Pearl's original Reference Series Drums design philosophy. Using the same shell composition formula (where the number and type of wood plies and task-specific bearing edges are applied across the kit for optimum sonic response), Reference Pure's lower-mass, thinner shell and hardware combination assure an uninhibited, focused tonality that responds immediately in any playing environment. They produce close-field articulation with a warm, resonant vibe essential in controlled environments and concert settings where extended tuning range is paramount.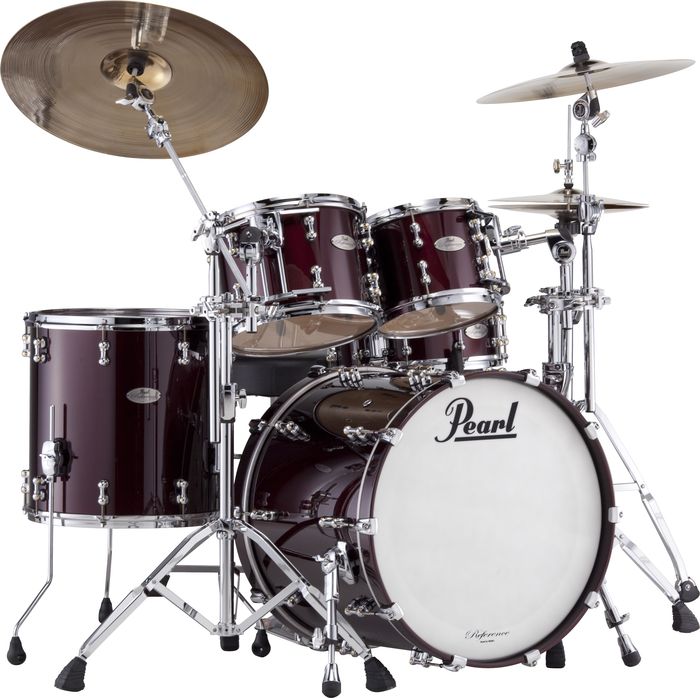 The Pearl Reference Pure Standard Shell Pack has thinner shells that offer an extended tuning range with a high degree of articulation.
Masters Maple (MCX)
With the road-proven, time-tested combination of North American maple shells and MasterCast hardware, Masters Maple is a set worthy of its name. Masters Maple drums deliver the essentials high-volume players rely on for tried-and-true performance. Its 6-ply all-maple shell is crafted with Pearl's exclusive Superior Shell Technology formula, fitted with MasterCast die-cast hoops, and finished with stunning Artisan II exotic lacquer. Derived from Pearl's legendary MLX shell, Masters Maple's warm, thunderous tonal punch makes it perfect for the touring pro.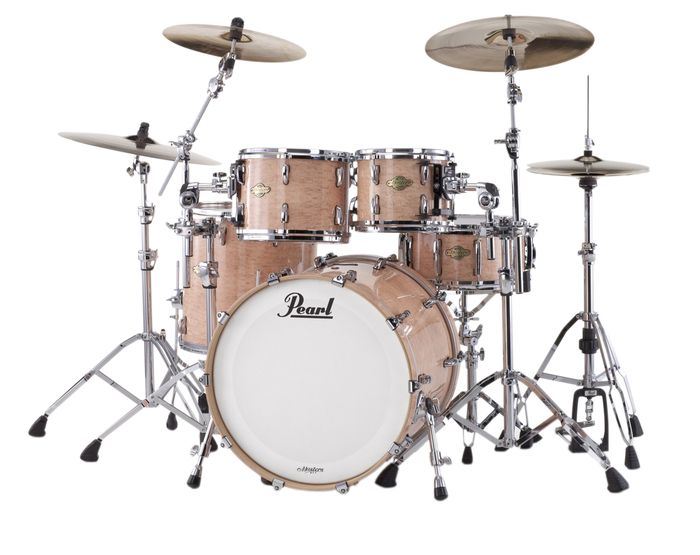 The Pearl Masters lineup has also recently been expanded to include a Birch (BCX) option that adds a dose of cut and clarity. Exceptional for use as a recording rig, Masters Birch includes all the custom touches of Master's Maple, with a "Naturally EQ'd" tonality. Boosted low and high tones also make it a solid option for powering through amplification with barking clarity in the live performance field.
Use of birch construction in the Pearl BCX924SXP Birch Shell Pack adds the definition needed to cut through dense, highly amplified band mixes.
Session Studio Classic
Session series drums made recording history when Pearl released them in the '90s, and now history comes full-circle with Session Studio Classic. Their tried-and-true birch shell formula has been improved with the added warmth of exotic Kapur wood in the sonic mix. This unique composition—combined with traditional shallow-depth toms—increases articulation and attack for added tonal clarity that is sure to became a studio standard. A stunning array of lacquer finishes—including new Vintage Copper Sparkle—make it a natural fit in any pro playing environment.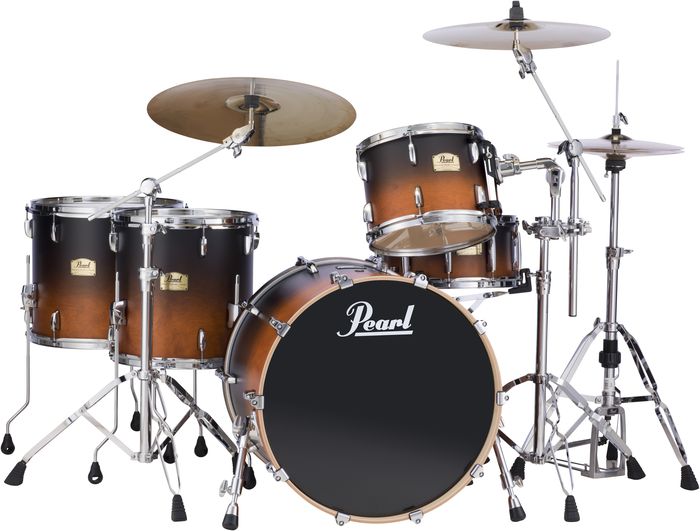 The addition of kapur wood to the birch shells of the Pearl Session Studio 5-Piece Shell Pack adds a measure of warmth to its pronounced attack and powerful projection.
Export
The kit that spawned a thousand drumming legends is back for a new generation. True to its legacy of quality and durability, Pearl's new Export is built stronger than ever, and features Pearl's proprietary Superior Shell Technology, and the new Opti-Lock 3-point suspension system to give the toms extra-lively tone. It comes standard with the most sophisticated hardware package ever offered on a drum kit at this price, including the already robust 830 series stands plus an upgraded Demon-style P-930 bass drum pedal. Export gets student drummers off to a strong start.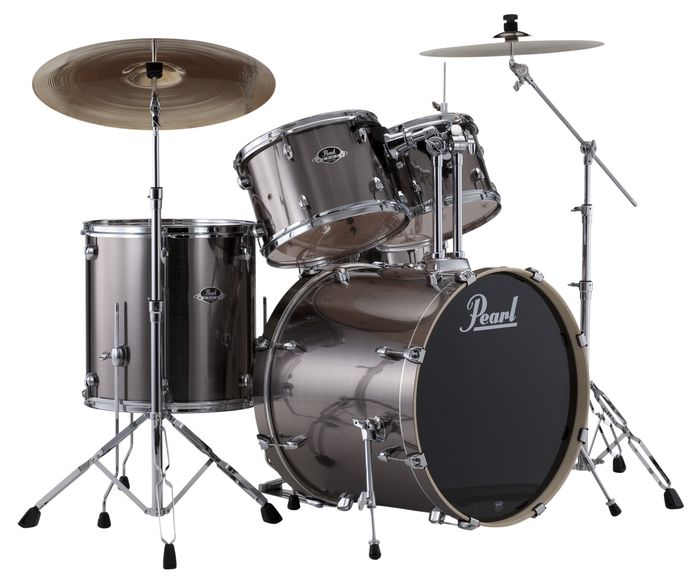 Sound Check
The Sound Check Shell Pack is designed to give budget-strapped beginning students a leg up on the road to becoming proficient drummers. Unlike the toy-like drum sets usually found in this price range, the Sound Check is sturdily built with 9-ply mahogany shells with a high gloss wrap that will take a beating and come back for more.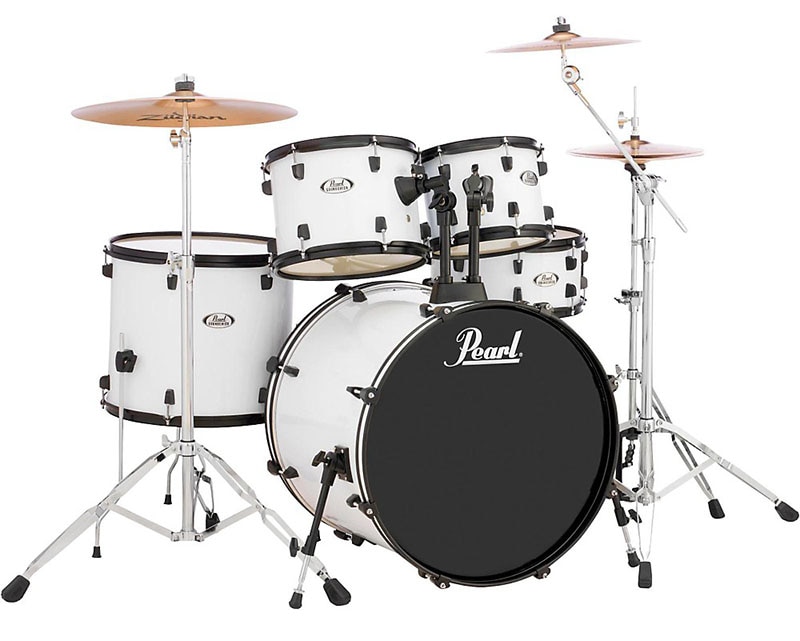 Not sure which drums are right for you? Call one of our friendly and knowledgeable Gear Heads at (877) 880-5907.
Learn more with The HUB's expert Drum Buying Guide.