The Industry Standard in Looper Pedals
---
By Jim Bybee
Writer/Editor, Roland Corporation U.S.
Live looping has become an extremely popular means of creative expression for musicians, and BOSS' portable, affordable, and easy-to-use Loop Station pedals have played a vital role in the rise of sound-on-sound performing artists everywhere. The RC-30 and RC-3, the latest Loop Stations, are the most powerful BOSS has yet developed, packed with high-octane digital signal processing, stereo operation, and new cutting-edge features not found in any other loopers. In this article, we'll dive deep into the RC-30, and then briefly cover the RC-3, which contains the RC-30's essential features in a smaller and even more affordable package.
The RC-30: Pumped Up with Premium Features
Housed in the BOSS Twin Pedal chassis, the RC-30 is the replacement for the esteemed RC-20XL, one of the best-selling looper pedals of all time. As you might expect, the RC-30 retains the basics that made its predecessor so popular, including great sound, ease-of-use, onboard loop storage, rhythms, and even its bold red color. But that's where the comparisons stop—this looping monster ups the ante big time with a whole host of new goodies and enhancements.
The RC-30 features true stereo inputs and outputs, plus up to three hours of onboard stereo recording and loop storage. That's right—I said three hours. With this much time built in, the RC-30 is great not only for storing loops, but even stereo backing tracks for an entire show! There are 99 different memories for loop recordings or audio files, and you can recall them easily with footswitches (onboard or external) or the front-panel buttons.
Additionally, the RC-30 has a new dual phrase loop feature that lets you create and play two completely independent stereo loop phrases in perfect sync. Each track's volume can be controlled via two handy sliders on the front panel. Switching and controlling the two loop phrases is easy with the two onboard footswitches, but you can connect one or two BOSS FS-5U single footswitches—for additional foot control if desired. Other functions are also available when you connect external footswitches, such as memory selection and effects control.
Speaking of effects, another new addition is the LOOP FX section, which lets you sweeten your loop recordings in real time with various processing options. Included are Bend Down, Step Phaser, Sweep Filter, Tempo Delay, and Lo-Fi; you can get a good idea of what these effects do from their self-explanatory names. The RC-30 also includes a complement of real audio drum loops to use as synchronized backing for your loop recordings, and the LOOP FX sync perfectly with both your loops and rhythms.
Ins and Outs of the RC-30
With its multiple inputs, the RC-30 offers plenty of connection options for any kind of loop artist. There are true stereo inputs via two 1/4" jacks, perfect for connecting and preserving the imaging of stereo devices such as guitar multi-effects units, keyboards, rhythm machines, and mixers. If you wish to directly connect a mono device like a guitar or bass, simply plug it into the left input only. There's also an XLR mic input with phantom power and a dedicated input level control, plus a stereo AUX input that's perfect for connecting a portable music player such as an iPod. What's cool is that all the inputs work simultaneously, so you can have multiple devices connected at the same time, instantly ready for looping.
Stereo output is provided on two 1/4-inch jacks, but you can easily output sound in mono using only the left output. There's also a USB 2.0 port for connecting to a Windows or Mac-based computer; via USB, you can back up the loop recordings you've saved in the RC-30, and also import computer WAV audio loops (and backed-up RC-30 loops) from the computer back into the Loop Station.
Kid Brother: The RC-3
The RC-3 pedal offers many of the top features found in the RC-30, yet in a smaller package. Housed in the famous BOSS Compact Pedal chassis (just like the RC-2 it replaces), the RC-3 is perfect for guitarists, bassists, or anyone who wants an ultra-portable looper. It offers all the essentials of the RC-30, including stereo I/O on 1/4" jacks, up to three hours of stereo recording and loop storage, 99 onboard memories, USB 2.0, and built in rhythms. Also like the RC-30, you can connect optional BOSS footswitches for additional foot control if you like.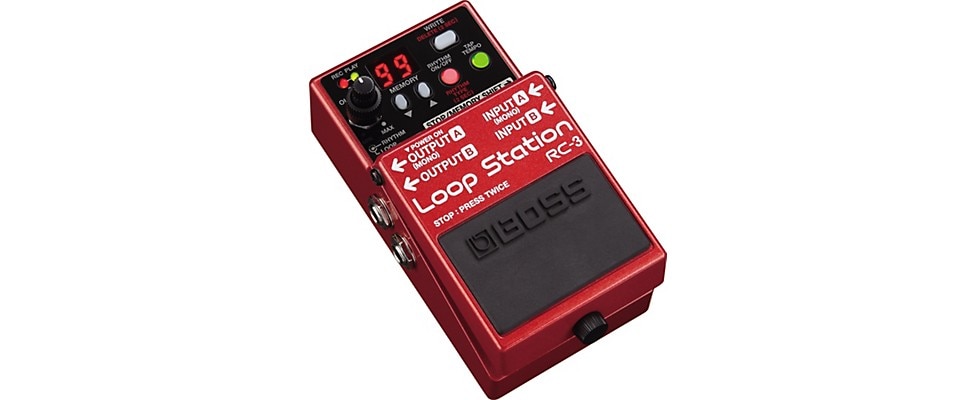 Loop Power
As you can see, the RC-30 and RC-3 Loop Stations offer looping musicians the most powerful, flexible, and best-sounding tools available for recording and manipulating audio loops live and in the studio. They're also great for music practice, and with up to three hours of recording time and loop storage onboard, both are great as ultraportable, foot-controlled backing track players as well. If you're already a looper, they're a must-have upgrade; if you're just starting out, they're the ones to get, hands down. Either way, you've got lots of fun music making ahead of you with these Loop Stations. Happy looping!