Legendary tones and solid interfaces in four dynamic designs
---
By Frank LaMonte
Line 6 Product Specialist
Welcome to the future: A dream collection of legendary guitar tones, perfect configurations of ins and outs, and the lowest noise for the cleanest, clearest guitar tracks are just a few of the advantages of recording with POD Studio USB audio interfaces. Consisting of one of four rock-solid USB-powered hardware interfaces and POD Farm™ 2, the premium tone plug-in, POD Studio represents the future of guitar recording.
POD Farm 2: The Premium Tone Plug-In
POD Farm 2 easily floats atop the deluge of run-of-the-mill tone plug-ins on the market today. Line 6's proprietary modeling—often imitated, never duplicated—of must-have modern and vintage gear sets you up with 42 immortal guitar amps and cabs, 10 bass amps and cabs, and 35 sought-after stompboxes, studio effects, and preamps. (POD Farm 2 Platinum includes over 250 meaty models and all the bells and whistles.) Each model is fully adjustable and offers total tweakability. Plus, hundreds of presets provide record-ready sounds in an instant.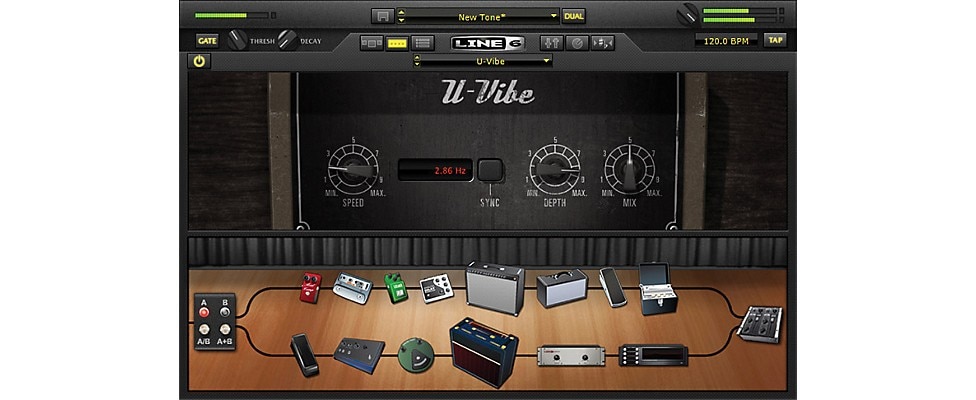 Take stock of a few other exciting advancements that we threw in just for fun: full MIDI support, enhanced routing with flexible DSP, and POD Farm Elements—a workflow-streamlining, CPU-conserving toolkit that will simplify your sessions.
POD Farm 2 is Mac® AU/RTAS®/VST® and Windows® RTAS®/VST®-compatible for seamless integration with all major recording software applications.
Noise Annoys
With a signal-to-noise ratio of 120dB, POD Studio interfaces ensure the lowest noise for recording guitar. That's 12dB more than similar interfaces. Crisper, cleaner signals free of unwanted noise provide the most colorful guitar tracks and the best recordings.
Latency: Mind the Gap
Each POD Studio interface features exclusive Line 6 ToneDirect™ monitoring that reduces latency to an inaudible, infinitesimal amount. Latency, the delay caused by the time it takes your guitar signal to travel through your interface, your computer's processor, your plug-in software and back to your interface, is famous for crippling recording sessions and sending countless guitarists off the deep end. This is a huge advantage POD Studio interfaces have over similar recording interfaces.
At the Crossroads
When recording with other interfaces, guitarists are forced to make counterproductive compromises like settling on a less-than-perfect tone, or recording with a dry signal in order to choose a tone later. POD Studio breaks guitarists free of these challenges and allows for a fully processed POD® tone to be monitored while a dry signal is recorded. Sacrificing tone or feel will no longer be tolerated.
A Family Affair
The POD Studio line features four intuitive hardware interfaces. Each design provides its own essential benefits while delivering POD Studio advantages including the lowest noise for recording guitar, and ToneDirect monitoring.
GX excels in straightforward, guerilla-style recording with a single 1/4" guitar input and a volume knob. UX1 features a 1/4" guitar input and a balanced XLR input with a high-quality mic preamp. Plus, a pair of 1/4" line inputs, a 1/4" stereo monitor input, and a pair of 1/4" analog outs deliver a compact but truly pro recording experience.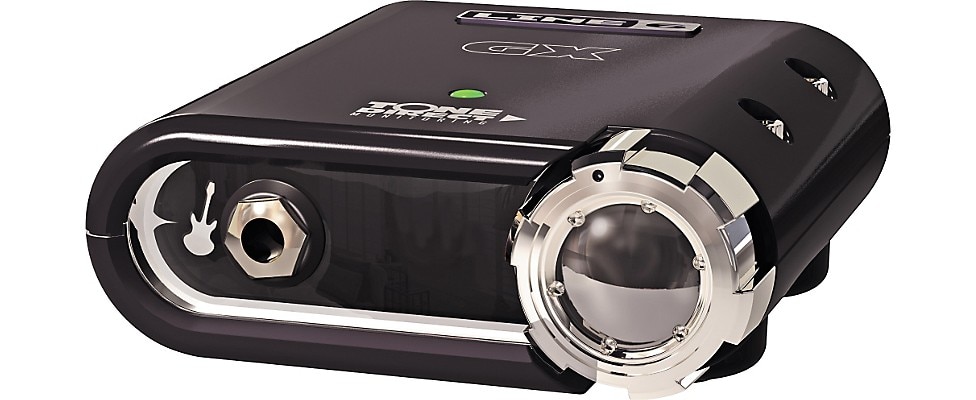 UX2 boasts two 1/4" guitar inputs (normal or pad), two balanced XLR inputs with high-quality mic preamps, phantom power and trim knobs, a 1/4" stereo monitor input, two 1/4" line inputs, two balanced 1/4" line outputs, S/PDIF digital output, a 1/4" stereo headphone output with level control, and a pair of assignable VU meters.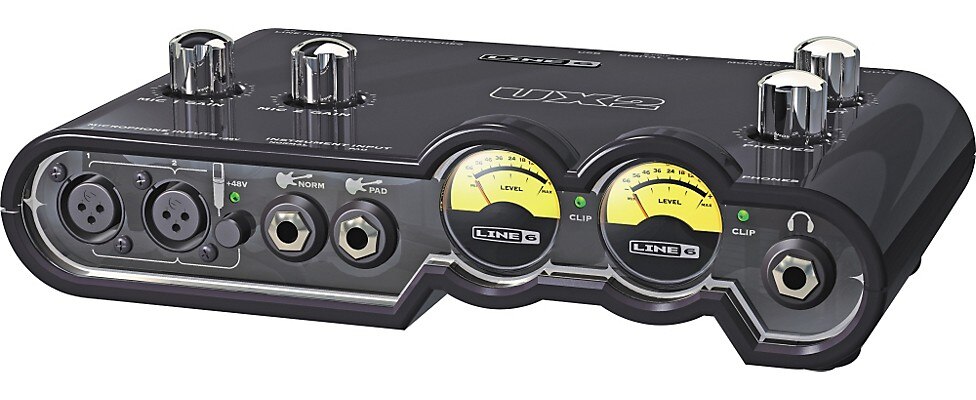 Instant Production Environment
GX and UX1 include POD Farm 2 plus Ableton® Live Lite 8-track recording software, an ideal recording platform for guitarists. UX2 includes POD Farm 2, Ableton® Live Lite Line 6 Studio Edition 16-track recording software, and award-winning Reason® Adapted production software featuring a sought-after sequencer and tons of stunningly lifelike instruments.
Make your Studio a POD Studio
Powerful and versatile, POD Studio USB audio interfaces provide the necessary features guitarists need to achieve the tones they want and get the most from their music. Which one is perfect for you?