Native Instruments' flagship groove production controller is back with an improved workflow and exciting new features.
---
Originally released in 2009, Native Instruments' MASCHINE has long been a staple in the beat maker and producer community. The popular groove-production controller and software combo has found its way into countless studios due its fantastic workflow and library of rich sounds.  Five years on from the release of MASCHINE MK2, Native Instruments has introduced the latest flagship in the MASCHINE line-up: MASCHINE MK3.
What's New in MASCHINE MK3
The first question many people ask in a legacy line like MASCHINE is, "What's new and different?" The truth of the matter is that there are a number of major new features to be found in the MK3 model. One of the most visible changes is the design aesthetic. Right away you'll notice that the new MK3 has two full color, hi-res displays (previously only available on the MASCHINE STUDIO model). Producers will also enjoy the sleeker footprint and larger, more expressive pads. There's also a new a "Performance" section on the left-side on the unit, above the Transport functions. These smart-strip controlled functions include Pitch, Mod, FX, and Notes. Another convenient update to MASCHINE MK3 is the fact that chord mode can be accessed without having to internally navigate through sub-menus (Shift + Pad Mode).
Native Instruments Lead Product Specialist Boris Mezga demos what's new in MASCHINE.
Adding an Audio Interface To The Mix
One of the biggest upgrades to MASCHINE is a great sounding built-in audio interface (96 kHz/24-bit) on the unit. The I/O offers of two ¼" line inputs, one microphone input (1/4"), two line outputs (1/4") and one headphone out (with volume knob). Additional connectivity includes 5-pin MIDI I/O, pedal jack and an option to power your MASCHINE with an included 15V 1.2A power supply.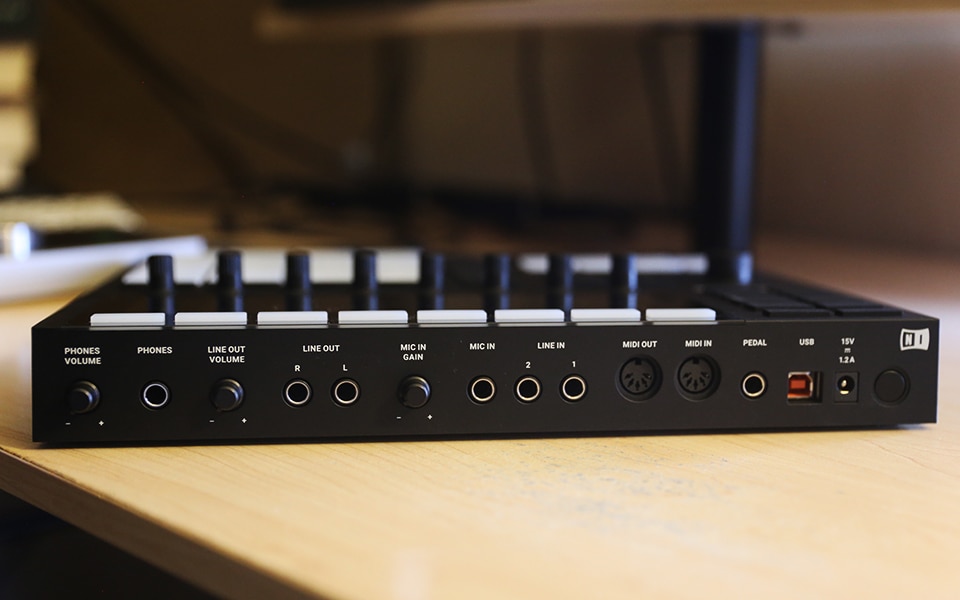 MASCHINE's Software Gets An Upgrade
Native Instruments has continued to make updates towards the MASCHINE software. Main additions include a new "Ideas" view, Parameter Snapshot Morphing and a new Variation Engine. The Ideas view provides a different approach to sketching and arranging tracks which is more intuitive for performance. Though this update was released by NI a few months ago, it will now be available straight out of the box. The Parameter Snapshot Morphing function allows users to freeze current settings, tweak parameters such as filters, envelopes, etc. and then flip right back to your frozen setting. Finally, the Variation Engine has the ability to randomize new patterns and melodies on the fly – a great tool for dealing with the occasional writer's block that hits us all.
Things to Consider – Computer Requirements and Recommendations
For Mac users who are looking to get their hands on the new MASCHINE MK3, make sure that your operating system is at least up to 10.11. You'll also want an Intel Core i5 processor or better and 2 GB RAM (4 GB Recommended).
Windows users should make sure they are on 7, 8, or 10, with the latest service pack. Intel Core i5 or equivalent CPU, 2 GB RAM (4 GB Recommended).
The MASCHINE MK3 is now available for pre-order.