The semi-hollowbody guitar embodies the best in both electric and acoustic guitars offering both tonal depth and visual appeal. In addition to being a highly versatile instrument at home in a range of music genres, it also feels very familiar to anyone who's played an acoustic or electric guitar.
Here's a look at what this guitar is all about, and why you should be interested.
What is a Semi-Hollowbody Electric Guitar?
The semi-hollowbody guitar combines the sounds, capabilities, and styles of hollowbody and solidbody guitars. It was an innovative game-changer when it was developed and introduced in the 1950s, and continues to offer distinctive tones with a greatly expanded selection of models to choose from today.
A Revolutionary Evolution
As the guitar continued to gain popularity in the 1930s, there was a need for the instrument to project and be heard alongside other instruments in jazz bands and orchestras. Manufacturers scrambled to produce amplified guitars to answer that need.
The first electrified production models were archtop guitars with similar characteristics to acoustic guitars. A pickup was typically placed in the area where the sound hole would have been, and f-holes were carved on either side of the pickup, resembling the style used on violin tops.
Companies like Gibson began to mass produce these guitars and amplifiers, selling them through department stores such as Montgomery Ward in order to supply a growing market. But these amplified archtops produced howling feedback when their volume was cranked up to compete with the other instruments in dance bands.
In trying to solve the feedback problem, jazz guitarist Les Paul, a consummate tinkerer, developed a solidbody guitar prototype by attaching a guitar neck to a simple 4" x 4" slab of pine that had a pickup mounted to its top. The prototype worked as intended by eliminating feedback. But it came up short in terms of the resonance of traditional archtops as well as in its unlovely appearance. Christened "The Log" it was deemed an oddity, and his experiments in this direction were put on hold.
Les was determined to produce a guitar that offered the acoustics of an electrified archtop while keeping feedback at bay. Using The Log's approach to feedback control as a point of departure, in 1942 Paul took an Epiphone Broadway archtop and added a steel bar to brace the body while replacing the factory pickups with his own hand-wound pups. "The Clunker" as he called it became his favorite guitar for recording and performance thanks to its stability and feedback resistance. Les Paul took his design to Gibson in the mid-40s but they passed on it, choosing instead to collaborate with the guitarist on a carved-top electric guitar that evolved into the Les Paul that debuted in 1952.
With the success of the Les Paul under their belts and the recent acquisition of Epiphone, Gibson revisited The Log and Clunker concepts under the direction of its president Ted McCarty. The result was the first production semi-hollowbody guitar: the ES-335.
Gibson ES-335: The Dawn of an Era
In 1958, Gibson formally introduced the ES-335 and the response was overwhelming. The combination of a solid block of maple surrounded by the hollow wings of a largish archtop body with f-holes in the top created ample acoustic resonance, warmth, and substantial sustain. And as intended, the ES-335 could be played at the volumes demanded by modern rock and blues without developing feedback problems.
Players quickly gravitated to the ES-335's versatility and playability. Chuck Berry was among the first to play an ES-335, and introduced the world to the sound of a semi-hollow with his classic riff on "Johnny B Goode." Notable bluesmen like B.B. King fell in love with the ES-335, and over the years he moved to other variations based on the original ES-335.
Eventually, Gibson created B.B.'s signature-model Lucille ES-345 with the Varitone switching circuit that has become synonymous with his vibrato-infused style. Meanwhile other makers such as Rickenbacker, Harmony, and Gretsch jumped on the semi-hollow bandwagon, eager to get their share of the market.
Semi-Hollowbody Construction
The typical semi-hollowbody guitar looks like a an archtop hollowbody, but it has a solid block of wood running through its center, which allows it to be wired and amplified like a solidbody. This block is glued to the back and top of the guitar, effectively creating hollow "wings" on the sides. Depending on the design of the guitar and who is describing it, semi-hollowbody electrics are also sometimes called "semi-solid" or "semi-acoustic" guitars.
Why Would I Want a Semi-Hollowbody Guitar?
Besides actively participating in rock and roll history, there are several great reasons to consider a semi-hollowbody, including their sound and specs.
This is the Sound
Semi-hollowbody guitars produce great harmonic richness—a warm dynamic with lots of sustain, rounded midtones, and beautiful overtones. The sound is more lush than a solidbody, while dodging the feedback issues of hollowbodies thanks to that center block.
It's a perfect sound for many jazz and blues musicians, and they along with many rockabilly artists were among the first to embrace the ES-335. Valuing their rich tonality, jazz guitarists such as Lee Ritenour and Larry Carlton as well as blues musicians like Otis Rush have consistently played semi-hollowbody guitars.

An instrument this versatile could never be pigeonholed into one genre. Rock players from Eric Clapton to Gary Moore to Ted Nugent have toured and recorded with semi-hollowbody electric guitars. Renowned country guitar slingers ranging from Chet Atkins to Merle Travis were also enthusiastic semi-hollowbody players, and the tradition continues with players like Joe Bonamassa and Gary Clark, Jr. choosing semi-hollows as their main axe.
Convenient Size and Shape
The hybrid design of semi-hollowbody electric guitars makes them the perfect fit for many situations. The hollow wings mean they're lighter than solidbodies, and thanks to unlimited amplification potential, their bodies can be thinner than hollowbodies. As a result, they combine playability with comfort, making them easy to handle on stage.
Their natural resonance also makes these guitars loud enough to practice with while unplugged. For the musician who lives in close quarters, or doesn't have dedicated rehearsal space, this is a great feature.
On a purely aesthetic level, semi-hollowbodies offer an appearance that speaks to the craftsmanship and fine woods that go into them. Many artists find their old-school looks and traditional contours irresistible.
Which Semi-Hollowbody Guitar is Right For Me?
When you're this hot, everyone wants to be like you. The semi-hollowbody electric guitar has been reimagined by almost every guitar maker, which means there are choices to match just about any budget and musical objective. Here is a quick look at some of your choices.
Gibson 1959 ES-335 Dot Reissue
Gibson's ES-335 is where it all started, and 1959 ES-335 Dot Reissue retains the beauty and sound of the original. Handcrafted in Gibson's Custom Shop, the solid maple center block helps resist feedback as it did in the original. Hardware updates include machine heads with more precise mechanisms. Newly designed Custom Bucker pickups evoke the sound of the original PAFs. The period-correct historic truss rod assembly, heftier rounded neck profile, and original dot position markers all reflect the obsessive attention to detail lavished on this guitar by Gibson's luthiers.

If authenticity is your thing, and you want the full semi-hollowbody experience no matter the cost (because there is definitely a cost), Gibson's ES-335 Dot Reissue reissue is for you.
Fender Starcaster
Fender's reissue hails from the 1970s and is built with an alder center block and laminate maple tonewoods. While some players may quibble over its bolt-on neck, others appreciate its thinner, easy-playing profile. While many of its components are of mid-range quality, the Stracaster's comfortable introductory price makes for a highly accessible introduction into the world semi-hollowbodies..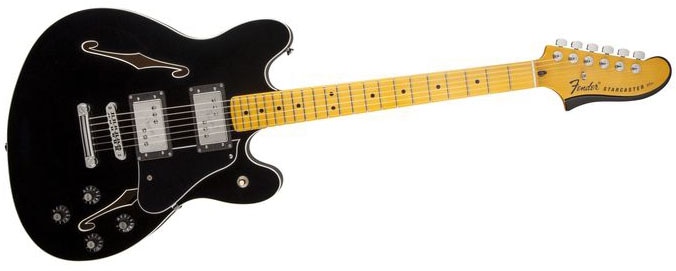 Most players give the Starcaster high marks for its sound and playability, and the modest price makes it a great choice as a first semi-hollow axe.
Ibanez Artcore AM93 and Artstar AS153
The Ibanez AM93 Artcore Semi-Hollowbody serves up satisfyingly round and rich tones via a relatively compact body with a slim neck to match. The maple/mahogany set neck with rosewood fretboard, and the quilted maple top and back produce full-bodied resonance despite the smaller profile (and smaller price tag).

A great value, the Ibanez Artcore AM93 offers cosmetic refinements plus robust and rich tone far beyond its very accessible price.
Commanding the middle of the semi-hollowbody pack is the Artstar AS153. Its superior construction and tonewoods make it a great buy at a moderate price. The mahogany neck is slim, like the Fender Starcaster, but set instead of bolted. Luxurious appointments include an ebony fingerboard, hand-rolled frets, and a bone nut. The flame maple top and body generate great resonance with slightly brighter tone than some other semi-hollows. The versatile Super 58 pickups are at home with genres ranging from smooth jazz to gritty blues.

The Ibanez Artstar AS153 features an elegant quilted maple top, deluxe appointments, and Custom 58 pickups that effortlessly transition from clean to dirty.
Even More Options
If none of those suit your fancy, there are still plenty more models to consider:
Gibson ES-339 - A smaller, lighter version of the ES-335 with its own distinctive sound and a little more bite. A semi-hollowbody for solidbody players.
Epiphone Dot - Epiphone's lower-cost version of the ES-335 offers the same tone that blues, rock, and jazz players prefer.
Rickenbacker 360 12-String - For that classic '60s jangle along with the warm resonance of a semi-hollow body, it makes a great, old-school choice.
Gretsch Guitars G2622T Streamliner Center Block Double Cutaway with Bigsby -

BroadTron humbucking pickup and the spruce center block combine for some incredible Gretsch tone.

Ibanez AS73 - An entry-level semi-hollowbody model with humbuckers and an adjustable bridge.
Fender Telecaster Thinline - Semi-hollow ash body with single f-hole accent and humbuckers gives this guitar a sweet, meaty tone.
Shop the complete Musician's Friend selection of semi-hollowbody electric guitars.
The Best of Both Worlds
The semi-hollowbody guitar has been called the best of both worlds for guitar players, combining the rich warmth of a hollowbody with the feedback-resistance and bite of a solidbody. They are resonant enough to practice without plugging in, but also designed and constructed to plug in without the screeching of unmanageable feedback. It's easy to see why so many musicians have made these guitars so popular for so long.
If you need further help finding the perfect semi-hollowbody guitar for your music and budget, we invite you to call a friendly and knowledgeable Gear Head at (877) 880-5907.