Are you a DJ looking to expand into wedding gigs and other similar events? This article will help you sort through the necessary (and good to have) gear that you'll need to be taken seriously as a formal DJ. From DJ controllers to headphones to PA systems, we'll help you find the right gear for your upcoming gig. We'll also provide important tips to help you get ready for the big day, from playlist curation to "DJ Etiquette". 
Alternatively, if you're a couple preparing for your own wedding reception (or other formal event) this guide will help you figure out the important questions you should be asking of potential DJs you're considering for the job. Do they have their own PA system? Do they have an expansive music library? Will they bring their own lighting setup? Musician's Friend is here to help. 
Choosing your DJ Controller
Given the advances in DJ gear over the past few years it's no longer necessary for wedding DJs to lug around flight cases containing heavy turntables and a mixer. You won't be doing any competitive scratching at a wedding, so keep it practical and light. Of course, if you're from the true-school era and prefer to spin on the wheels of steel, that's okay too, because we've got some equipment carts to make your life easier. For everyone else, there are a number of excellent DJ controllers on the market. These controllers sync with popular DJ software titles such as Serato, Traktor, Rekordbox and Virtual DJ. Because you are a professional getting paid to be reliable, it's recommended that you go with a quality controller designed for gigging, not your bedroom. The Pioneer DDJ-SX3 is Pioneer's latest flagship controller.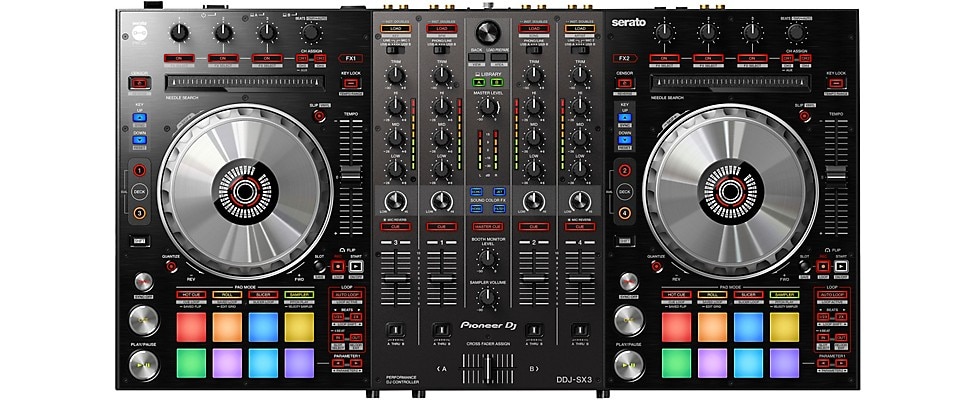 The Pioneer DDJ-SX3 is a four-channel DJ controller that integrates tightly with Serato DJ. 
Since you're working with software-based DJ controllers, it's best to have a recent laptop with an operating system that is compatible with controller's software and hardware. We'd also recommend purchasing a flight case that your controller comfortably fits in. Flight cases help keep your gear safe while traveling, and look more professional than just casually walking into a ball-room with a controller under your arm. Other necessary accessories include a reliable pair of headphones, a live sound mixer, and right cables to connect your rig. It is also a nice touch to have an event façade to keep the optics of your set-up looking clean and professional. This is something your clients will appreciate dearly.
Tips for Choosing Your PA Speakers
Arguably the most important element of your setup is the PA rig. You can't be one of the best DJs around if you have poor sound coming out of some cheap speakers that you bought at a yard sale. Many banquet halls and ball rooms are large and can require quite some power to fill up the space with quality sound. Even if you're playing a more intimate setting it's always good to be prepared to crank the music up without losing quality.
At minimum, it's smart that your PA system consists of at least two, if not four, 15" powered speakers and subwoofers to accompany them. Powered speakers are great because they eliminate the need for carrying around hefty power amplifiers and other rack gear designed for passive systems. Subwoofers are important because they take a huge load off of the main speakers, driving all of the low frequencies (aka, your bass) through a highly specialized woofer. This will make your entire system sound bigger and better. Quality powered speaker families include the QSC K-Series, JBL PRX Series and Electro-Voice EKX Series. Important accessories to include are speaker stands and extra-long cables. Before you make your purchase be sure to verify that everything is compatible with your system
Ready to buy your PA system? Check out our PA Systems Buying Guide.
Why Every DJ Needs Wireless Microphones
Another fundamental element of your setup should be wireless microphones. Weddings and formal events often consist of speeches, announcements, and someone who MCs the shindig. The last thing you want is someone tripping over a 30-foot microphone cable which can result in damaged gear, or even worse, an injury to one of the guests. Reliable wireless microphone systems are made by brands such as Shure, Sennheiser, and AKG. Remember to have to appropriate cables to send signal from the receivers to the PA. Also remember to have extra batteries on deck at every single event.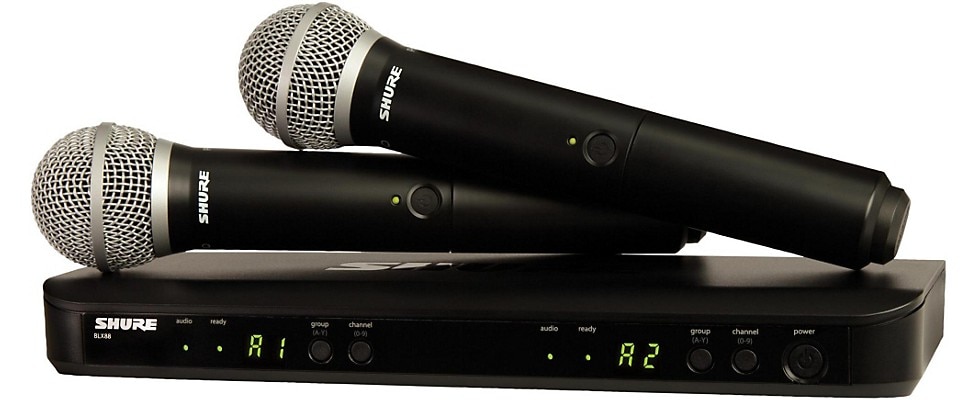 Need more help choosing a wireless microphone? Check out our Wireless Microphone Systems Buying Guide.
Why A DJ Needs a Lighting Rig
Lighting is an integral part of a DJ's gear-list and is something that should not be overlooked. Lighting provides event spaces with ambience, energy, and vibe. It's essential to have a wide array of lights in your rig. Effective lights include washes, strobes, and lasers. Lighting significantly adds value to your services and may even allow you to charge a premium as a part of your package. Lighting takes some time to learn and understand, so it's definitely a skill that event DJs should spend some time learning.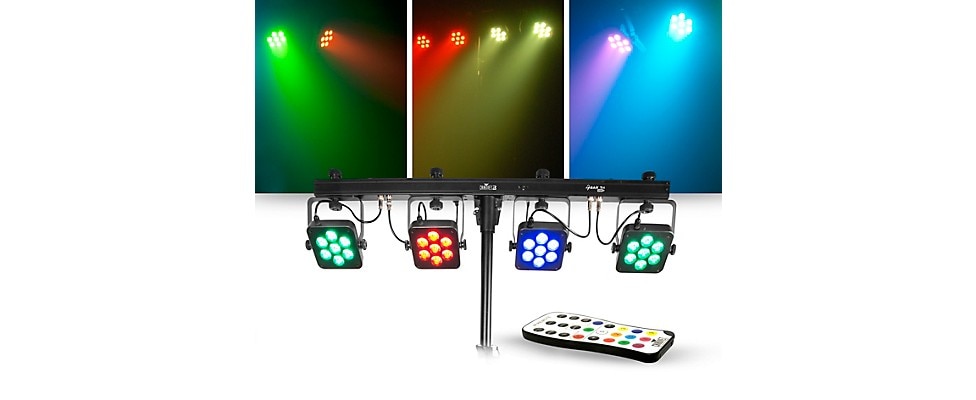 Check out our Lighting and Stage Effects Buying Guide for more helpful tips.
Preparing For Your Next Wedding Gig
So you've done some research and you've purchased all of the gear you need. Think you're ready to start professionally DJ'ing wedding receptions and formal events? There are many elements to DJ ethics and best practices.
To start, it is imperative to have a huge selection of music in your library. It's best to become genre agnostic and become an expert on any and all popular music from the last 50 years. Work with your clients to understand exactly what type of vibe they are looking for with the music. Encourage them to give you a list of must-have songs on your playlist. Understand that when you DJ weddings and events, the people are not there to see you perform. You are performing a service for clients who are paying you, so it is best to leave your personal music taste at the door.
Finally, it's important that you're able to troubleshoot gear on the spot in high-pressure situations. Make sure you know your gear, that you're routinely testing it and know what to do if something goes wrong.
Need help choosing the sound equipment for your next DJ gig? Check out our DJ Live Sound Gear Buying Guide.
Shop our full selection of DJ equipment.