The bass guitar, the long-necked brontosaurus of stringed instruments, produces a sound that has become iconic in modern music since its rise to popularity in the 1950s. The warm, propulsive sounds that plucking, slapping, popping, tapping, or thumping these smooth-talking instruments generate anchors the rhythm of most pop music.
Bass guitars come in many different types and styles, but most have between four and six strings, the most popular being the four-string variety. For beginners their availability, price, and relatively easier learning curve makes the four-string bass the preferred choice.
If you want to drill down and learn the nuts and bolts behind the instrument before choosing an electric bass, you can check out our expert Bass Guitar Buying Guide. But in this quick-start guide, we are going to stick to the basics then dive right in and look at some great starter basses.
Economy and Playability
Aim to strike a balance between quality and economy. Price is important, but an instrument with poor sound quality and playability can frustrate you to the point of feeling discouraged. The Dean Edge 09 4-String Electric Bass Guitar, is a great choice for keeping the wannabe bassist motivated with solid sound and playability. Not only one of the most affordable basses we stock, it's also one of the most highly rated. The Edge's maple neck has a fast, sleek profile that's easy to play. A unique Dean-design neck joint and heel along with an asymmetrical 4-bolt pattern give you unhindered movement all the way up the 22-fret neck. It may not have the frills of a higher priced bass, but it beats the pants off many other instruments in its class.

An Affordable Bass
Price may narrow your options, but it doesn't have to hold you back. The Rogue LX200B Series III Electric Bass Guitar is an affordable choice for a first bass. It features a maple neck, rosewood fretboard, covered traditional-style split and single-coil pickups, 2 volume and 2 tone controls, and die-cast machine heads. It's well built for its bargain price, and includes a 2-year warranty.

The Short-Scale Bass Guitar
Two common characteristics among beginner bassists are that they are often young, and they are always lugging their bass from home to lessons and occasional jam session with friends. It doesn't take a logistical whiz to see what sort of issues a teen would have hauling around a 34"-scale instrument—fortunately Ibanez has a solution in the form of their GSRM20 Mikro Short-Scale Bass Guitar. Beside portability, the shorter 28.60" scale is easier to handle for folks with a shorter fingers. Don't let its size fool you though, this top-rated little guy packs a big sound. It is also available in a variety of different colors, so there are plenty of great options to pick from.

When It's About "The Look"
If you're looking for a heavy rock or metal-friendly starter instrument, the Dean ML Metalman 4-String Bass Guitar has your name all over it. It has a single massive Dean humbucker mounted next to the bridge to give it that trademark edgy, growly tone.

Play a Classic - Precision Bass
The Fender Precision Bass was the first mass-produced electric bass guitar, and nearly seven decades later it's still among the most popular basses ever. You'll find the "P-Bass" being played in just about any musical genre you can imagine. Its tight, focused low-frequency response has made it a go-to instrument in pop, rock, blues, reggae and many more musical neighborhoods. Built by Fender's budget-friendly Squier division, the Classic Vibe '50s Precision Bass shares much of the playability and sound of its more costly Fender cousins. Armed with a classic single-coil pickup and massive bridge, it generates the classic, fat P-Bass tone that has propelled countless hit recordings.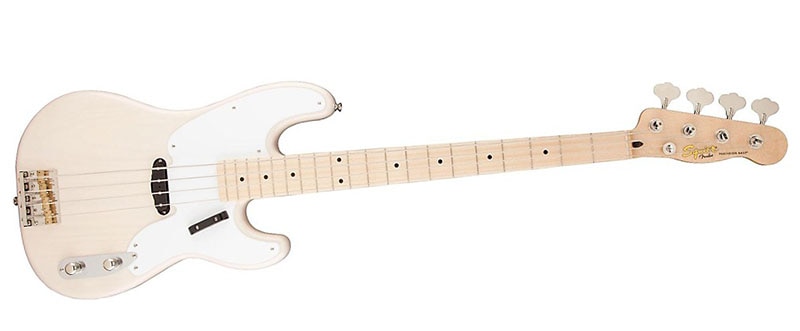 Learn much more with our Electric Bass Buying Guide that delves into all the details.
Still need help?
If after reading this guide you'd still like some guidance in choosing the best beginner-level bass guitar, call one of our friendly and knowledgeable Gear Heads at 877-880-5907. We will make sure you find the right instrument for your groove.