Universal Audio has announced Apollo X, their next-generation flagship Apollo Thunderbolt audio interfaces. The Universal Audio Apollo X family includes four new models: Apollo x6, Apollo x8, Apollo x8p and Apollo x16. Key improvements include elite A/D and D/A conversion, new HEXA Core processing and surround sound monitoring .
Let's take a closer look at these and other key features and specs.
Universal Audio Senior Product Manager Gannon Kashiwa provides an in-depth look at the new Apollo X audio interface family.
Elite-Class A/D and D/A Converters
When designing the new Apollo X line, UA's engineers settled on industry-leading, elite-class 24-bit/192 kHz converters.  The x6, x8  and x8p boast 129 dB of dynamic range with -118dB THD+N. The x16, designed for the most professional integrations, provides 133 dB of dynamic range and -129 dB THD+N.
In practice, these new converters result in lower noise, better stereo separation, improved 3D imaging and more. Ultimately, this will make both recording and mixing easier, with better sounding results at the output stage.
Realtime UAD HEXA Core Processing
The Apollo X interfaces feature UA's new HEXA Core processing. HEXA Core means six UAD DSP chips in each Apollo X. This is a 50% increase in processing power from previous generation Apollos. Put simply, this means more power to run UAD plug-ins, whether you're recording or mixing.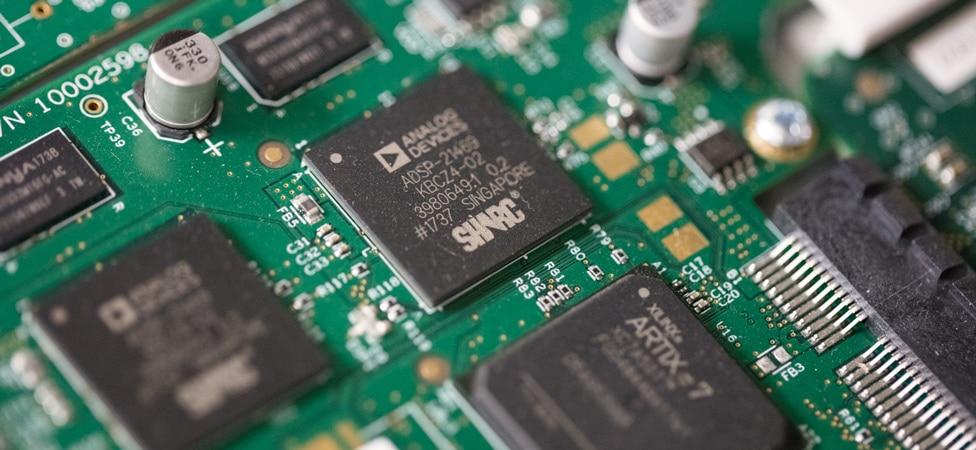 Understanding Unison™ Technology
Originally unveiled in early 2014, the Unison™ technology found on the x6, x8 and x8p enables your on-board microphone preamps to sound (and behave) like some of the most famous tube and solid-state mic preamps ever made. UA's proprietary technology faithfully replicates the most important details found in vintage pieces of gear. It will even emulate the impedance of the original gear the plug-ins are modeling. 
Which Plug-ins Does Apollo X Ship With?
The bundled "Realtime Analog Classics" UAD plug-ins cover all the important tools you'll need. This includes compressors, EQs, reverbs and legendary guitar and bass amps. In addition to UA icons like the 1176 and LA-2A, you get Unison™ powered plug-ins like the UA 610-B Tube Preamp and Marshall® Plexi Classic.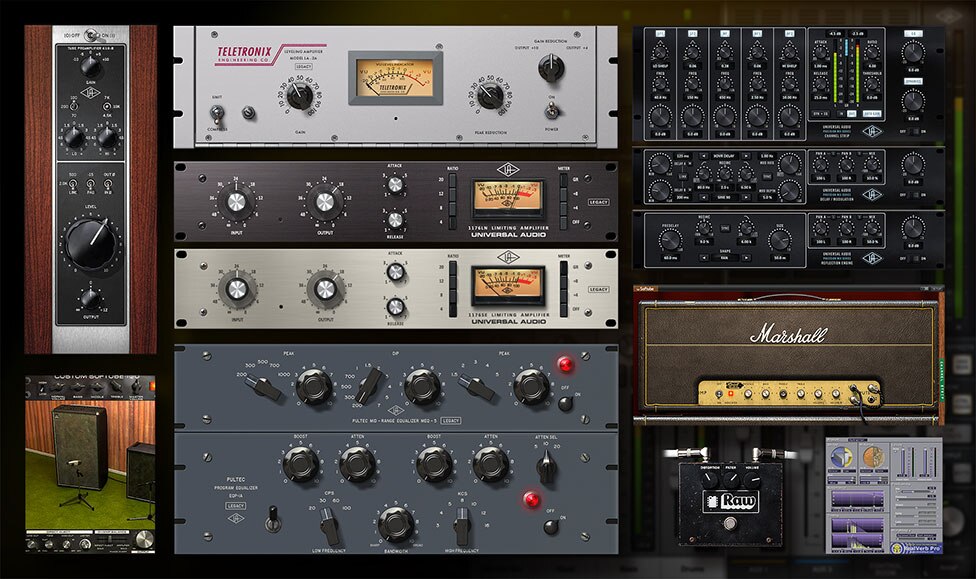 Want to add to your plug-in collection? Head to the Universal Audio website and check out their expansive on-line store. In addition to their current offerings, UA releases exciting new emulations every few months, so you'll want to check back often.
Surround Sound Monitoring
Available in Q4 2018, the new Apollo X line will offer advanced surround sound monitoring support. This will make the Apollo X line more attractive to people working in film, tv and the video game industry. The Apollo x6 will offer 5.1 support while the other three models will offer 7.1 support.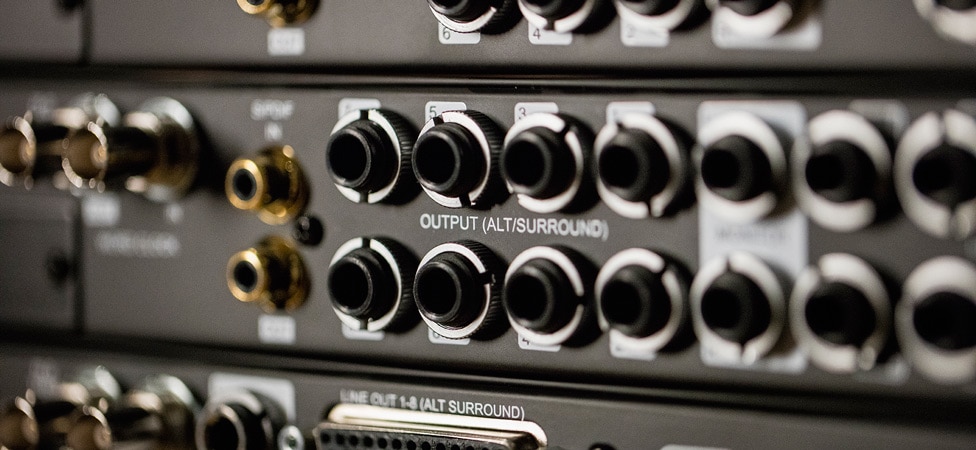 Additional Features and Specifications
When looking to enhance the Apollo line, UA's designers found additional areas to improve upon, never losing sight of the audio engineers and musicians that use their gear.
If you're working with tape machines, large consoles or vintage gear, you'll appreciate the new selectable +24 dBu operation. This provides greater compatibility when mixing new gear with the classics.
Looking to improve the monitoring workflow, Apollo X includes convenient front panel functions such as Alt Speakers, Talkback Mic and assignable Dim or Mono. They've also added a helpful speaker calibration tool to perfectly dial in your monitoring setup.
Choosing The Best Apollo X for your Recording and Mixing Needs
So, which Apollo X should you add to your studio or recording rig? Ultimately, that depends on a number of factors. Each model has a different I/O configuration at a different price point, so there's something for everyone here.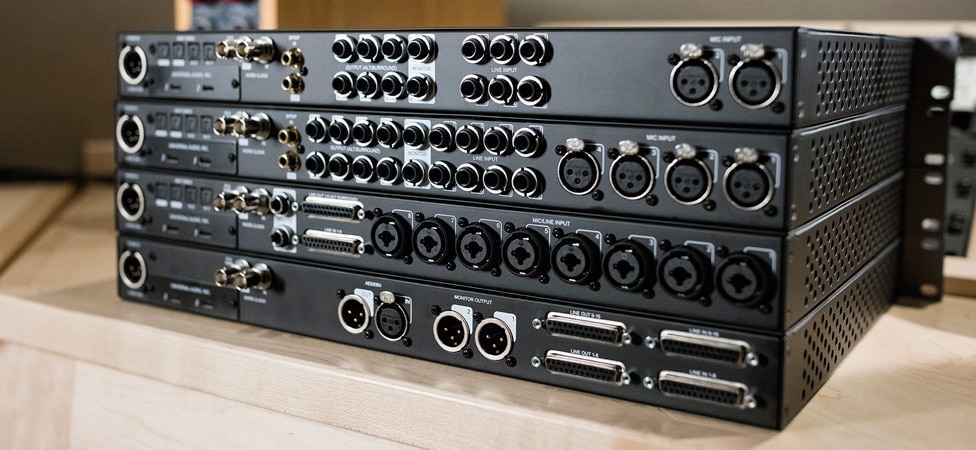 A closer look at the rear panels of Universal Audio's Apollo X audio interface family.
The Apollo x6 interface features two Unison™-capable XLR preamps and six line inputs. This is a great choice for anyone that works with a lot of line level gear (ex. Synths and drum machines). It would also appeal to someone working with an existing collection of outboard mic preamps. The x6 also features six alt/surround outputs and two Hi-Z inputs (for connecting your guitar or bass directly).
Moving to the next model, the Apollo x8 interface features 4 Unison™-capable XLR preamps,  eight line inputs and eight alt/surround outputs. This is going to appeal to the user who needs to record more sources (or more specifically, with more microphones) at once.
Looking to track a full band (or, at the very least, a multi-mic drum setup)? The Apollo x8p interface features eight Unison™-capable, combo XLR/TRS input jacks. In addition to being a great audio interface for permanent studio install, it would be a fantastic centerpiece for a travel or live rig.
Finally, we move to the Apollo x16 interface. The Apollo x16 is the ideal choice for someone looking to integrate with a large format console or tape machine that requires the best-in-class converters.
Before you open your wallet, take the time to really evaluate your current needs and what they may be in the future.
Need more help finding the best Apollo X interface for your setup? Enter Gannon Kashiwa, senior product manager at Universal Audio. Watch the video below for help choosing the right Universal Audio Apollo X Thunderbolt 3 audio interface.
Need help choosing which Apollo X to add to your rig? UA's Gannon Kashiwa is here to help.
Shop our complete selection of Universal Audio recording gear at Musician's Friend.
Learn about Universal Audio's latest updates to the Apollo desktop line, Apollo Twin X and Apollo x4.