Table of Contents
Should I Rent or Buy?
The Basics of Violin Construction
Choosing the Right Violin: Brands, Beginners, and Budgets
You Must Be This Tall: Violin Sizes
Acoustic vs. Electric Violins
Violin Care and Maintenance
The Perks of Buying Online
We're Happy to Help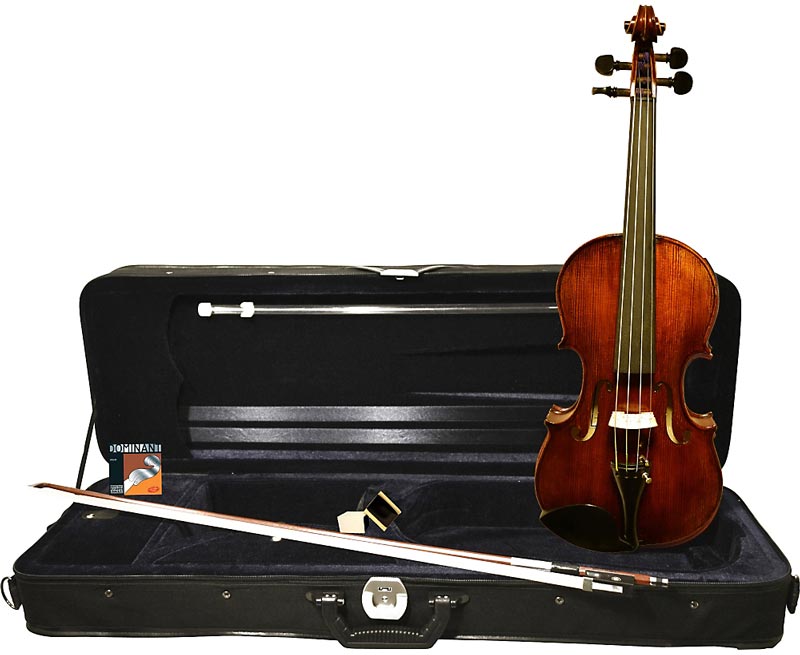 The Silver Creek Model 8 4/4 Violin Outfit is highly rated for its fine playability and tone making it a great choice for the intermediate advancing violinist.
Ah, the venerable violin. While most often thought of as a delicate and beautiful orchestral instrument and a hallmark of classical music, it can also be a sprightly and familiar folk or bluegrass fiddle, or a sleek and spunky rock and roll instrument. It has been making a place for itself in almost every music genre, and inspiring musicians and audiences for centuries.
Because of the vast range of prices that violins are sold for, it can be difficult to shop for one. How can one instrument range in cost from $100 to $10,000 and much more? What's with all the different sizes? Should I rent or buy? Is an electric violin really a violin? Can you even shop for something as personal and sensitive as a violin online?
Whether you're shopping for yourself or a violin student, we'll answer these questions and more.
Should I Rent or Buy?
If you're shopping for a beginning student, you may be tempted to rent an instrument since your student's commitment is unproven. There are some good reasons to opt for a purchase instead. These include:
Long-term rental fees can add up quickly. A perfectly playable entry-level violin can usually be purchased for less than the cost of a year's rental.
A well-chosen beginner's instrument that is well cared for will retain its value and usually return a substantial part of its purchase price when sold used or traded in for a better quality instrument.
Higher-quality violins may appreciate in value over time; their voices "open up" as they age.
Rental instruments may be a bit worse for wear with nicks, scratches, tape marks on the fingerboard, and come with used strings and an already rosined bow. You're also liable for any damage on a rented violin.
The Basics of Violin Construction
In some respects most every violin is the same—four strings stretched over a small body, a tailpiece and chinrest at one end, and a neck and pegbox at the other. Most violins don't offer the design variations that many modern instruments have, but any violin player will tell you that all violins are not created equal.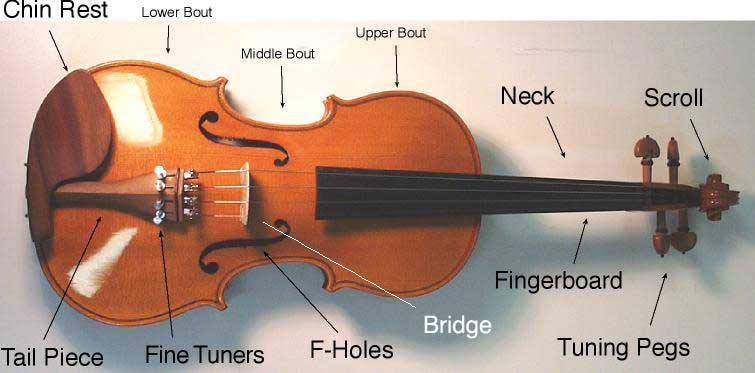 The key factors that determine each violin's tone and playability are the quality of its tonewoods and the skill with which it is constructed.
Types of Tonewood
The type and quality of the wood used to build a violin is the most important factor in the instrument's particular sound. While most violins use the same types of tonewood—spruce tops, and maple necks, backs and sides—the quality of the wood varies, which is reflected in the price differences between instruments.
The top of the violin body is its soundboard—the wood that amplifies the sound produced by the resonating strings. Spruce has been a favorite tonewood for violin soundboards for centuries because it is naturally both stiff and dense. It's strength means it can be delicately carved but still maintain its shape, while its density creates better resonance than more porous woods.
The quality of the spruce is a significant part of what determines the price of the instrument. There are several species of spruce that are used for violin tops, and some players prefer one over the others. Trees that grow in colder climates produce denser, more resonant, and thus more desirable spruce wood. The longer a block of spruce is allowed to age, the drier and stronger it becomes. So a piece of spruce grown at high altitude and seasoned for decades before carving will produce a superior top wood.
A further consideration is the beauty of the grain. The finest spruce will have beautiful flame-like figuring. Finely crafted violins typically employ beautifully book-matched pieces of spruce for the top that are meticulously joined to create an attractive pattern.
Similarly, not all maple is created equal. The back, sides, and necks of premium-quality violins are crafted from tightly grained wood that has been aged then carved with great precision.
Other woods on a violin will help determine it's durability, sound, and value. The fingerboard, for example, is preferably made of ebony, but economy violins may use less expensive wood. Some instruments may also have alloy tailpieces and/or plastic chin rests and lesser-quality bridges.
The quality of the violin's finish also usually reflects its price. Finely crafted violins are finished with exceedingly thin coats of varnish and carefully polished between coats. Varnishes contain pigments that give the instrument a wonderful patina while also bringing out the beauty of the wood's underlying grain patterns.
Choosing the Right Violin: Brands, Beginners, and Budgets
Once you understand some of the fundamentals of violin construction, it's time begin honing in on an instrument that's right for your needs and budget. As you do, you may come up with some new questions as you encounter various brand names, categories, and a great range of prices.
Stradivarius: What's in a Name?
Antonio Stradivari was an Italian luthier in the early 18th century, who, as a master craftsman, hand-built each instrument to ensure the highest quality. The design he perfected is the basis for the shape and dimensions of violins today, and the Latinized form of his name, Stradivarius, is synonymous with supreme quality.
But a violin branded or labeled "Stradivarius" does not mean it is a genuine Antonio Stradivari violin. It is estimated that he built just over 1000 instruments during his career, and only about 500 survive to this day. The only way to ensure a violin is a genuine Strad is to have it professionally authenticated.
Categories: Student, Intermediate, Professional
In addition to Student, Intermediate, and Professional, you may see individual violins described as Master or Advanced. There are no clear, universally accepted standards for any of these categories. Manufacturers and luthiers all have their own standards, but the classifications themselves can be general guidelines to help narrow down your search.
Student Violins
In general, a student violin will be made from lower-quality woods and involve much less hand work in the carving, assembly and finishing. They typically have plastic parts such as tuning pegs and chinrests. These instruments are well suited for someone who is interested in learning, but who is not yet sure if they will play for very long. They range in price from about $100–800 dollars.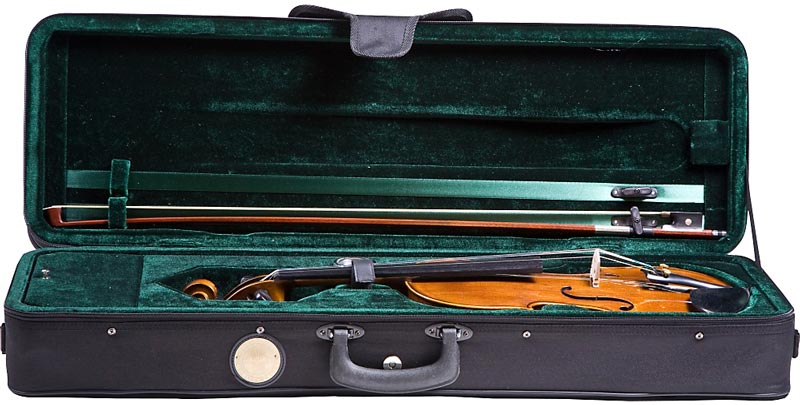 You can browse Musician's Friend's entire selection of student violins here.
Intermediate Violins
Filling the gap between student and professional instruments are violins classified as intermediate. Some stores and brands omit this category, only drawing a distinction between student and professional violins. It is a helpful category, however, for musicians who know they need something better than a beginner instrument, but aren't ready to invest thousands of dollars in a professional violin. Students who are advancing in their skills are typical intermediate violin buyers.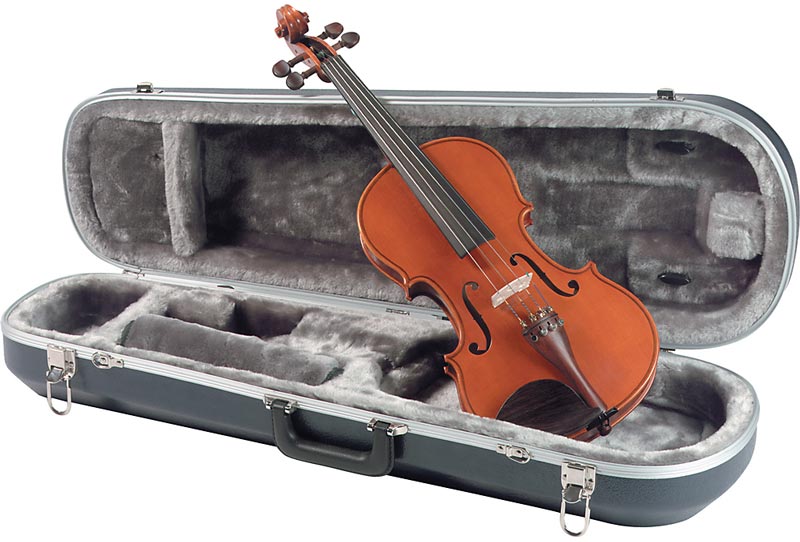 With its aged tonewoods and hand-applied finish, the Yamaha Standard Model AV5 is a good match for the advancing student seeking more refined tone and playability.
You can view the Musician's Friend collection of intermediate violins here.
Professional Violins
Professional or master violins, on the other hand, will be constructed from cold-grown and slow-dried wood, hand built and assembled by a master luthier, and finished with high-quality components such as an ebony fingerboard and wooden tailpiece. The excellent materials and refined artistic skill that go into these instruments drive up their value, and make them appropriate instruments for professional and aspiring, advanced musicians.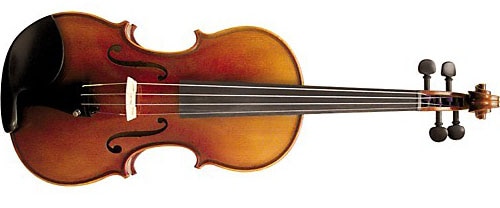 The >Karl Wilhelm Model 55 Violin is hand-crafted in Germany to produce the resonance and balanced response demanded by accomplished violinists.
View the Musician's Friend collection of professional violins here.
Remember that any category assignment given to an instrument is a generalization. They are useful to get you started in the process of shopping for a violin, but it's also possible to find a gem that has an underrated categorization. It's worth exploring all of your options.
You Must Be This Tall: Violin Sizes
Violins come in nine sizes. Adults—generally from age 11 and older—will use a standard, full-sized violin. For children, there are also 3/4, 1/2, 1/4, 1/8, 1/10, 1/16 and 1/32 violins. The full-sized violin is also referred to as a 4/4 size.
There are two ways to measure a young player for a violin. With the student's left arm fully extended away from his or her body, measure from the base of the neck to either the wrist or the center of the palm. If your child has a violin instructor, you may want to ask which method the instructor prefers. The neck-to-wrist measurement will indicate the most comfortable size for the student. The neck-to-palm measurement will determine the largest instrument your child should play.
The following chart will help you determine what size instrument your child needs, based on which ever measurement you choose.
| | |
| --- | --- |
| Violin Size | Measurement Length (in inches) |
| 4/4 | 23 |
| 3/4 | 22 |
| 1/2 | 20 |
| 1/4 | 18-1/2 |
| 1/8 | 16-1/2 |
| 1/10 | 15 |
| 1/16 | 14 |
| 1/32 | 13 |
If you are unsure which measurement strategy to use, or your child's measurement falls between two sizes, consider how fast he or she will grow into an instrument that is slightly too large, as opposed to how fast he or she will outgrow one that is just a little too small.
Acoustic vs. Electric Violins
The traditional acoustic violin stretches four strings from tuning pegs to a tailpiece, over a bridge made of maple that transfers sound vibrations to the soundboard.
While there are electric pickups that can be fitted to an acoustic violin, a true electric violin has built-in pickups to amplify its sound. To avoid feedback caused by resonance in the violin's hollow body, electric violins usually have solid bodies, and often have minimalistic designs to reduce weight.

The innovative NS Design CR4 Electric Violin is capable of producing a huge range of sounds thanks to its on-board Polar piezo pickup system with extensive tonal control.
An acoustic violin produces warm, rounded tone thanks to the natural resonance of its tonewoods. The electronic signal generated by an electric violin can be tweaked and enhanced, but it will generally produce a brighter, more raw sound than its acoustic counterparts. Classical and folk musicians tend to prefer acoustic instruments, while rock and jazz musicians lean more toward electric violins. Thanks to their plug-and-play capability, electric violins are a good choice for musicians who play with amplified bands.
If you're shopping for a new player, consider the style of music they prefer or will play the most. If your teenager, for example, is learning classical violin, but really likes the look of an electric violin, they will likely be more motivated to actually play an electric one (and he will be able to practice very quietly). Acoustic and electric violins have similar playing dynamics, so transitioning from one to the other is not too difficult.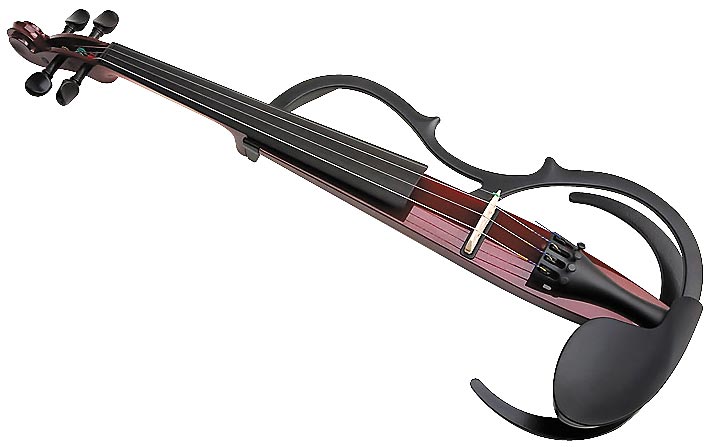 The Yamaha SV-150 Silent Practice Violin feels like a traditional instrument and includes a host of effects and electronic practice tools including an SD card player for pre-recorded accompaniments.
Browse the entire Musician's Friend selection of electric violins here.
Violin Care and Maintenance
The best violin is the one that is best maintained. You'll want to make sure your violin and any accessories are properly stored in a case when not being used, that they are kept in mild temperatures and moderate humidity, and that they are kept clean. If you are looking for a first violin, here are a few accessories to consider in order to properly preserve your instrument:
You can view Musician's Friend's entire collection of accessories for orchestral string instruments here.
The Perks of Buying Online
Many buying guides and music stores will tell you not to buy a violin online, that you need to spend hours in stores or luthier's shops testing instrument after instrument. This is especially unnecessary for beginner or intermediate players, but is not necessarily ideal for players of any skill level, for two reasons.
1. Better Price
You will always pay more for an instrument in a music store or luthier's shop, and you will have to work with those sometimes pushy salespeople. Our Lowest Price Commitment means that we will beat any verified price from a US dealer.
2. Better Fit
It seems counterintuitive to say that you will find a better instrument shopping online, but it's true. You can shop around independently, read reviews, gather recommendations, and make an informed choice unaffected by the bias of a salesperson. And the selection at Musician's Friend is far greater than what you'll find at the typical music store.
Then, you can take advantage of our 45-Day Satisfaction Guarantee1 to test it out. That's a lot more time than you'll have to try out an instrument in a store! You can bring your instrument to your music instructor (if you have one) and/or a technician who doesn't have a vested interest in its sale. You can play it solo and with a group, and in a number of different settings, to get an idea of its real playability, projection, tone, and setup. You can also take it your violin teacher for his or her assessment.
You will also have time to let the instrument warm up. Violins are like people. If they sit around sedentary for a while, they can get stiff. A violin that has been hanging in a store or a warehouse shelf for a while needs to be played consistently in order to loosen up and release its real sound.
We're Happy to Help
After reading this guide, if you're still unsure about which violin to choose, call a Musician's Friend Gear Head at 877-880-5907. Let us help find the violin that best resonates with you!
---
1Stringed instruments priced at $1,999 or more have a 10-day return period.