We recently stopped by Dream Theater HQ to hang with John Petrucci and get a closer look at the 2019 lineup of his signature Ernie Ball Music Man Majesty guitars.
The most notable changes to this year's Majesty lineup are John's new, custom designed signature DiMarzio pickups: Dreamcatcher (bridge position) and Rainmaker (neck position). "We had had this conversation about the Majesty guitars being a very unique instrument, and we realized that we really had never designed specifically a DiMarzio pickup for these guitars", John says. "And that's where the Dreamcatcher and the Rainmaker came from."
Each new Majesty model features Schaller locking tuners, a Music Man piezo floating tremolo bridge and a push/pull volume pot that adds over 20dB of gain boost.
Available in six standard finishes, Majesty fans can choose from Red Sunrise, Blue Honu, Dark Roast, Enchanted Forest, Kinetic Blue and Stealth Black. Each finish is available in a 6- or 7-string configuration. An extremely limited edition Tiger Eye finish is also available.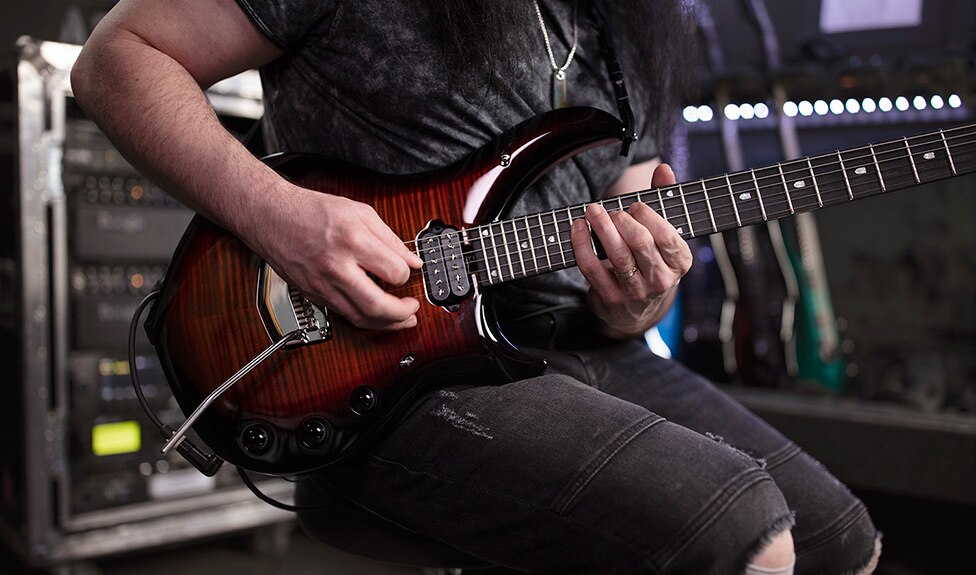 John plays his new 2019 Majesty in the extremely limited Tiger Eye finish.
Reflecting on using the guitars during the sessions for the latest Dream Theater record, Distance Over Time, John had this to say: "I had all my guitars really at my disposal when we were writing, and to have a guitar come out of the case and jump out at me like that…You wouldn't think it would be able to happen because everything already sounded so amazing."
Shop Musician's Friend's complete collection of Ernie Ball Music Man John Petrucci Majesty guitars.