Ryan Silo of Musician's Friend dishes on his two-chain guitar effects pedalboard and the stomp boxes he can't live without.
---
Ryan Silo, whose pedalboard is featured on our Fall 2018 catalog cover, wrangles pixels for Musician's Friend by day. The graphics designer's nights and weekends are reserved for his other passion: playing guitar in the three bands he gigs with. Because of this, Ryan has arrived at a versatile signal chain on his pedalboard that deals with the demands of performing in three different lineups. We thought it would be instructive to take a closer look at some of the guitar effects pedals that comprise his core signal chain as well as his go-to guitars.
A reformed drummer, Ryan began playing guitar 11 years ago. The way he tells it, having to be the first to load in and the last to load out at gigs got old, hence the switch from drums to guitar. He describes his current gig with Musician's Friend as, "A dream job where I can interact with guitars, amps, and effects while I design."
Asked about his earliest guitar influences, Ryan says it was lush '80s new wave guitar sounds that captured his imagination. "I found myself drawn to signal chains with chorus, flanger, and reverb but minimal overdrive." Delay-drenched bands like U2 and The Cure were big role models as Ryan honed his skills. "I got so obsessed with The Edge's playing style using delays. It's simple but rhythmically, it sends you on a journey."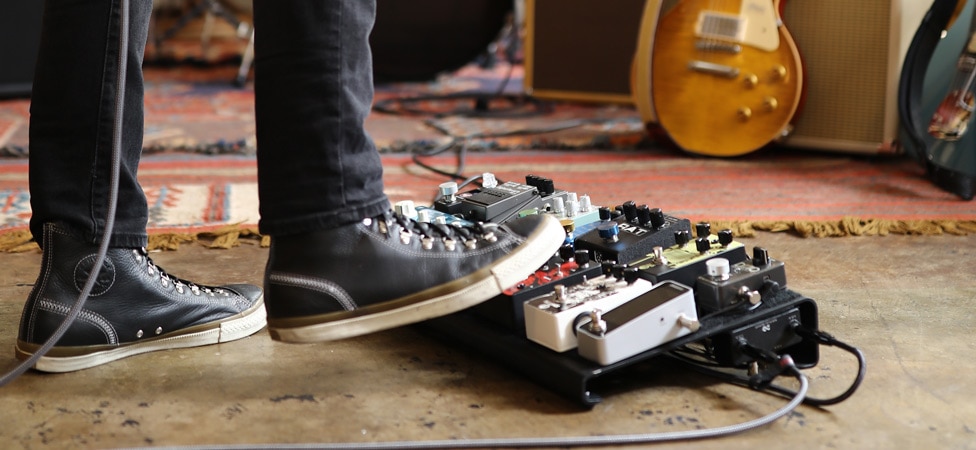 Along the way Ryan discovered other bands who had helped to define the early alternative rock and shoegaze scenes, and they in turn began to infiltrate his approach to guitar tone. These included icons like My Bloody Valentine, Smashing Pumpkins, and Slowdive. He haunted guitar forums gleaning information about who was using what to get specific sounds.
Since joining Musician's Friend and all the gear access that entails, Ryan's pedalboard has grown in both complexity and sophistication. Here are a handful of the guitar effects pedals that form the backbone of his signal chain:
TC Electronic Flashback Triple Delay
Able to generate up to three delays simultaneously, the TC Electronic Flashback is a dream come true for dream-pop guitarists. The delays can be run in parallel or series for levels of lushness unimaginable with just about any other stompbox. Since you can assign a different rhythmic pattern to each delay, the possibilities for layering and complexity are pretty much endless. An included TonePrint editor plus TonePrint delays from the likes of Steve Morse and John Petrucci provide a huge palette of possibilities to experiment with.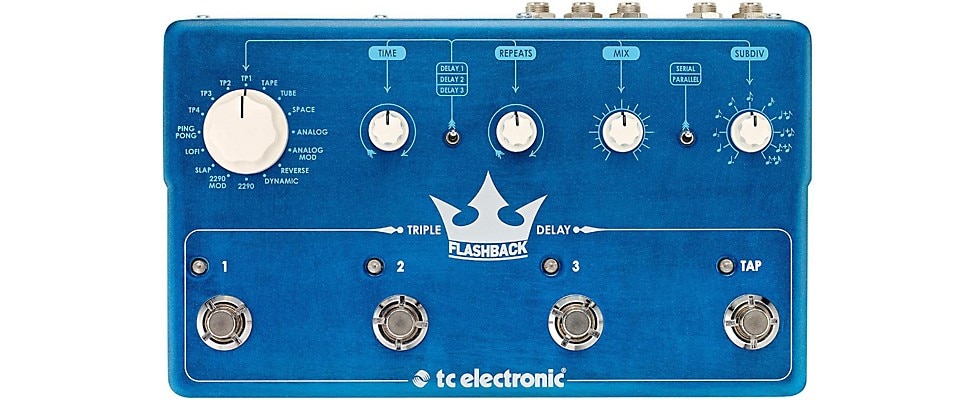 Walrus Audio 385 Overdrive
Seeking an overdrive pedal with a completely different sound and feel to the Walrus Audio Messner OD already on his board, Ryan turned to the Walrus Audio 385 Overdrive. Its 6v6 tube-inspired output, based on the audio circuit of an old Bell and Howell film projector, has compression sounds and playing dynamics all its own.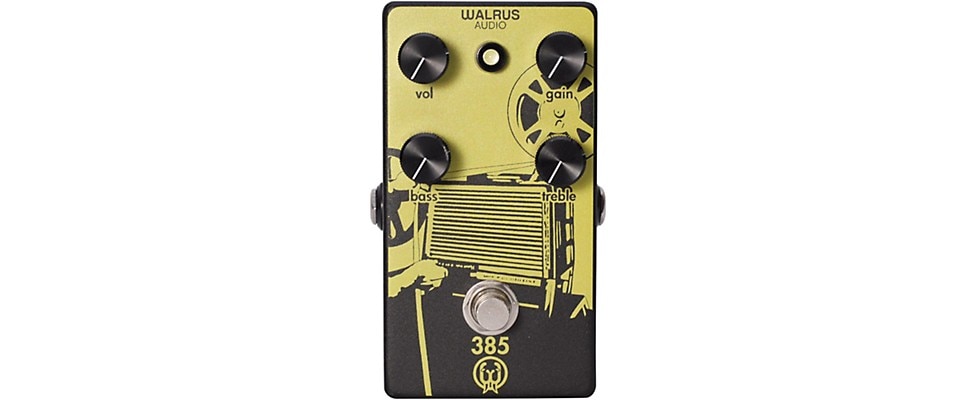 One Control Dimension Blue Monger
Flanger and chorus effects are at the heart of shoegaze and were an important part of the '90s wall-of-sound bands that helped shape Ryan's sonic sense. The One Control Dimension Blue Monger mashes up both effects in a single, slender stompbox. Its extremely transparent, shimmering sound has earned it a permanent spot on Ryan's pedalboard.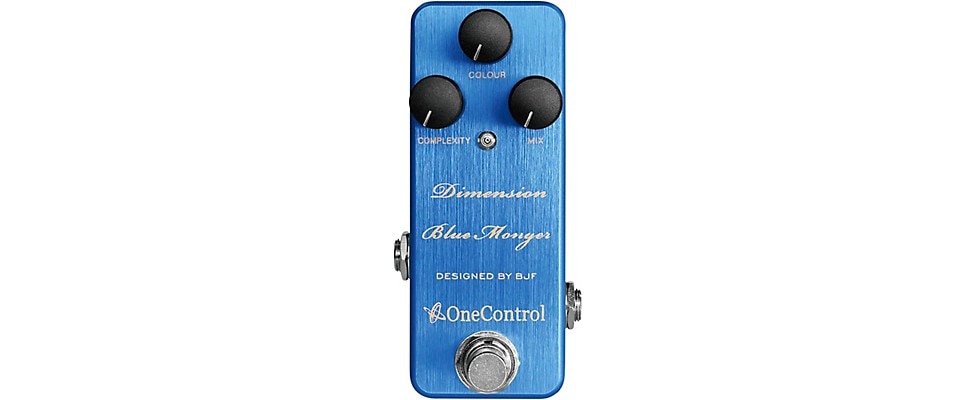 DigiTech Polara Reverb
In Ryan's world, getting a huge, spacious sound out of your guitar is critical. The DigiTech Polara Reverb fills the bill and then some with a full range of Lexicon 'verb types that include Room, Plate, Reverse, Modulated, Halo, Hall, and Spring. From subtle to spacey, Ryan likes the way it interacts with the rest of his signal chain.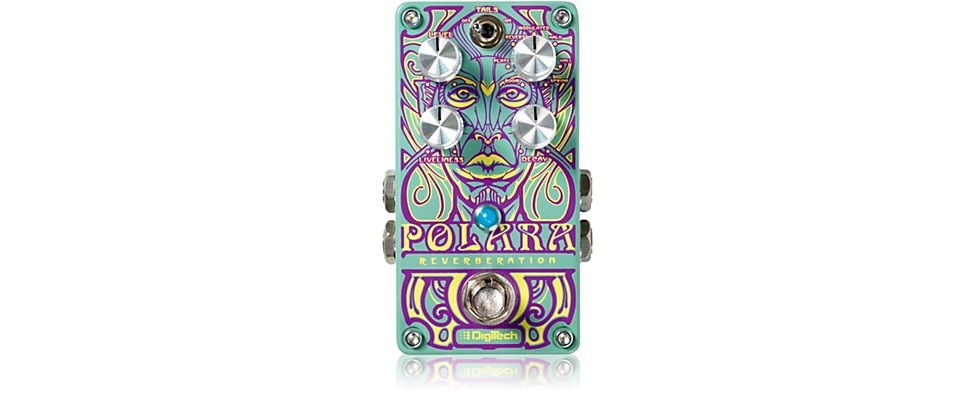 Walrus Audio Red High-Gain Distortion
Seeking out a pedal that fits nicely between fuzz and distortion, Ryan discovered the Walrus Audio Red High-Gain Distortion pedal. He loves the saturated sound that it creates and finds it sits really nicely after his first-stage reverb, his Digitech Polara.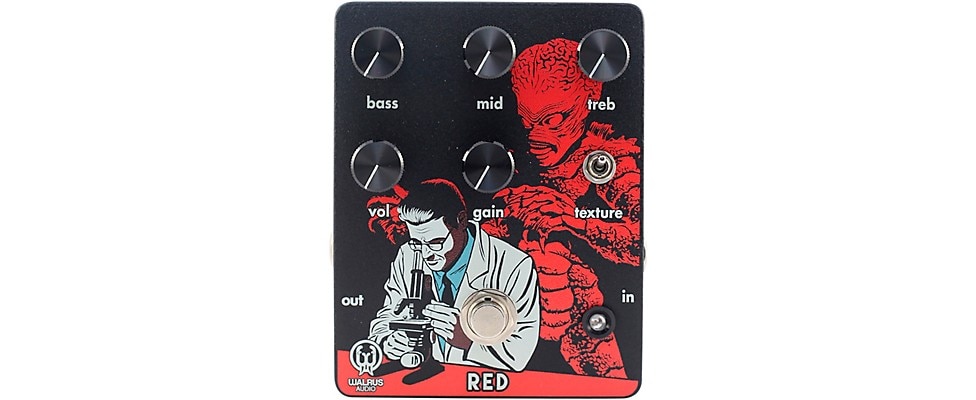 BOSS RV-5 Digital Reverb
The six reverb sounds housed in the BOSS RV-5 Digital Reverb offer a distinct set of effects and controls that aren't to be found in Ryan's Polara reverb unit. Hence, he typically has both units mounted on his board for maximum versatility. Ryan's go to setting on his RV-5 is the Modulate setting. This setting is also found on the BOSS RV-6, which has since replaced the now discontinued RV-5, and is pictured below.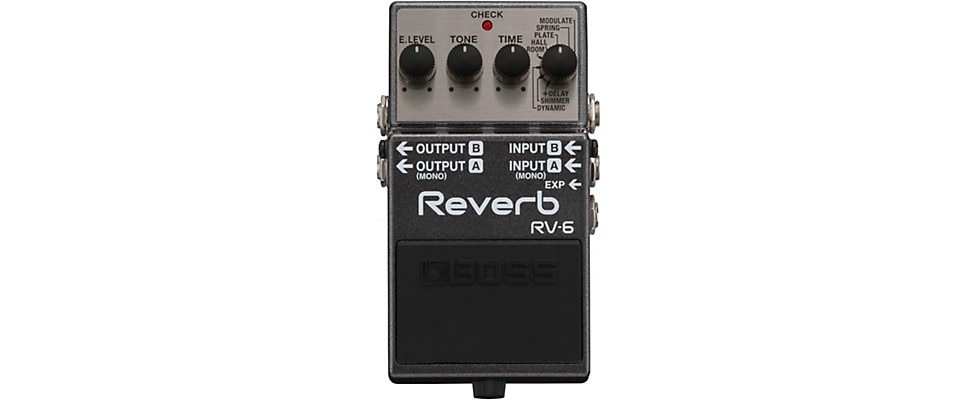 Ryan's go-to guitars and amp
Ryan relies on a trio of stage guitars to bring his pedalboard's effects to life.
He modified his Squier J Mascis Jazzmaster with Mojotone '59 Clone Humbuckers that give the guitar a sound Ryan describes as having "clean, clear and sparkly harmonics."
In search of a fatter sound, Ryan also modded his Fender Troy Van Leeuwen Jazzmaster with aftermarket pickups, in this case with the mighty Seymour Duncan Quarter-Pound Jazzmaster Pickups.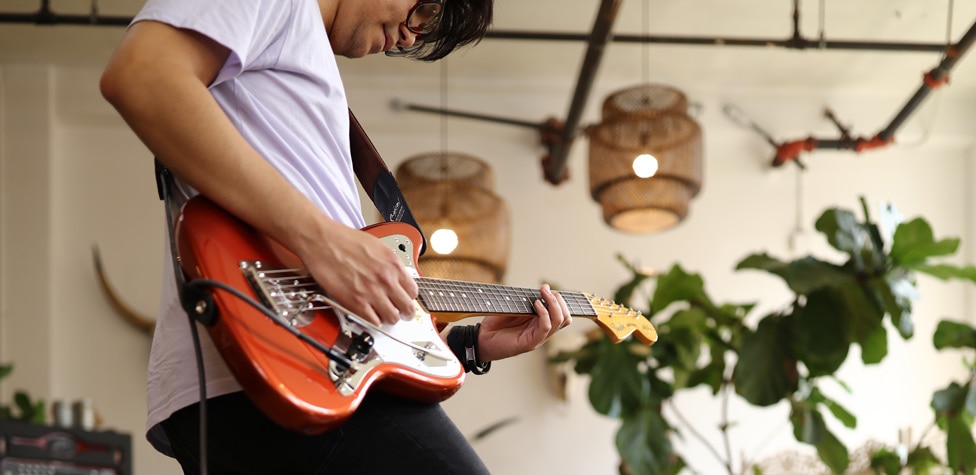 In case you're detecting a decided preference for offset-body guitars on Ryan's part, you're right. His third go-to guitar is the Fender Johnny Marr Jaguar. Its Bare Knuckles single coils deliver their own distinct form of bite and grit, ready for processing on Ryan's multifaceted pedalboard.
His main stage amp these days is an earlier-generation Fender Hot Rod that he has upgraded with a Warehouse Guitars aftermarket speaker. Having access to the huge selection of aftermarket guitar amplifier speakers at Musician's Friend is just one more perk that makes Ryan's day gig the perfect fit.
Check out our current Spice Up Your Sound Amps and Effects gear collection!