Original signature guitars are often representations of the artists themselves. Some are nuanced and precision-focused. Some are flashy and demand attention. And the new Bill Kelliher ESP LTD Sparrowhawk is the olive-green image of the man's personality and playing style—an off-the-beaten-path, low-frills-yet-versatile axe with some understated flair and a penchant for destruction.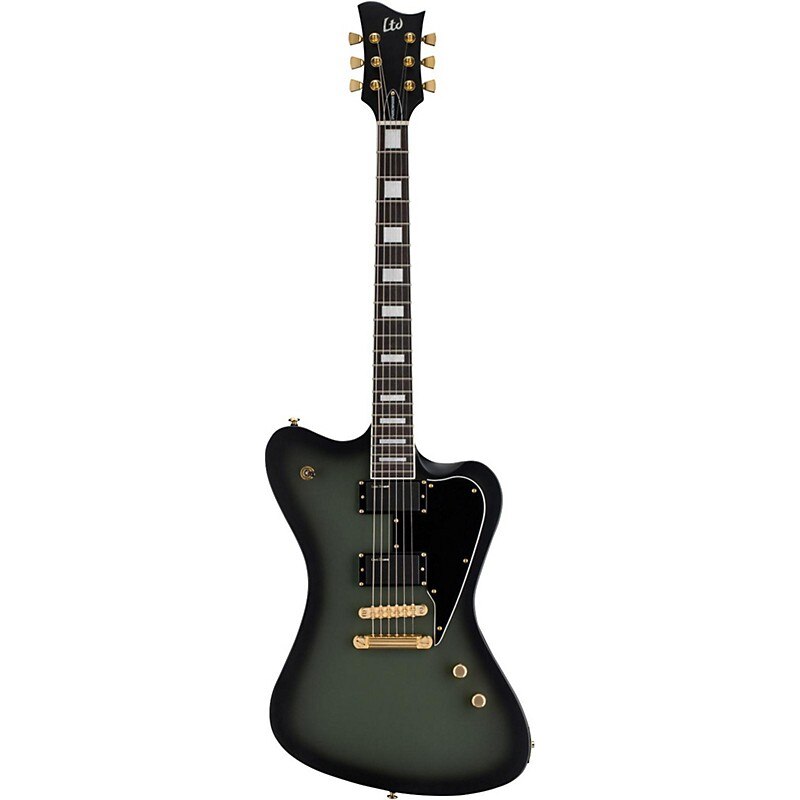 The ESP LTD Bill Kelliher Sparrowhawk offers set-thru construction at 24.75" scale, with mahogany body, 3-piece mahogany neck, ebony fingerboard, a TonePros locking TOM bridge and tailpiece, and Kelliher's Lace Sensor Divinator signature pickups.
For example, Kelliher bought a 1964 Pontiac Catalina—a car with undeniable vintage charm, but isn't adorning many classic-car posters. Then, breaking the rock-star stereotype, he invested money to de-hot-rod it by replacing the previous owner's updated performance parts with stock ones.
Essentially, the man likes basic, functional, old-school style. And his first fully original guitar demonstrates that.
Made from the timeless combination of a maple cap on a mahogany body, the Sparrowhawk is Kelliher's second signature model with ESP. And, just like the full-thickness (read: "heavy") BK-600, Eclipse-style model, this new one is not for the faint of shoulder, per the axman's preference.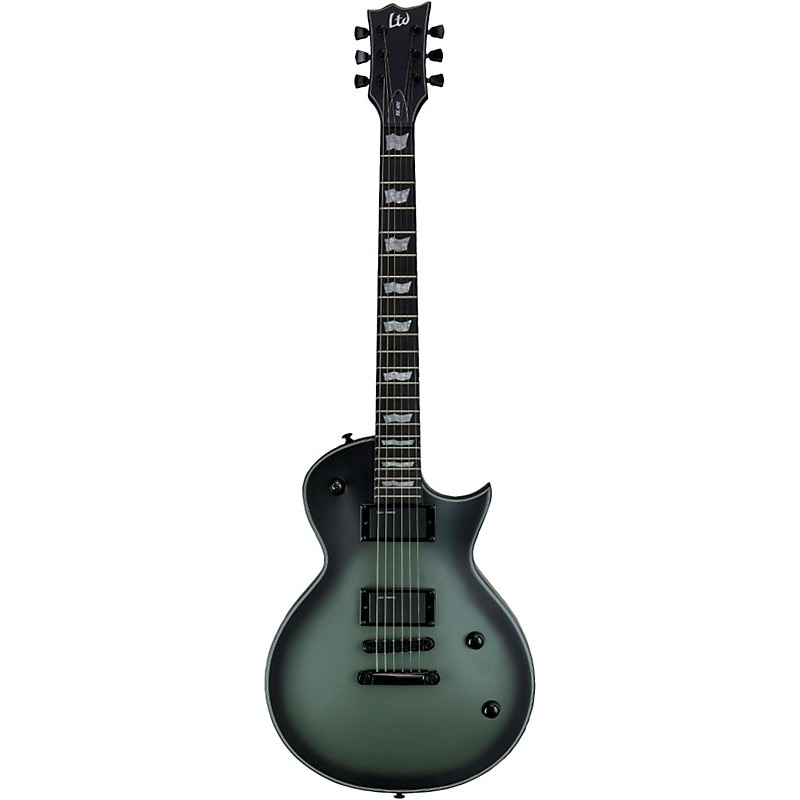 Bill's signature BK-600 features a 24.75" scale, signature Lace Sensor Dissonant Aggressor pickups, locking tuners and a TonePros locking bridge.
"I'm just a fan of heavy guitars," he said. "I feel like when I pick up a light guitar, like an SG or a V, that I'm going to break it. I like to have sustain, and I want it to kind of be painful when you're holding it for an hour on stage just because it just feels like you're working—like you're actually doing something. … It's just better when it's heavy."
Whether on stage or in the studio, the weighty tactile response also engenders confidence—and testosterone.
"It's got good girth. Its weight, it doesn't feel like a little toy. You pick it up—it's like it's a man's guitar," he said.
Ironically enough, the Sparrowhawk's Military Green Sunburst Satin paint scheme actually was inspired by toys, Kelliher said. As a child, he loved to build and collect WWII-era models and memorabilia, which he said makes his signature models "look like a tank."
It doesn't get much more metal than using a paint scheme made famous by 80,000 lb. of American steel. And, given the solid build of the instrument, that could be considered a sound comparison.
Despite its "manly" feel, the Sparrowhawk has an elegant shape that Kelliher has compared to the hourglass curve of a woman's body. It was dreamed up by Kelliher himself as a hybrid of several classic styles, and smoothed out with help of some of the master craftsmen at ESP.
"I've always been a fan of those guitar shapes, like [Gibson] Firebirds and Fender Jaguars and Fender Mustangs," he said. "I have [a Gibson] RD, which I don't play it too much, but I really like the shape. But there's just something about it. So, I just decided I'll take all those ideas and kind of just meld them together."
And the end result is a shape that's both classic and contemporary, and fits in several genres—just like Kelliher's playing as one of the musical driving forces of Mastodon, a metal-influenced band that's also hard to pin down, genre-wise.
"I wanted to build something that was non-traditional and something that … didn't look like a big metal guitar, because I'm not such a metal guitarist," he said. "I like all sorts of music. It was a conscious decision to kind of break the stereotypical ESP metal-head pointy guitar with a whammy bar and all that shit. I was just like, 'I want to design something that has a little class and beauty and can also shred your face off.'"
And the specs match the sonic versatility, with a 24.75-in. scale, set-thru three-piece mahogany neck construction with a thin-U profile and smooth heel joint for comfort and sustain, ebony fretboard, a 42mm nut width, 22 extra-jumbo frets with block inlays, LTD locking tuners for added stability, gold hardware and a classic tune-o-matic bridge. It's a combination that is equally at home in a sweaty punk-rock basement as it is in Kelliher's hands in front of thousands of fans.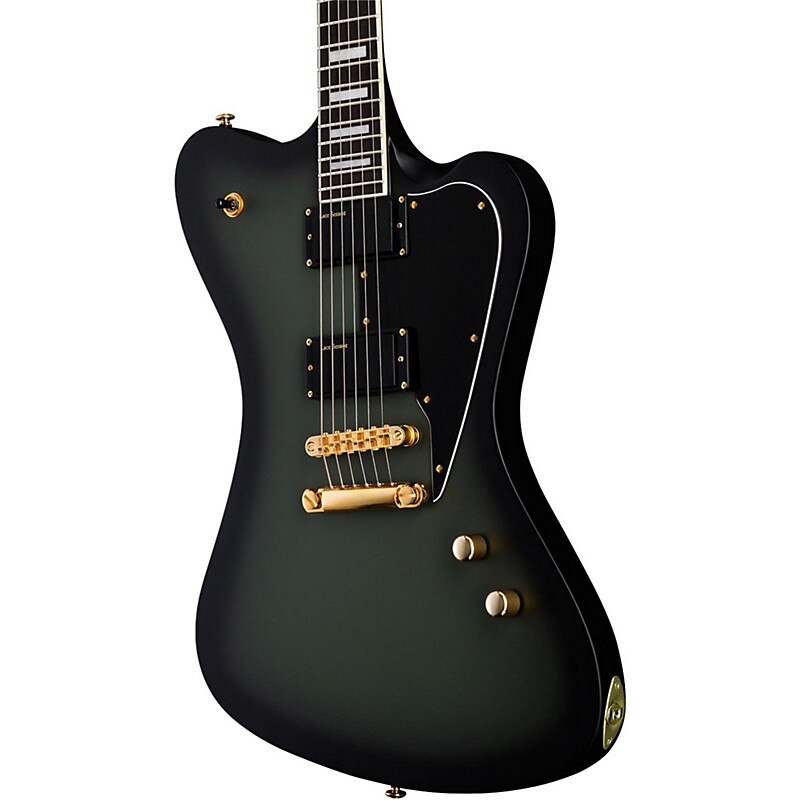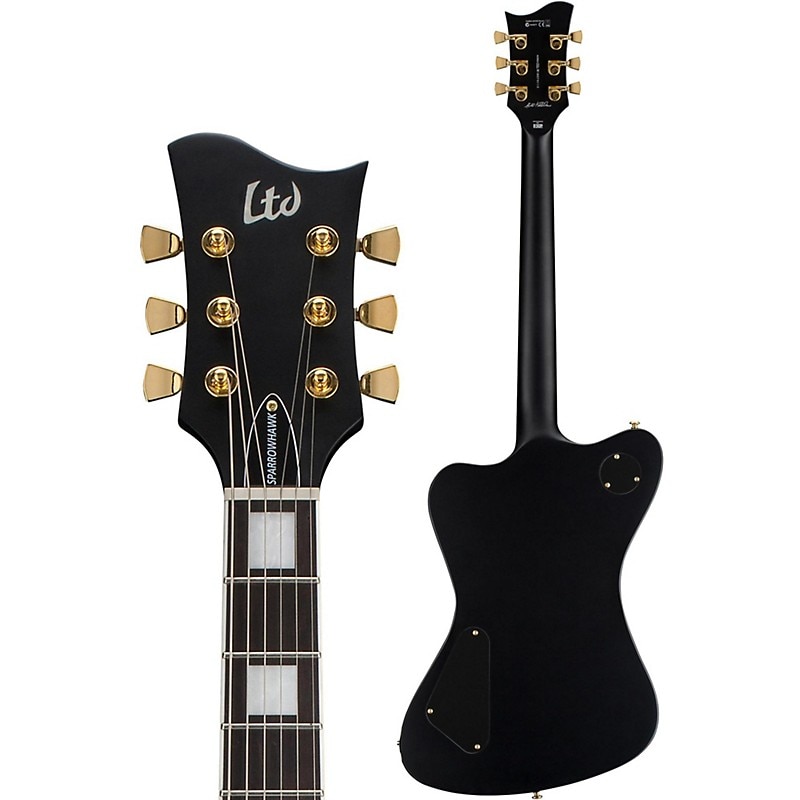 A closer look at the Sparrowhawk.
His simplicity minded design philosophy is evident in the control layout, with just two knobs—tone and volume with push/pull coil-splitting—and a three-way toggle switch.
"I didn't want to make it too complex," he said. "I feel like the less knobs, the better. I wanted to keep it simple and streamlined, but definitely useful."
Connected to the low-profile controls is a pair of Kelliher's new, signature Divinator pickups from Lace Sensor. These humbuckers are designed for more clarity than output to bring definition to dissonant chords and single-picking. His previous Nitro Hemi and Dissonant Aggressor sets, were sometimes too hot for his live rig and would lead to feedback on stage, Kelliher said.
And, because the Divinator setup doesn't squeal as easily, "I feel like I can crank the amp a little bit more," he said. "I tend to try to get the amp to do more of the work, especially with my new Friedman Butterslax [signature amp]. Thing's got gain for days."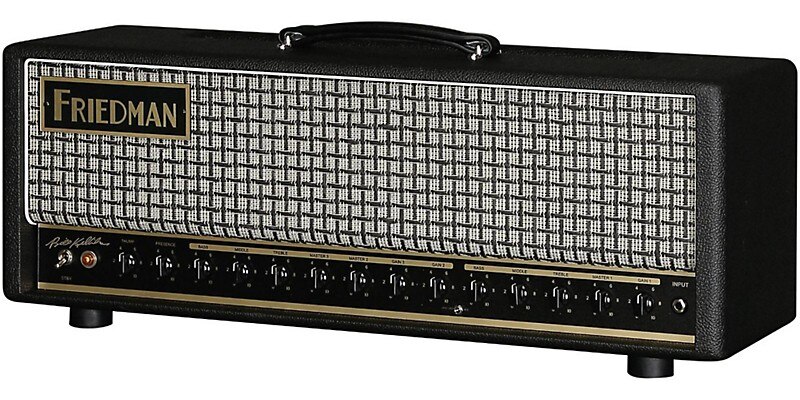 Following the trend, Kelliher's signal chain also subscribes to the philosophy of less is better—raw over refinement.
"I feel like the most direct guitar-into-amp sound is the best—less path for anything to fuck up your sound," he said. "So when I plug straight into the Butterslax, I'm like, 'This is like my sound, but on steroids.' It sounds fucking great."
Despite being a man who enjoys simplicity, his playing requires a level of versatility, which is helped with the Sparrowhawk's coil-splitting functionality.
Especially while multi-tracking in the studio, Kelliher says being able to change the voicing on an instrument has proven invaluable, as switching instruments during a session can lead to issues with tuning, intonation and so on. But being able to use a grittier or cleaner tone on the fly keeps the creativity flowing.
As this was a ground-up project led by Kelliher—a player who merges sludgy, crushing riffs with psychedelic soundscapes—he came up with the name "Sparrowhawk" as a means to convey the duality of the instrument itself.
"A sparrow is a sweet and kind singing bird, and a hawk is … a predator with claws, picking up small babies off the ground and carrying them away to its nest to devour them. So, I kind of thought the contrast between sparrow and hawk put together into one kind of perfectly described the guitar and its sound. 'Cause it can be dirty, and it can clean up really well on top of that."
If you're looking for guitar that stands out a bit, but doesn't like to shout about it; does exactly what you want it to do, and not much more; will withstand the rigors of the road, and could take down a charging bear—get your hands on the Bill Kelliher ESP LTD Sparrowhawk. It'll take your rig to new heights.