Brandon Mendenhall had no mobility in his left hand and limited movement on his left side. The idea of the teenager playing guitar was crazy to pretty much everyone, including the doctors who said that playing an instrument would mean only frustration and heartbreak.
Born with cerebral palsy, Mendenhall had heard discouragement like this many times before.
"They were trying to protect me," Mendenhall said, "But, it was in my heart. It was what I wanted to do."
As a Korn fan, Mendenhall had learned that one of his musical heroes, James "Munky" Shaffer, started playing guitar while rehabilitating his left hand after an ATV accident took the tip of his index finger.
"That gave me the ammunition to tell my grandparents, 'If this guy can overcome that, then I can do it.' After a while, my grandmother relented and loaned me $1,000. I bought an Ibanez 7-string RG-7620 from Musician's Friend and hid it from my grandfather for two months," Brandon said.
"Eventually, my grandfather heard me playing. He told me to turn it down, that I wasn't very good, and that I'd never be a guitarist."
Mendenhall struggled through the first months on his prized Ibanez, a guitar he chose partially for its flatter, wider neck, and learned to manage his first riffs. As he and his friends jammed on songs by heavy acts like Metallica, Megadeth and Pantera, Mendenhall worked diligently with a finger exerciser to improve movement in his fretting hand.
Months later, he went to see his idols, Korn, play live. As the band rolled up, they noticed a shirtless Mendenhall in the crowd (thanks to his large Korn tattoo across his back, with Munky on the right shoulder and fellow guitarist Brian "Head" Welch on the left). They invited Mendenhall backstage to meet the band and formed an immediate connection. Munky stayed in contact with him, and eventually became a friend and mentor to the aspiring young guitarist.
Dreaming of finding a career in the music industry, and wise enough to recognize the long odds of making it as a guitarist, Mendenhall earned a Pro Tools certification. He left home, a trailer park in suburban Illinois, to pursue his passion for music in Los Angeles.
A huge shift in how studios utilized recording staff made it difficult for Mendenhall to find an opportunity in the industry and he continued to wrestle with his guitar chops. While visiting a guitar repair shop in Burbank, Calif., the owner suggested trying drop-C tuning and changing to Ernie Ball Beefy Slinky strings to keep the strings from flopping around. The change opened the creative floodgates. Not only did Mendenhall's playing progress rapidly, he began writing his own songs.
In 2008, Mendenhall founded The Mendenhall Experiment with Mario Valadez (vocals), brothers Bruce (drums) and Mike Lira (lead guitar), and Nathan Stockton (bass), who had used music to help overcome childhood deafness and blindness. The band took their drop-C riffs to the Sunset Strip scene.
The Mendenhall Experiment - Seize The Day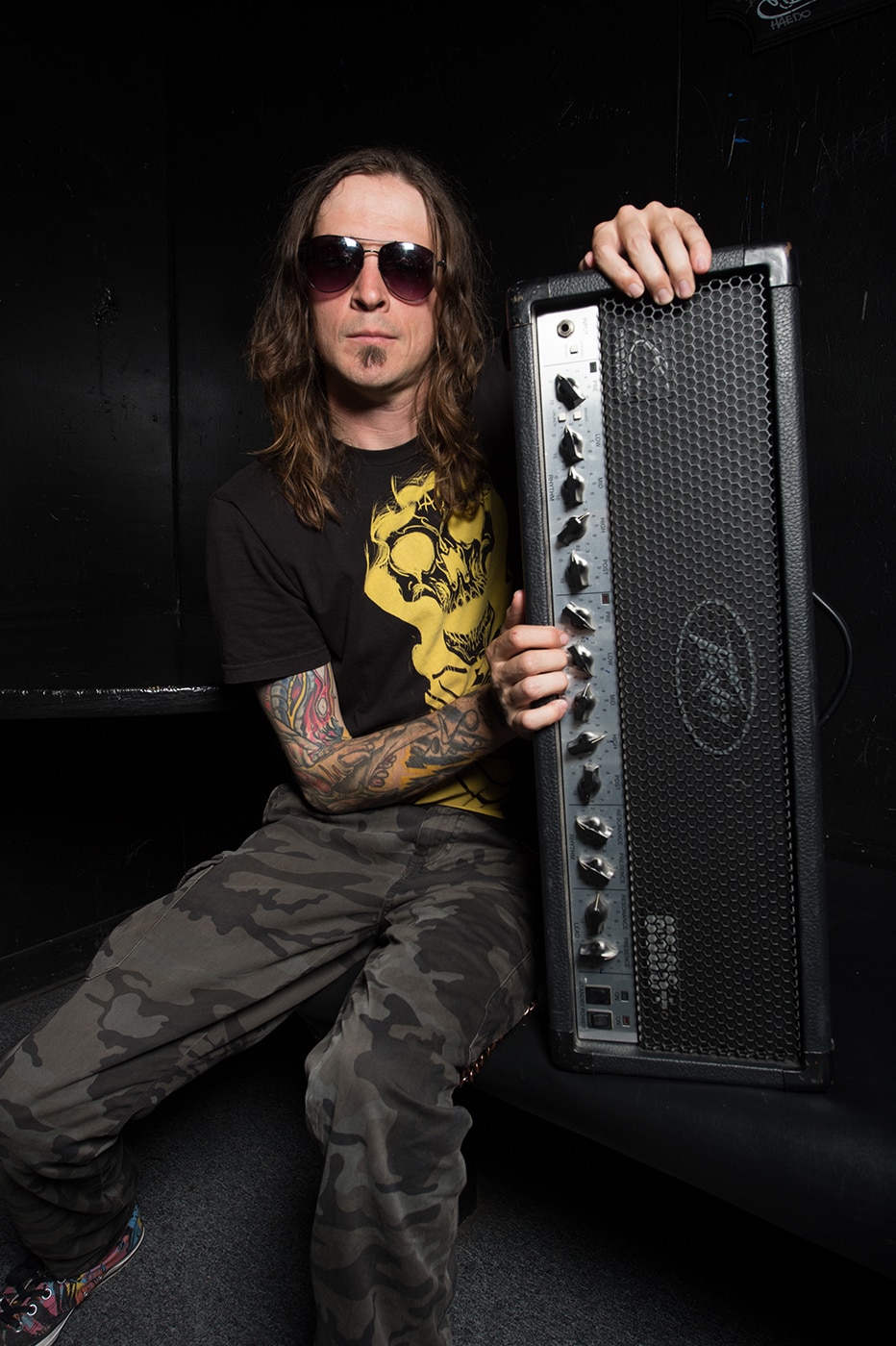 Mendenhall's mentor, Munky, was never far away, helping the young band navigate the murky waters of the music industry and helping them land a main stage spot at the Monster Energy Aftershock Festival in Sacramento. The Mendenhall Experiment went on to earn a record deal with Lucent Records, with national distribution through Universal Music Group, and have opened for P.O.D., John 5 and Fear Factory. They've also made handshake deals with Gibson, Peavey (he is a big fan of the 6505 series amps) and contracts with EMG and Steve Clayton picks. Mendenhall's personal guitar collection has grown to include a Gibson Les Paul Classic Custom and Epiphone Zakk Wylde ZV Custom he purchased from Musician's Friend. His pedalboard remains "meat and potatoes" as he called it, with a Korg Pitchblack tuner, Elecro-Harmonix Octavix MO, Boss NS-2 noise suppressor and Voodoo Labs ISO-5.
In 2018, a documentary, Mind Over Matter—the Brandon Mendenhall Story, will be released to showcase the trials and triumphs of Mendenhall's journey. Directed by Sébastien Paquet (Wounded Warriors), a long-time member of Korn's road crew, and produced by a host of Hollywood veterans, it gives a full view of the barriers Mendenhall has had to scale on his journey. Sponsored by Monster Energy, a portion of the film will also go toward Mendenhall's main charity, United Cerebral Palsy of Los Angeles.
"I think it has potential to inspire and help a lot of people that may be in the same situation that I was in growing up," Brandon commented. "That, to me, is the main goal of all of this … to help and inspire people in general, but also people with disabilities and kind of give them hope."
"Music is my passion in life," Brandon said. "Every time I step up there on that stage, I feel lucky and blessed to be out  there."