Table of Contents
What is a DAW controller?
DAW control functions
Devices with DAW control capabilities
DAW-specific MIDI Controllers To Consider
Still confused? We can help
There's no doubt about it: Modern digital audio workstation (DAW) software gives you a level of control that borders on the ridiculous. You can record, play back, and edit dozens of audio and MIDI tracks at once; insert virtual effects and instruments; trigger MIDI events; and author powerful, professional music ... all while lounging in your jammies.
Of course, when you're doing all this on your computer or mobile device using a mouse or touchscreen, it means a lot of clicking and dragging, which gets old really quickly. And all that repetitive motion can really wreak havoc on your carpal tunnels.
Sure, the mouse is a wonderful invention, but it just doesn't give you the kind of tactile experience that makes music production easy, fun, and fast. You need something that's conducive to your spurts of creativity. To really get into the groove you need buttons, knobs, and faders to punch, twist, and push around.
That's where DAW controlling equipment comes into the picture.
Using an external controller with your recording setup can completely change the recording and sequencing experience. Suddenly, instead of hunching over a mouse using a single pointer to manipulate an onscreen fader, you're moving a real fader and punching a real button to record. You push a fader up or turn a knob down, and the software responds.
This brings you much closer to the ease of using a multitrack hardware recorder and mixing console, and ultimately, much closer to your music.
What is a DAW controller?
Essentially, any hardware that connects to your computer and can manipulate your music software through MIDI commands operates as a DAW controller (to varying degrees). If you felt so inclined, you could even rig up a common USB or wireless video game controller to handle some basic control functions (of course, this could take some time, and you wouldn't get outstanding results with that particular setup).
While the concept is really pretty straightforward, some controllers are more capable than others in terms of the amount of control they give you and how easy they make it to manipulate your software.
As software-based home recording becomes increasingly common, great options for controlling your DAW are expanding. In addition to full-scale control surfaces dedicated to the task, you can now find hardware for DAW and plug-in control integrated right into MIDI keyboard controllers, DJ controllers, and other hybrid devices that serve multiple purposes in your music production process.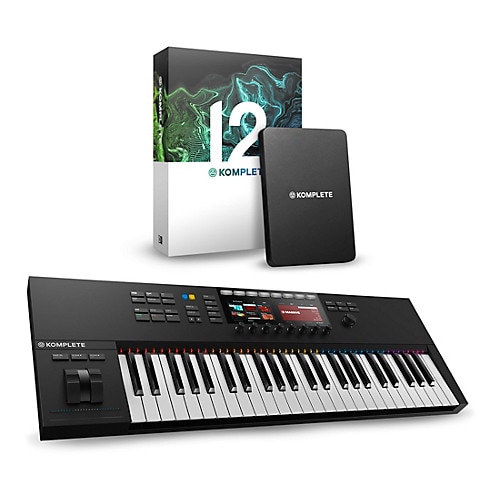 What all of these products have in common is that they make software-based music production easier, faster, and more natural. The buttons, knobs, and faders most of them provide will seem very familiar to musicians involved with audio production, as many were borrowed from their hardware-based predecessors.
And for software jockeys who've never touched a real mixer or recorder, don't worry—these tools are also designed to be intuitive.
Now, there are a couple words of caution to consider as you begin exploring options for DAW control. Even though many DAW controllers offer mixer-like functions, most of them are not true mixers, as they do not actually handle audio signals. If you want a controller that also functions as a mixer, be sure you look for a controller that has audio I/O and summing capability in addition to DAW control functions.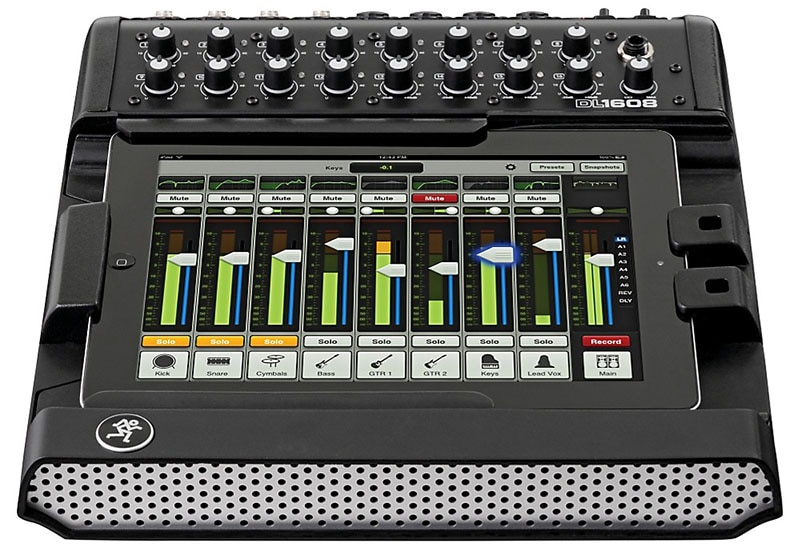 With the Mackie DL 1608L you can mix and shape 16 channels of live sound wirelessly using your iPad.
Additionally, keep in mind that certain controllers and interfaces will operate only with certain software programs, so read carefully to confirm that the control surface you want will work with the software you will be using.
DAW control functions
In general, most devices with DAW control capabilities provide command over basic software music production tasks like track selection, mixing, editing, and volume control, as well as basic transport controls: stop, play, fast forward, rewind, and record. Many devices also will have assignable controls that will allow you to customize its functions based on the tasks you need to manage. Many control devices are designed to plug-and-play with major DAW software packages, so your setup, programming and parameter-setting time is minimized and your production time is maximized.
Since control devices can vary in terms of features, it's helpful to consider industry-standard functions you'll see as you consider which DAW controller best suits you. Not all devices will have every feature listed here, and some will have even more controls or additional functionality.
Scribble strips: A scribble strip is a small, electronic screen on your control surface that displays names of tracks, parameter values, and other information related to the track you have selected. Some control surfaces display scribble strip-type information on one central screen, while others do not have any type of scribble strip functionality.
Additional display: If your control surface has any other displays beyond the scribble strips, it probably will provide information about track playback, the controller's mode of operation, or other feedback from your DAW software. Some controllers offer this, others don't.
Channel strips: This section of the control surface is designed to let you manipulate the tracks of audio or MIDI in your recording or sequencing software. These channels control your audio like a traditional mixer, but instead of actually routing your audio through the control surface, they control the various settings and parameters of the virtual mixer in your software. The controls on each channel will often include traditional mixer functions such as solo and mute, as well as an assignable knob for controlling panning, EQ or plug-in values. Many controllers allow you to assign your channels in banks giving control over projects with large channel counts.
Dials: You usually will find plenty of assignable dials for controlling EQ or plug-in values.
Function select keys: The purpose of this section is twofold. It can replace functions normally handled by your computer keyboard and provide added functionality specific to your control surface/software combo. Different areas of your software can be accessed and controlled by function buttons that mimic the "F" keys on your keyboard (F1, F2, etc.), as well as replacements for the Shift, Control, Command/Alt, and Option keys. MIDI sequencing functions can be accessed, software windows can be toggled and selected, etc. When well-designed, this section can be a huge time saver, allowing you to pretty much ignore your keyboard and mouse during production and mixing sessions.
Transport controls: The word "transport" is a holdover from old-school analog tape recorders and refers to the tape transport controls for play, stop, record, rewind, and fast forward. That's what these controls replicate for the digital age.
Navigation controls: In a continuing effort to get you to put down the mouse, some controllers give you these controls for navigating through your software. They let you select various parts of the graphic interface of your software and edit your settings, as well as add markers to locations such as the intro and bridge allowing you to instantly return to them later.
Remember, it's all about what you will use and what works for you. Make sure you don't pay for features you won't use. But you should also try to future-proof your setup by thinking about the types of projects you'd like to work on in the future, making sure the controller you buy covers those needs.
Devices with DAW control capabilities
Keyboard controllers
MIDI keyboard controllers increasingly are becoming the hardware command center of many DAWs. In addition to the instrument's keys and essential controls, many models also include tools for manipulating music production software. While the level of control these devices offer might not rival a full-blown, dedicated control surface, they offer advantages in that they take up less workspace and usually cost less than a dedicated keyboard and separate control surface.

The Nektar Impact LX88+ has a semi-weighted keyboard with 8 trigger pads and extensive DAW controls for computer-based production.
If you are looking for a keyboard that will double as your DAW controller, take a look through Musician's Friend's large selection of keyboard controllers. You might be surprised at how many models offer some level of DAW control.
DJ controllers
If you're an old-school DJ using analog turntables, you're not going to have much luck trying to use your rig as a DAW controller. If, on the other hand, you go the digital route, you'll find that many MIDI-enabled DJ rigs are suited to the task. Typically, these devices are built to work seamlessly with specialized DJ software packages, so you might not get plug-and-play functionality with software designed for music production. However, by mapping the controls to DAW software features, you can unlock the music production potential inside the device.
One potential advantage of using a DJ controller to control your DAW is that many of them come equipped with audio I/O, allowing you to additionally use them as an interface.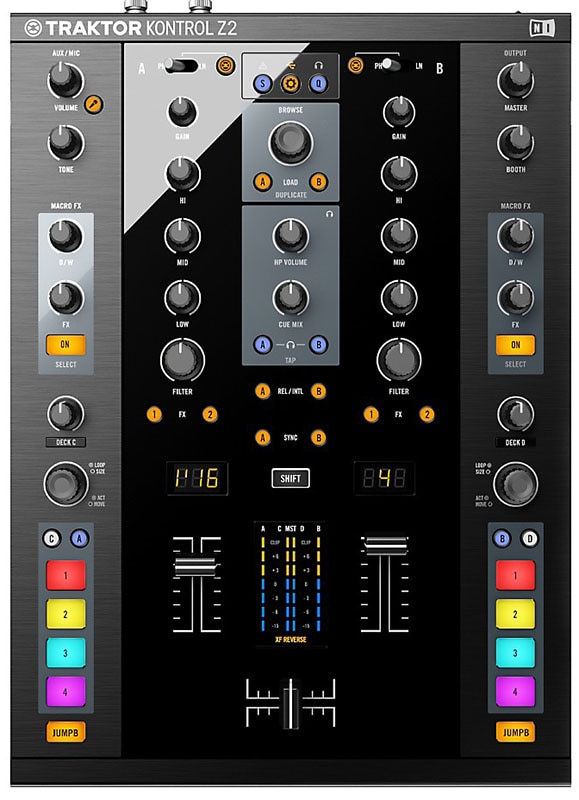 To find a model that suits both your DJ and home studio needs, take a look at the Musician's Friend collection of DJ Controllers.
MIDI pad controllers
Much like MIDI keyboards, pad controllers are workhorses in digital music production.  With pressure-sensitive touchpads, they allow producers to add expression to their beats that isn't possible with simple drum machines or drum programming software. Working with a vast array of virtual instrument software packages and being capable of triggering samples, they are a mainstay of most electronic music production setups. And—you guessed it—some of them are also capable of controlling a DAW.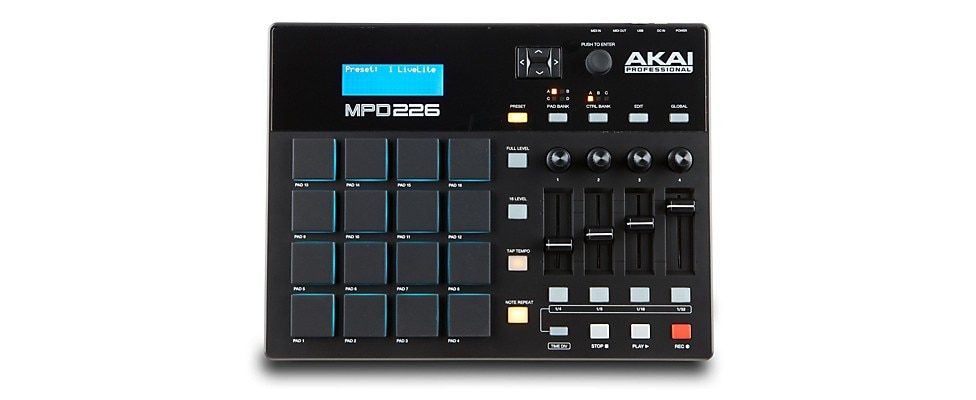 Akai has mashed up its acclaimed MPC control with USB connectivity giving the MPD226 Pad Controller a high-touch beat building environment.
Take a look at some options in the Musician's Friend catalog of MIDI pad controllers.
Desktop control surfaces
If you'd like to get both hands into the act when you're working on your music, you might want to consider a larger control surface. By stepping up to a bigger DAW controller, you get more faders, so you can control more tracks at once. Instead of flipping from track to track as you would with a single-fader control surface, you can assign each fader to control a specific track, letting you make changes to multiple tracks more quickly. Larger-format controllers usually provide more controls for navigating your software interface and switchable modes of operation.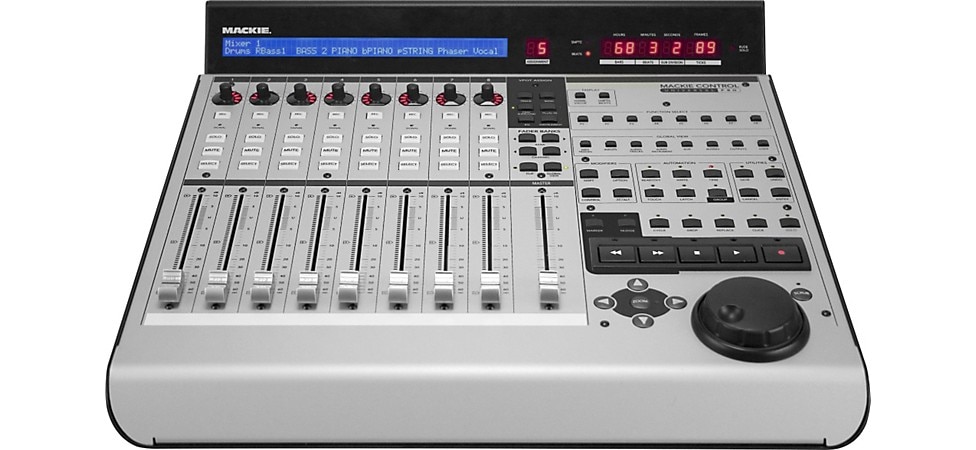 Designed to plug-and-play with almost every DAW, the Mackie Control Universal Pro offers complete, intuitive control of demanding music production projects.
Many controllers offer functionality beyond just transport control or track adjustments. You'll have to read the manufacturers materials carefully to determine what types of assignments are possible, but usually the setup process is relatively straightforward. Most even come with templates that automatically integrate your controller with popular DAW software such as Cubase, Pro Tools, Logic, Live, and others. Others offer selectable modes of operation that optimize your workflow for specific activities. Some advanced controllers give you the ability to program your own modes. While programming your own control profiles can be time-consuming, you'll reap the benefits with customized, time-saving setups that are tailored to your preferences and optimize the way you work.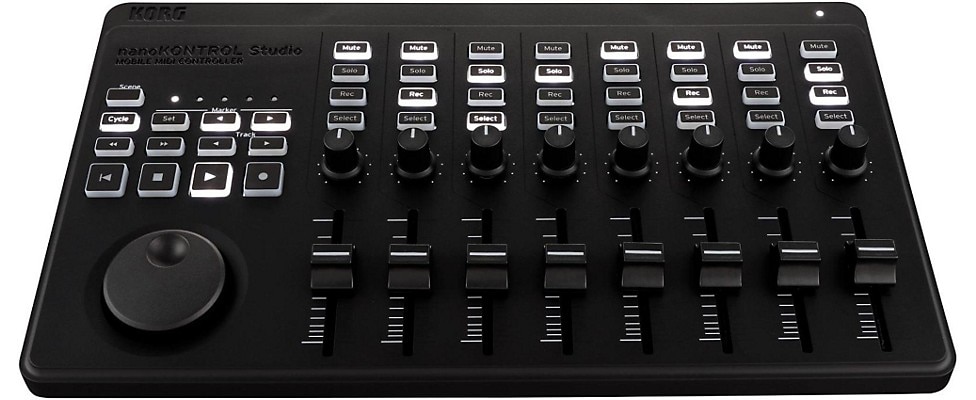 Browse the complete selection of MIDI control surfaces at Musician's Friend to find the one that is right for your recording setup. We carry DAW controllers from all the top brands including Mackie, Avid/Digidesign, TASCAM, Yamaha, PreSonus, M-Audio, Steinberg, and many more, all at the guaranteed lowest prices.
DAW-specific MIDI Controllers To Consider
If you're looking for function or DAW-specific controllers, there are some great options out there. Two of the more popular choices come courtesy of Ableton and Native Instruments.
Ableton's Live software has long been the go-to DAW for loop-based producers. Originally released in 2012, their hardware controller Push was designed to give Live users a hands-on control surface that would tightly integrate with their software. Now in its second generation, Push 2 is a great choice for any Live user looking to gain complete control of their Ableton experience.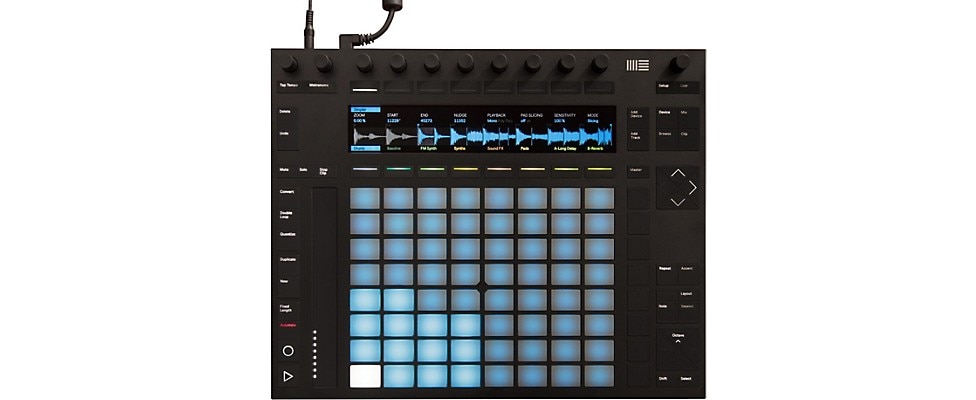 For users looking for a tightly integrated controller and software combination, they'll want to check out Native Instrument's MASCHINE MK3. MASCHINE MK3 offers seamless control of NI's latest version of MASCHINE 2 software, with two high-res, full-color displays for sample slicing, editing, mixing and more. With clear button and pad layouts, MASCHINE is a producer's dream.  
Still confused? We can help
DAW control surfaces are a pretty complex subject, so if you need further guidance or advice after reading this guide, call an expert Musician's Friend Gear Head at (877) 880-5907. We'll answer all of your questions and help you find the best DAW controller for your specific needs.