All of the production and recording product highlights you need to see from the floor at this year's NAMM show.
---
Some of the major buzz surrounding the NAMM show this year centered around the latest innovations in production and recording, with something for every style of producer and beat maker in the game today. Everything, from all-in-one production powerhouses, like Akai Pro's new FORCE production system, to Elektron's compact and streamlined Model:Samples groovebox, brought advanced technology to the forefront of the show. We pushed our way through crowded booths and passionate enthusiasts to bring you the best highlights. Check out these must-see products from Akai Professional, KORG, Elektron, Warm Audio, Blue Microphones, Neumann and Arturia.
Akai Professional FORCE
Tucked away in an intimately lit room on the second floor we found one of the major highlights of NAMM 2019, the Akai Professional FORCE. This standalone production center literally stood on its own, giving you everything you need to create and perform music without any need for laptop support. Anyone familiar with the clip-launching workflows of popular controllers like Push will instantly recognize FORCE's layout. At the heart of the unit stands a beautiful multi-touch 7" color display providing vital project and clip information and editing tools. There's also a standard 8x8 clip launch matrix with the tactile feel and expressiveness you'd expect from an Akai instrument. Out of the box, FORCE comes preloaded with over 10GB of sound content and features MPC-style editing so you can trim, chop and manipulate samples to make them your own. FORCE will also feature a pivotal update shortly that will allow it full functionality over Ableton Live so you can control and sync your sessions when you're back in the studio.
Korg Volca Drum and Volca Modular
The KORG volca family received two new additions announced just before NAMM this year: the volca drum and volca modular instruments. Volca drum is the third drum synth in the lineup and features DSP-powered analog modeling. Each of the six parts can have up to two layers and can be sequenced over 16 steps with the evolved volca sequencer. The volca modular takes the series in a slightly different direction. Its semi-modular design brings modular synthesis to a wider audience, making it more accessible than other more expensive synths and modules, while still offering infinite patching possibilities. Volca modular comes with a total of eight modules and 50 patch points, and a unique randomize function that can generate hours of ideas and inspiration. These two incredible additions continue an infinitely expanding world of sound design.
Elektron Model:Samples
With its space-age reflective backdrop, the Elektron booth was jammed with onlookers waiting to see favorite Elektron instruments like the Digitakt and Digitone, as well as the newest member of the family, the Model:Samples. In what Elektron dubs as a compact 6-track sample-based groovebox, the Model:Samples features some of the best parts from their more expensive instruments and scales them down to a more affordable entry product. Model:Samples has the same insanely powerful sequencer found in their higher-end products, which alone makes this an incredibly versatile instrument, and adds a wide range of sound-shaping tools ready for immediate interaction with a knob for each function. You won't get Elektron's famed Overbridge software communication in this unit, but the Model:Samples makes up for that with the ability to load in your own samples in addition to the included 300 preset sounds supplied by Splice that can easily be personalized to fit your music. With a battery option on the way shortly, this is the perfect box to take with you to cook up some beats on the go.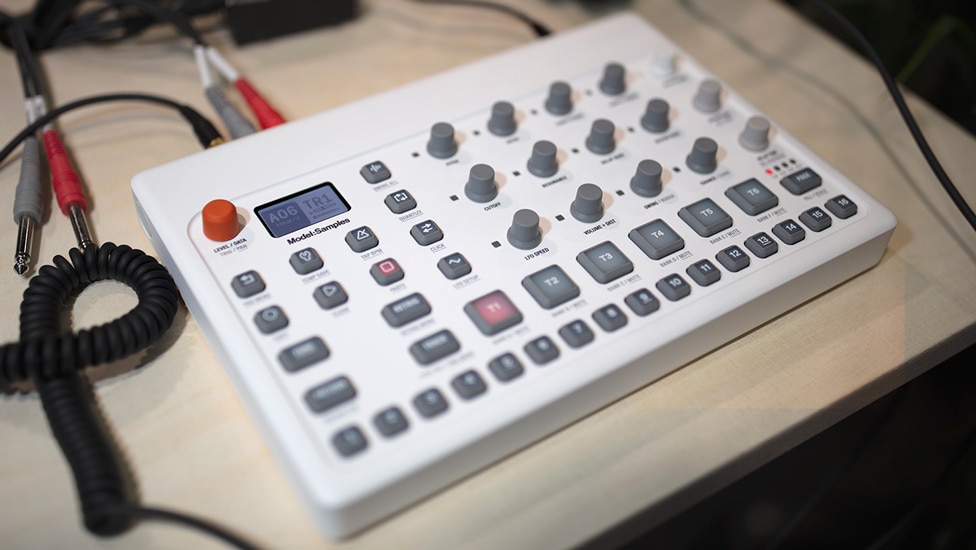 Arturia MicroFreak
First look at the MicroFreak and you'll see why they're calling it their experimental hybrid synthesizer. Its most striking feature is the ultra-flat PCB keybed with pressure sensitivity and poly-aftertouch, which offers a more expressive range of parameter control depending on how you interact with it. Different from the MicroBrute's all-analog architecture, the MicroFreak integrates wavetable and digital oscillators with analog filters in a hybrid design. This is the first instrument in the Freak Range, which is a new series for Arturia. It may be small, but MicroFreak comes packed with features. Choose from 11 oscillators, four bespoke Arturia engines, and seven modes from Mutable Instruments for a wide range of sound generation. You can create unexpected patterns with MicroFreak's Splice and Dice sequencer function for some happy accidents.
Neumann NDH-20 Headphones
Normally a trip to the Neumann booth is spent marveling at their prestigious lineup of studio microphones, but this marks the company's first step into the headphone category. The NDH-20 are a premium pair of closed-back studio headphones great for monitoring, editing and mixing. The build quality is nothing less than you'd expect from Neumann, and they're exceptionally comfortable, perfect for long listening sessions. The sound isolation was good enough to reduce the noise on the NAMM floor, so they'll do great for tracking rooms as well as Front of House mixing environments. They provide the same linear sound balance found in their acclaimed studio monitor series so you can make critical, well-informed mix decisions in the studio, or on the road. They also have a foldable design that makes them easy to pack in a bag when you are traveling.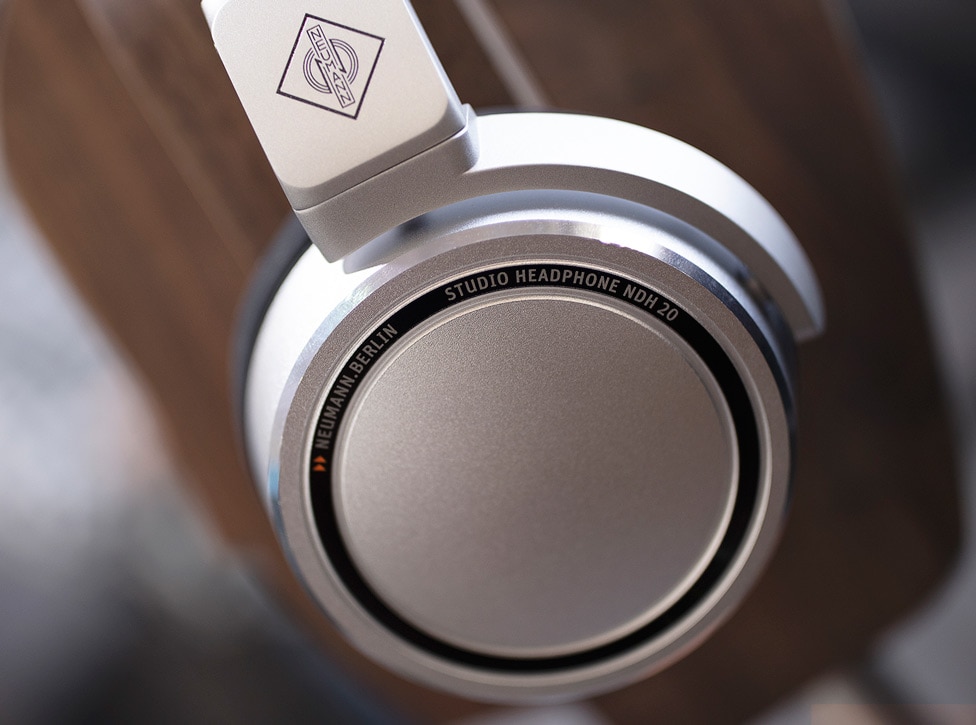 Warm Audio WA-251
Warm Audio showed off their newest microphone at this year's NAMM. The WA-251 is a faithful recreation of a classic mic design from decades ago. The original 251 was an extremely popular mic in the 1960s, and the WA-251 gives you a similar sound that pays tribute to this classic mic, but also has a characteristic of its own at a much more affordable price tag. The WA-251 has an all-vacuum tube design and a large-diaphragm, vintage CK12-style capsule with three selectable polar patterns. There's also a CineMag USA transformer, a Slovak Republic JJ 12AYZ vacuum tube, wima film capacitors, and Warm Audio even goes as far as to incorporate a boutique Gotham Audio 7-pin cable made to deliver the natural tone of the mic. If you're looking to get close to the sound of the vintage original, but not close to the price, the WA-251 is a great choice.
Blue Ember
Blue's Ember is an entry-level condenser mic perfect for any creative space and budget. Ember has a considerable build quality unexpected from a mic in this price range, with a strong, clear sound making it a perfect introduction to Blue's more expensive and higher-end studio microphones. You still get Blue's custom hand-tuned condenser capsule with a tight cardioid pattern for great off-axis rejection, great mic for recording instruments in the studio and for broadcasting, podcasting and live-streaming on SoundCloud, YouTube and more. The compact, side-address design makes it fit just about anywhere and keeps a low-profile when using on camera, which is another plus for streaming content and video creators.
Final Thoughts on Winter NAMM 2019
These are the highlights we saw from this year's show, but there were so many great updates and new releases from a wide range of manufactures that it'd be hard to list them all here. Be sure to check online at Musician's Friend and keep up with more new gear announced at NAMM, and to learn about other exciting product launches throughout 2019.