All of the guitar gear highlights you need to see from the floor at this year's NAMM show.
---
While NAMM 2019 featured an absolutely staggering amount of new and exciting gear from just about every name in the music game, we wanted to share some of our favorites for guitar players. That includes awesome offerings in guitars, amps, effects and more from brands you know and love. Trust us, you'll want to make some room in your rig for these 2019 gems.
MXR Dookie Overdrive Effects Pedal
After much collaboration between Green Day's Billie Joe Armstrong, his amp tech and the MXR design team, the Dookie overdrive delivers Armstrong's unmistakable tone from the multi-platinum namesake album. Adorned in the album's iconic artwork, the new-for-NAMM pedal features controls for output level, blend, gain, tone and a mid-scoop switch.
(Ed Note. After selling out of V1, MXR has announced Dookie Drive V2 with updated artwork.)
EarthQuaker Devices Swiss Things
Instead of turning your tone into an otherworldly soundscape, the Swiss Things that EQD unveiled at NAMM aims to solve a lot of pedalboard problems for all types of guitar players. In one board-friendly box, it features two switchable effects loops, a built-in 20dB boost, a buffer circuit to eliminate tone loss, a switchable ABY output, tuner output and a volume-pedal output.
Line 6 Relay G10S Wireless Guitar System
While the original Line 6 Relay G10 was hugely popular for its plug-and-play operation and rock-solid connectivity, the G10S unveiled at NAMM 2019 adds to the platform by beefing up the receiver unit to make it more road-worthy and adding a channel-select knob to find the cleanest signal. It's powered by a standard 9V power supply so it'll be happy to live on your pedalboard. And the transmitter is still charged by simply plugging it back into the receiver between sets.
Marshall Studio Classic and Studio Vintage Tube Guitar Amps
The Studio Classic and Studio Vintage heads debuted at NAMM 2019 to deliver iconic Marshall tube tones in smaller, lower-wattage platforms that are easy on the back, the wallet and the neighbors. The Studio Classic is a recreation of the iconic JCM800 2203, while the Studio Vintage is based on the legendary 1959SLP — both 20W, down from the original 100W. And they each come in head or 1x10" combo formats.
Orange TremLord-30 30W 1x12 Tube Guitar Combo Amp
The vintage-inspired Orange TremLord is a low-frills 30W tube combo that features a half-power switch as well as a "Headroom/Bedroom" power cut down to 1W, so you can get great tones at low volume. Intended for "everything but metal," the TremLord is a clean, single-channel design, and offers tube tremolo with two footswitchable speeds as well as a footswitchable spring reverb.
Supro Blues King 15W 1x12 Tube Guitar Combo Amp
The latest offering from Supro is the Blues King — a 15W, Class-A combo with single 12AX7 preamp tube and a single 6L6 in the power amp. While its name implies a blues-minded tonal offering (which it does), the footswitchable boost and high-gain mode can get things cooking into hard-rock territory in no time. And the added versatility of a built-in analog spring reverb and effects loop means that the sky is the limit for this goth-styled royal.
Fender Alternate Reality Meteora HH Electric Guitar
Based on Fender's Parallel Universe Meteora, this updated offset model, the Alternate Reality Meteora HH, houses a pair of Player Series humbuckers with a C-shape neck for fast, smooth playing. For controls, it features two volume knobs, a master tone and a three-way switch. But, to switch things up, the tone knob is a push/pull coil split to add some tonal versatility, and there's a volume-select switch to change which volume knob controls which pickup.
PRS Silver Sky John Mayer Electric Guitar
Building on the success of the original Silver Sky, PRS and John Mayer teamed up to offer a broader color spectrum for NAMM 2019. New finishes include Horizon red, Orion green, Tungsten and more. Heavily inspired by vintage instruments, the Silver Sky features an alder body, iconic SSS pickup configuration, rosewood fretboard with a 25.5" scale and 7.25" radius, and a PRS steel-plate tremolo with locking tuners.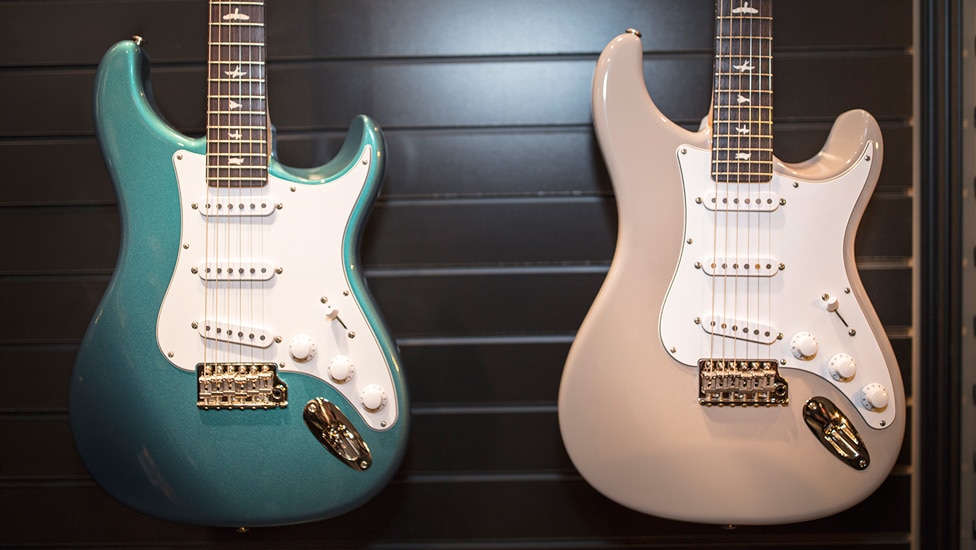 Final Thoughts on Winter NAMM 2019
This is just a small fraction of the awesome new gear we saw during our time on the floor, so there's a ton more you can check out and fall in love with at musiciansfriend.com/namm-new-products.