Written By Jerry McCaulley
The Thunderbird IV and EB-3 Basses are about as deserving of being labeled "classics" as any bass guitars in existence. Both were introduced nearly 50 years ago by Gibson. Both are distinctive in design, and both have withstood the test of time. Generation after generation of bassists have discovered them to be wonderful instruments.
Gibson, of course, created the original designs and still makes the Thunderbird and a version of the SG-based EB to this day. It is the Epiphone versions of these two designs that are the focus of this Hands-On Review. Since I recently had the opportunity to review the Gibson models, I was especially interested to see how the Epiphone versions compared them. All-in-all, I was pleased to find that the Epiphone basses measure up very well to their Gibson counterparts, especially considering their much more accessible prices.
It is little wonder that Epiphone basses exhibit a consistently high level of quality. They have the combined guitar-building experience and knowledge of both Gibson and Epiphone to support them. Both companies have proud histories reaching back well over 100 years and have been working as a team now for 50 years. That adds up to a degree of guitar-making know-how unmatched by any other company.
In more recent years and with full Gibson support, Epiphone has been moving to reclaim the guitar-craft supremacy of its glory years. Its Masterbilt Acoustic line, Elitist Electric guitars, a number of high-profile artist signature models, and a general push for overall guitar quality have won Epiphone widespread respect from players. Both the Thunderbird IV and the EB-3 are proof that this respect is warranted.
The word on the Bird
The Thunderbird with its unique reversed body shape and distinctive headstock is beyond a doubt one of the coolest basses ever. It was a "different"-looking bass in 1963, for sure, and has continued to have an alternative vibe to this day. What has made it a classic, however, is not so much the look as the way it plays. The Gibson version—with its thru-body, laminated neck, and expansive walnut wings—is a tone machine of the first order. The resonance and quality of its smooth, clean low-end beats the socks off about any bass you can put against it.
The Epiphone Thunderbird meets the high standard set by the Gibson model pleasingly well. It's a fine bass in its own right. It is considerably lighter than the Gibson by virtue of a mahogany body and maple neck, a feature that most players will consider a positive. It looks like the neck-thru design of the Gibson because the body is thicker through the center, but this thickness is more than just imitative cosmetics. The thickness under the strings and bridge contributes to the instrument's resonance and depth of tone, while the thinner wing portions contribute to reduced weight and overall balance.
Feelin' it
Playing the Epiphone Thunderbird IV is a rewarding experience, similar to that provided by the Gibson. The neck and fretboard are obviously shaped to the same specs so they have a very similar feel. It's a thin neck that plays fast and easy. Even if it's different than what you're used to, it gets very comfortable in a short amount of time.
Another feature set that contributes to this bass's tonal excellence is the quality of its pickups. They are high-quality Gibson-designed humbuckers, with substantial alnico magnets, and they're double waxed to dampen microphonics. Their positioning, too, is key. The rear pickup is placed quite close to the bridge, which gives you plenty of treble edge for rock-style grind and snap for funk. The forward pickup is fairly centered between neck and bridge giving you a solid round tone that doesn't get mushy. I also like that they are soapbar-style and give you two solid positions to anchor your thumb.
The EB-3
The EB-3 is another classic of the '60s, initially boosted to icon status by Jack Bruce who played it during his Cream days. Actually, it was first introduced in 1959 as the EB Series bass (EB for Electric Bass). With its compact and aggressive SG body shape, it caught on immediately with the rockers just as the guitar did. Through the early '60s the EB underwent a series of changes: short scale, long scale; one pickup, two pickups; three knobs, four knobs. Gibson even gave one version a fuzz tone circuit and briefly offered a six-string model.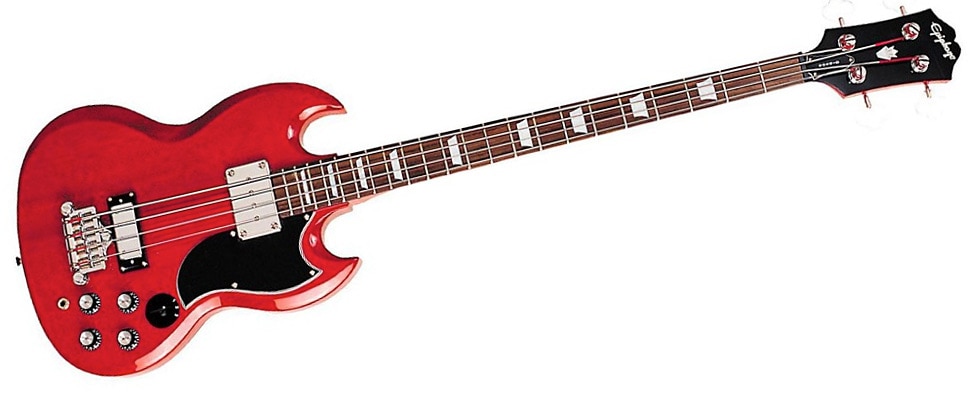 Today, Epiphone makes two versions of the EB, the original, short-scale EBO, and the EB-3, which has a 34" scale neck, two pickups (a mini-humbucker at the bridge and a big sidewinder humbucker at the neck). It also features two volume knobs, two tone knobs, and a 3-way, knob-style pickup switch.
It is the long-scale neck that makes this the prefered EB for many players. While the short-scale neck has its charms (speed and easy fretting), it requires a lighter touch because of softer string tension. Also, the dual pickups give you much more tonal range than you get with the EBO. It has the fat, round, mellow, almost-acoustic sound from the neck pickup, and the bridge pickup adds in edgy cut.
It's really the SG vibe that sets this bass apart and makes it fun to play. The neck is extremely thin and fast playing, and the combination of a mahogany body and set neck give it more than ample sustain. It's a rocker that can play as smooth as butter when the music requires it.
Quality axes, affordably priced
The beauty of both basses is that they are true in style to the originals, use quality woods and components, are finely crafted and detailed, and for all this are amazingly priced. These are basses that normal musicians can both afford and appreciate over the long run.
Features & Specs
Epiphone Thunderbird IV:
Classic reversed body design
Mahogany body with thick center
Bolt-on maple neck
Rosewood fingerboard
Dual humbucking pickups
Volume, volume, tone controls
Black hardware
Limited lifetime warranty
Epiphone EB-3:
Mahogany SG-style body
Set mahogany neck
34" scale
Rosewood fretboard
Trapezoid fretboard inlays
1.65" nut width
Mini-humbucker bridge pickup
Sidewinder humbucker neck pickup
2 volume, 2 tone controls
3-way pickup switching
Chrome hardware
Limited lifetime warranty