Written By Louden Wylde
Leo Fender and George Fullerton launched G&L in 1980, the culmination of a long career of creating world famous guitars and basses. The G&L instruments represent the full flowering of their knowledge and expertise. To put it simply, if you want a bass that represents the very best of Leo Fender, look to G&L. If you want an instrument that is made without compromise, made fully by hand of the finest woods, and which incorporates the most significant advancements in hardware and electronics, again look to G&L.
The ASAT Bass
If it's your time to step up to a dream instrument, one to look at long and hard is the G&L ASAT electric bass guitar. It combines hand construction, cutting-edge technology, and a vintage vibe that just won't quit. The most obvious feature of the ASAT Bass is its familiar body design. In shape, size, and thickness it essentially has a guitar body, which results in a compact, light, and very comfortable bass. Unlike other basses that have fitted a bass neck to a guitar-sized body, this one looks quite natural and feels balanced.
The instrument I tried out for this review was the alder-bodied version in butterscotch, as classic a color as you can get. What I especially liked was how the tinted, aged color of the neck combined with the butterscotch. Pretty. For clear finishes, the ASAT bodies are made of swamp ash, an equally resonant tone wood, with a more pronounced grain. Also, all G&L basses come in a choice of optional maple tops (premium quilted, premium flamed, and figured).
The neck is especially interesting on these basses-glass smooth and made of a single piece of rock maple. Without an added fingerboard, I wondered how the truss rod had been inserted. I learned that the neck, after it is initially shaped, is cut in half; the tunnel for the truss rod then channeled out; and the two halves put back together. It's done so perfectly that the seam is invisible. According to Leo, this technique makes a neck more resistant to twisting.
The profile and width of the fretboard is wide and flat overall, roomy up high and narrow at the low end. It's naturally playable and easy to get to know. I think a lot of players will find it hand-friendly. G&L also has other neck profile options available for special order.
Deluxe hardware
The tuners used on the ASAT and all G&L basses are of a different order than you find on other basses. Their smoothness, precision, and firmness make a world of difference. They are made of aluminum and steel, so they are especially light, with tapered string posts for easier, even windings, and a proper angle over the nut. Basically, they're the old familiar tuners, but better made.
At the other end is a die-cast bridge that has a number of special features. It's called the Saddle-Lock because of a set screw that locks the saddles together so they won't shift. Once set, the whole bridge is bound together as a single unit which aids vibration transfer. The saddles themselves are made of machined billet brass, which ensures longer wear and minimizes broken strings. On the underside of the bridge, another special feature is hidden from view. It's a side-to-side protrusion that snugly fits into a routed out cavity in the body. This locks the bridge in place and increases direct contact with the endgrain of the wood which again enhances transfer of vibration through the body.
Innovative electronics
The pickups on the ASAT (and on all G&L basses) are another Leo refinement, his last patented pickup. Each has a set of two pole pieces for each string, and they are adjustable to allow for an even balance across the strings. They are hand-wound pretty much in the way Leo made pickups fifty years ago. On the bass, they give you a nice place to plant your thumb for a forward or near-the-bridge hand position.
The pickups are wired to a set of controls that is almost too versatile. It's an active/passive system with three knobs in a rather unique configuration: volume, treble cut, and bass cut. In addition, three toggles give you a slew of wiring options. The forward toggle is a pickup selector for one, the other, or both. The second toggle lets you choose between series or parallel operation, and a third lets you choose active or passive mode. It totals up to 18 tonal options, which is too many, but it's easy to figure out the three or four you need to precisely cover everything from rootsy reggae floor-rattling sub bass to razor-edged slap. If you're one of those do-it-all guys, this is a bass that will cover any style-the only axe you'll need.
Besides being flexible, the ASAT is quiet when cranked, especially when switched parallel. In series mode you pick up some noise because it loads up one of the poles to get that single-coil tone, but it's less noise than you get from straight singles.
Semi-hollow ASAT
In addition to the standard ASAT basses, a new Semi-Hollow ASAT electric bass version is now available. It has all the deluxe features as the solidbody ASAT but with a semi-hollow body that makes it a lighter instrument and gives it a slightly warmer tone.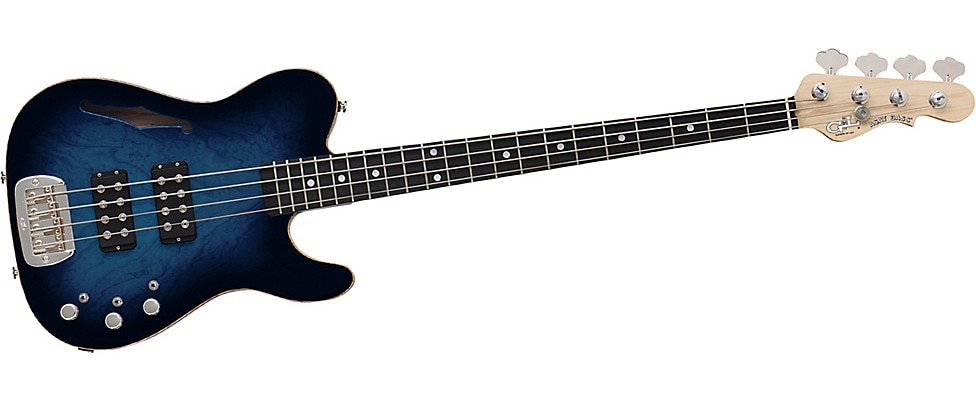 The total package
There are a lot of other little details that add to the ASAT's long list of virtues. Overall, it is a very special bass, one that any player will find thrilling. It has it all: handmade quality, and innovative and refined design in hardware and electronics. It is light, comfortable, easy to play, and loaded with sound possibilities. It's completely modern yet oozes vintage history and tradition. You can't help but love it.
Features & Specs
Alder body (for transparent finishes the bodies are made of swamp ash)
Rock maple neck with satin finish
Available with maple, rosewood, or ebony fretboards
34" scale
21 jumbo frets
1-3/4" nut width
12" fingerboard radius
2 Magnetic Field Design hand-wound humbuckers
Mini toggle pickup selector for front, rear, or both
Active/passive mini toggle selector
Parallel/series mini toggle selector
Volume, treble cut, and bass cut knobs
G&L UltraLite open-gear tuners
G&L SaddleLock bridge with set screw and nickel plated brass saddles
2 rear strap buttons for a choice of balance points