Table of Contents
What's the Role of a MIDI Keyboard Controller in a DJ Rig?
Building songs in one box
How Important is Software Integration?
The Latest in Keyboard-Based Controllers
Native Instruments KOMPLETE KONTROL S-Series Controllers
Arturia Beatstep Pro
Novation Launchkey 49 Keyboard Controller
Akai Professional MPK261 Controller
Keeping Current
We're Here to Help
What's the Role of a MIDI Keyboard Controller in a DJ Rig?
MIDI keyboard and controllers are increasingly becoming the hardware command center for DJ and groove production workflow. Many models offer tools and controls for manipulating music production and DJ groove-creation while also being great performance instruments. While the level of control and workflows these devices offer might not always rival a full-blown, dedicated DJ workstation, they can cost less than a dedicated keyboard and separate control surface.
If you already are a piano player, having that function integrated into your DAW controller can be a huge asset. DJs who find pad-based performance and groove production unnatural are likely to find a keyboard controller much more to their liking.
On the other hand, many of today's best MIDI pad controllers offer velocity- and pressure-sensitivity to rival their keyboard cousins. You can play them with a level of expression that's a far cry from the robot-like music generated by older MIDI gear. You can explore the benefits of pad-based controllers with our DJ Groove Production Hardware and Software Buying Guide.
Building songs in one box
At one time, digital groove production was a multi-step process that entailed working with several pieces of gear and software. You plunked out melody lines on MIDI-enabled keyboards, synths, arranging workstations or sequencers. You built rhythms using an array of beatboxes, drum machines and percussion samples. You layered in harmonies and virtual instruments using synths or sound modules. Then, using your computer and DAW, you mixed the parts adding effects to finalize your song. The workflow was a time killer and the cost of all that gear was prohibitive.
Using the latest generation of keyboard and pad controllers in conjunction with the powerful DJ-oriented software and apps found in the market today, the sky's the limit in terms of creativity. Add your laptop or tablet and you have a highly portable rig that moves easily between production and performance.
How Important is Software Integration?
As with so many other questions in life, it depends.
If you're an old hand with MIDI and like to dabble using several applications, plug-ins and iOS apps, then tight integration with a specific DJ DAWs such as Ableton Live, Komplete or FL Studio is less critical, and may even be undesirable. Most software-agnostic keyboard controllers offer mapping tools that allow you to relatively simply configure the controller to work with all the major DAWs and apps.
On the other hand, if you're an Ableton Live devotee for example, you may want to look for a controller that comes pre-mapped to play nice with that program and all its add-ons right out of the box. Plug-and-play functionality means you'll be performing and creating grooves that much faster.
The Latest in Keyboard-Based Controllers
Next we'll take a look at some the keyboard MIDI controllers that make sense for the DJ and groove producer. Keep in mind they're just a small sampling of the many models now available.
Browse the extensive Musician's Friend selection of keyboard controllers.
Native Instruments KOMPLETE KONTROL S-Series Controllers
Most DJ and groove producers whose work is centered around KOMPLETE KONTROL or MASCHINE consider the Native Instruments S-Series controllers the default choice for live performance as well as the studio. While many controllers have relatively seamless software integration, the Native Kontrol Standard (NKS) plug-in format raises the bar on what's possible in this realm. NKS grants complete control over every Komplete virtual instrument and effect—right out of the box. An LED light guide system mirrors KOMPLETE and NKS instrument key switches for unheard-of levels of control and expression while keeping you visually informed about what's happening. A powerful browsing system helps you find the right sounds and effects fast. All S-Series controllers have respected Fatar keybeds; the S25, S49 and >S61 have semi-weighted action while the fully weighted hammer-action keybed in the flagship S88 offers the real keyboard feel experienced pianists want. The included KOMPLETE 11 Select instruments and effects libraries are worth $1000 when they are bought separately and give you all the fodder you'll need to get creative right out of the gate.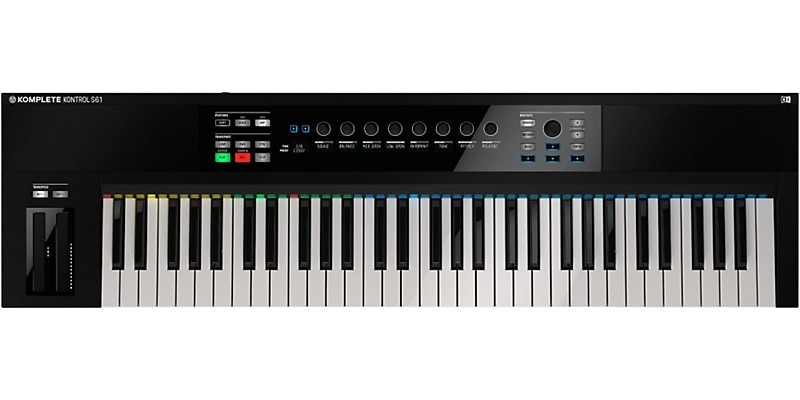 Arturia BeatStep Pro Controller & Sequencer
For the groove producer, the Arturia Beatstep Pro Controller-Sequencer combines a one-of-a-kind suite of functions that blur the lines between an instrument, sequencer, and old-school drum machine. A pair of independent melodic sequencers, each with up 64 steps per sequence, plus a 16-track drum sequencer means you can build amazing performances and multilayered grooves. It integrates with everything in your rig thanks to MIDI and USB I/O as well as CV/GATE outputs.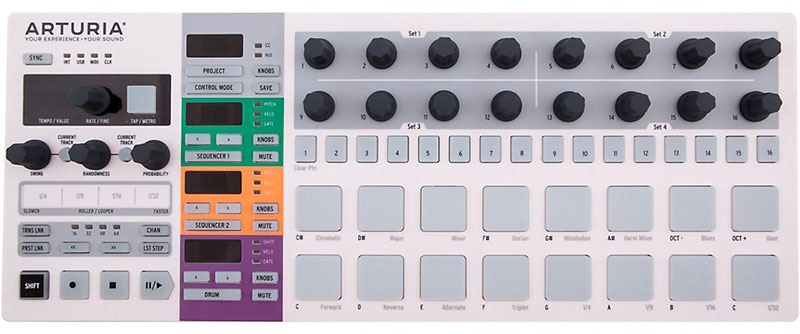 The clock I/O syncs with multiple standards, and in controller mode, the Beatstep Pro can trigger your DAW's clips, plug-ins and virtual instruments. In performance you can apply effects on the fly.
Just about everything is customizable including the response of the velocity- and pressure-sensitive pads and touch-sensitive knobs. A randomizer with Amount and Probability controls plus a looper with touch strip and swing control add realism to otherwise robotic, beatbox-sounding drum tracks. And the looper is a realtime unit enhancing this unit's performance possibilities.
You can browse the full range of Arturia MIDI controllers.
Novation Launchkey 49 Keyboard Controller

Another option for budget-challenged groove producers or DJs ready to trade in their computer keyboard and mouse for a more ergonomic and performance-friendly approach is the Novation Launchkey 49 Keyboard Controller. It's also a great choice for the DJ who wants to work with an iPad. The 50 physical controls include 15 multicolor trigger pads and nine faders that work seamlessly with a software suite that runs on Macs and PCs as well as iPads.
Considering its very modest price, the Launchkey 49 delivers a lot of bang for the buck when you factor in a hefty assortment of software and advanced DAW integration. InControl technology maps to all the major DAWs and music software. The 16 dual-color-backlit velocity-sensing Launchpad panels can be used to play drums, or trigger clips and scenes without touching your computer.
Whatever software you use, the 16 launch pads are perfect for sketching out beats or playing drum lines. If you use grid-based software such as Ableton Live or FL Studio, the launch pads put loop control right at your fingertips.
Launchkey comes with an intuitive graphic sound synthesiser for iPad. You can position and move sound-producing elements around the screen at the touch of a finger – location, proximity and characteristics change the sound in real time. The knobs and faders on the hardware can also be used to edit and tweak sounds within the app.
The Launchpad application gives you drag-and-drop clip playback from the pads, plus realtime FX manipulation such as beat repeat and stutter. The Launchpad app turns your iPad into a hardware/software loopstation.
Included Novation V-Station and Bass Station synths can both be controlled with the keyboard for the kind of tactile feedback and performance feel that on-screen synths simply can't match. Novation also includes a copy of Ableton Live Lite and a Loopmasters sample pack to help get you playing and producing grooves within minutes of unboxing the Launchkey 49.
Watch Launchkey take charge of Ableton Live.
Explore the full range of Novation keyboard controllers.
Akai Professional MPK261 Controller

If you're looking for a controller that has more of a traditional keyboard feel and a robust complement of pads, knobs and faders, the Akai MPK261 should definitely make your short list of contenders.
The 61 keys are semi-weighted and have the aftertouch response that musicians accustomed to working with acoustic keyboards prefer for maximum expressiveness. Old-school groove producers who have worked with Akai's legendary MPC workstations will feel right at home with the 16 RGB-illuminated MPC-style pads. Each has four banks for a total of 64 pads. Octave up and down controls give you access to the entire melodic range.
Three banks expand the number of knobs, faders, and switches (up to 24 each) to give you complete control over all the major DAWs and plug-ins. The MPK261 plays nice with your Mac or PC thanks to USB power and plug-and-play connectivity.
Producers looking for the genuine MPC workstation experience should be pleased. Classic MPC Swing, Note Repeat, Full Level, and 16 Levels functions offer tons of inspirational fodder. Building beats and melodic sequences is intuitive and fun. When you want to create more elaborate melodies, an arpeggiator is ready to help.
Akai includes Ableton Live Lite and MPC Essentials—for out-of-the-box music creation. MPC Essentials, a groove/beat production and sample-triggering software, can integrate directly into any DAW, such as Ableton Live or run standalone. It also extends the power of MPK261 by adding up to 8 pad banks and 4 samples and insert effects per pad.
Take a quick tour of the MPK261.
Browse the entire selection of Akai Professional controllers.
Keeping Current
In the rapidly evolving world of groove production using keyboard controllers, change and improvements are constant. In this guide we've highlighted some of the latest gear, but new controllers and apps turn up with increasing frequency as technology evolves. We recommend you put some some quality time into exploring the many online DJ and beat-production forums to stay current.
Checking out what gear/software other producers and DJs are using and what they're doing with it is essential to building your skills. Most manufacturers' websites include community sections where you'll find fellow musicians talking about the latest technology and sharing techniques. Many include user libraries of sounds, instruments and mapping tools for working with various software/hardware combinations.
We're Here to Help
With the huge selection of gear and software that's available to create beats and grooves, choosing the right keyboard controller and software combinations can be mind-boggling. By now you probably have a clearer idea of what's available, but if you need more guidance, we can help. We have Gear Heads with deep groove-creation skills who can help point you to the solutions that make sense for your skill level, music and budget. Give us a call at (877) 880-5907.
Learn more about MIDI controllers in general with our DAW Software Controller Buying Guide.