Table of Contents
DJ Mixers, Controllers, and Interfaces
Inputs and outputs
Software and iOS compatibility
Microphones for the DJ
Wired microphones
USB microphones
Wireless microphones
PA Amplifiers for the DJ
PA Speakers for the DJ
Subwoofers for the DJ
We're here to help
While most club DJs usually plug directly into the venue's sound system, if you plan to spin at events like weddings and parties, you'll likely need your own live sound equipment in order to work those gigs where no PA system is available. In this DJ buyer's guide we'll walk you through the things to consider when shopping for a sound system.
There are three or four basic components you'll need to get your mixes heard:
A DJ mixer, controller or interface that allows you to balance your sound, add effects, and transition between songs
A microphone to address the crowd
An amplifier (if you use non-powered speakers)
PA speakers
Looking to DJ weddings? Check out our How To DJ Weddings and Formal Events Tech Tip.
DJ Mixers, Controllers, and Interfaces
With the multiple sound sources, software, and apps that the modern DJ uses, today's DJ mixers, as well as DJ controllers and interfaces need to have the right inputs to handle external DJ gear and the outputs to connect to your PA or the club sound system. They also need to integrate with the software and apps you'll use to run your show.
Inputs and outputs
In deciding which DJ mixer is right for you, consider the devices you'll be connecting to it. If you take the old-school route by using turntables, be sure there are enough phono inputs. If you plan to use an external CD/media player or controller, check the mixer specs to confirm it has the right connectors.
Software and iOS compatibility
Some mixers are designed to operate seamlessly with popular DJ software by Native Instruments, Ableton, and Serato. Read specs carefully to determine if the mixer you're looking at can be easily configured to work with your preferred device and apps. If in doubt, call a Musician's Friend Gear Head at (877) 880-5907 for expert advice.
You'll find DJ mixers vary considerably in their capabilities. Simple, low-cost units may have just two or three inputs and outputs and offer basic EQ/volume controls and crossfader operations that allow mixing the output of a couple of sound sources.
More sophisticated DJ mixers add features such as kill switches for instant control over certain frequencies, hamster switches that reverse crossfader channel operation, beat-matching capabilities, and metering that displays clipping (distortion) and output levels. Mic inputs and talkover switches allow the DJ to easily communicate with the audience.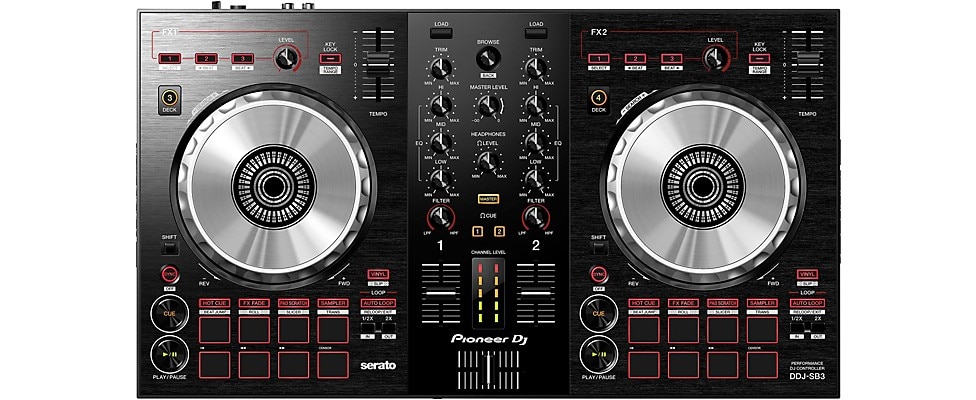 Many DJ mixers allow connection of laptop computers, tablets, and smartphones and integrate with DJ software and apps that extend the mixer's capabilities. Top-end DJ mixers provide sophisticated EQ controls, the addition of dozens of effects, beat slicing and dicing, and even video and light control.
Since the crossfaders on a DJ mixer take a beating, their replaceability is an important consideration.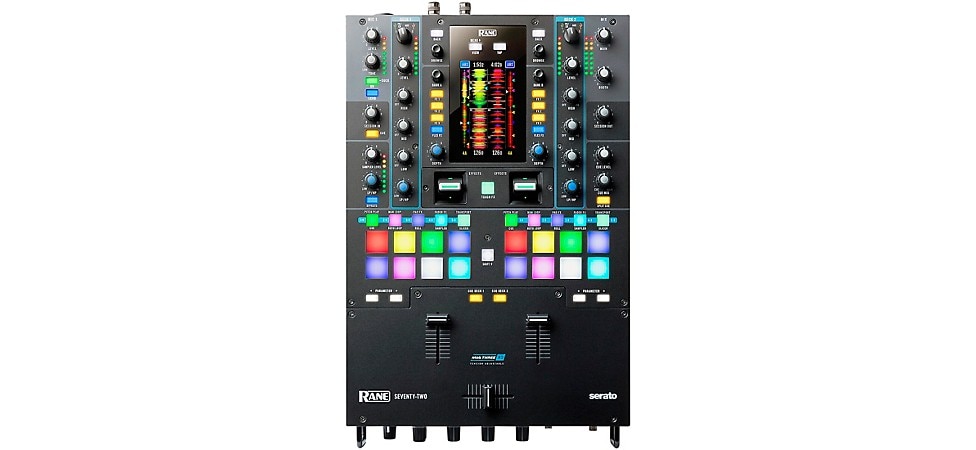 As with any other mixer type, choosing the right DJ mixer is a process of considering the I/O you need, the functions that are critical to your show, and your budget.
Microphones for the DJ
A mic is an essential piece of gear if you plan to talk to your audience. What type depends on how you plan to use it. If you'll be working in a fixed location, a standard, wired microphone will do the job. If you plan to roam through the room however, a wireless mic is what you need.
Wired microphones
You'll find a large selection of wired mics to choose from at Musician's Friend. Because condenser microphones require phantom power to operate and can be delicate, we recommend you choose a dynamic microphone since it will not require an external power source and should be rugged enough to hold up to rough handling.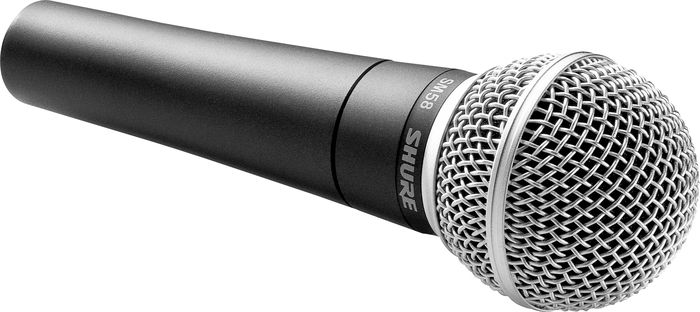 USB microphones
If you'll be running your DJ show using a laptop computer or tablet, a USB microphone can be smart choice. Since USB mics draw their power from your portable device's USB port, they are a good choice for plug-and-play convenience if your rig does not include a microphone input.

Wireless Microphones
If you like to get out there with the crowd during your shows, you need a wireless mic system. You'll find a huge selection of handheld wireless microphones at Musician's Friend. For hands-free operation consider a wireless headset microphone or a wireless lavalier mic that clips to your clothing.
PA Amplifiers for the DJ
As we note below, the vast majority of DJs opt to use self-powered speakers eliminating the need for a separate amplifier.
However, if you have passive, unpowered speakers you'll need a PA amplifier to drive them. Your main considerations in choosing an amp is the size and impedance of the speakers you need to power and the size of the venues in which you plan to perform. 
PA Speakers for the DJ
Should I get powered (active) or non-powered (passive) speakers?
For DJs who want to avoid purchasing one or more dedicated power amps for their PA systems, powered speakers are the way to go. They integrate amplifiers directly into their cabinets, offer greater portability and reduced setup hassles. That's why they're the choice of most DJs.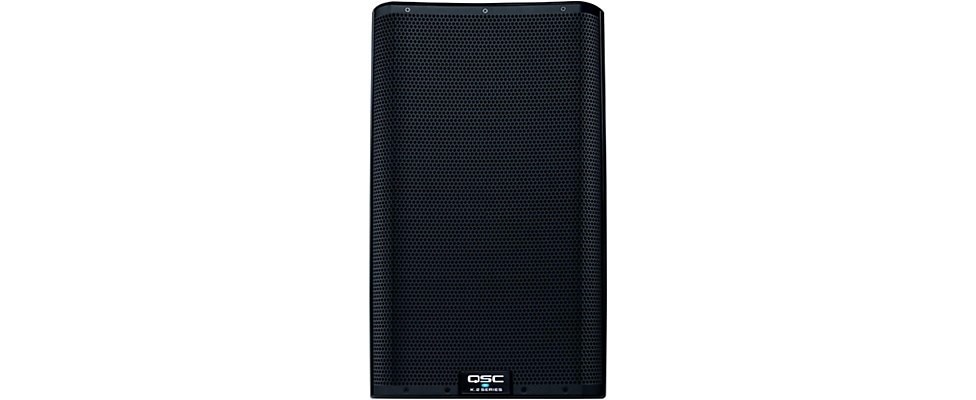 To make shopping for PA speakers easier, the Musician's Friend website offers separate assortments of passive versus powered models.
Subwoofers for the DJ
Subwoofers are the large speakers that handle the lowest bass frequencies. They are not integrated with full-range speaker enclosures both due to their size and the potential damage that can be caused to other components by their strong vibrations.
Adding a subwoofer will of course make your DJ rig less portable overall. However, for the DJ playing bass-heavy EDM and other dance-friendly music, a sub can reproduce the lowest music frequencies without distortion. Unless you opt for a powered subwoofer, you will also need a power amp capable of supplying the wattage required by power-hungry subs.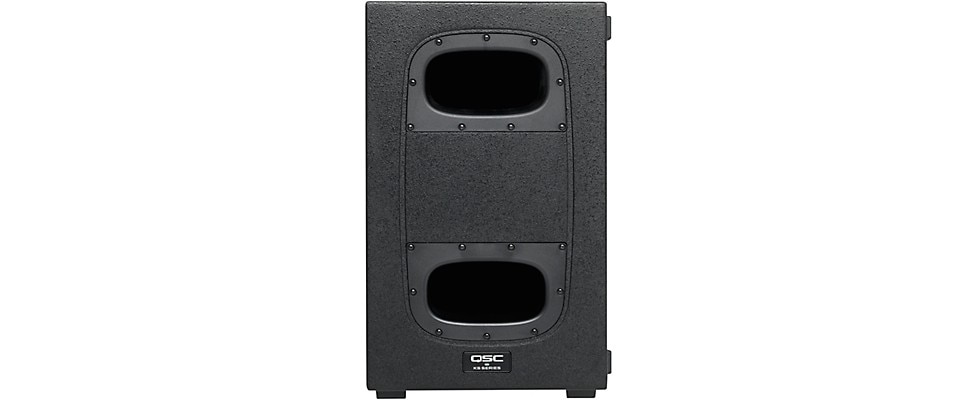 As with other PA speaker cabinets, you'll find a large assortment of passive unpowered and active powered subwoofers available at Musician's Friend.
To project sound effectively throughout the venue, your PA speakers should be mounted on stands. You'll find a large selection of speaker stands to choose from at Musician's Friend.
We're here to help
By now you should have a pretty good idea about the types of sound system gear you need to run your DJ show. We'll be glad to offer expert advice to clear up any questions you may have. Our team of Gear Heads includes seasoned DJs who can help you pinpoint the right sound system components for your setup and budget. Just give us a call at (877) 880-5907.