For some pro bassists, there is no question when choosing between a Jazz Bass and a Precision Bass. Given these instruments' distinct tonal personalities and dominance in their market, you need to own both a Fender Jazz and a Fender Precision bass according to them. But what if you're just starting out on bass guitar and that's not an option? Read on to figure out which is more likely to be right for you.
Some basic history
When Leo Fender brought his game-changing Precision Bass to market in 1951, nothing else like it existed. The P Bass was designed to solve a growing problem: R&B and rockabilly bands with their amplified guitars were becoming increasingly louder—acoustic bassists were getting drowned out in the mix. With the introduction of the Precision Bass and its companion, the Fender Bassman amp, the problem was solved and standup bassists struggling to be heard soon made the switch.
Fender designed the new bass to cosmetically, as well as musically, complement his already hugely successful Telecaster guitar, and the aesthetic relationship was obvious. But in one respect, the new Precision Bass pointed to the future with its double-cutaway body that would be emulated in the forthcoming Stratocaster.
Originally equipped with a single-coil pickup, the Precision Bass was updated with a split-coil pickup in 1957 that delivered a more powerful, punchy tone. It was also more comfortable thanks to new beveled edges on its body contours.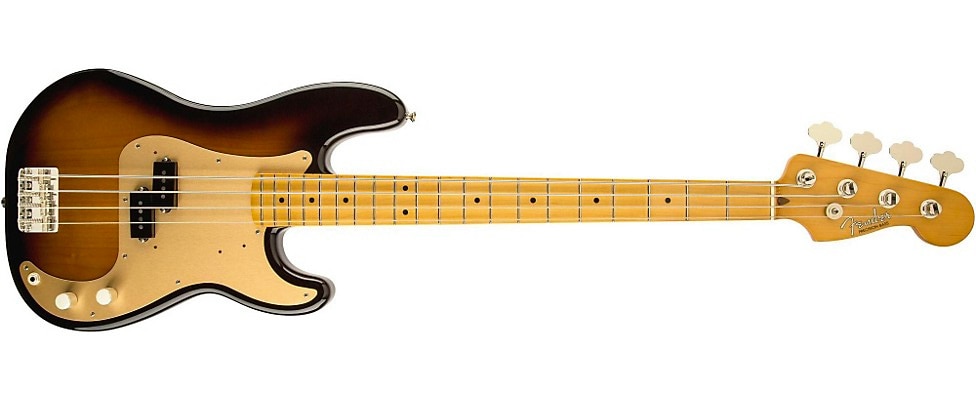 Since then, the Precision Bass has been produced by Fender and its Squier brand in many variations, mostly involving wood, cosmetics and electronics changes. What has remained consistent is the P Bass sound: punchy with deep fundamental tone. A long and illustrious list of classic soul bassists including Donald "Duck" Dunn and Motown's mighty James Jamerson, along with more modern players like Sting and Pino Palladino, are among those P Bass players who value its deep resonance. Jamerson famously referred to his '62 P Bass as "the funk machine."
Enter the Jazz Bass
The idea behind the J Bass (introduced originally as the Deluxe in 1960) was to offer a counterpart to the Jazzmaster guitar. (The guitar was also called a Deluxe briefly.) Both the guitar and bass had a slightly offset body profile and the Jazz Bass, with its dual single-coil pickups had a notably brighter, more focused and tweakable tone than the Precision. Fender hoped to woo some jazz standup bassists away from their bulky, tough-to-transport acoustic instruments with the J Bass—an aim that was only partly successful. Fender was also interested in covering some of the tonal ground then firmly occupied by the more trebly Rickenbacker bass.
Later, of course, the Jazz Bass would be enthusiastically adopted by players from all kinds of genres including rock, reggae, funk, disco, blues and fusion. The bright, forward sound of the J Bass was integral to the new slap-bass technique being pioneered by players like Larry Graham, bassist for Sly and the Family Stone. Later, Jaco Pastorius would redefine the potential role for electric bass in jazz and fusion as a melodic lead instrument with his battered Jazz Bass.
Many bassists preferred the Jazz's narrower and more slender neck profile and its emphasized taper toward the nut where the strings were routed more tightly than those on the P Bass. That sleeker neck profile continues to win over bassists to this day, and guitarists who double on bass often find the transition to the J Bass neck contour easier. Some bassists have even used Jazz necks on Precision bodies in a quest for their perfect instrument.
With the emerging importance of funk-based sounds in the 1970s, the cutting tone of the Jazz Bass helped cement its dominance. Recognizing this, Fender moved the bridge pickup closer to the bridge on 1970s models, giving it even more articulation and bite. Players were won over by the Jazz's very dialable tonal range—this at a time when bassists didn't enjoy all the tone-shaping capabilities now offered by modern bass preamps and effects pedals.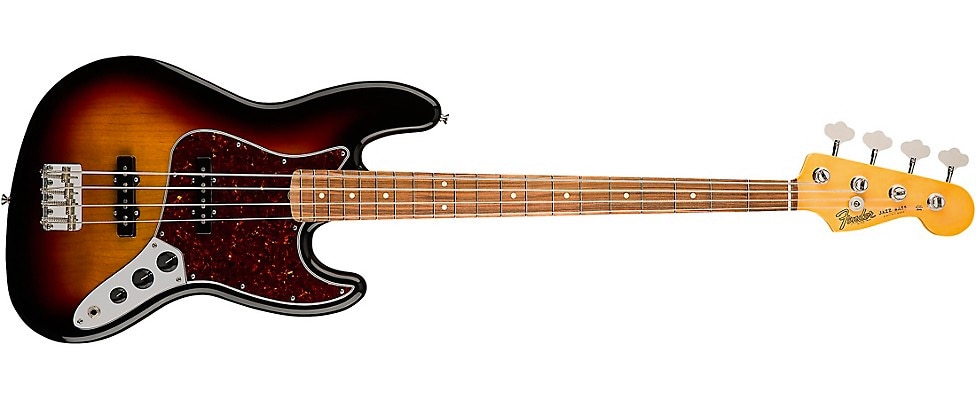 Even modern players like Marcus Miller and Will Lee still depend on their Jazz Bass with both pickups cranked to 10 to get that growly J Bass tone that's ideal for slap playing. The scooped sound that results from phase cancellation between the pickups allows the bass to come forward in the mix with minimum intervention by recording and FOH engineers. (Those same engineers give the Precision Bass high marks for naturally sitting comfortably in the mix when the goal is sonic punch, as opposed to definition and cut.)
Which Bass Should You Choose?
In the end, obviously, there is no one right answer. If you're exclusively into old-school Southern soul and Motown tone, the answer's easier: A P Bass is likely to be your ideal axe. But if you prize sonic versatility more, the J Bass will probably prove a better fit. Beyond that, we can make a couple of recommendations when it comes to choosing between the two bass types as well as shopping for either one.
Spend some quality time with each. There's no substitute for a hands-on audition to get a feel for the instrument's playing characteristics and how well it fits your hands and body. Don't have that luxury? You won't find a bigger selection of Fender Jazz Bass and Precision Bass models than the one here at Musician's Friend. From inexpensive starter basses to mind-boggling Custom Shop instruments, we've got the bass to match your needs. Shop risk-free with our 45-day total satisfaction and lowest price commitment guarantees.
And for the new bassist, the budget-friendly Squier bass collection includes plenty of affordable models.
Still Need Help Choosing a Bass?
Give one of our seasoned Gear Heads a call at (877) 880-5907. We'll help you zero in on the ideal bass for your budget and music.
Learn more with our Bass Guitar Buying Guide.