The Moog Grandmother is the latest analog mono synth from iconic synthesizer manufacturer, Moog Music. Inspired by their modular synths, Grandmother is a versatile semi-modular synthesizer that delivers classic Moog sound, right out of the box.
Although Grandmother is incredibly deep, its straightforward signal path and clear layout will make it appealing to players of all stripes. From left to right, Grandmother's front panel is laid out as follows: Arpeggiator/Sequencer, Modulation, Oscillators, Mixer, Utilities, Filter, Envelope, Output and Spring Reverb. To make a simple layout even simpler, a number of modules are different colors, which makes for quick panel navigation, whether you're on a dark stage or in the studio.
Musician and Producer Justin Meldal-Johnsen demonstrates the new Moog Grandmother.
Understanding Grandmother's Synth Engine
With a legacy as rich as Moog's, it's no surprise that Grandmother sounds so good. Grandmother features two analog oscillators, based on those found in the legendary Minimoog. Each oscillator has four selectable waveforms: Triangle, Sawtooth, Square and Pulse. There's also a hard sync button which offers further sonic variation.
The Modulation section features an analog LFO with 4 selectable waveforms. The LFO can be used to modulate Pitch, Cutoff and Pulse Width, controllable via three dedicated knobs. Even better? The LFO has audio-rate capability, so you can use it like a third oscillator, adding a bit more heft to your sound if you want.
If you're curious what the filter sounds like, Grandmother features Moog's classic 4-pole Ladder design, based on their original 904 module. They even included a patchable 1-pole, high-pass filter, found in the Utilities module, for further sound sculpting.
Grandmother features a standard ADSR envelope generator, based on their 911 module. Where it veers into slightly uncharted territory is that Sustain is controlled by a fader, rather than a knob. The fader is incredibly performance-friendly, inviting you to dynamically adjust the Sustain level as you play.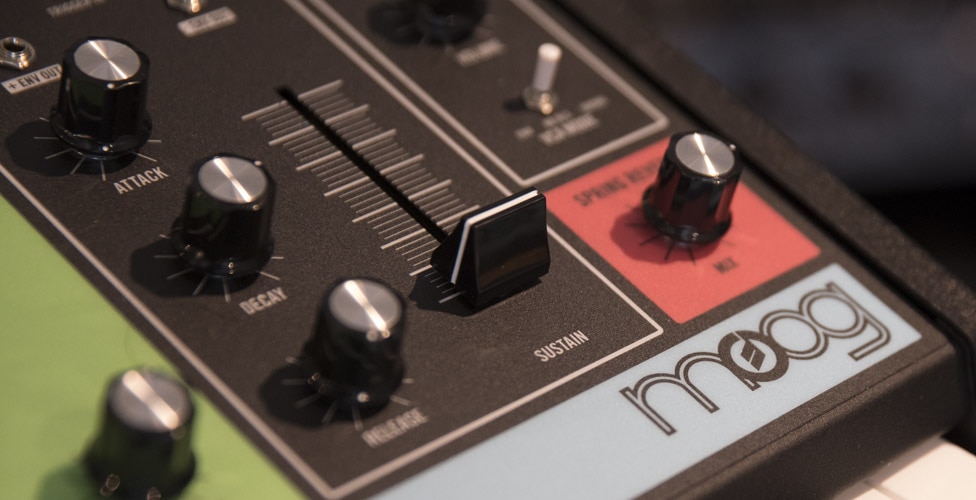 A closer look at the Grandmother's Envelope Generator.
Continuing across the front panel, the amplifier section (aka, the VCA) is based on Moog's 902 module. It offers 3 patch points, a Volume control, and a VCA Mode switch. Immediately below the VCA is a control for the built-in Spring Reverb, itself based on the original 905 Spring Reverb module. Although not found on a lot of synths, the spring reverb can really add a nice depth and darkness to your sound.
As noted, Grandmother features a dedicated Arpeggio/Sequencer module. The built-in arpeggiator is super easy to use while the on-board sequencer can store 3 individual sequences, each with up to 256 notes.
Want to hear more of Grandmother? Check out Moog's Soundcloud demos!
Patch Points Offer More Sound Design Choices
While it's pretty inspiring right out of the box, Grandmother has 41 patch points to expand upon its sound design potential. With 21 inputs and 16 outputs peppered throughout the individual modules, plus a parallel-wired 4-jack mult, Grandmother is deep. Grandmother also plays well with Eurorack and other modular systems, including Moog's Mother-32 synth and DFAM percussion synth.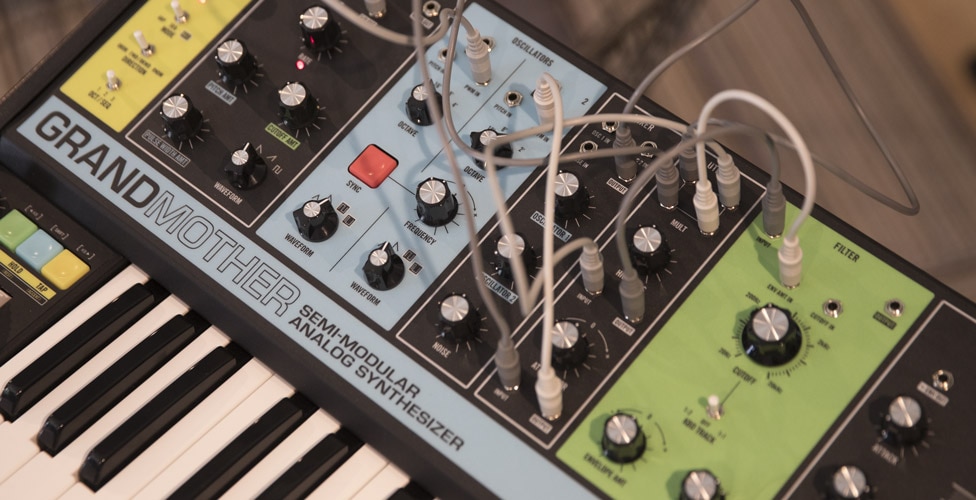 A closer look at Grandmother's many patch points.
A Vintage-Inspired Synth Built for Modern Production
While Grandmother is full of vintage vibe, it offers all of the connectivity you need to integrate it into a modern production setup. Grandmother offers USB-MIDI for connection to your computer, as well as 5-pin MIDI In/Out for connection to other hardware. Want to impart classic Moog sound on your other gear? Grandmother includes a ¼" external audio input for running your guitars, drum machines, other synths and more through classic Moog circuits, including that built-in spring reverb. The 32-note premium Fatar keybed feels great under your fingers, whether you're controlling Grandmother or using it as a frontend for your existing modular system.