If you've ever heard Son House's "Death Letter Blues," the anguished wail of his guitar mourning the death of his lover probably still haunts you. But how did he achieve that sound? With a lot of skill and a specialized guitar called a resonator.
Today, resonator guitars and Dobros are a fixture in bluegrass, blues and country music. They're played using a variety of tunings and are typically held in different positions by blues versus country/bluegrass players. Their bright and powerful sound is immediately identifiable and thanks to their cutting projection, resonator guitars can sonically hold their own in amplified ensembles. Though the terms resonator guitar, steel guitar and Dobro are used interchangeably, the name "Dobro" is a trademark owned by Gibson Guitar and has roots that as we'll see go back to the earliest development of the instrument. That said, the term Dobro has become associated with bluegrass and country playing styles and with instruments that have a wood rather than metal body.
In this guide, we'll walk you through the history of the resonator guitar and look at the various design features to consider when shopping for a resonator guitar or Dobro.
Table of Contents
The quest for loud—the history of the resonator guitar
How resonator guitar cones work
Metal vs. wood bodies
Metal-bodied resonator guitars
Wooden-bodied resonator guitars
Different necks and cones for different genres
Entry-level resonator guitars
Mid-line resonator guitars
Step-up resonator guitar models
Resonator guitar accessories
Resonator guitar cases
Resonator guitar strings
Resonator guitar and Dobro slides
Need more help?
The quest for loud—the history of the resonator guitar
In the early 1920s, before the electric guitar amplifier had been developed, the standard acoustic guitar was often overwhelmed by the volume of horns, percussion instruments and pianos. The resonator guitar was developed to deal with this.
While all early resonator guitars were built along the lines of a standard acoustic guitar's shape, manufacturers took two different approaches to create a guitar loud enough to be heard in the context of the dance bands of the day.
The earliest model developed by John Dopyera had an all-metal body and three 6" aluminum cone-shaped resonators mounted on a T-shaped aluminum bar supported a bridge. This design has come to be known as the tricone. Though they're prized for their more complex and smoother sound, tricone models were expensive and difficult to produce.
Dopyera, collaborating with guitarist George Beauchamp, continued to tweak the design experimenting with various metals to increase projection and produce a brighter tone. The pair also sought less costly approaches to design and manufacturing.
Dopyera and Beauchamp founded the National String Instrument Corporation in 1927 and began producing several different models under the trade name Triolian that featured a single cone and biscuit resonator. Various models were distinguished by engraving on the body or lack thereof.
A year later, Dopyera parted with National to form a new company with four of his brothers. Using a contraction of Dopyera Brothers they named their new enterprise Dobro Manufacturing Company—the word "dobro" also meaning "goodness" in the brothers' native Slovak language. Dobro began producing a single-resonator model with a larger, single concave bowl-type 9" cone with wooden disc in the center holding the bridge. The new design produced more projection than the National tricones and was less expensive to produce.
Meanwhile, National continued selling tricone models while also producing a single-cone model based on Dopyera's work prior to his departure from National. Some steel guitarists preferred the tone generated by National's tricone while others, seeking a louder instrument, favored the Dobro models.
After a series of legal wrangles, the Dopyera brothers obtained control over both companies in 1932 and combined them into a single entity—the National Dobro Corporation. The new company continued to manufacture steel guitars until 1941 when production ceased.
A resurgence of interest in Dobros coupled with a shortage of original instruments on the used market led to the sale of the Dobro name and designs. Rights to the name and designs changed hands several times in the 1950s through the 1990s. Other companies entered the steel guitar arena trading on both the National and Dobro names, which become somewhat generic for steel guitars.
After Gibson Guitar Corporation acquired rights to the Dobro name in 1993, the company announced that it would take action against any company using the name. Gibson has since produced a range of resonator-style instruments using the Dobro name as well as their own Hound Dog series. Less expensive models have been produced by Gibson subsidiary Epiphone.
Today, numerous companies produce resonator guitars with both wood or metal bodies and various neck designs adapted to different playing styles.
How resonator guitar cones work
Regardless of the number or size of the cones or the materials used to make them, they all amplify the sound of the resonator guitar similarly. A standard acoustic guitar's strings transmit their vibrations via the bridge to the guitar's top wood which amplifies their sound. A resonator guitar works on a similar principle but includes one or more cones to amplify the sound level by transferring the vibration of the strings via the perforations in the cone and/or other sound holes in the guitar top. The cone is what accounts for the bright, metallic timbre.
Metal vs. wood bodies
As we discuss in our Acoustic Guitar Buying Guide, the various woods used in conventional acoustic guitar tops and bodies have a huge influence on their sound. With resonator guitars, the difference between those with metal versus wood bodies is the chief consideration.
Metal-bodied resonator guitars
Most metal-bodied resonators have either steel or brass bodies coated with nickel. Steel is said to produce the rawer sound associated with rural blues guitarists such as Son House and Bukka White. Brass may have a somewhat rounder, more mellow tone. Vintage metal resonator guitars were often ornately decorated with engraved or etched designs. Today's budget metal guitars often have pressed metal embellishments to keep their cost down.
Wooden-bodied resonator guitars
As mentioned above, the specific woods used have less impact in resonator guitars versus their acoustic cousins. Most are made with less expensive laminated woods rather than the solid tonewoods used in quality acoustic guitars. That said, the wooden body imparts a somewhat warmer sound with less attack and punch than a steel-bodied guitar. When players refer to a Dobro, they almost always are referring to a resonator guitar with a wood body.
Different necks and cones for different genres
Resonator guitars are built with both rounded and square neck profiles. Square neck resonators are designed to be played with a metal slide, sometimes called a steel, and are set up with a very high action—sometimes as much as a half-inch above the frets—making standard fretting using the fingers impossible. Country and bluegrass players typically use a variety of open tunings and play the guitar in the "lap steel" position—that is with the fretboard facing up.
Resonator guitars with rounded neck profiles are more commonly played by blues and roots music guitarists in the conventional guitar position with the fretboard facing away from the player. Depending on the player's preference, they can be set up with a range of string heights that permit fretting with the fingers or a bottleneck slide that produces the whining tone associated with Delta blues.
While neck and action height are somewhat genre-specific, many steel guitarists today ignore those conventions. Indeed, with the resurgence of acoustic music styles, Dobros and other resonator guitars are turning up in all kinds of music from pop and rock to even jazz. Accordingly, many different tuning are used with steel guitars these days.
Here's a run-down of the various neck/cone configurations as they relate to different music genres:
Square neck spider cone guitars: typically used for country and bluegrass
Square neck tricone guitars: typically used for Hawaiian music, some blues
Round neck tricone guitars: used by some jazz players and in blues, especially for bottleneck slide
Round neck biscuit resonators: Primarily used in blues, slide or conventional playing
Entry-level resonator guitars
Vintage National steel guitars and Dobros in good condition can command huge prices nowadays. But for guitarists looking to expand their sound options there's a healthy selection of affordable starter models that won't break your budget.
The Rogue Classic Spider Resonator Roundneck is a an inexpensive way to add a resonator to the guitarist's toolbox. Available in both a striking black or sunburst finish, a squareneck version is also available.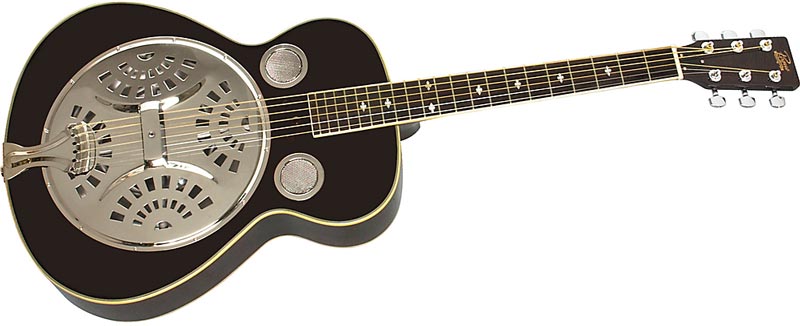 Built with a spruce top, mahogany body and rosewood fretboard, the 10-½" spun aluminum cone and the die-cast spider bridge produce good tone with plenty of projection. Chrome plating on the cone and a fully bound body give it looks that belie its super-affordable price.
Mid-line resonator guitars
These resonator guitars typically use better quality woods and metals and are equipped with higher grade tuners and other appointments.
Combining modern and traditional design techniques, the Dobro Hound Dog Acoustic Deluxe Round Neck Dobro Guitar produces sound true to its sonic roots. Constructed of a laminate made from thin veneers of maple with attractive figuring, it houses a modern version of the original Dopyera brothers inverted cone resonator and spider bridge. But your granddad's Dobro didn't have the Fishman resonator pickup for effortlessly amping your jams.

The sunburst finish, beautiful cosmetics and metal work of the Regal RD-05 Resonator Bass Guitar will blow your audience away before you play a note. It combines the traditional looks of a resonator guitar with the performance of a 4-string acoustic bass that's right at home in string ensembles and roots music bands.

Big sound is delivered through oversized and screened soundholes from the rock maple sound well and a 10-½" spun aluminum cone. The traveling musician will love the compact, 30-inch scale length that makes the Regal RD-05 more portable than other acoustic basses.
Step-up resonator guitar models
These instruments have more refined construction, enhanced playability and use higher-grade materials and fittings.
The square neck Beard Guitars Lotus Acoustic-Electric Resonator Guitar is a premium "Made in USA" instrument. With a Finnish birch veneer body, radiused and a handspun Beard Legend Cone, the Lotus sounds and feels as good as it looks.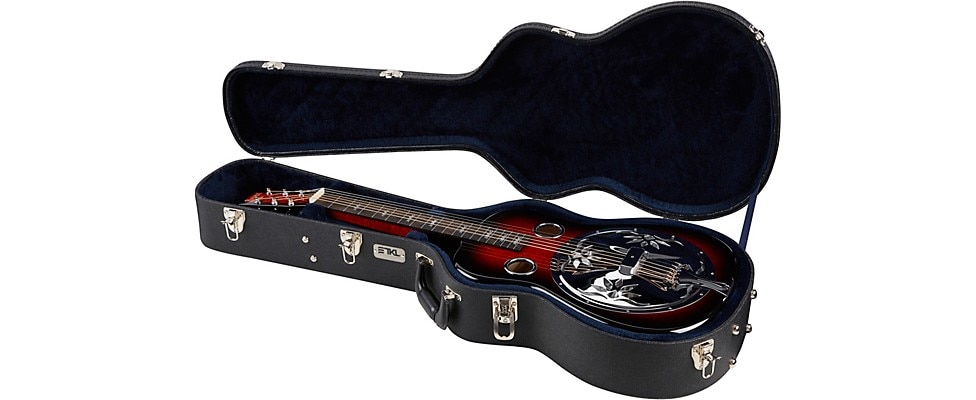 The Beard Guitars Lotus Squareneck Acoustic-Electric Resonator is a stunning instrument, built by Beard's artisans in Hagerstown, MD.
Check out the complete Musician's Friend selection of resonator guitars and dobros
Resonator Guitar Accessories
With the perfect resonator guitar in hand, it's time to deck it out with appropriate add-ons.
Resonator guitar cases
Your resonator is a complex and delicate instrument. Protect it accordingly.
Aside from the resonator guitar-specific cases offered by Musician's Friend, many standard hardshell guitar cases and gig bags will work well with your resonator guitar or Dobro. If you're unsure about fit, call a Gear Head at 877-880-5907 to find a suitable model.
Resonator guitar strings
There's not a guitar player alive who hasn't busted a string at an inopportune moment. Make sure you have backups for your resonator in your gig case.
The Dunlop Resonator Guitar Phosphor Bronze String Set produces true, consistent tones. Wound from the highest quality phosphor bronze wire, these strings will stand up to the most enthusiastic playing. Dunlop includes a extra .018 string for players who prefer a bit more body to support their playing style.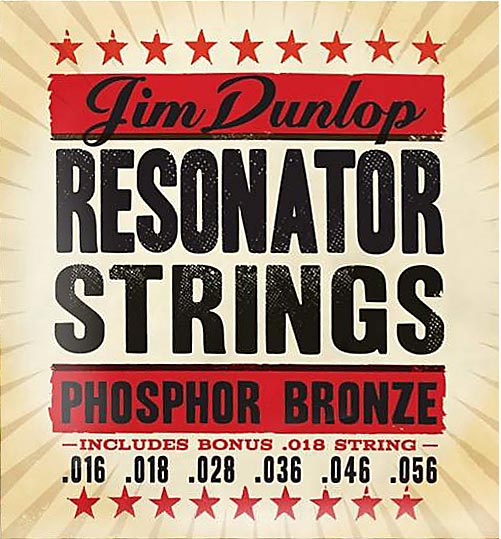 The Dunlop Resonator Guitar Phosphor Bronze String Set: your portable insurance policy against resonator malfunctions.
Browse the complete Musician's Friend selection of resonator strings.
Resonator Guitar and Dobro Guitar Slides
The type of slide you use will have a big impact on the sound of your steel guitar. Whether you're a country or bluegrass player looking for a bar-style steel to produce traditional lap steel sounds, or a blues player who wants the high-lonesome whine generated by glass or metal tubular-shaped slides, you'll find a huge selection at Musician's Friend.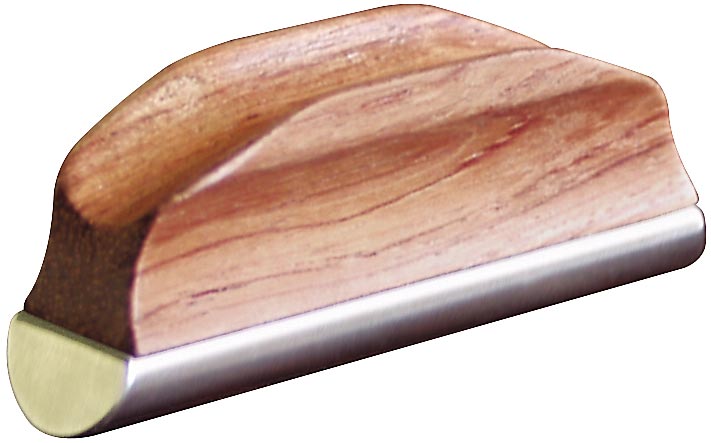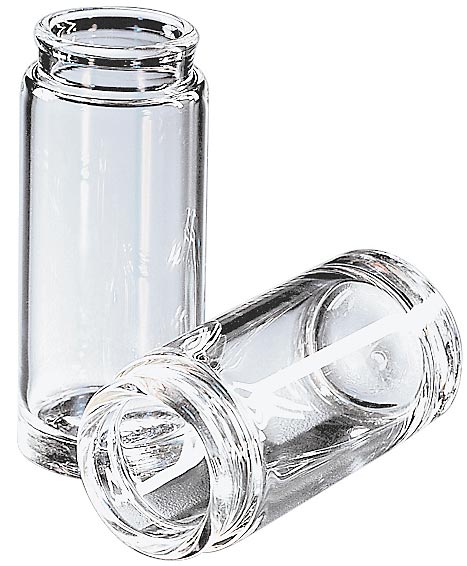 Need more help?
Reach out to a Musician's Friend Gear Head at 877-880-5907 today. We'll be glad to help you find the right resonator guitar or Dobro solutions!