Table of Contents
Types of stage monitors
Passive (unpowered) stage monitors
Powered (Active) stage monitors
Stage monitor designs
Stage wedges
In-ear monitors
Side fill monitors
Stand-mounted
Specs to consider
Power handling (passive monitors)
Sensitivity/SPL/power ratings
Impedance
Frequency response range
Cables, stands and accessories
Speaker cables
Monitor and speaker stands
Stage accessories
Need more guidance?
In live music settings, the importance of onstage monitors can't be overstated. Without a reliable monitoring system, you can't hear yourself or your bandmates clearly, making it difficult to play your best. Your PA speakers are aimed at your audience, so they will not serve double duty as monitors. If you plan to play venues where you provide your own PA gear, stage monitoring will be an essential part of your setup.
So what exactly do you need to look for in a monitor, and which model is best suited to your needs? Read on to learn about the different types of stage monitors and their key specs to nail a stage monitoring solution that's right for you.
Types of stage monitors
When you browse the complete selection of stage monitors at Musician's Friend, you'll see lots of different brands and types available. Models vary in size, structure, and specifications. However, they all fall into one of two main categories: unpowered and powered stage monitors.
Let's take a look at the differences between these categories, as well as their pros and cons.
Passive (unpowered) stage monitors
Before speakers can broadcast sound to the audience, the band's signal needs to be boosted through a power amplifier. This is true for all speakers, whether they're a large, front-of-house speaker array or an onstage monitor. Active or powered stage monitors house their power amp in the same cabinet as the speaker drivers Those that need external amplifiers are referred to as unpowered or passive monitors.
Compared to models with integrated amplifiers, unpowered models are generally less costly. The Kustom PA KPC10M 10" Monitor Speaker Cabinet features a 10" woofer for low frequencies, and a 2" x 6" high frequency horn.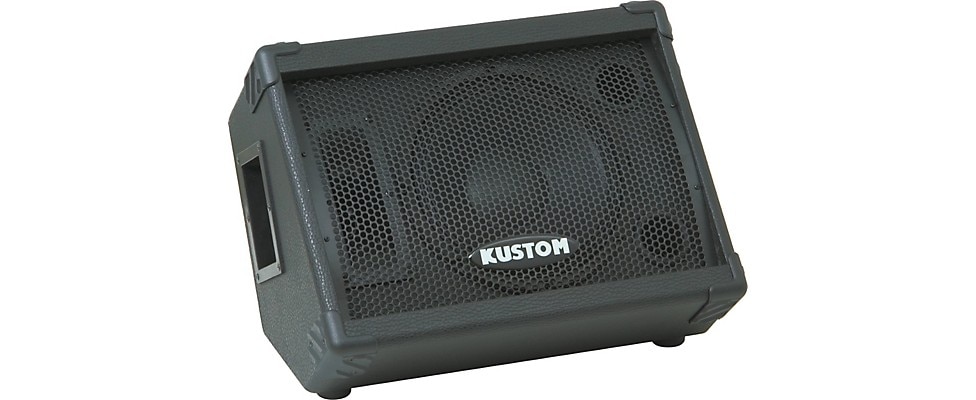 Great sound and an attractive price point make the Kustom PA KPC10M a smart choice for any stage.
Unpowered monitors are less costly to replace. As long as your power amp is still functioning, there's no need to replace it when a monitor fails; you can't do that with a powered monitor.
Passive monitors are often the preferred choice for venues with installed sound systems. For instance, the Kustom PA KPX115M 15" Passive Monitor is full range but offers plenty of low-frequency punch, thanks to its 15" woofer.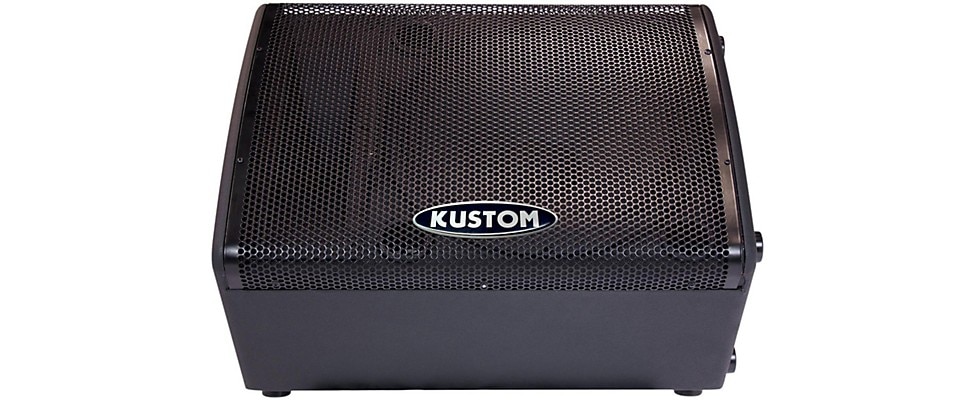 The Kustom KPX 115M  is easily mounted, offering 30-, 60- and 90-degree positioning, making it ideal for permanent club installs. 
See the entire selection of unpowered stage monitors at Musician's Friend.
Shop the huge selection of PA power amps at Musician's Friend.
Learn more about PA System amplifiers with How to Choose the Right PA System.
Powered (Active) stage monitors
In contrast to unpowered monitors, which rely on external amplification, powered speakers have their amplifiers built right into the box. For some applications, and especially in cases where musicians need to supply their own monitors, this type of monitor can offer some significant advantages.
Even though the price of a powered monitor is usually higher than that of an unpowered model, the total cost of the amplifier and speaker combination can be lower than buying these items separately. The Galaxy Audio PA6BT, for instance, offers 170 watts of power, on-board EQ, and two-way monitoring functionality for less than the cost of many dedicated power amplifiers.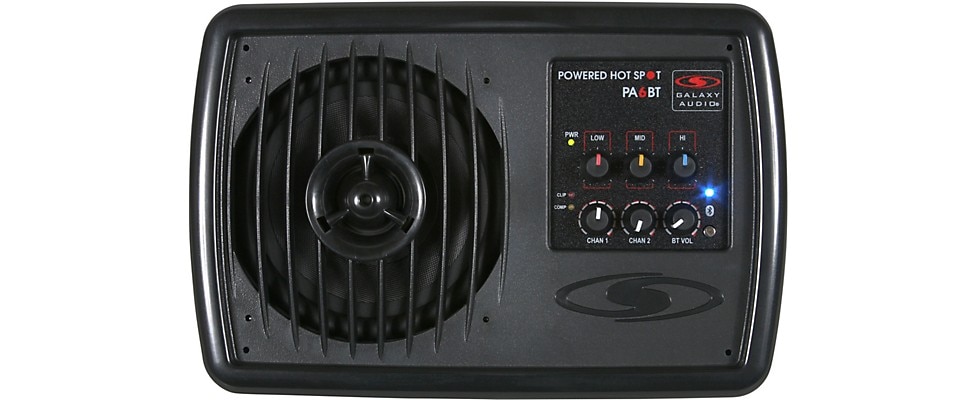 The Galaxy Audio PA6BT  is light-weight and features built-in Bluetooth, allowing you to sync up mobile devices.
Combining both amplifier and speaker into a single enclosure also makes powered monitors a more portable option than lugging multiple pieces of equipment. It should be noted, however, that these units are often heavier than unpowered monitors thanks to the extra components inside of them.
Certain monitors are built particularly with portability in mind. The Nady PM-200A Powered Personal Stage Monitor, for example, packs a powerful 150-watt amplifier into a small package that can be mounted on a mic or keyboard stand.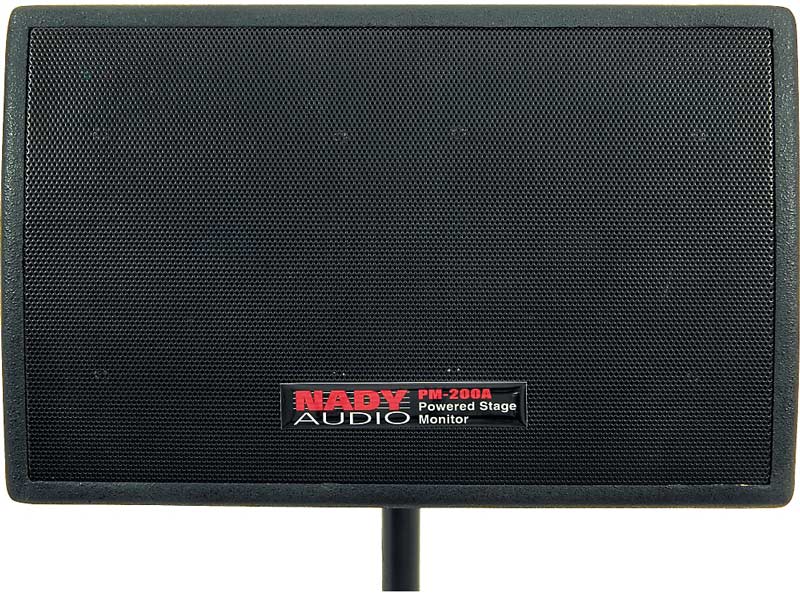 TheNady PM-200A Powered Personal Stage Monitor is a particularly compact monitor that is designed to reduce stage clutter.
Many vocalists and other musicians prefer more traditional wedge-shaped floor monitors that are aimed upward. The Kustom KPC10MP earns high marks for its rugged build quality and a very intelligible 10" speaker plus piezo horn that singers especially like.
Aside from the practical considerations of cost and portability, quality powered monitors can have some advantages in sound quality, with greater dynamic range and high volume capabilities without as great a need to worry about blown speakers.
Browse the complete Musician's Friend line of powered stage monitors.
Stage monitor designs
Now you know the differences between powered and unpowered monitors, you still have to tackle a few more considerations. One of the most practical among these is the form factor that best suits your monitoring needs.
Here, we'll take a look at different monitor designs and the situations in which they work best.
Stage wedges
A popular, low-profile design for monitoring, stage wedges are a cabinet type that sits on the stage floor and is angled upward toward the performer without blocking the audience's view. Among the most common monitor designs, the wedge is well suited for situations where each member of a group has a dedicated monitor.
The well-regarded Yamaha SM12V Club Series V Monitor is an example of a compact wedge-style monitor appropriate for individual monitoring applications.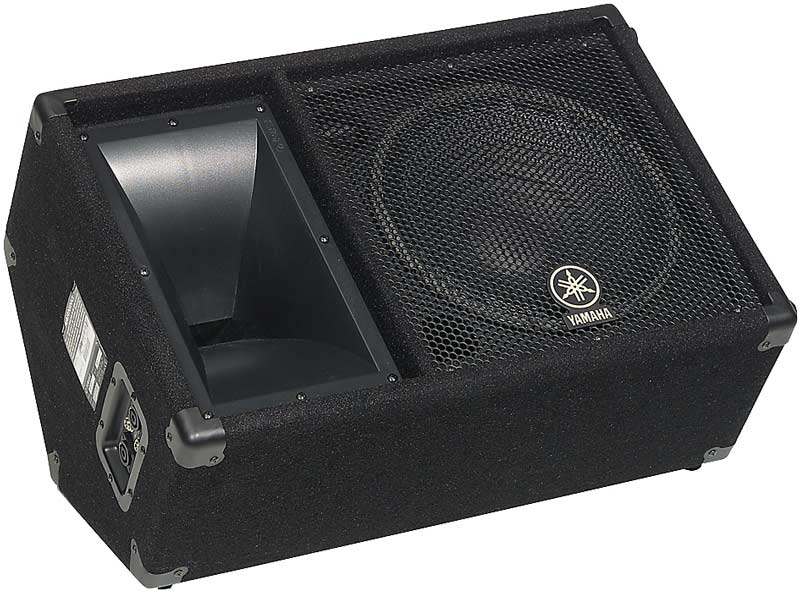 The Yamaha SM12V Club Series V Monitor is a highly respected wedge-style monitor used in many professional venues.
In-ear monitors
For some players, a monitor mounted on the stage simply doesn't offer the needed flexibility, clarity or mobility they want. For these performers, in-ear monitors can be an excellent option providing precisely the mix they want.
Built for even and accurate response across frequencies, ear-bud style monitors like the Mackie MP-240s are becoming a popular option for bands playing venues of all sizes.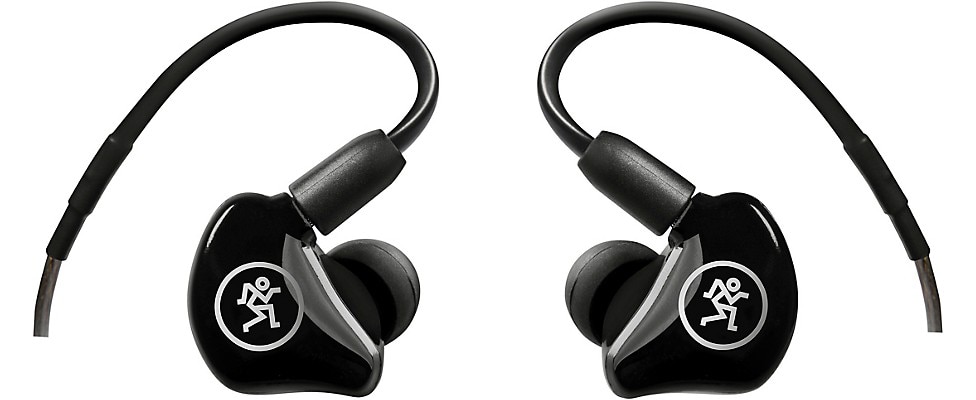 The Mackie MP-240 Dual Hybrid Driver Pro In-Ear Monitors are ergonomically molded and feature dual hybrid drivers for exceptional sound.
See the complete Musician's Friend line of In-Ear Monitors.
Shop the complete Musician's Friend line of In-Ear Wireless Systems.
To learn more about in-ear monitors, check out our Headphones and Earphones Buying Guide.
Side fill monitors
Ideally used as a complement to individual wedge monitors, side fills sit just offstage and deliver a complete mix that the entire group can hear. These speakers offer a fuller mix that can help musicians deliver more solid performances. However, as individual wedge monitors have improved, the need for these more elaborate systems is becoming less common.
Stand-mounted
As an alternative to the wedge-style monitor that sits on the floor, monitors can be stand mounted. While this may be visually more disruptive, in some monitoring situations—particularly for keyboard players—they may be ideal. Stand-mounted monitors may also make sense in bands where performers share monitors.
The Yamaha BR12M 12" 2-Way Monitor can be used either as a floor wedge or pole mounted monitor for additional versatility.
The Yamaha BR12M 12" 2-Way Monitor is a hybrid wedge-style or pole-mounted monitor with corner protectors and balanced acoustic design.
Specs to consider
You now know the different types of stage monitors and the different designs they come in. However, you still may be wondering about some specifications to help you differentiate between models. Let's look at some of those specs and what they mean.
Power handling (passive monitors)
How much power a monitor's speakers can handle continuously is often rated in RMS watts—a more conservative way of rating speaker capacity. It's important to understand that this is different than peak watts, which refers to the absolute maximum wattage a speaker can handle in brief bursts. Some manufacturers refer to "continuous" or "program" power handling. This method provides a wattage value the speaker can handle continuously without damage or severe distortion.
It's important to note that watts don't directly measure how loud a monitor can get. For instance, a 200-watt-rated monitor is not twice as loud as a 100-watt model. Watts do, however, give a rough indication of how loud a monitor can go before the signal starts to distort. And since you want clear, undistorted sound, look for models with 100 watts of power handling or built -in amp power or more in most situations. If you need to hear yourself over a loud drummer, look for even more power.
Sensitivity/SPL/power ratings
One indicator of maximum speaker volume is its sensitivity rating, which tells you how efficiently the speaker converts amp power into sound. The problem is, manufacturers use various ways to measure sensitivity, making the spec's reliability dicey.
A reasonable place to start might be to look for at least 95dBs (decibels) of output. Some manufacturers use an SPL (Sound Pressure Level) rating that measures sound at a specified distance from the speaker. The higher the number, the louder the speaker.
Of course, how loud you and your band plays is key.
Impedance
If you are connecting a power amplifier to unpowered speakers, it's important you know the speakers' impedance rating, measured in ohms, and match it to the rating of the amplifier.
Frequency response range
Speakers color the sound of an audio signal based on how they handle different frequencies. In some cases, you can find a frequency response graph showing its comparative output at different frequencies. In other cases, you might simply find descriptions of the speakers' tonal profile in its features list.
In either case, you'll want to make sure the monitor you purchase can cover the frequency range you'll need to hear. Typically this will be from at least 65hz to 20khz. In some monitors, you might find a single speaker to handle the complete frequency range. In others, you will find multiple speaker drivers that are specialized for different frequency ranges. These include woofers, which are generally larger speakers that handle low frequencies, small tweeters that handle the highest frequencies, and midrange horns to handle the frequencies in between. Typically in these kinds of monitors, a crossover system also will be used to direct different frequencies to the right speaker driver.
Cables, stands and accessories
Musician's Friend carries these staple items and can deliver them to you along with your stage monitors at the guaranteed lowest price.
Speaker cables
It's not pleasant to get your new speaker delivered only to realize you don't have the necessary cables to plug it in. And while it might be tempting to go for the cheapest option for wiring it all up, keep in mind that good cables can go a very long way in sound quality. Musician's Friend has a full range of affordable, quality speaker cables to choose from online.
Take a look at our Audio Cable Buying Guide for more detailed info.
Monitor and speaker stands
If you will be mounting your monitor, you will need to purchase the mounts along with the speaker in most cases. Musician's Friend stocks both pole mounts, for a portable solution, and bracket mounts for more permanent fixtures. Check out the full assortment of monitor stands and brackets.
Stage accessories
Whether it's a hand truck to haul your monitors and other gear, earplugs to protect your hearing or gaffer's tape to keep your cables under control, you'll find all the critical stage accessories at the Musician's Friend.
We want you to be pleased with your gear purchase, and we offer a 100% satisfaction guarantee and generous return policy so you can order with confidence.
Need more guidance?
After reading this guide, if you're still not sure which monitoring solution is right for you, we invite you to call one of our friendly and knowledgeable Gear Heads at (877) 880-5907.