Ask the average person to describe or sketch an electric guitar and chances are they'll come up with something that resembles either a Fender Stratocaster or Gibson Les Paul. These two guitars are imprinted on our collective consciousness for good reason.
Ever since their introductions in the 1950s, the Strat and the LP have largely ruled the electric guitar roost. Both offered revolutionary improvements in both playability and sonic performance. Each is a completely different and much-copied design; their tone and playing feel completely distinct.
Here's a rundown on those differences:
Scale length
A big difference between the Stratocaster and the Les Paul is their scale length—the length of the strings measured from the nut to the bridge. The Les Paul is 24.75 inches versus the Stratocaster's longer 25.5 inches. This has an impact on both sound and playability.
A longer scale length results in more space between the frets and greater string tension making it a little more challenging to play for smaller hands. Though string tension is greater, due to their additional length, the strings have a bit of"give." The Stratocaster's longer scale results in a brighter, more chiming sound whereas the LP's shorter scale is to an extent responsible for its rounder, warmer sound.
Check out the scale length discussion in our Electric Guitar Buying Guide for more.
Pickup configuration
While Stratocasters and Les Pauls are available with a broad range of pickup configurations and switching options these days, their classic pickup arrays are another important way they're different.
A traditional Stratocaster is equipped with three single-coil pickups (neck, middle, bridge). A traditional Les Paul has two humbucker pickups (neck and bridge).
Single-coil pickups tend to sound brighter and crisper and cut through dense band mixes. They're also are prone to generating hum and other noise caused by electrical interference.
Humbuckers were designed to eliminate noise and they generally produce a thicker, deeper sound than single-coils. In very broad terms, single-coils lend themselves to blues, funk, surf and country styles. Humbuckers, on the other hand, are often used in hard rock, metal, blues and jazz styles. But there are no hard and fast rules–either pickup type can be used to play whatever you want. Tone is a very personal thing and both guitars are remarkably versatile.
Check out the Pickups and Electronics section of our Electric Guitar Buying Guide for more details.
Body
The Stratocaster has two asymmetrical cutaways which are cosmetic and allow greater access to the high notes. The Les Paul features a single cutaway for similar fretboard access.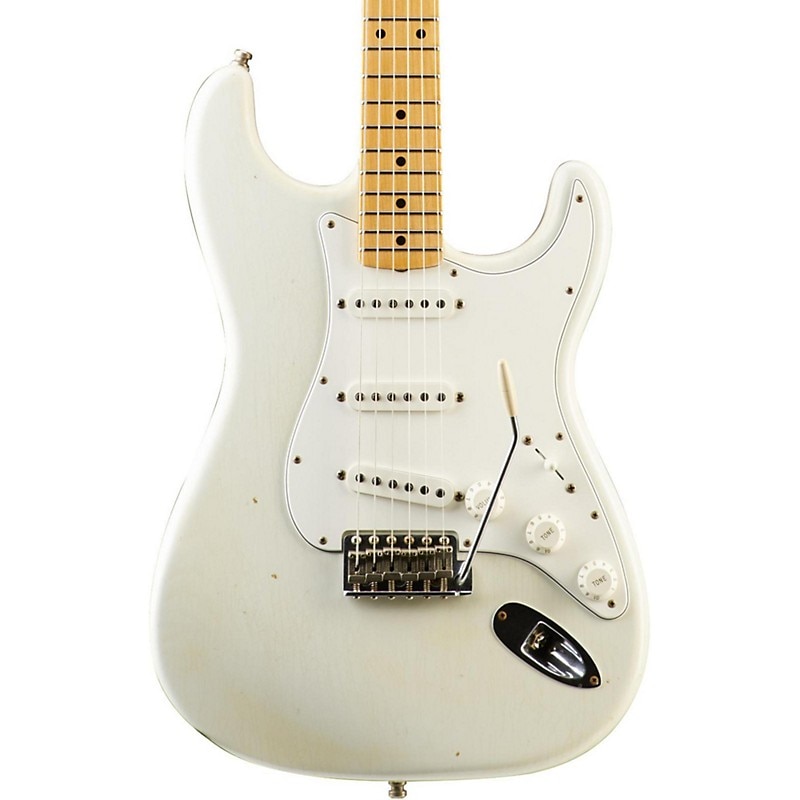 The Fender Custom Shop builds this Postmodern Journeyman Relic Stratocaster with a host of contemporary features lurking beneath classic looks.
The Les Paul has a thicker, heavier mahogany body, usually with a carved top cap made of maple. The LP is more difficult to produce than the the Stratocaster with its slimmer, contoured body built from a single slab of wood—usually ash or alder. The Strat weighs less than the LP too.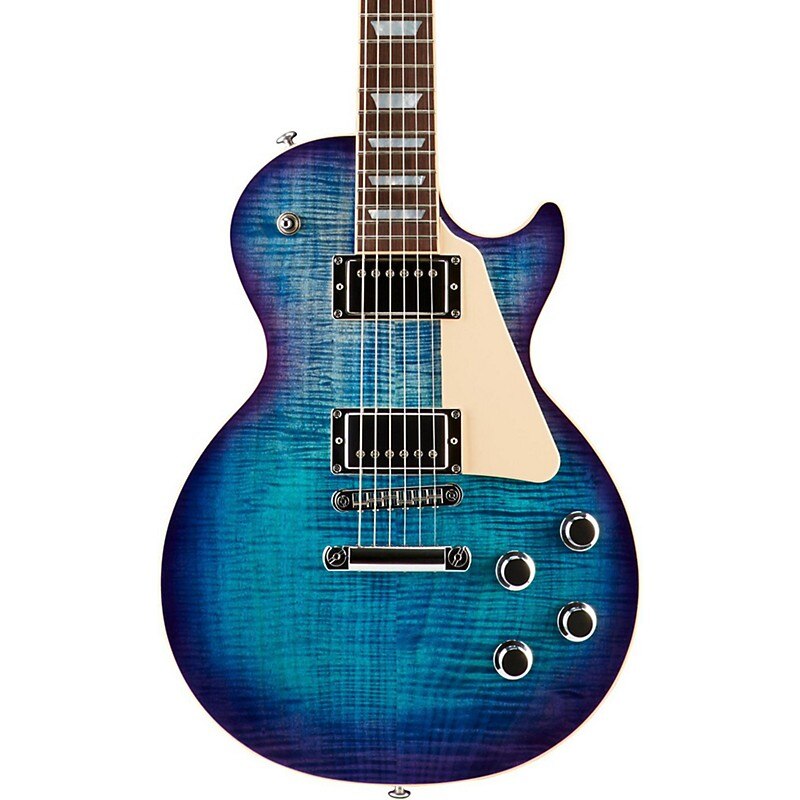 Today's Les Paul lineup includes many variants including this 2017 Les Paul Standard HP that's loaded with modern innovations, yet has all the original LP earmarks.
Neck
The Stratocaster neck is somewhat thinner than the LP's and is preferred by some players with smaller hands. With its slightly curved (radiused) fretboard, the Strat feels more rounded and comfortable to some players while other prefer the heftiness and greater width of the LP's neck that helps with note bending. It should be noted though that both Gibson and Fender offer models with non-traditional neck profiles.
The other significant difference is the way the neck in each guitar is joined to the body. The Strat has a bolt-on neck which greatly simplifies manufacturing while providing a strong connection. The LP, on the other hand, has a glued, set-in neck that requires more skill to produce. The LP's set neck, together with its humbucking pickups, contribute to its warmer tone and greater sustain.
Tailpiece/Bridge
The Stratocaster is equipped with a one-piece tailpiece/tremolo bridge with individually adjustable string saddles. This latter feature allows easier guitar setup when intonating strings.
While the Stratocaster's tremolo bridge allows wild string-bending action, there is a downside: Such theatrics can pull your guitar's strings out of tune.
Most Les Pauls are equipped with Gibson's Tune-o-matic fixed bridge that has two adjustable posts with a bar between them containing the individual string saddles. The strings then terminate at the so-called "stop bar" tailpiece. Most players give this setup high marks for staying in tune.
Which guitar's right for you?
The LP and Strat are iconic for good reasons. Though they have very distinctive personalities and playing characteristics, they're both incredibly versatile guitars. If you're not sure, and you've got the budget, there's nothing wrong with owning both!
And for lots more in-depth intel, check out our Stratocaster Buying Guide and Les Paul Buying Guide.
Recap
Stratocaster
Longer scale length of 25.5 inches, thinner neck
Slimmer contoured body with double cutaway
Three single-coil pickup configuration
Often played in blues, country, rock, and funk styles
Tremolo bridge
Bright, cutting tone
Les Paul
Shorter scale length of 24.75 inches, wider neck
Thicker, heavier body with carved top
Dual humbucker pickup configuration
Often found in hard rock, metal, jazz, and blues
Fixed bridge
Warm tone with ample sustain
Still need help?
Call one of our friendly and knowledgeable Gear Heads at (877) 880-5907. We'll help you make a confident purchase after learning what you're looking for.