The Fender Stratocaster is among the most iconic electric guitars to have ever been produced, and it's been a major influence on the sounds of modern music. Since it's introduction in 1954, the  Strat has been featured on countless recordings, and played by rock, punk, jazz, blues, soul, R&B, and country artists the world over. During its six-decade history, the Stratocaster has consistently been one of the most popular (and copied) guitars in production. 
Table of Contents
A Brief History of the Stratocaster
Why Choose a Stratocaster?
Basic Stratocaster Features
Squier Stratocasters
Fender Stratocasters
USA Fender Stratocasters
Fender Custom Shop
So, Which Stratocaster is Right for Me?
A Brief History of the Stratocaster
In 1954 California inventor Leo Fender along with his cohorts Freddie Tavares and George Fullerton set out to design a guitar that would build on the success of Fender's Telecaster and Precision Bass. Seeking to create a guitar with more tonal versatility as well as improved playability and comfort, the trio came up with the Stratocaster. Adapted from the profile of the P-Bass, its double-cutaway, deeply contoured solid body offered easier access to the higher frets and nestled more comfortably against the player's body. The addition of a middle single-coil pickup gave the Strat greater tonal versatility than its Telecaster stablemate's two-pickup design.
The original Strat had a 3-way pickup selector switch. Players soon discovered they could engage two pickups simultaneously by using a toothpick to wedge the switch between the "factory" settings and thus create unique tones. As we'll see, Fender was paying attention, and over the years switching and wiring grew more sophisticated.
The Strat also had a cavity routed into its back, housing a through-body pivoting bridge that  anchored the strings. Strat players began modifying their guitars' standard fixed bridge by removing two of its five retaining springs and adjusting the anchoring screws allowing the bridge to "float."  By doing this, they could move the tremolo arm that was attached to the bridge up and down, thus modulating the pitch of the played notes. Jimi Hendrix,  Ike Turner, and Jeff Beck were all notorious for their enthusiastic use of these pitch-bending tremolo effects.
But vigorously yanking on the trem bar caused the guitar to go out of tune. In response, guitarists such as Ron Wood and Eric Clapton modified their bridges to remain fixed while retaining the floating tremolo. Others did away with the tremolo entirely leading to what are now referred to as "hard-tail" Strats. Here too, Fender was watching, and as the Strat evolved, new models incorporated many of the modifications pioneered by these artists and their guitar techs.  
In 1965 Leo Fender sold his company to CBS—a move that many Fender fans associate with a change in the quality of Fender instruments. Nonetheless, the business grew, and in 1977 the company introduced 5-way pickup switching and a reverse-wound, reverse-polarity middle pickup. This provided a hum-canceling effect in positions 2 and 4 on the selector switch, creating the tones popularized by iconic guitarist such as Jimi Hendrix, Dick Dale, Eric Clapton, and David Gilmour. Today, the 5-way switch and reverse-wound middle pickup are standard on most Strats.
In 1982 Fender introduced a version of the Stratocaster produced under its Squier trademark—a division spun off to create value-priced instruments. Originally built in Japan, it became one of the company's most successful models. Since then, Fender has produced Stratocasters in Korea, Indonesia, and China, aiming to provide instruments that retain the Fender heritage and quality standards while being very affordable.
A group of Fender employees and investors bought the company from CBS in 1985 reinvigorating a business largely lacking in leadership that understood music gear and musicians. Following the buyout, Fender initially built its instruments in overseas factories that had the skills to create instruments meeting the company's standards.
Later in 1985, Fender's flagship factory began production in Corona, California. This was followed two years later with the opening of its second North American factory in Ensenada, Mexico. That same year—1987—Fender's revered Custom Shop was launched and began building some of the finest Stratocasters ever.
Since then Fender has continued to rethink its flagship Stratocaster, introducing dozens of model variations with unique capabilities and cosmetics. Yet the essential shape, playability, and sound of the Strat remains unchanged six decades later.  
In this guide we'll walk you through the many Stratocaster series and models available today. As you browse Musician's Friend's huge collection of Strats, we hope you'll find this guide a useful companion in sorting out all the details and ultimately helping you purchase the best Stratocaster for your needs, budgets and desires.
Why Choose a Stratocaster?
With all the electric guitars available, why should you choose a Strat? While only you can determine if a particular guitar is a good fit, there are compelling reasons the Stratocaster has proven to be the guitar of choice for so many players. With its 3-pickup array and 5-way selector switch, the Strat offers players a variety of options to achieve the sound they want. From bright and twangy to mellow and moody, the Strat covers many colors on the tonal palette.
Aside from tone, the Strat offers a very smooth, comfortable feel. The contoured body and neck joint make the Stratocaster easy to hold and play, and its deep cutaways give the player ready access to the entire fretboard. With several neck profiles to choose from, there's a Strat to match just about everybody's hand and playing style.
Famous Stratocaster Players
Countless guitarists have chosen the Fender Stratocaster as their instrument of choice. Whether playing a tasty blues lick or laying down some righteous funk, the Strat has earned its place among the most revered guitars ever. Some famous Stratocaster players include:
Jimi Hendrix
Eric Clapton
Jeff Beck
Stevie Ray Vaughan
George Harrison
John Frusciante
Dave Murray
Ritchie Blackmore
The Edge
David Gilmour
Buddy Holly
Eddie Hazel
Buddy Guy
Robert Cray
Eric Johnson
Mark Knopfler
Bonnie Raitt
This is just a short list—if space were no issue, we could fill your screen several times over with the names of notable Stat players.
Basic Stratocaster Features
The Fender Stratocaster comes in many variations, but the following features are generally found on most Strats produced under the Fender and Squier nameplates:
A double cutaway contoured alder or ash body offers excellent resonance, comfort, and playability.
3 single-coil pickups with a 5-way blade switch accesses 5 different pickup configurations: Neck, Neck/Middle, Middle, Middle/Bridge, and Bridge.
Master volume and 2 tone knobs control the output signal and the treble frequencies of the Neck and Middle pickups.
A bolt-on maple neck provides strength and stability, while being easily removed for repairs or replacement
Maple, rosewood or pao ferror fingerboard for tonal definition and durability
Nitrocellulose lacquer finish (vintage and Custom Shop), Urethane or Polyester finish (modern)
Synchronized tremolo bar
25-1/2" scale length
7-1/4" fretboard radius (vintage)  9-1/2" (modern)
Classic "C"-shaped or "V"-shaped neck
Squier Stratocasters
Squier is a division of Fender and its Stratocasters are based on Fender models, sharing many of the same design features at super-affordable prices. In the company's own words, Squier is the "value brand alternative to its big brother, Fender." Squier Strats are largely made in Asia.
Squier Bullet Series
The Bullet series offers a tremolo-equipped Stratocaster for the new player on a tight budget. These guitars deliver the tone and playability of a Stratocaster without breaking the bank.
Designed for beginners and students
Mini option available (¾ scale, 20 frets)
Bullet (21 frets)
Laminated hardwood body
Maple C-shaped neck
Model-specific pickup arrays
Rosewood fretboard
9.5" fretboard radius
Chrome-covered machine heads
Large, '60s style headstock
1-ply white pickguard
Squier Affinity Series
A step up in the Squier line, Affinity Stratocasters offer more features than the Bullet including upgraded wood and pickups for a fuller, richer sound.
Solid alder body with thinner 40mm depth
Maple or rosewood neck
9.5" fingerboard radius
21 medium-jumbo frets
Model-specific pickup arrays
Large, '60s-style headstock
1-ply pickguard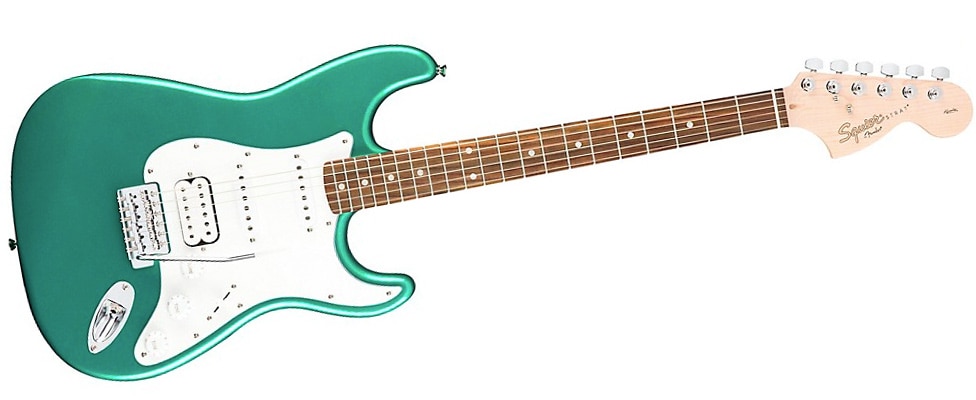 Squier Standard Series
The Squier Standard Stratocaster delivers the feel and comfort of a Standard Fender at a more accessible price.
Solid agathis body; 45mm depth like most Fender models
C-shaped neck
9.5" fingerboard radius
22 medium jumbo frets
Large, '60s style headstock
3-ply parchment or 4-ply tortoise shell pickguard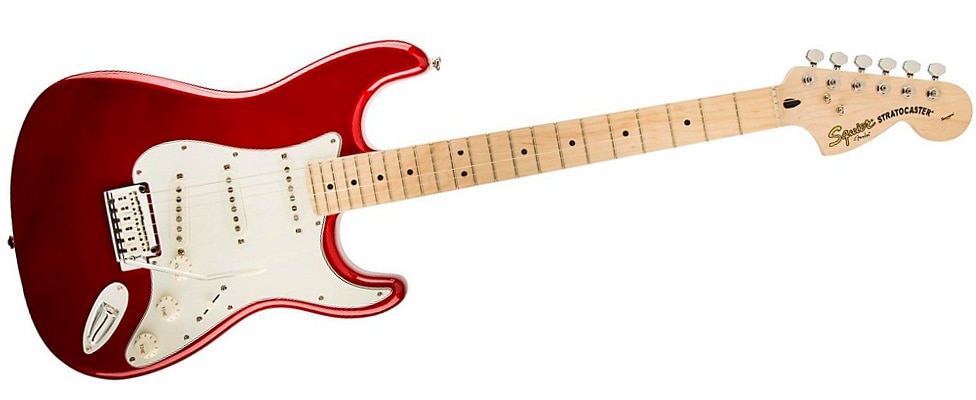 Squier Classic Vibe Series
Reminiscent of early Strat designs, the Classic Vibe series serves up affordable versions of the vintage Strats from the '50s and 60's you've always dreamed about with some choice modern touches.
Alder body
Finish: Polyester
Neck: 1-Piece Maple, Modern "C" Shape
Fingerboard: Maple, 9.5"
Frets: 21, Medium-jumbo
Scale Length: 25.5"
Nut Width: 1.65"
Hardware: Chrome
Tuning Keys: Vintage-style tuning machines
Bridge: Vintage-style, 6-saddle tremolo
Pickguard: 1-ply
Fender Stratocasters
Fender Stratocasters have proved to be one of the most enduring electric guitars ever, having been in continuous production in one form or another since 1954. The Stratocasters below are produced in Fender's Ensenada, Mexico plant.
Artist Series
The moderately priced Artist Series includes Stratocasters built to evoke the sound and look of iconic axes played by some of the world's most important guitarists. The pickups, electronics, and cosmetics reflect the choices of the artists whose names they bear. A great example is the Jimi Hendrix Stratocaster with its reversed headstock and bridge pickup that recall the southpaw master's habit of restringing and flipping over right-hand Strats to play them left-handed. The altered string geometry coupled with Vintage 65 pickups deliver the snap and fire that were signatures of Jimi's jaw-dropping technique.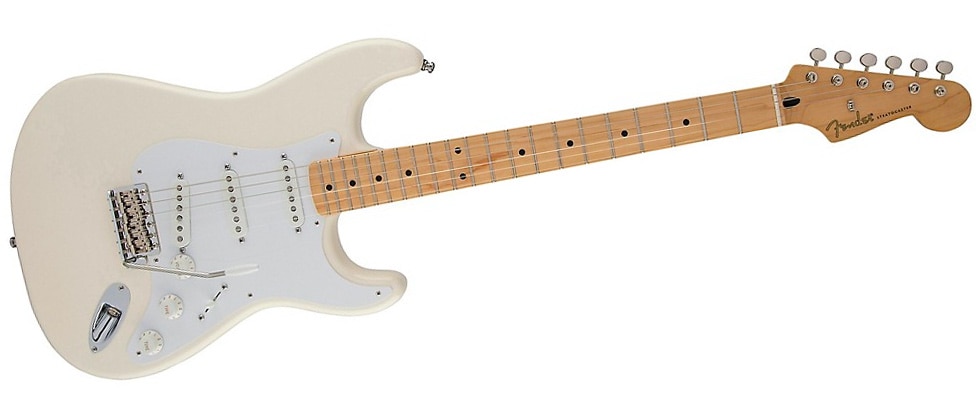 Fender Player Series
The Fender Player Series was introduced in June of 2018 as the next generation of budget-friendly Fender electric guitars. The Fender Player Series Stratocaster series offers a variety of different models. Different pickup configurations, color choices and more mean there's something here for everyone, including lefties. Whether you're rocking out in your bedroom or playing with a full band on a stage, you'll want to consider the Fender Player Strats. 
Now, let's take a look at some of the key features and specs that are found on the entire Player Series Strat family:
Alder body
Modern C-shaped maple neck
Choice of a maple or Pao Ferro fingerboard
9.5" fingerboard radius
Gloss neck and body finish
Chrome hardware
White plastic parts
Die-cast sealed tuning machines
Made in Mexico
Learn more about the entire Fender Player Series family of electric guitars and basses.
Fender Vintera Series
Fender's Vintera Series offers two distinct takes on each instrument in their line: a line inspired by the instruments of the '50s, '60s and '70s, and a "modified" version, which includes a slew of modern updates, blending the best of both worlds. 
Alder or Ash body
Maple neck
Pao ferro or maple fingerboard
Fingerboard radius varies by model
Made in Mexico
USA Fender Stratocasters
Built in Fender's Corona, California factory, USA Stratocasters set the standard for quality, tone and playability. Made with premium tonewoods (usually alder or ash), custom shop pickups, and master craftsmanship, the USA Strats are sure to please demanding players across a variety of styles. 
Fender American Performer Series
Introduced in Winter of 2018, Fender's new American Performer Series guitar and basses are a direct replacement for the American Special family. The American Performer Series includes two Stratocaster models: a standard SSS configuration and an HSS configuration. Each model features Fender's new Yosemite™ single-coil pickups. These pickups have flat-staggered pole pieces which increase output. The shellac coating allows the coils to breathe, while taming your Strat's feedback.
Fender's American Performer Stratocaster HSS model features a new DoubleTap humbucker in the bridge position. The DoubleTap can be used in humbucker mode or single-coil mode, controllable via a push-pull tone pot. The American Performer Strat HSS is available with maple fingerboard or rosewood fingerboard. 
Let's look a closer look at their shared specifications. 
Alder body
Modern C-shaped maple neck
9.5" radius fingerboard (available in maple or rosewood)
22 jumbo frets
6-Saddle vintage-style synchronized tremolo
1.685" synthetic bone nut
Read our full Fender American Performer Series overview.
Fender American Professional Series
The American Professional Stratocaster is the time-honored workhorse of seasoned pros and discerning hobbyists alike. Part of a series that debuted in 2008, it's limited to four classic Fender instruments: the Strat, Tele, P-Bass and Jazz Bass.
Traditional alder body for classic Strat tone (Sienna Sunburst finish has Ash body)
New Modern Deep C-shaped maple neck
Newly designed V-Mod single-coil and/or newly redesigned ShawBucker™ humbuckers
New Treble Bleed circuit that maintains guitar's high end, even as volume is decreased on guitar
2-point synchronized tremolo with bent steel saddles and pop-in tremolo arm
Gloss Polyurethane finish
Fender Elite Molded Case featuring TSA latches and nested stacking ability forsecure transport and easy storage
Fender American Ultra Series
Introduced in 2019, Fender's American Ultra Series electrics deliver all the proven design features of their forerunners, but up the ante with newly designed Noiseless pickups, advanced wiring and comfortable contouring. The American Ultra Stratocaster is available with maple or rosewood fingerboards, in SSS or HSS configuration.
Alder or Ash Stratocaster body
Modern D-shaped maple neck
S-1 Switching
Three vintage Ultra Noiseless pickups
10"-14" compound-radius fingerboard
Rolled fingerboard edges
Fender American Original Series
Fender took a collection of vintage specimen instruments from the '50s and '60s and then dissected and documented them to come up with modern recreations in creating the American Original family. Each of the models that make up the American Original series feature a "Best Of" list of specifications for the decade that they represent.  
'50s model Body is Ash or Alder (depending on finish), '60s model is Alder
'50s models feature a "V" soft maple neck while '60s models feature "C" thick maple neck
Lightweight alder body (ash on white blonde) with deep contours
Newly designed Pure Vintage Pickups ('59 Pickups and '65 Pickups)
Vintage-style hardware
Model-specific special pickups
Includes hardshell case 
Fender Custom Shop
Staffed by a crew of Master Builders, Fender's Custom Shop has produced a trove of world-class instruments since its inception in 1987. Working with and for some of the greatest guitarists of our age, these luthiers craft instruments of unparalleled beauty and playability. Their talents have been put to work in executing guitars for the likes of Clapton, Beck, Townshend, Gilmour, and many more—a veritable Who's-Who of guitar wizardry. Fender Custom Shop luthiers have undertaken all manner of commissions from modifying existing guitars to creating entirely new instruments from the ground up.
Many Custom Shop creations are one-offs; designs that will never be repeated. Other designs are retired after limited runs, never to be produced again. Every Fender Custom Shop instrument is a tribute to the luthier's artistry and is an investment-grade purchase.
And, if you're looking for a vintage Stratocaster but don't have the deep pockets to support that lust, Fender Custom Shop guitars are a great alternative, offering a variety of vintage spec Strats built to exacting standards by Fender's famed luthiers.
Visit our Private Reserve Guitar collection to see the current selection of Custom Shop Stratocasters.
Custom Shop Artist
Custom Shop Artist series Stratocasters are based on each artist's unique specs, executed with master craftsmanship by Fender's premier luthiers.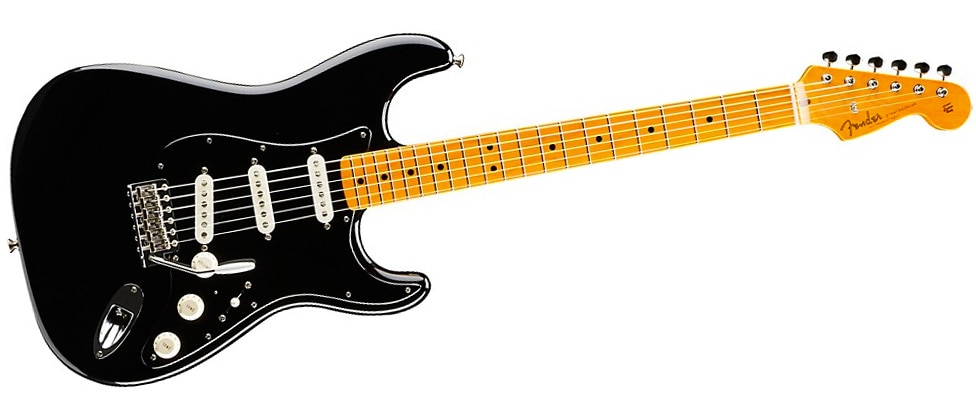 Masterbuilt
Fender's Masterbuilt Stratocasters are one-of-a kind instruments that represent the pinnacle of Custom Shop design. Custom Shop Master Builders design and hand-make each guitar to be utterly unique and world-class. Builders personally select the materials and craft each guitar to their exacting standards.
So, Which Stratocaster is Right for You?
As you can see in this guide, the Strat is available in dozens of variations in features to provide a huge range of options for the enthusiast.
Pick the Stratocaster that suits your budget and your style. Maybe you don't want to spend a lot, but you want your Strat to have the look and feel of a timeless guitar. Consider the Squier Vintage Modified Series. Perhaps you want to invest in a true piece of art—not just something to play, but a timeless treasure and heirloom. A Masterbuilt or Custom Deluxe Strat will likely meet that aim. Or, you might be a working pro who needs a Strat that you can play every night, year in and year out. The American Professional Stratocaster is probably an excellent choice for you.
We want you to be pleased with your Stratocaster purchase, and offer a 100% satisfaction guarantee and generous return policy so you can order your new Stratocaster with confidence.
After reading this guide, if you're still not sure which Strat is right for you, we invite you call to one of our friendly and knowledgeable Gear Heads.