The Musician's Friend team recently interviewed Bill Putnam Jr. at Universal Audio headquarters near Silicon Valley. He proved to be a great subject, offering insights into his dad's designs as well as the 1999 rebirth of the UA brand he now oversees. Bill Sr., who died in 1989, was a constant presence during our conversations.
Humans are toolmakers. We've been sharpening sticks, shaping clay, polishing rocks, and weaving rope forever. To work better we make better tools. It's just that some of us are way more skilled toolmakers than others. Universal Audio's founder, Bill Putnam Sr. was a brilliant toolmaker. And his son, Bill Putnam Jr., is a chip off the old block.
Often called "the father of modern recording," Putnam Sr. led the way in console and studio design during the second half of the 20th century. The first to use artificial reverb in commercial recordings, he also developed the first multiband EQ used in the US. His compressors and mic preamps are still considered the gold standard. Blessed with golden ears and a canny business sense, he helped change the sound of recorded music forever.
Bill Putnam Sr. rejected the sometimes primitive gear used to engineer records of the 1940s. Instead, he built the tools he needed. And in doing that, he designed some of the most legendary recording equipment the world has seen. Among the first to launch an independent studio, Universal Recording opened in Chicago in 1946. It was a fertile place to set up shop. The town was alive in the 1940s with jazz, blues, and R&B recording sessions everywhere.
Aside from those incredible ears and advanced engineering skills, Putnam's swelling client list was due to the gear he was custom-building.
Bill Putnam Moves to Hollywood
Moving from Chicago to Hollywood in 1957, Bill Putnam's timing was dead-on. Big band music was waning. New, smaller studios were springing up catering to the rock 'n' roll revolution. Shortly after relocating, Bill founded Universal Recording in Hollywood in a former film studio. Gutting much of the interior, he installed the technology needed to create state-of-the-art, multitrack stereo recordings.
By the late 1950s, Putnam's revolutionary 610 preamp-based channel strip and his modular recording desks were drawing rave reviews from engineers and artists. Putnam custom-built a handful of these for customers such as Ray Charles and Sinatra. The 610 legacy lives on today in modern gear such as the single-channel Universal Audio UA-S610 Preamp and DI Box.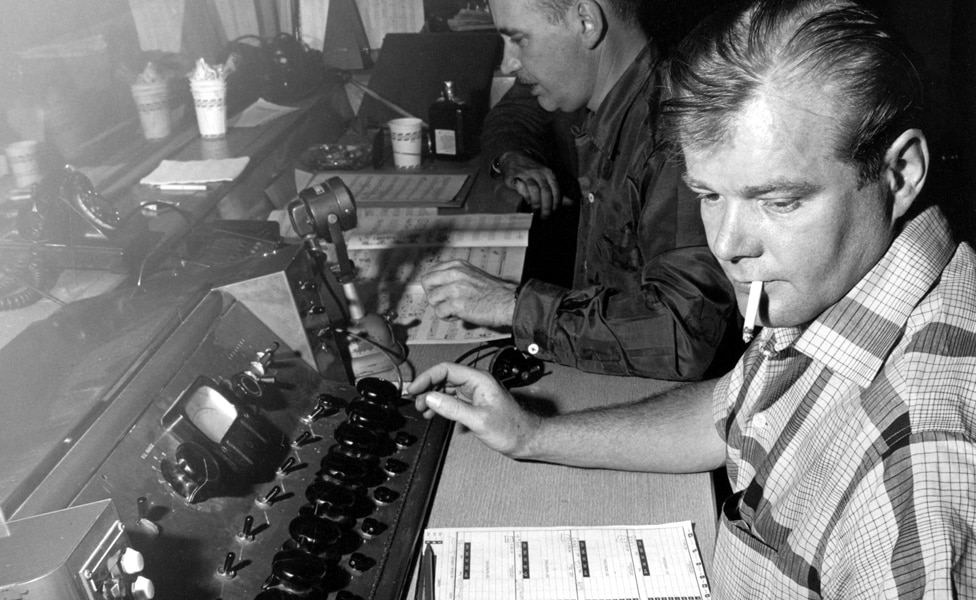 Bill Putnam Sr. working behind a 610 console. (Image courtesy of Universal Audio)
The Legacy and the Obsession
With studio bookings expanding to include pop acts like The Beach Boys and Jan and Dean, Putnam acquired neighboring Western Recorders. He then electronically connected the two studios so they could share technology — this in the early 1960s! The new combine was called United Western Recorders and hosted some of the biggest pop, rock, and jazz sessions of the era. His brilliant studio designs made Putnam-designed rooms a big drawing card. Aside from the sessions Bill engineered, the recording complex was a favorite among other top producers and engineers.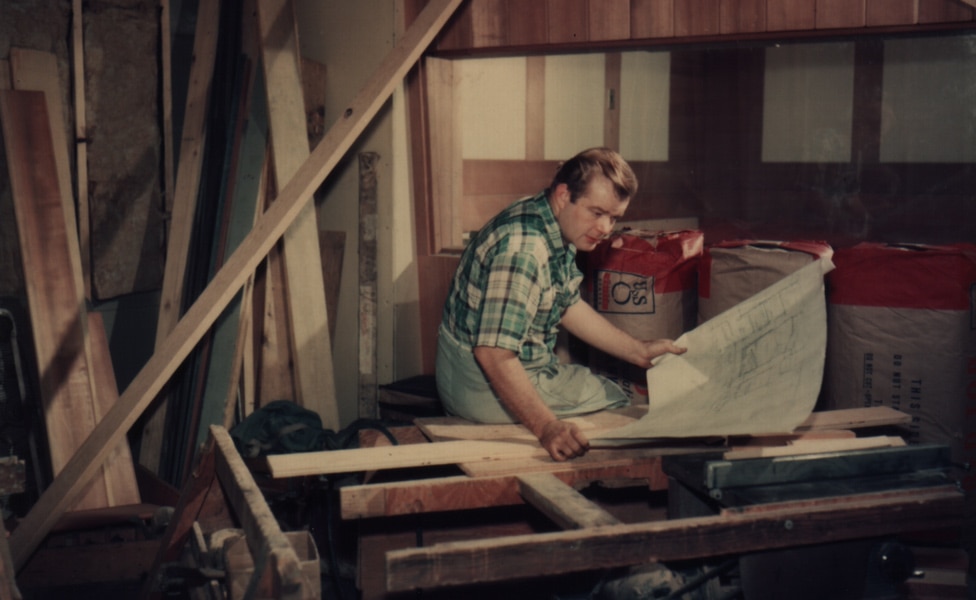 Bill Putnam Sr. taking a closer look at the studio blueprints. (Image courtesy of Universal Audio)
Putnam continued his focus on developing essential recording tools into the 1960s. Seeing the potential of solid-state technology, he reinvented his 175/176 compressor designs using newly introduced FETs. The resulting UA 1176 Limiting Amplifier offered unprecedented attack/release speeds with continuously variable control. Producers found it could create everything from subtle presence on vocals to huge drum and guitar sounds. Today's studios still cherish the unit, and in its modern incarnation as the Universal Audio 1176LN, it's still hand-wired and exactingly built to specs developed through examining vintage units.
In 1967 Putnam also acquired the rights to the Teletronix LA-2A Leveling Amplifier, which took a radically different approach to compression and limiting. As detailed in our interview with Bill Jr, the LA-2A's magic lies in its optical sensor circuit. Its multi-stage release times were highly dependent on the incoming signal, giving musicians and producers inspiring dynamic response. When Bill Jr. set out to capture the LA-2A's character in DSP during the early 2000s, it proved to be a daunting task. Thanks to his team's intense study of original units and tireless R&D, the reborn United Audio was able to recapture the magic in plug-in form. For hardware purists, UA also hand-builds the LA-2A Classic Leveling Amplifier.
Following a move to cavernous headquarters in North Hollywood, Putnam sold the original studio in 1985. It was then renamed Oceanway Recording, attracting top-tier rock acts and producers. A list of the hit singles and albums to come out of these Putnam-designed studios could fill a small book.
Fast forward to the late 1990s…
When Bill Putnam Sr. was at the height of his career, his son and namesake, Bill Putnam Jr., was too young to fully absorb the experience. Years later he would become a Stanford electrical engineering grad who thought he'd probably wind up teaching. But having an obsessive inventor, entrepreneur, and music lover as a dad proved a strong influence. In grad school he found himself studying digital signal processing. With this academic grounding and an inherited itch to be his own man, Bill Jr. got into business.
The market for vintage Universal Audio gear had taken off. Used 1176s, LA-2As, and 610s were selling for big money and Bill Jr. sensed a business opportunity. Leveraging his education as well as his family legacy, he decided to rebirth the Universal Audio brand. The plan was to produce both hardware versions and digital emulations based on UA legacy gear. His first-year business plan projected release of new analog versions of UA's three hallmark products. Looking back, he laughs; the process took years. As did the development of their digital versions.
Shop Universal Audio hardware and software at Musician's Friend
The 1176 Compressor — faster than a speeding bullet
Bill Jr. talks about finding his father's design notebooks while rebirthing Universal Audio in the late 1990s. They offered important clues about how the 1176, Sr.'s landmark compressor, was designed and built. Thanks to its blinding attack speed, the UA 1176 was a category killer. Today, it's sometimes used to give recordings a little subtle crunch and grit. But when Putnam Sr. designed it, his aim was much more practical: to keep a lid on dynamics.
Bill Sr. built several versions of the 1176 experimenting with different components. As Bill Putnam Jr. mentions in our interview, the first 1176 models were noisy. Very noisy by modern standards. Even the low-noise 1176LN models were only "lower noise" by today's standards. He adds that 1176s were sometimes intentionally laid on thick to create a unique sound. For example, big helpings of 1176 were applied to the 1979 hit, "My Sharona,"by The Knack, for an instantly identifiable sound.
Bill Putnam Jr. on the original 1176's R&D plus its modern hardware and software versions.
Redesigning and relaunching UA's legendary hardware was a critical step in helping create the digital plug-ins that were to follow. The hardware and software projects were mutually beneficial. While developing digital models of the 1176, Putnam Jr. sometimes discovered undocumented mods. He also identified circuits that could be tweaked in hardware to better meet modern standards and improve manufacturing.
Reflecting on his father's approach, Bill Jr. says, "My dad didn't really have a master plan. It was driven by the needs of his studio." Often Putnam Sr. had his hands in multiple projects simultaneously. Building gear, designing studios, engineering sessions, he was unstoppable, convinced that with effort and education, he could solve pretty much any audio challenge.
Chasing Electrons in the LA-2A
In developing the original LA-2A, attack speed was again a big concern. Older optical compressors relied on slower types of light sources to control gain as the input signal rose. The electroluminescent panels in the LA-2A were much faster at limiting dynamics. Through what Bill Jr. calls "a happy accident," the panels also produced an extended, natural release. This slow decay gives bass and vocals a very natural, musical sound.
Knowing when to quit: Bill Jr. talks about creating UA's amazing LA-2A model.
While modeling the LA-2A in software form, Bill Jr., turned to a solid-state physicist to better understand the original's signal paths. Getting down to the level of electron flows, it was discovered the original LA-2A has a two-stage decay. Modeling that proved to be a challenge but in the end, the UA team nailed it.
Another challenge was knowing when to quit in the modeling process since no two vintage units sound exactly alike. To establish some standard, it was decided the digital model should fall within the range of the vintage units being sampled. Bill Jr. reveals the modeling process also helped refine the modern hardware version of the LA-2A. Analyzing the way the circuits perform, Bill's team was able to recapture the original's "secret sauce." But it was still a long, painstaking process, especially in finding the right components.
Today, the unique audio qualities of the electroluminescent panel and its photocells are at the heart of all UA gear built on the LA-2A legacy.
The 610 and the Birth of the Modern Recording Console
Fittingly, we shot our interviews with Bill Putnam Jr. in Universal Audio's 610 Studio named after the iconic preamp model number. As Bill Jr. explains, the big breakthrough with the 610 was its modular design. Earlier recording consoles were a jumble of circuits and wiring. When something broke, the whole recording desk had to come apart. By housing a channel's signal path in one discrete housing, he invented the channel strip.
Asked to describe the 610's sonic character, Bill Jr.'s response is immediate: "It's the warmth." It's not the most transparent preamp out there he concedes; it has lots of character. But as Bill Jr. says, with the right mic, music, and singer, its subtle compression is magic. With renewed demand for 610 topology, Universal Audio now offers the circuitry in several channel strip formats.
Delve into the UA 610's storied origins with Bill Putnam Jr.
The Legacy and the Obsession
Always keen to get his hands on vintage UA gear, Bill Jr. lusted after a 610 console owned by Neil Young. The musician also had a collection of 610 modules in various states of repair. After years of trying to tempt Young with various offers, he managed to snap up 37 of the 610 modules in a 2017 auction. His plan is to refurbish enough of them to build a new hardware 610 console. (The legendary "Green Board" 610 console used as a sample in developing UA's superb 610 plug-in also belongs to Young.) 
Bill Jr. suspects his dad would be amused by the obsessive lengths taken to recapture his gear's sound today. Referring to his father's design ethic, he says, "It had to absolutely sound great, but it was a much more utilitarian point of view.". This also applies to the minimal controls on the 610 and other UA equipment. They had to be easy to use in order to handle the fast pace of sessions in that era. Bill Sr.'s focus was on getting to a great sound fast then moving on.
The Future's Here: Apollo X Audio Interfaces
Bill Sr.'s work redefined sound processing in the last century. Today, gear like the Apollo X interfaces series is ensuring UA's future legacy. With an industry-leading dynamic range and the lowest THD+N spec in their class, Apollo X interfaces include elite-class A/D and D/A conversion. Newly developed HEXA Core processing give you 50 percent more DSP. That's power enough to run the included UAD Powered Plug-Ins and Analog Classic Bundle in realtime.
We asked UA's Gannon Kashiwa for a quick overview of the Apollo X interfaces to help zero in on the one right for you.
Explore all four Universal Audio Apollo X Series audio interfaces complete with specs, features and plug-in details.
Learn more: Universal Audio Apollo X Audio Interface Series Unveiled