Sometimes referred to as the lunchbox amps, mini amps for guitars can be great for practice, warm ups, travel and just having fun. A couple deliver excellent recording results—their limited volume being a virtue in the studio. A few of the latest generation of mini amps include iOS compatibility for touchscreen amp control, recording and more.
Here's a quick rundown on some of our best-selling mini and micro guitar amps and the features that make them cool. Read on to decide if there ought to be a lunchbox guitar amp in your future.
Roland CUBE Lite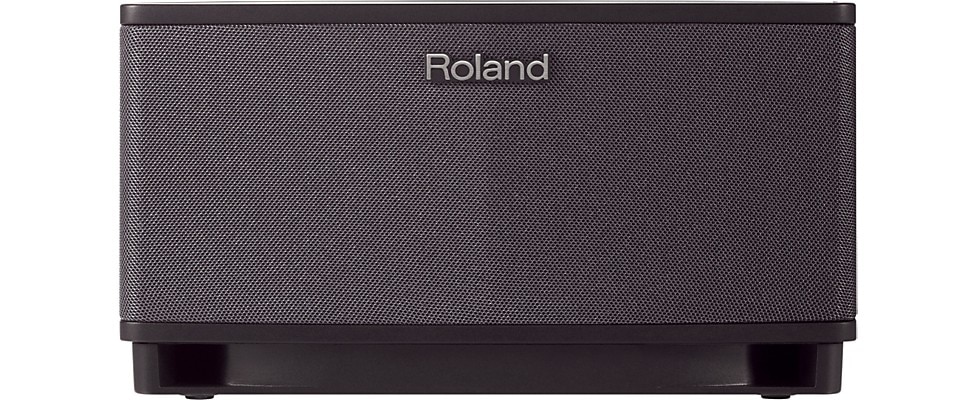 The Roland CUBE Lite Guitar Combo Amp delivers convincing amp tones wirelessly and doubles as a high-fidelity 2.1 surround-sound system that's at home anywhere.
Looking more like a consumer stereo than a guitar amp, the Roland CUBE Lite houses a 2.1 channel speaker system for surround sound that's much bigger than the unit's modest footprint. CUBE Lite wirelessly interfaces with your iPhone or iPad and comes with a two-way communication cable for recording and playback using your iOS device.
The amp produces a surprisingly wide range of sounds thanks to three built-in COSM tones plus reverb and chorus effects. A Direct Mode lets you record your signal dry (without effects) then apply COSM models during playback, giving you the option of "reamping" your guitar. The included CUBE Jam app has a minus-one function so you can perform along with pre-recorded music—a great practice and rehearsal tool.
Calling the CUBE Lite a guitar amp is a bit misleading. Thanks to its full-range speaker system with subwoofer and living room-friendly looks, it makes a great all-purpose monitoring system for any audio playback device. You can even connect line level gear like keyboards as well as a microphones to bring your vocal performances to life with excellent fidelity.
Take a look at all the cool things you can do with the Roland CUBE Lite.
Roland Micro CUBE GX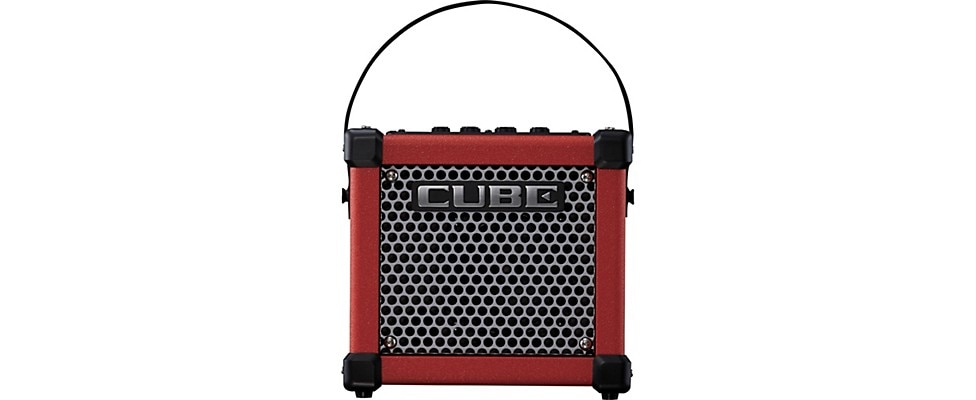 Play for more than a day on a single battery charge with the Roland Micro CUBE GX Battery Powered Guitar Combo Amp.
If portability, versatile sound options and long battery life are priorities, give the Roland Micro CUBE GX a close look. It comes with eight built-in COSM amp models and eight DSP effects for plenty of tonal dexterity.(Check out the video below to see what those amp models and effects can coax out of this tiny beast.)
Use the memory function to save amp settings for immediate recall. By toggling between the saved setup and your current knob settings, you in effect have a two-channel guitar amp you can hold in one hand! An included i-CUBE LINK jack lets you connect your iOS device.
The rechargeable batteries deliver power for up to 26 hours. Or plug it in with the included adapter when wall current is handy. Recording and headphone outputs, an aux input for plugging in mp3 players and an on-board chromatic tuner make this an amazingly complete and compact guitar amplification solution.
Guitarist Nita Strauss puts the CUBE GX through its paces with impressive results.
Vox Mini5 Rhythm Modeling
The Mini5 Rhythm has tonal DNA from Vox's Valvetronix series, impressive effects, flexible I/O for connecting other gear and a unique rhythm training function.
From Vox, the company that helped shape the sound of the British Invasion, the battery-powered Mini5 Rhythm Guitar Combo has 11 amp models based on the esteemed Valvetronix Series. They run the gamut from chiming AC30 sounds to modern, high-gain metal amps and all points in between. Effects include compressor, chorus, flanger and tremolo plus four different reverbs and delays.
This combo gets its name from its unique rhythm function that generates 11 built-in rhythms from a range of music genres. Each style offers nine variations, and you can save up to 99 unique rhythm patterns. Whether you want to jam along, practice your timing on difficult riffs or just improve your rhythm chops, it's a great tool.
A Bassilator circuit generates deep low-end response ideal for chunky rhythm playing that's beyond the reach of ordinary EQ control.
With up 19.5 hours of battery time, mic and aux inputs, and a headphone output, this is a great little amp for the singer-songwriter on the go. Vox even includes a delay/reverb vocal effect. The old-school look of the limited-edition Ivory version of the Mini5 Rhythm recalls vintage Vox gear.
Orange Amplifiers Micro Crush CR3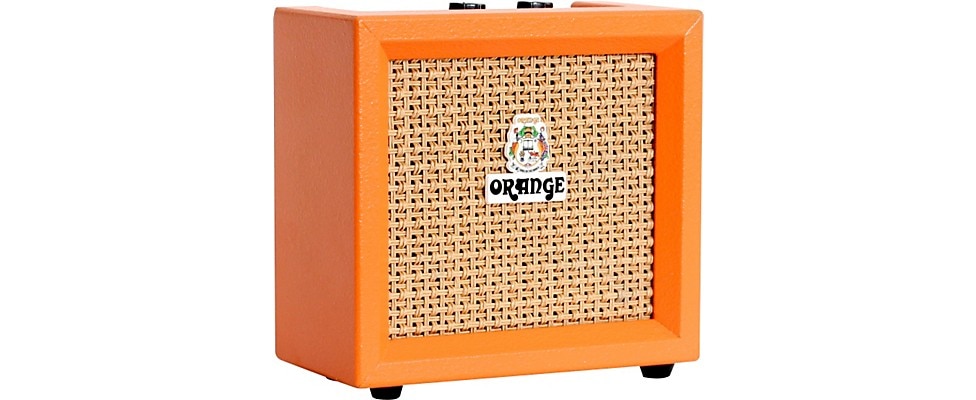 The Micro Crush CR3 Combo Amp can play dirty just like its bigger Orange brethren.
With 9-volt battery power, a surprisingly loud 3.5" speaker, and weighing in at less than two pounds, the Orange Micro Crush CR3 delivers more than just Orange's trademark looks. Crank this little sucker and it'll break up just like its bigger brothers—just not as loud.
An on-board tuner, distortion function and headphone out for silent practice are all key features for honing your chops and having fun.
Could something this tiny get into serious rock territory? You be the judge.
Blackstar Fly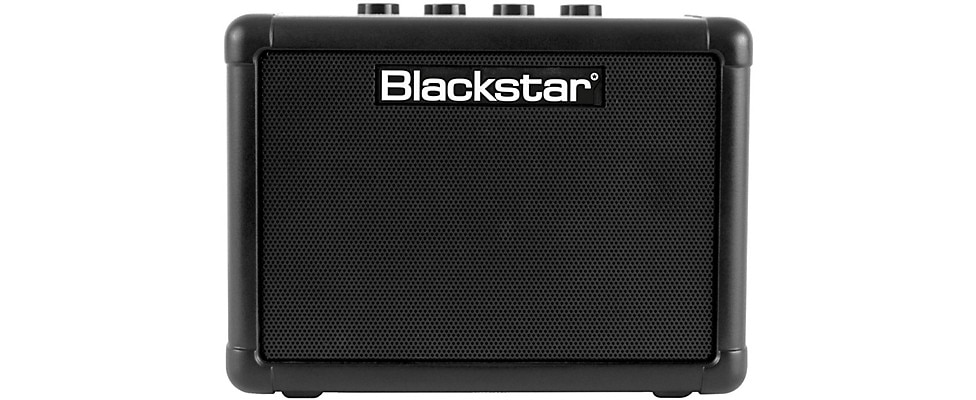 The Infinite Shape Feature (ISF) of the Blackstar Fly 3W Guitar Combo Amp Pack unleashes endless creative possibilities.
Clean and Overdrive channels plus an onboard delay that produces resonation effects give the Blackstar Fly 3W a range of tonal options. Plug it in or take it on the road with battery power. The 3" speaker isn't big but produces true Blackstar tones, even at low volume, and the included Fly 103 extension speaker provides portable stereo sound for your guitar and other devices.
Yamaha THR10C Classic Modeling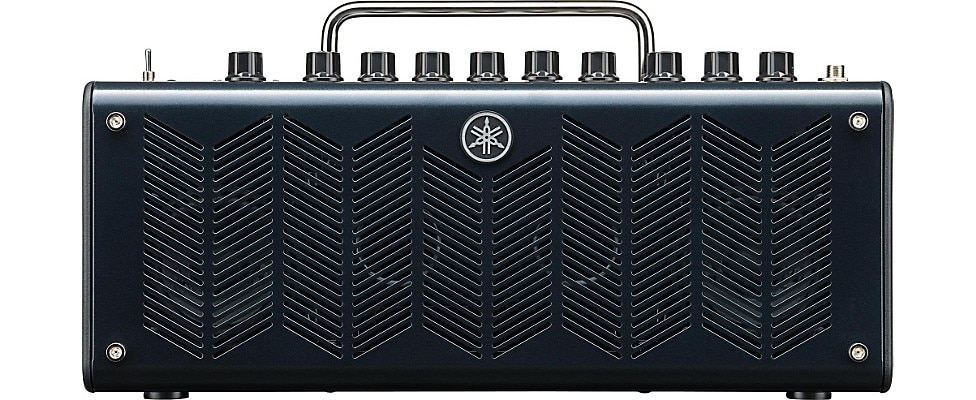 The Yamaha THR10C delivers lots of tone choices thanks to five built-in amp models and eight effects. Extended Stereo Technology produces ear-bogglingly big sound from the true lunchbox cabinet design. A USB port lets you edit your tracks with your DAW or included software. Just for fun, the THR10C emits an orange glow suggesting the presence of tubes. Dig in with your guitar and you just might believe it yourself!
Three very different guitarists demonstrate the awesome range of tones you can coax out of the Yamaha THR10C Classic Combo.
Marshall MS-2 Mini Amp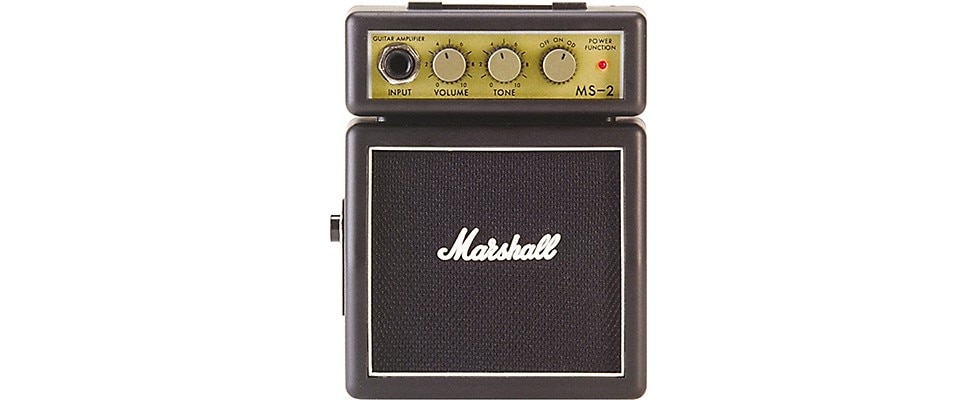 At a towering 5", the Marshall MS-2 Mini Amp is a half-stack you can slip in your knapsack and then perform anyplace with it clipped to your belt.
Simple and sweet, the Marshall MS-2 is a miniaturized version of the Marshall stacks that have ruled rock's backline for decades. Equipped with power, volume, and a tone control, this little thing can actually get a little crunchy. Powered by a nine-volt battery, use the included belt clip and you can play while you roam. A 9V jack lets you plug it in when AC power is handy.
Danelectro Hodad DH-1 Mini Amp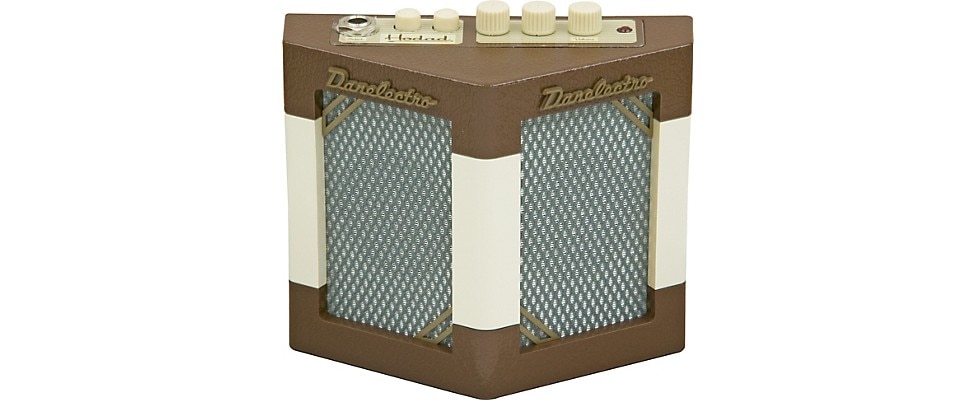 The Danelectro Hodad DH-1 Mini Amp has vintage vibe that runs deeper than mere cosmetics.
The old-school looks of this micro-sized practice amp are matched by its chimey sound that conjures up images of surfboards and reverb-drenched Stratocasters. Effects include an adjustable-speed tremolo plus an echo for that lead guitar part on "Wipe Out." The twin mini speakers put out volume that belies the Hodad's tiny size.
Fender '57 Mini Twin-Amp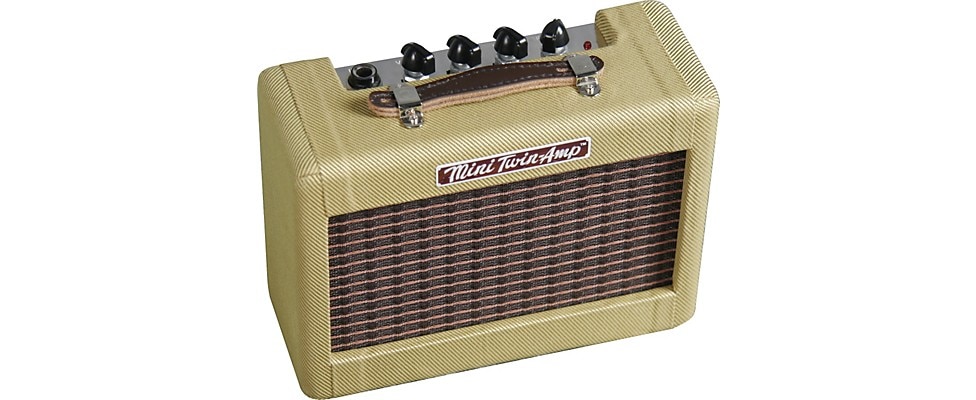 Rock out in real tweed with the the Fender '57 Mini Twin Amp.
Constructed with a wooden cabinet that's wrapped in tweed and oxblood grill cloth for a vintage look, the Fender '57 Mini Twin-Amp is a cool little combo. A pair of 2" speakers and cabinet-top controls put volume, tone, and a distortion effect right at hand. It also has a 9V jack for use with an optional AC adapter when you have access to wall power.
Still don't see the perfect mini amp for you? Check out the complete assortment of lunchbox mini amps from Musician's Friend.
Need more help choosing?
Still have questions about lunchbox mini amps or your other musical equipment needs? We're here to help, so give us a call!