Apple's iOS has rapidly become a serious platform for musicians who use its numerous apps to work efficiently, especially on the go. Whether creating pro-quality recordings, performing, sharing music with your band, or getting in more practice, players at all levels are using their iPads and iPhones as a hub for their musical exploits.
Vocalists, of course, are no exception. In addition to the many App Store apps available for recording vocal tracks, there is a broad range of high-quality audio gear that will turn your iOS device into a potent musical tool. Though your tablet or phone may have a built in mic and basic audio processing capabilities, pro-level iOS-compatible mics, preamps and mixers are essential if you want to produce high-quality sound.
This guide will walk you through the different kinds of equipment you can use to harness the full potential of your iPad, iPhone, or iPod touch. You also can browse the complete selection of gear designed for Apple's mobile devices in the Musician's Friend iOS store.
Table of Contents
iOS microphones: Sing it loud and proud
Condenser vs. dynamic microphones
Microphone polar patterns
iOS preamps: Set up for success
iOS audio interfaces: Making connections
Bit depth and sample rate
iOS speakers: Sounding it out
iOS mixers: Creating a premium blend
Need iOS gear advice? Give us a call!
Whether you want to simply connect a microphone directly to your iPhone for practice sessions or create a complete iPad-based mobile rig for your live performances, you'll find no shortage of gear that can help you turn your iOS device into the ultimate vocalist's tool.
iOS microphones: Sing it loud and proud
The essential piece of gear for any vocalist is, of course, the microphone. And there are plenty of outstanding USB microphones made to plug and play with the iOS platform. Generally, iOS-compatible microphones come in three different forms. You can choose from handheld models that can also be stand-mounted, those that plug directly into your tablet or phone, or tabletop models with built-in stands.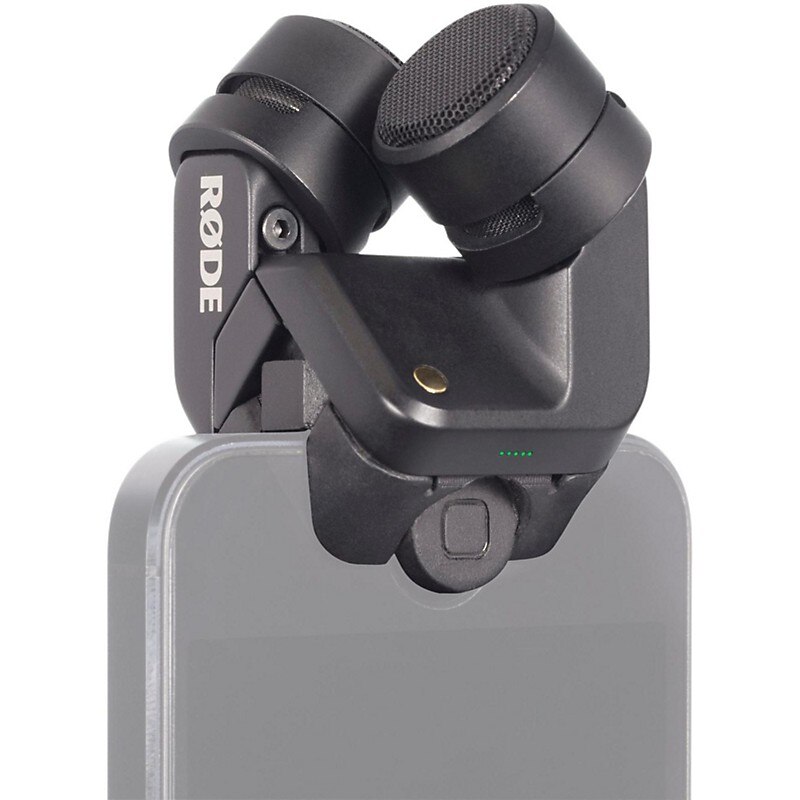 The Rode i-XYL Stereo Microphone has matched condenser cardioid capsules that capture highly detailed, 24-bit/96kHz sound for pro-quality results.
Condenser vs. dynamic microphones
There are two main types of microphones: dynamic and condenser. Condenser microphones are most commonly used in studios. With better overall frequency response than dynamic microphones, they sound great on recordings. However, they are more sensitive to noise and comparatively fragile, making them a less common choice for live performance scenarios.
In contrast, dynamic microphones are a staple of live performances because of their durability and their decreased sensitivity in loud environments. They also tend to be less costly than condenser microphones, and unlike condensers, they do not require a phantom power source to operate.
Most microphones designed specifically for iOS are of the condenser variety, and of course, they represent only a small fraction of the many microphones available for a vocalist to choose from. However, that does not mean that you are limited to a narrow selection of mics that you can plug into your iPhone or iPad. On the contrary, virtually any microphone can be plugged in with the help of an iOS-friendly preamp or audio interface, as discussed below. So with that said, let's dive a little deeper into the types of microphones you might consider.
Microphone polar patterns
Whether it's iOS-specific or not, the microphone you choose needs to be built for the uses you have in mind for it. And that means you'll want to consider the mic's polar pattern, also called its directionality.
There are three major categories of directionality for microphones: omnidirectional, bidirectional, and unidirectional.
Most often, vocal microphones are of the unidirectional variety, meaning they pick up sound primarily from a single direction. Bidirectional mics, which pick up sounds from two directions, and omnidirectional mics, which capture sound from all directions, may be useful in some specific circumstances. For instance, a bidirectional mic might be a good choice for a duet where a mic is shared. An omnidirectional mic might work well when placed centrally in the midst of a choir.
Within the unidirectional category, there are two main types of mic: cardioid and hypercardioid. The cardioid pattern captures sound predominantly from the front, then from the sides to a lesser degree. It is the most common type of handheld microphone used for vocals.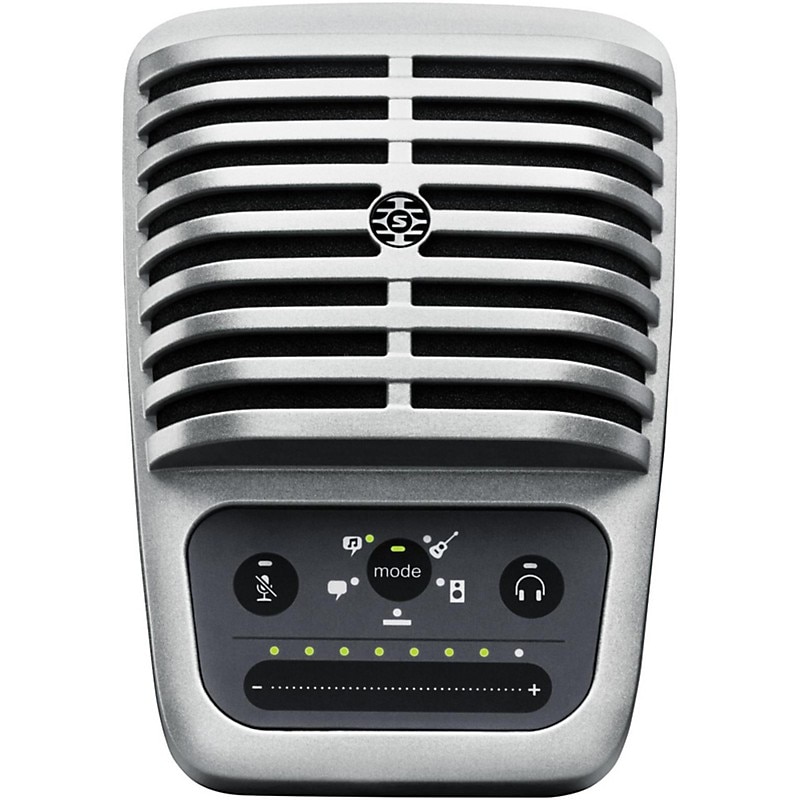 The hypercardioid microphone type is even more selective than the cardioid type, cutting out most of the sound from the back and sides. This can be useful for capturing a distinct sound from an instrument or a voice in a noisy environment.
However, these microphones can sometimes be less than ideal in live situations since vocalists need to make sure they sing directly into the front of the microphone. They also sometimes produce a sound that is slightly unnatural because they isolate sound to a high degree. Look for models that are designed specifically for vocals to get a clear, crisp, and natural sound.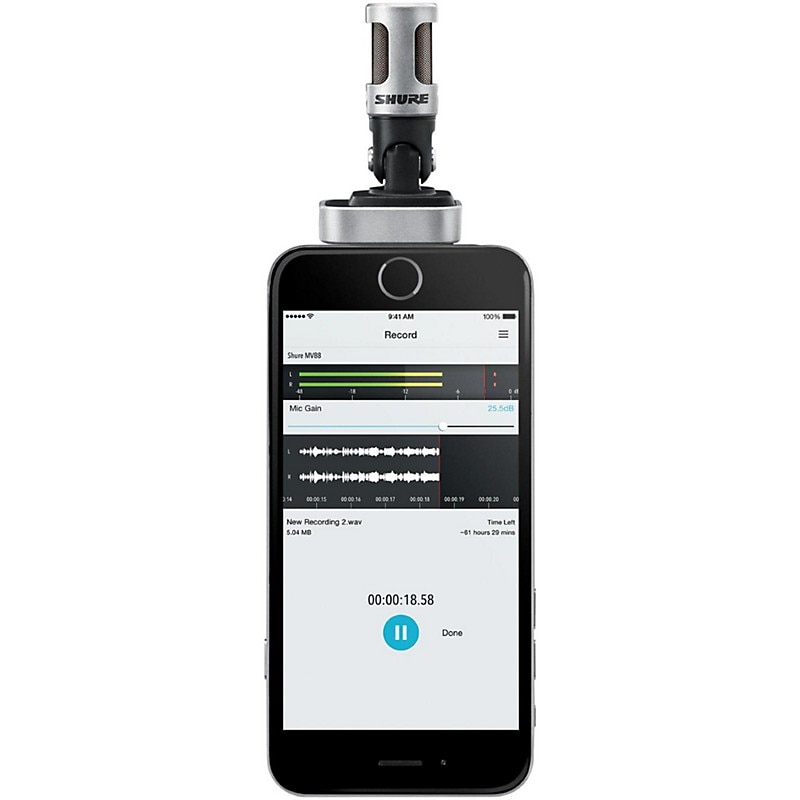 For mobile recording, the plug and play Shure Motiv MV88 iOS Mic directly connects to any Lighting-equipped iOS device and its element swivels to capture sounds on the fly.
Some microphones offer the versatility of switchable polar patterns. They can make a great choice when you're operating on a limited budget and need a single mic to cover a variety of recording or performance situations.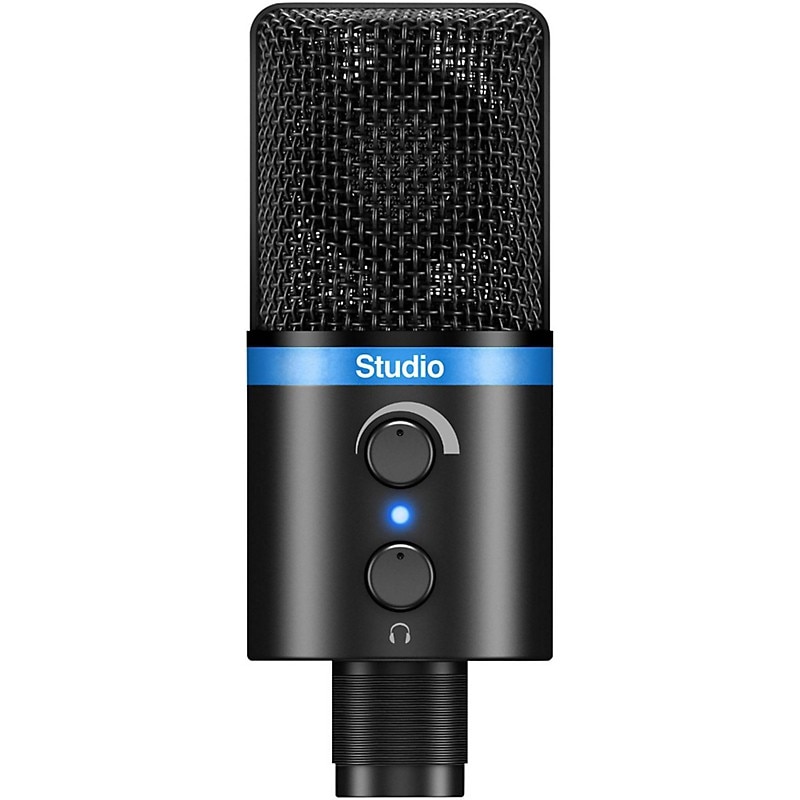 The IK Multimedia iRig Mic Studio condenser microphone captures voices with great fidelity and connects to just about all digital gear platforms. A 24-bit AD converter and 44.1kHz sampling rate result in sparking sound.
Browse the entire collection of iOS microphones available from Musician's Friend.
Learn more with our comprehensive Microphone Buying Guide.
iOS preamps: Set up for success
To use a standard microphone with iOS, you will need a way to plug it in. There are a number of devices that will allow you to do that, and the most straightforward of these is an iOS-compatible mic preamp. This ultraportable device provides an XLR connector for your microphone and connects to your iOS device, typically via the 3.5mm headphone jack.
In addition to giving you connectivity, a mic preamp allows you to control the volume of your microphone and plug in a pair of headphones to monitor your recording.
The analog to digital converters in external preamps and interfaces deliver better audio detail and dynamics than the AD converters built into iPads and iPhones.   
If you are planning to use a condenser microphone, keep in mind that you'll want a model that provides phantom power as well.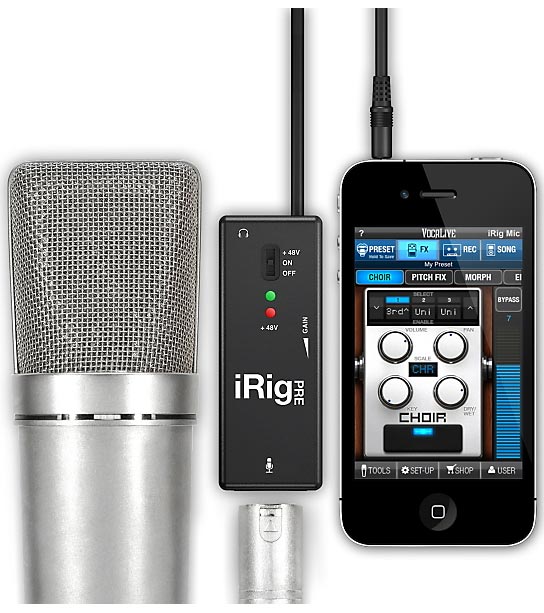 iOS audio interfaces: Making connections
Perhaps you're looking to do a little more than connect a single microphone to your iPhone or iPad. Maybe you also play an instrument along with your vocals, or you want to be able to plug in a couple of microphones for a duet. In this case, you will want to consider an audio interface built for iOS devices.
While they usually are not as portable as a single mic preamp, audio interfaces for iOS are usually still pocket-sized devices, and they give you the inputs and outputs you need to capture multiple instruments or even a small ensemble.
When you are considering an audio interface, think about the kinds of instruments and gear you want to connect and how many inputs and outputs you'll need.
The Focusrite iTrack Solo is a 2 in, 2 out USB Audio interface that offers an XLR microphone input and a 1/4" unbalanced instrument input. Just connect a standard USB cable or a USB-to-Lightning cable and you're ready to plug in and start playing and singing using any Lightning-compatible iPad, Mac or PC. 
As is true for mic preamps, you will want to make sure the audio interface you choose includes a phantom power supply to accommodate a condenser microphone if that's what you plan to use.
Bit depth and sample rate
When you are browsing preamps and audio interfaces, you will come across specifications for the device's bit depth and sample rate. These specs refer to the level of accuracy at which analog sound is being captured and reproduced digitally. Generally, the higher these numbers, the more detailed the sound. But keep in mind that higher bit depth and sample rates also mean larger files to store.
Generally, a good audio capture device will offer a 24-bit depth and sample rates of at least 48kHz, with some offering rates up to 96kHz.
Learn more about bit depth and sample rates here.
Find the complete selection of iOS audio interfaces offered by Musician's Friend.
iOS speakers: Sounding it out
If you don't have something to broadcast sound from your iOS device, that device isn't much good as the center of your mobile vocal rig. But there are plenty of options available that are made specifically to work seamlessly with your iPad, iPhone, or iPod touch.
If you are looking for a mobile speaker to use with a portable studio, iOS-capable products like IK Multimedia's iLoud Wireless Bluetooth Portable Studio Monitor fit the bill nicely. Packing a 40-watt, studio monitor-quality speaker system into an enclosure the size of an iPad, the iLoud can deliver true-to-life sound reproduction no matter where you are.
Of course if you are using a complete input/output docking solution with your iOS based setup, you can connect to just about any PA system or studio monitoring setup you'd like. If that's the setup you're planning, make sure to take a look at the complete collection of PA Speakers and Studio Monitors available through Musician's Friend.
iOS mixers: Creating a premium blend
If you plan on integrating your iPad, iPhone, or iPod into your live performance, you will find that an iOS-compatible mixer can be a great addition to your gear.
For instance, if you are performing with a small group or using pre-recorded audio for backup, IK Multimedia's iRig MIX Mobile Mixer gives you just what you need to get total control over your performance and deliver an outstanding set. The device offers two main inputs with equalization and volume control in addition to an extra input that lets you use realtime audio apps like VocaLive to process your vocals. It's a simple and cost-effective solution that you can carry with you anywhere you need to go.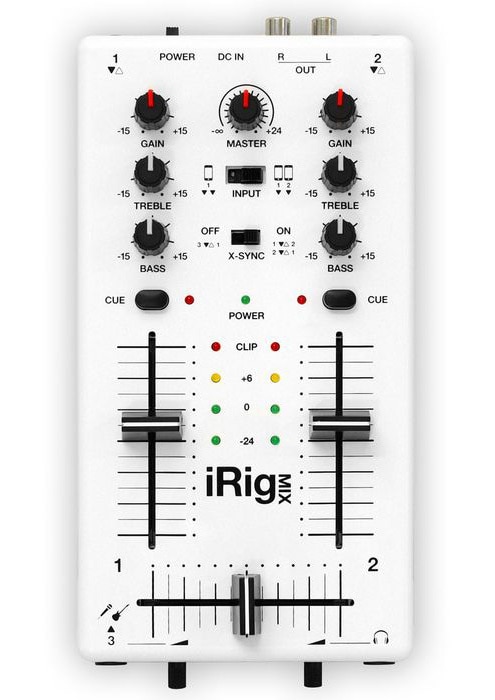 The iRig MIX Mobile Mixer is a portable mixing device that allows you to process your vocals with any compatible realtime audio processing app.
If you're planning on tracking more complex material, there are a number of physical mixers that merge ergonomic, real hands-on control surfaces with wireless control from your iPad. A top-rated model is the Mackie DL1608L 16-Channel Mixer that plays nice with Lightning-compatible iPads. 16 high-grade Onyx mic preamps plus Cirrus Logic converters deliver pro quality sonic performance. Mixing live performances or tracking in the studio, the DL1608L has a full suite of routing and monitoring options and useful plug-ins. And you can it run it all wirelessly from your iPad—a huge plus for FOH engineers and bands who do their own sound.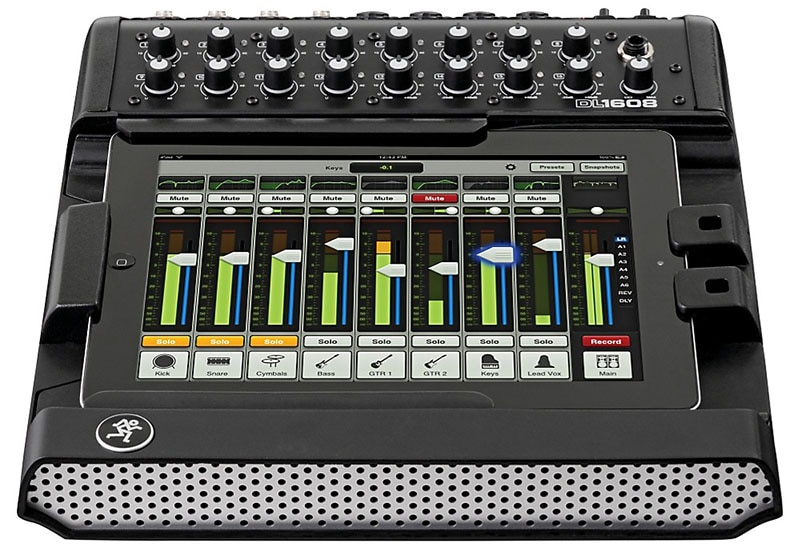 Dock your iPad in the Mackie DL1608L 16-Channel Mixer, unleash the My Fader app, and get ready to run every aspect of your show seamlessly—and wirelessly.
Need iOS gear advice? Give us a call!
After reading this guide, if you're still not sure which iOS-friendly vocalist gear is right for you, we invite you call to one of our friendly and knowledgeable Gear Heads at (877) 880-5907.