Table of Contents
Why you need a keyboard-specific amp
Can I just use a guitar amp?
Should I choose a keyboard amp over a PA?
Keyboard amp specs and features that matter
Watts
Speakers
Channels, EQ, and onboard features
Inputs, outputs, and stereo operation
Portability
Still not sure?
Keyboard amplifiers don't have the sexy, iconic status of the classic guitar amps you see at rock concerts. You know, like those walls of Marshall heads and cabinets that form the backline of so many marquee music acts. But as professional musicians and sound techs will tell you, that doesn't mean a good keyboard amplifier is any less important for achieving a great sound.
Whether you are just starting out on keys, joining a band or looking to upgrade your sound, finding the right keyboard amp can be challenging given all the possibilities these days. That's why we've put together this brief guide, which takes you through some key considerations, answers some common questions and explains the specs you'll encounter when you're browsing the selection of keyboard and digital piano amps available from Musician's Friend.
If you want more info about keyboards themselves, be sure to take a look at our Digital Piano Buying Guide and Keyboards Buying Guide.
Why you need a keyboard-specific amp
Some people wonder if it's truly necessary to buy an amplifier made specifically for keyboards, rather than just plugging into powered speakers, a PA system, or some other kind of amp. The short answer is that keyboard amps offer some major advantages that make them worth the purchase. Let's take a look at some of the alternatives people sometimes consider, looking at their pros and cons.
Can I just use a guitar amp?
A pretty common question we hear is: "What's the difference between a keyboard amp and a guitar amp?" After all, maybe your bandmates have an extra guitar amp or an unused channel input you could plug into. Or maybe you play guitar as well and already have a guitar amp. It sure would be convenient to kill two birds with one stone.
Ultimately, though, the sound you'll get from a guitar amp won't begin to match what you'll get from an amp tailored for keyboards. The guitar's amplifier section, controls and speaker(s) are designed to optimize the range of frequencies the guitar works in. Outside of that, it doesn't do so well. As a keyboard player, you need a much broader frequency range to accurately reproduce the huge range of synthesized sounds and tones electronic keyboards produce.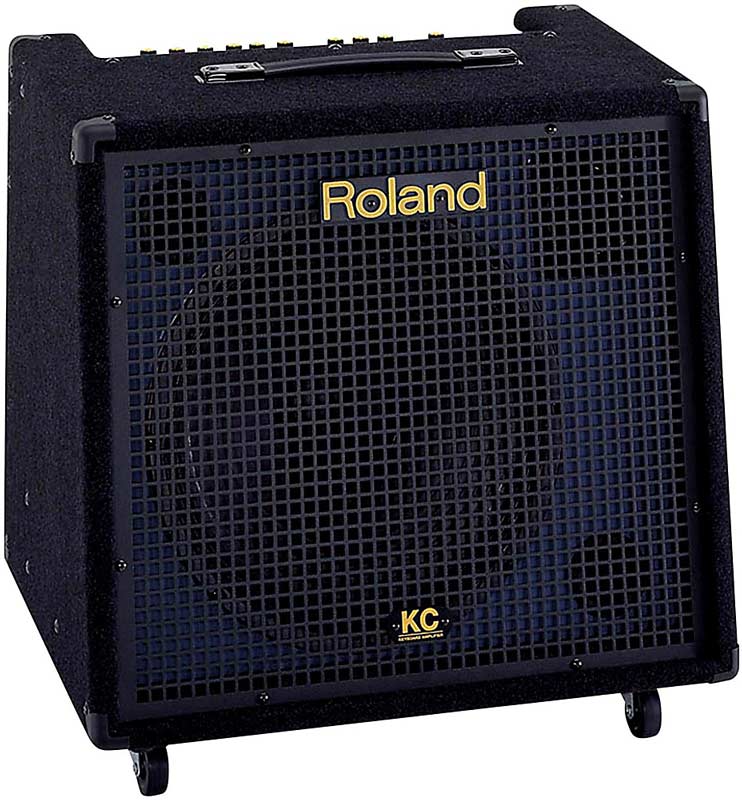 Equipped with a 15" woofer and a horn tweeter, the 4-channel 180W Roland KC-550 performs consistently across a wide frequency spectrum that can be precisely shaped using its 4-band EQ.
Should I choose a keyboard amp over a PA?
Some characteristics of a keyboard amplifier, such as a wide frequency response range, are also common to PA (public address) systems or powered PA speakers with onboard EQ controls. So, naturally, you might wonder if a PA is a viable alternative for amplifying your keyboard. Yes, plugging straight into a PA system can be a good option for certain situations. It might, for instance, be suitable for players who are performing solo and plugging in a vocal microphone as well. That said, many keyboard amps include dedicated mic channels and preamps too. And as you'll see below, and when you begin shopping, some models blur the line between a small PA or a very flexible keyboard amp.
Keyboard amplifiers are usually a more portable option, and they often are easier to dial in on the fly. Their more compact footprint can be an advantage on crowded stages and in cramped performance spaces. Many models, such as the Alto Kick12 shown below, also offer microphone and RCA inputs, multiple channels, and other PA-like features so you can handle all your solo performance needs with just your keyboard amp. Having your own amp means you can control your stage volume and tone to better blend with your band, rather than leaving it to the house engineer. The amp also eliminates the need for separate monitoring and provides a more consistent sound from gig to gig and stage to stage.
A further question to consider is whether you need the additional inputs that a full PA system typically offers. If you expect to be performing with other musicians, count up the total number of mic and instrument inputs you're all likely to need. That'll help zero in on solutions right for your situation. One advantage of owning a full-blown PA with numerous components is your ability to scale it up and down for different venues. Having control of your own PA can be an advantage too. If you've ever worked a gig where a barista or bartender was your designated "sound guy," you'll know what we mean.
Of course, if you mostly play in venues with their own installed PA systems, a full PA of your own could be overkill. There again, an appropriately sized keyboard amp with flexible I/O options (more on that in moment) may be all you need.
The 30 lb.Alto Kick12 is designed with keyboard players in mind, functioning both as an instrument amp and a personal PA with a four-channel mixer.
And finally, there is the cost consideration—many keyboard amplifiers are less costly than a PA system or powered PA speakers. But if a PA system seems to be the right choice for you, check out our PA System Buying Guide for lots of smart shopping tips.
Keyboard amp specs and features that matter
Let's take a look at the components and specs that can help you separate one model from another.
Watts
"How much power do I need?" That question pops up when discussing any type of amplifier and the answer largely depends on your playing environment. Larger venues require more watts to drive bigger speakers. Speaking of watts, manufacturers provide wattage specs in different ways. It's important to understand the difference.
Peak watts refers to the absolute maximum amount of power an amplifier can put out during momentary peaks. It will not reach this level continuously as doing so will put the amp at risk.
Continuous or RMS watts (sometimes referred to as program watts) are calculated using a continuous sine wave or other signal to measure the

Root Mean Square

(RMS) voltage at the point of stated distortion. Many feel an RMS rating is a more realistic measure of an amp's output.
When it comes to your playing environment, keep in mind that many live performance venues will either mic your keyboard amp or send its signal through the in-house PA. This means that filling a live venue with sound may not be your primary consideration. The amp should produce sufficient volume and deliver a pleasing, undistorted sound.
There is no hard-and-fast rule for establishing necessary wattage on a keyboard amp, but generally speaking, the higher the watts, the louder you can play without distorting. If you are playing solo or with a small ensemble, you'll probably need less wattage. For larger ensembles that include a loud drum kit, you'll need more volume, unless your amp is being miked or output through the PA system. Outdoor settings usually require more power too so your efforts don't blow away on the breeze.
The Leslie LS2215 from Hammond is built by the people behind the iconic rotating Leslie speaker that gave the Hammond B3 organ its signature sound. It generates a healthy 200 watts RMS output via a fixed 15" woofer and dual 4" mid-hi drivers. The stereo preamp has 3 dedicated channels for keyboards, instruments, and mics, each with its own EQ section. A fourth channel provides a stereo aux input.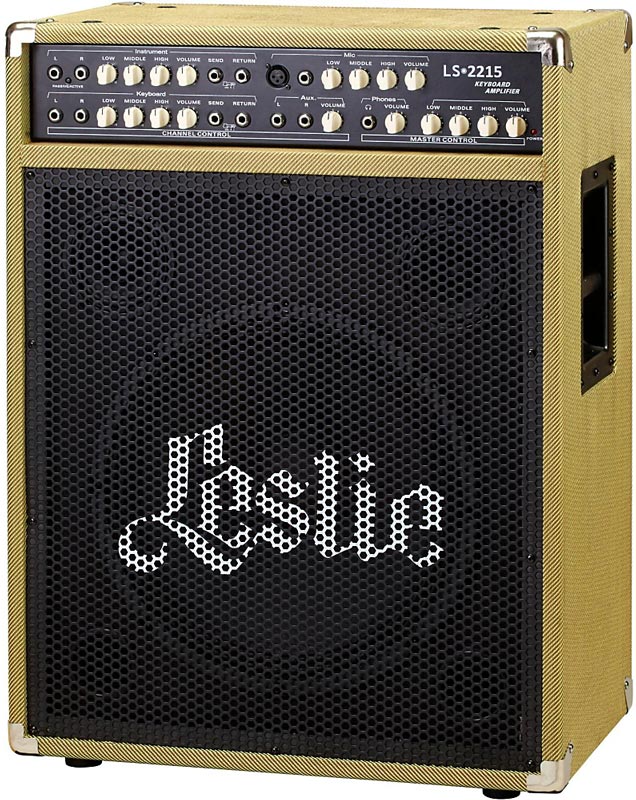 The Hammond Leslie LS2215 delivers big, clean sounds for not only keyboards, but also vocals, acoustic guitars, brass and string patches, media players—anything that needs powerful, pristine sound. The Tweed version shown here comes with a free amp cover.
Higher-powered models like the Roland KC-880, which offers 320 watts per channel of stereo output, are popular in part for their ability to handle larger venues.
The Roland KC-880 is a powerful 320-watt unit with dual 12" woofers and horn tweeters that can reproduce subtle musical nuances.
Speakers
A common speaker setup is a 12" woofer coupled with a smaller tweeter (often 1"), a combination that's well-suited for balanced response across a wide frequency range. The addition of a midrange horn helps divide up the frequency spectrum further, potentially adding more definition to the amp's output. Higher output amps are sometimes equipped with single or dual 15" speakers for extended bass response. And some manufacturers offer subwoofers that can be connected as extension cabinets to your keyboard amp. They're popular with EDM performers and DJs who play boards during their sets. See the section on inputs and outputs below to learn more about connecting a sub.
For extended bass response, many amps also include ports—holes placed strategically in the speaker cabinet to help project tones beyond the range of the woofer.
One specialized combination amplifier-speaker model is the Hammond Leslie 3300, responsible for producing the classic, old-school swirling sounds of Wurlitzer and Hammond B3 organs in rock and soul settings.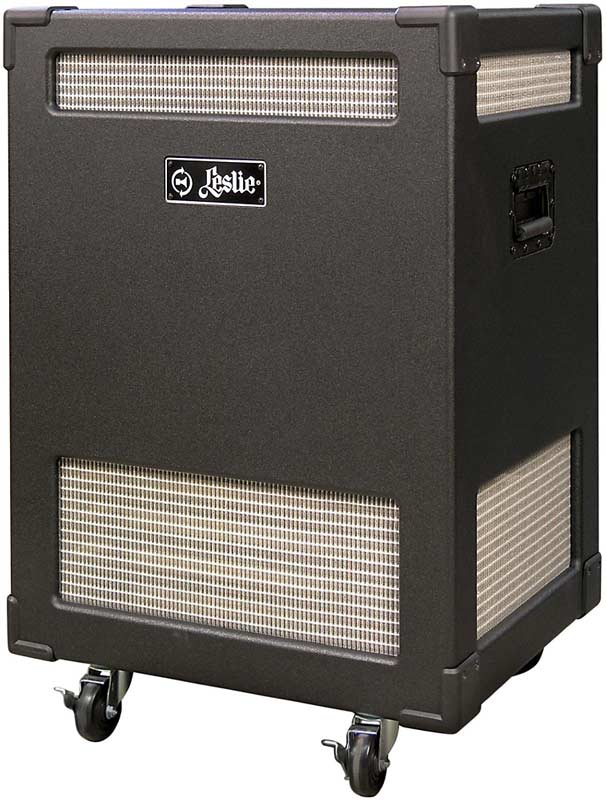 The Hammond Leslie 3300 uses a two-speed horn rotor and bi-amplification on its bass and treble channels to re-create the huge swirling sound of vintage stage organs.
Take a look at the innards of a Leslie 3300 as it generates those trademark sounds.
Channels, EQ, and onboard features
Most keyboard amps offer more than one channel so you can plug in multiple keyboards or instruments, microphones, and even stereo sources such as MP3 players and drum machines to play along with. This way you can make the amp your single audio source for simple performances or practice.
Many two-channel models are available, and four-channel models are common among higher-powered amps. Keyboard amps with multiple channels generally include some mixer-like features. Most include a line level adjustment per channel and some also include channel-specific EQ controls to boost or cut various frequencies. Some also have channel-specific effects like reverb and chorus, which can be especially useful if you are plugging in a microphone along with your keyboard.
Unique features like voicing and modeling controls, which allow you to adjust the overall tone of a channel, are also found on some keyboard amplifiers. One example is the Traynor K4, which offers a voicing selector on its first channel, including organ, piano, live, and studio presets.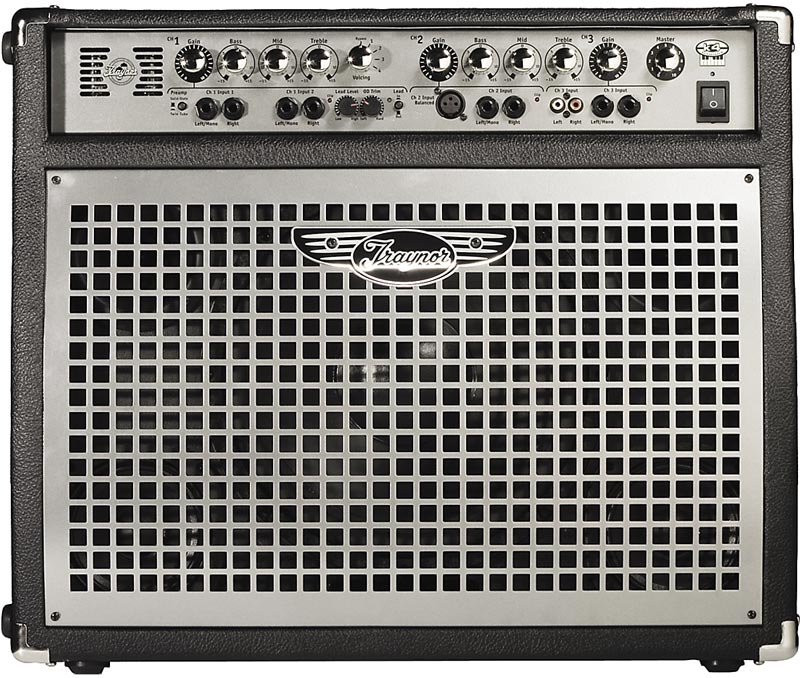 The Traynor K4 is a versatile four-channel keyboard amp with extensive channel-specific voicing, equalization, and signal processing features.
Inputs, outputs, and stereo operation
When you are considering keyboard amplifier models, one thing to make sure of is that you have the kinds of inputs you'll need for the gear you want to plug in, and that you have enough of them. Commonly, multi-channel amplifiers will have multiple stereo ¼" inputs for keyboards. In some cases, a channel may have a combination ¼"/ XLR input adding to its versatility.
Balanced stereo XLR outputs allow you to connect the amp to the main PA system while still using the speaker in your amp as an onstage monitor. Either live or in the studio, you might also want to use an effects send output to connect to signal processing or effects units, which you would then connect back through a return input in order to play the wet signal through your amp.
The Roland KC-350 allows you to easily connect two amps and run them in stereo while a subwoofer-ready output extends its potential frequency range.
As with the Roland KC-350 above, the smaller Roland KC-150 also has a subwoofer output that will add heft to bass frequencies beyond the capabilities of its 65W amp and 12" speaker.
Portability
Generally speaking, keyboard amps are fairly portable, as they most often use lighter, solid-state components and come in compact cabinets that include both the amp and speaker. However, if maximum portability is a concern, there are a number of models designed especially to fit that bill.
The Roland CM-30, for instance, uses a 6.5-inch speaker and a built-in handle grip for a super-lightweight, portable design. Its three channels, auxiliary input, and 30 watts of power make it suitable for recording, practice or onstage monitoring applications.
Still not sure?
After reading this guide, if you're still not sure which keyboard amp is right for you, we invite you call to one of our expert Gear Heads at 877-880-5907.